1964 Dodge Polara news, pictures, specifications, and information

Tweet
This car is one of 12 built and is a 50th anniversary car. It is one of the first early muscle cars with its rare 426 cubic-inch Hemi engine with a four-speed transmission. The current owner purchased the car from the original owner.
The name Dodge Polara first appeared in 1960 and was used on Dodge's full-size vehicle. The name would continue to adorned Dodge vehicles in various forms unti 1973.

When introduced, the Dodge Polara's design was similar to vehicles of the prior years, continuing the 'Forward Look' design of Virgil Exner. In the front was a small grille accompanied by a large front bumper. In the rear were taillights termed 'jet pods'. The lights were larger than what they needed to be with part of their purpose to aid in the futuristic look of the vehicle. Tail fins were part of the ensemble. There were to tail lights with the lower light built into the rear bumper. Chrome and trim were used extensively on the vehicles exterior. On the interior the vehicle was adorned in plush fabrics, appropriate since this was Dodge's near top-of-the-line vehicle.

The jet influenced tail lights, futuristic looking tail-fins, extensive use of chrome, and 'Forward Look' design of the Dodge Polara was not enough to stimulate sales in 1960. The Matador was partly responsible for the slow sales so in the following year, the Matador was no longer offered for sale. The Polara was given styling updates and various changes but this did little to increase sales as many consumers were more interested in the conventionally style, mid-sized Dodge Dart.

A few of the changes that occurred on the Dodge Polara in 1961 were enlarging the cars tail fins and reversing their direction, meaning they grew larger as they crept towards the rear window. In the front the larger bumper treatments were replaced in favor of a more simple design. The concave grille from the Dodge Dart could now be found on the Dodge Polara. The result of the work of Exner's styling department was a unique design and something that was different from anything else on American roads at the time. Unfortunately, the American public did not favor the design and sales were dismal, with only 14,032 units produced. This was one of the lowest figures for the Dodge Marque since the early 1910's.

Change was obviously needed. For 1962 the Polara was moved to a smaller platform, now just 116 inches. The change had come as a last-minute decision in an effort to mirror the moves Chevrolet were making with their designs. Chevrolet was downsizing all of their products. Dodge designers were forced to revise their designs to more compact configurations. When Chevrolet rolled out their new products in 1962, the Chrysler Corporation were surprised to see that what was thought to be a down-size of all their products was merely the inclusion of smaller products to their mid and full-size line-up. Chevrolet had their full-size Biscayne, Bel Air, and Impala. The Chevy II was now their compact vehicle. As a result Dodge and Chrysler offered smaller cars than their competitors in 1962. The public and press were not impressed with the new designs, finding them awkward. Sales remained low.

The Dodge Polara 500 was introduced in 1962 as a two-door hardtop coupe. A few months later a convertible and four-door hardtop version was added.

It took a few years to recover but by 1965 the Dodge Polara was again sitting atop of a full-size platform and offered in a variety of body styles including sedans, hardtops, station wagons, and more. From 1965 through 1968 the vehicle was given yearly updates to its square-edged styling design. The square design of the Polara was a major departure of the rounded design of just a few years prior. In the front were dual headlights on each side of the vehicle. The dual headlight design was integrated into the grill and positioned above the chrome bumper.

Revisions to the interior occurred in 1966 with the inclusion of a telescopic and tilt steering wheel and four-passenger seat belts. Front shoulder belts were offered as optional equipment. The automatic transmission was given a reverse lockout button. The door handles were moved to the front edge of the armrests in an effort to improve safety.

The top-of-the-line Polara was the Monaco two-door hardtop in 1965 and the following year it became its own model. When it became its own model it was offered in a variety of body styles. The Monaco of 1966 was very similar to the Polara. The rear tail-lights gave the greatest clue to the vehicles differences. The Monaco had full-length tail lights which extended the entire length of the trunk area. The Polara's taillights were much smaller.

In 1966 both the Monaco and the Polar grew by six inches. Disc brakes were available on all full-size Dodge vehicles. Station wagons were given disc brakes as standard equipment.

In 1969 the Chrysler line-up received updating with the designs becoming more round. This was called the 'Fuselage Look.' There were few changes for the Polara from 1969 until its demise in 1973.

The name 'Polara' resurfaced in 1977 in Brazil where it was used on re-badged versions of Chrysler Avenger. Production continued in this region until 1981.
By Daniel Vaughan | Dec 2006
Mecum Marathon – Results From Kissimmee 2014
Walworth, WI - January 31, 2014 -- The largest collector car auction in the world lived up to its moniker once again with Mecum's Kissimmee, Fla., event, held Jan. 17-26, offering a grand total of 2,750 cars and more than 3,000 items of Road Art throughout the 10 days of heated bidding and hard-hammering sales. Auction sales reached a hefty $63,435,490 in total with 1,759 of the vehicles exchanging hands for a sell-through rate of 64 percent. Despite nationwide weather conundrums resul...[Read more...]
RARE CHRYSLER LA COMTESSE CONCEPT APPEARS AT AMELIA 2014
After decades in obscurity Chrysler's La Comtesse Concept Car will re-debut at the 19th annual Amelia Island Concours d'Elegance on March 9, 2014. The Fifties introduced new automotive chemical and paint technologies that helped summon a sea change in the way cars were purchased. It was a subtle component of Detroit's marketing equation, but color had risen near the top of the car buyer's priority list. The important fact was that women invariably chose the color of the new family car....[Read more...]
CERTIFICATION TESTING IN LOS ANGELES HIGHLIGHTS FORD DOMINANCE IN POLICE SEDAN, UTILITY; ALL-WHEEL DRIVE
◾Ford EcoBoost®-powered Police Interceptor sedan bests high-performance V8 sedans from two competitors in 0-100 mph testing and average lap times ◾New Ford EcoBoost Police Interceptor utility vehicle accelerates faster than all base V6 sedan competitors ◾Wins for both sedan and utility vehicle confirms advantages of company's intelligent all-wheel drive on Ford Police Interceptor sales For the third straight year in Los Angeles Sheriff Department tests, EcoBoost®- and all-wheel-drive-equipp...[Read more...]
Sold! Barrett-Jackson's 5000 Series Generates More Than $29.2 Million In Scottsdale
Original 1966 TV Batmobile Sells for $4.62 Million at The World's Greatest Collector Car Auctions™ and New World Records are Set January 19, 2013 •LOT #5037 The Original Batmobile is the highest selling car at the company's annual Scottsdale Auction •LOT #5019 1947 Talbot-Lago T-26 Grand Sport sets a new world record for the model •LOT #5034 1956 Chrysler Diablo Concept Convertible sets a new world record for Chrysler concept cars Scottsdale, Ariz. (Jan. 20, 2013) – Barr...[Read more...]
Barrett-Jackson Breaks Sales And Attendance Records At Its Spectacular 5th Annual Las Vegas Auction
The World's Greatest Collector Car Auctions™ Brings Together Auto Enthusiasts from Near and Far Barrett-Jackson, The World's Greatest Collector Car Auctions™, announced today that it generated more than $23 million in sales of rare, high-end collectible vehicles, exotics, customs, classics and Shelbys during its 5th annual Las Vegas auction. The auction company increased its overall hammer average from 2011, proving that the car market is stronger than ever. Automobilia sales reached m...[Read more...]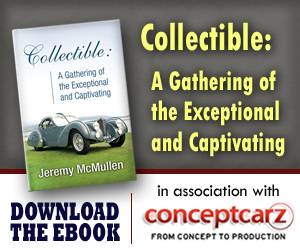 Similarly Priced Vehicles from 1964
Ford Mustang ($2,368-$2,612)
Mercury Comet ($2,125-$2,660)
MG B ($2,660-$2,660)
Chevrolet Corvair Series ($2,020-$2,800)
Pontiac Tempest ($2,850-$3,080)
Studebaker Eight ($2,071-$2,960)
Triumph TR4 ($2,850-$3,000)
Ford Fairlane ($2,180-$2,600)

Average Auction Sale: $25,889
Dodge
Monthly Sales Figures
Volume
December 2014
46,578
November 2014
42,108
October 2014
41,512
September 2014
44,020
August 2014
49,895
July 2014
43,118
June 2014
50,314
May 2014
57,923
April 2014
53,463
March 2014
60,575
February 2014
49,744
January 2014
34,905
(More Details)
© 1998-2014. All rights reserved. The material may not be published, broadcast, rewritten, or redistributed.