1953 Jaguar C-Type news, pictures, specifications, and information

Tweet
In 1951, Jaguar launched an assault on LeMans with the XK120C or C-Type. The 'C' was for competition and Jaguar wasn't kidding. It was pure race car designed with a space-frame chassis made of steel tubing along with an independent rear suspension. The aerodynamic body was designed by Malcolm Sayer and built of aluminum. Jaguar won the 1951 24 Hours of LeMans with a C-Type driven by Peter Walker and Peter Whitehead. When the 1952 LeMans cars retired due to overheating, the C-Type was redesigned slightly for the 1953 race and also made 150 pounds lighter due to the use of lightweight electrical equipment and aircraft-style fuel tanks. C-Types finished first, second, fourth, and ninth at LeMans in 1953.

The legendary C-Type is powered by a 205 horsepower version of Jaguar's venerable XK-Series 3.4-liter inline 6-cylinder engines.

One of just 39 produced, this car has an extensive racing history; its best finish third place in 1953 at Sebring with Sherwood Johnson driving. Amazingly, it finished thirty races before failing to complete its first event while racing against Cobras and Chaparrals. In 1976, a later E-Type engine was installed. That engine was replaced in 1988 when the original engine with which it was born was re-installed.
By Daniel Vaughan | Jun 2013
The Jaguar C-Type was produced from 1951 to 1953 with an estimated 54 being produced. After a team of Jaguar XK 120C, the 'C' representing 'competition', vehicles had an excellent showing at LeMans, William Lyons commissioned a car to be built that could contend for the overall victory. Malcom Sayer designed the aerodynamic body and Bob Knight was responsible for the lightweight, multi-tubular, and triangulated frame. The body panels were constructed of aluminum. The mechanical components borrow heavily from the Jaguar XK120. Under the bonnet was a modified twin-cam, straight six engine. Horsepower had been increased from 160 to 205. All non-essential items were removed in an effort to reduce the overall weight. Nearly a thousand pounds was shed.

Later versions of the C-Type received extra modifications including disc brakes, reduced weight, and engine improvements. The engine was fitted with twin-choke Weber carburetors and high-lift camshafts.

The Jaguar C-Type made its LeMans debut in 1951. When the checkered flag dropped, it was a C-Type driven by Peter Walker and Peter Whitehead in first place. This is an astonishing accomplishment and a true testament to the capability of the car and drivers. The legendary Stirling Moss was also driving a C-Type but unfortunately was forced to retire prematurely due to mechanical difficulties.

In 1953 a modified C-Type repeated its accomplishment by winning again at LeMans. It was driven by Duncan Hamilton and Tony Rolt.
By Daniel Vaughan | Aug 2006
For more information and related vehicles, click
here
1956 24 Hours of Le Mans: Collins and Moss Come Close
The 1955 24 Hours of Le Mans would be forever remembered, not for the 24 hours of racing, but for the tragic and terrible events that would take place after just two. The consequences would be dire and would send shockwaves throughout the racing world. Peter Collins would witness the events and would find it very hard to continue. However, he would do just that and would end up a very strong 2nd, practically handed the result by Mercedes. One year later, the mood would be lighter and Collins wou...[Read more...]
1954 24 Hours of Le Mans: A French Bull Runs to Victory at Le Mans
Everything needs to be right amongst drivers competing for victory in the 24 Hours of Le Mans. Not only do they need to share the car over the course of a whole day but their driving styles must compliment each other. In the case of the 1954 24 Hours of Le Mans there would be no better pairing than a calm, steady Frenchman and a wild Pampas bull from Argentina. Prior to the 22nd running of the 24 Hours of Le Mans, Maurice Trintignant had already achieved a career driving a vast number of diff...[Read more...]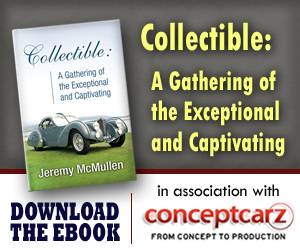 Jaguar
Monthly Sales Figures
Volume
December 2014
1,683
November 2014
1,253
October 2014
1,007
September 2014
1,142
August 2014
1,184
July 2014
1,187
June 2014
1,263
May 2014
1,304
April 2014
1,035
March 2014
1,816
February 2014
1,552
January 2014
1,347
(More Details)
© 1998-2014. All rights reserved. The material may not be published, broadcast, rewritten, or redistributed.