1961 Ford Galaxie news, pictures, specifications, and information

Tweet
From the beltline down, the 1961 Ford models were completely new. The upper portion of the cars did not change. This was the third major re-styling of the full-size Ford line is as many years.

In the front was a full-width concave grille with a large horizontal dividing bar in the middle. Large round taillights were once again a feature in the back. The horizontal full-length fin from the 1960 model year was replaced with a smaller canted fin, which was nearly identical in size, shape and design of the one seen on the 1957-58 Custom series cars. A horizontal chrome stripe and ribbed aluminum stone guard, similar to the one used on the 1960 models, ran the entire length of the car.

The Galaxie came equipped with either a Six or Eight-cylinder engine. The 223 cubic-inch Six with a Holley one-barrel carburetor offered 135 BHP. A 292 CID V8 brought horsepower to 175 BHP. Other V8s in Ford's arsenal included the 352 CID and 90 CID, offering a range of horsepower from 220 to over 400 BHP depending on configuration.

Body styles included 2- and 4-door sedans, and a Sunliner Convertible. Ford called them a 4-door Town Sedan, a 2-door Club Sedan, a 2-door Club Victoria, 2-door Starliner hardtop, and a 4-door Town Victoria. Base pricing began at $2,540 for the six-cylinder 2-door Club Sedan and rose to nearly $3,000 for the V8-powered Sunliner Convertible.

In total, Ford produced 349,665 examples of the 1961 Ford Galaxie.
By Daniel Vaughan | Nov 2013
| | | | |
| --- | --- | --- | --- |
| | | | Six Series Starliner Hardtop |
The Ford Galaxie Starliner was a pillarless semi-fastback two-door hardtop that was introduced in 1960 as a replacement for the very popular square-roof version. Sales were strong with 68,461 units sold in 1960 and 29,669 in 1961. A variety of engine options were available with the base unit being an OHV six-cylinder powerplant. A 292, 352, and 390 cubic-inch V-8 versions were available with horsepower ranging from 135 - 401.
By Daniel Vaughan | Jul 2009
This Ford Galaxie Starliner has a 352 cubic-inch V8 engine offering 220 horsepower. There is a three-speed Borg-Warner column shift overdrive transmission wearing its original paint and interior. The odometer shows just 23,000 original miles.
By Daniel Vaughan | Dec 2014
A full-size vehicle built in the U.S. by the Ford Motor Company, the Ford Galaxie was sold from 1959 until 1974. The name was used for only the top models in the Ford's full-size range from 1959 until 1961. By 1962 the Galaxie name was assigned to the lowest-priced full-size Ford. The Galaxie was introduced in 1959 and this was the first initial for the Galaxie model line. The six Galaxie models included the Galaxie Club Victoria, Galaxie Town Sedan, Galaxie Town Victoria, Galaxie Club Sedan, Galaxie Sunliner Convertible and the Galaxie Sunliner Retractable. Each of these models came with their very own features that ranged from trim all the way to ornamentation and to their retractable top that folded into the Galaxie's trunk.

'59 Fords were advertised as having 'Thunderbird elegance' and they featured all new styling. Basically the same vehicle, the '59 Galaxie and Fairlane were virtually impossible to tell apart other than the ornamentation and model name designation. Both vehicles featured a mass amount of stainless steel and chrome body trim and exquisite three-tone cloth interior trim. The Skyliner Retractable was probably the best remembered with its all-steel hardtop that effortlessly moved into the trunk to transform it to a convertible in just 60 seconds.

Options that were available on the '59 Galaxie included AC, deluxe rear deck antenna, visored spotlight mirror, flying elipse hood ornament, sunray multi-colored wheel covers, power front seats, steering, windows and 'swift sure' power brakes. Engines available for the 1959 model year were the 292-V8 with 200 horsepower, 223 Mileage Maker six cylinder at 145 hp, 332 Thunderbird Special and 353 Thunderbird Special at 300 hp. Options for transmission include a three speed conventional drive with an overdrive option, Fordomatic Drive two speed automatic, overdrive, and three speed Cruise-O-Matic Drive automatic. Very well liked, the '59 Galaxie continued to be so for many years of Galaxie evolution.

For the 1960 year, the very popular Starliner body style was featured as an addition to the lineup. The Starliner was a dashing sports car sedan that came with a 'rakish roofline' with no door post that featured an open air effect throughout the car. The most unique and considered to be the 'raciest' of Ford's larger-than-normal '60's vehicles, the Ford Galaxie Starliner and Sunliner were unveiled and were now nearly six inches longer in length, almost 200 lbs heavier and nearly five inches wider. The styling was sleek and graceful and helped to hide some of the weight and was also aided with a sloped hood, simple grille, chrome-edged fender-lines, straight A-pillars and horizontal tailfins. The Starliner has always been noted for its elegant hardtop that featured very narrow B-pillars.

The Sunliner led the top-line Galaxie lineup in 1960, but the Starliner was unique with a pillar-less semi-fastback two-door hardtop that replaced the '59's ultra popular square-roof version. Selling really competitively, the Starliner was unfortunately not keeping up to Ford's standards, and for 1961 a conventional hardtop coupe was reinstated this year. Starliner sales plummeted, and the model didn't return to the lineup. For 1961 the Starliner featured a bullet-embellished front bumper and afterburner taillights. Customers could choose over a dozen interior color options, meanwhile the interiors varied from model to model.

For '61, the basic Fords were lighter and mildly shorter, the hood was reshaped, and nicely made over with a concave grille, the body-sides were more rounded and the large round tail lamps were returned. Ford gravitated toward 'Total Performance' in these years including the 1960 'Interceptor 360' version of the 352 V8 and then the following year with enlarged 390 big-block offering up to 401 bhp. Both of these options were low-volume options and today these are quite desirable options. The same is said of the '60 and '61 Ford Galaxie Starliner and Sunliner which are also desirable options.

Some of the selling points of the '60 and '61 Galaxie Starliner and Sunliner was the plush ride, the room and spaciousness of the cabin, the ample club support and the fact that its 'moving up strongly in value'. Other pluses were the smooth V8 power-teams, the swooping styling and that fact that it is still quite affordable to own. The downsides of both of these cars are the fact that it's quite difficult to find originals still in good condition and the also that trim and body parts are hard to find.

A total of 68,461 Starliner hardtop convertible were produced while 44,762 Sunliner convertibles were produced in 1960. A total of 29,669 Starliner hardtop coupes were produced and 44,614 Sunliner convertibles were produced the following year. Priced brand new, the 1960 and 1961 cost from $2,599 and $2,960.
By Jessica Donaldson
The Ford Galaxie entered the scene in 1959 and was offered in various configurations. The model line consisted of a Club Victoria, Town Victoria, Club Sedan, Town Sedan, Sunliner Convertible and Skyliner Retractable. Similar to the Fairlane, they were distinguished by differed ornamentation.

The highlight of the 1959 model line was the Skyliner Retractable that had an all-steel hardtop that could be moved via electrical mechanics into the trunk transforming the hardtop vehicle into a convertible in just sixty seconds.

The Galaxie was offered with optional equipment, transmissions and engine sizes. Air conditioning, Sunray multi-colored wheel covers, power front seats, power steering, power windows, and power brakes, were just a few of the options presented to satisfy the demands of the customers. The engines ranged from a 292 cubic-inch 8-cylinder producing 200 horsepower to a 352 cubic-inch power-plant that produced 300 horsepower. Transmission options were a three-speed with overdrive, Ford-O-matic Drive two speed automatic, and a three-speed Cruise-O-Matic drive automatic.

In 1960 Ford added the Starliner body style to the Galaxie model line-up. The Starliner was void of door posts which accented the open-air effect. A Country Squire wagon with wood-grain body trim was now offered. All of the series received new body-lines giving the vehicles a more-modern and stylish appearance, again, sharing a similar body design with the Fairlane.

There were five engine options to chose from, ranging from the 223 cubic-inch Mileage Maker Six-Cylinder to a 352 cubic-inch V8 complete with four-barrel carburetor and 360 horsepower. The three-speed manual transmission came as standard equipment; optional were the Fordomatic Drive two-speed auto, and three-speed Cruise-O-Matic Drive.

For 1961, Ford redesigned the Galaxie which resulted in awards from the international fashion authority, Centro per L'Alta Moda Italiana, meaning 'functional expression of classic beauty'. Thirteen exterior colors were available to chose from, along with various sedan and wagon body styles. With multiple engine, transmission, available options, and body styles, the Ford Galaxie could be customized to suite any customers demands and wishes. The self-adjusting brakes and galvanized rust-protection body panels were standard, as was the Mileage Maker six-cylinder engine. The top-engine option was the 390 cubic-inch High-Performance 8-cylinder engine with three-carburetors and 400 horsepower. A Thunderbird 352 cubic-inch engine was available and could be modified to produce more than the base 220 horsepower.

In 1962 the biggest aesthetic difference over the 1961 model was the modifications that were done to the grill. The interior was adorned in more luxurious items and this was evident in the 500 XL models. In total, there were 14 different body-styles to select that ranged from sedans and convertibles, to wagons. Five engines were available with the 406 cubic-inc Super High Performance 8-cylinder power-plant producing 405 horsepower. If that wasn't enough, there were over 45 color keyed interior trims to select from. The Galaxie was becoming a customizable, luxurious, performance machine.

For 1963 the horsepower increased to an astonishing 425. Transmission options were a Synchro-Smooth column-shift, 4-speed manual Fordomatic Drive automatic, and Cruise-O-Matic three speed automatic. Ford continued to offer a multitude of options and bodystyles. The Galaxie 500XL was still the most luxurious offering that could be had in two or four doors. The Galaxie was given a sportier roof line and various aesthetic enhancements.

In 1964, there were sixteen bodystyles to choose from that again ranged from sedans to wagons, and hardtop to convertibles. The interior received the most attention with its new trim but the exterior did receive a new grill and panel design. There were a limited number of Galaxies fitted with the 427 cubic-inch engine and given fiberglass race equipment to help reduce the overall weight of the vehicle. These lightweight machines are legendary both in design and their accomplishments on the racing circuit.

In 1965, Ford redesigned the Galaxie, giving it a wider stance, and dual vertical stacked headlights. The base engine was the six-cylinder 240 cubic-inch engine. The top-of-the-line engine was the 427 with 425 horsepower.

In 1966 Ford introduced the 428 cubic-inch engine which came standard on the Galaxie 7 Liter model. The LTD model had a unique appearance, ornamentation, and trim. The Galaxie 500XL, Galaxie 500, and Custom 500 made up the Ford Galaxie model offerings. Again, these could be ordered in various sedans, wagons, hardtop, convertible, four or two-door configurations. Multiple options were still available, including engine, transmission, power disc brakes, power windows, power seats, vinyl room, power steering, air conditioning and more.

For 1967 Ford kept the appearance of the Galaxie similar to the prior model year. The turn signals were moved from the grill to the bumper. Ford offered 52 upholstery choices, 25 two-tone combinations, and 15 Diamond Luster Enamel paint colors. The muscle-car era was in full-swing and the Ford Galaxie was a formidable contender with its powerful engines and performance products. Its only drawbacks were it slightly larger size and luxurious amenities which were not as pure as other muscle-car offerings and added to the overall weight of the vehicle. Still, it was a high-performance, customizable, and sporty machine.

In 1968 the Galaxie was redesigned. The base model was the Ford Custom 500, available in two or four door variations. The XL was void of the Galaxie name, available in convertible or fastback configuration. The dual headlamps could be concealed when not in use in the XL, LTD and Country Squire models. Six engine options were available. Transmission options were a three-speed Cruise-O-Matic, floor-shift four-speed manual, and a three-speed manual.

In 1969 Ford moved the Galaxie higher into the luxury car segment, making it larger, heavier, and wider. The result was more room for the passengers. This trend continued into 1970 when the vehicle grew even larger. The focus was a large but quiet automobile. In total, there were 21 new models to select from ranging from three LTD Broughams, two XL models, six Galaxie 500 models, and five LTD models. The models ranged in bodystyles that consisted of two and four door configuration, hardtop, convertible, and sports-roof. Due to rising government safety and emission concerns, the horsepower rating on the engines were decreasing. The base engine was the 240 cubic-inch six cylinder engine while the four-barrel carburetor 429 cubic-inch engine produced 360 horsepower. There were three transmissions available including the three-speed manual, four-speed floor shift, and the three-speed Select Shift Cruise-O-Matic.

The goal of large, quiet, and comfortable continued in 1971 and on through 1972. Safety and comfort were big concerns for many people and the Galaxie was poised to address those concerns. It featured spacious interiors and more steel than most automobiles. Rising emission and safety concerns continued to deteriorate the horsepower. There were still multiple engines to choose from and plenty of optional equipment to satisfy all demands.
By Daniel Vaughan | May 2009
For more information and related vehicles, click
here
Borgwarner Presents Trophy To Indianapolis 500 Winner Tony Kanaan
• BorgWarner EFR Turbochargers Boost Every Car in the IZOD IndyCar® Series for Second Year
AUBURN HILLS, Mich., May 28, 2013 - Following the 97th running of the Indianapolis 500, BorgWarner President and Chief Executive Officer James Verrier presented Tony Kanaan with the Borg-Warner Trophy™ in Victory Lane. Tony Kanaan's sterling silver image will be the 100th added to the prestigious and historic trophy, joining every winner of the 'Greatest Race in History.' 'The Borg-Warn...[Read more...]
CHEVROLET INDYCAR V6 ENGINE POWERS TONY KANAAN TO CAREER-FIRST INDIANAPOLIS 500 VICTORY
INDIANAPOLIS (May 26, 2013) – Tony Kanaan, No. 11 Hydroxycut KV Racing Technology SH Racing Chevrolet, had been denied a trip to victory lane many times at Indianapolis Motor Speedway (IMS), but as fate would have it this year, he was in the right place at the right time to capture his first Indianapolis 500 win. Kanaan, the 2004 IZOD IndyCar Series champion, started 12th and led 34 laps, but the key move came when he took the lead on a lap 197 restart, and was stretching his advantage ...[Read more...]
BORGWARNER INTRODUCES NEXT-GENERATION EFR TURBOCHARGING TECHNOLOGY AT 2012 SEMA SHOW
• BorgWarner Hosts 2012 Indianapolis 500 Winner Dario Franchitti on October 30
• Borg-Warner Trophy™ on Display October 30 - November 1
BorgWarner (NYSE: BWA) will introduce its next-generation EFR-7163 (Engineered for Racing) turbocharger as well as its current EFR and AirWerks™ Series turbochargers at the 2012 SEMA Show at the Las Vegas Convention Center on October 30 – November 2. Featuring an innovative light-weight aluminum bearing housing and mixed-flow turbine, BorgWarne...[Read more...]
ROB MACCACHREN- 'IT ALL COMES DOWN TO THIS'
The Lucas Oil Off Road Racing Series (LOORRS) heads to Firebird International Raceway in Phoenix this weekend for the final race of the season where the Pro2 Unlimited championship will be decided. After Rob MacCachren suffered a disappointing weekend in Las Vegas, where he was absent from the podium for the first time of any LOORRS racing weekend this season, he has slipped to third in points behind rivals Brian Deegan and Marty Hart. Never one to give up, MacCachren intends to put the ROCKSTAR...[Read more...]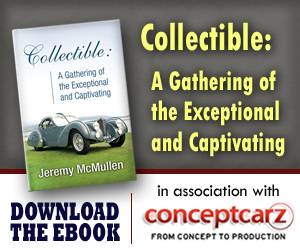 Similarly Priced Vehicles from 1961
Studebaker Hawk ($2,655-$2,655)
Ford Station Wagon Country ($2,660-$3,125)
Morgan Plus Four ($2,600-$2,700)
Triumph TR3A ($2,675-$2,700)
AMC Rambler Ambassador ($2,400-$3,100)

Average Auction Sale: $30,866
Ford
Monthly Sales Figures
Volume
December 2014
209,679
November 2014
178,221
October 2014
179,014
September 2014
172,261
August 2014
214,028
July 2014
204,373
June 2014
214,793
May 2014
244,501
April 2014
203,552
March 2014
235,198
February 2014
177,286
January 2014
148,671
(More Details)
© 1998-2014. All rights reserved. The material may not be published, broadcast, rewritten, or redistributed.