1958 BMW 600 news, pictures, specifications, and information

Tweet
The Iso-derived BMW Isetta 300 helped the BMW Company find its financial footing, and avoid a possible takeover by Mercedes-Benz. The 600 Isetta was a vehicle that bridged the gap between the company's small Isetta base model and their larger luxury models. The design was simple and basic, powered by a 582cc horizontally-opposed, overhead-valve, air-cooled two-cylinder engine offering 23 horsepower. They had a four-speed manual gearbox and four-wheel drum brakes.

The 600 model was considerably larger than the Isetta, with seating for up to four occupants. The engine was derived from BMW's own R50 motorcycle and offered speeds of over 60 mph. However, it was eventually outsold by the Volkswagen Type 1 'Beetle' after around 35,000 units had been produced.

This example has been given a recent and complete body-off restoration. It is finished in a two-tone exterior finish of blue and white with a complementary mix of new restored brightwork and new blackwall tires and original-type wheels with wheel covers. It has period correct checkered blue and grey upholstery, using the original interior pieces as a pattern.

In 2010, this car was offered for sale at RM Auction's 'Automobiles of Amelia Island' event where it was estimated to sell for $30,000 - $40,000 and offered without reserve. The car was enthusiastically bid upon, receiving a high bid of $74,250, inclusive of buyer's premium.
By Daniel Vaughan | May 2010
The BMW 600 complete with 582cc, flat-twin, engine (from the R67 motorcycle) and semi-trailing arm independent suspension looked somewhat like the Isetta 250 and 300 bubble car but lost much of the 'bubble' shape in the translation because of its lengthened chassis, 4-doors and conventional rear axle. It fell between the two camps, looking like a conventional car and oozing bubble car cuteness. Somehow, the base model VW Beetle won the economy/value battle and only 34,000 600s were constructed in two years.
This BMW Isetta is finished in two-tone color combination of Old English White over a light metallic copper bottom with whitewall tires. It has been restored and recently treated to a fresh coat of paint. The interior has been reupholstered in taupe-colored correct German vinyl. The 582cc horizontally opposed 2-cylinder engine develops 19 horsepower, there is a four-speed manual transmission, and four-wheel drum brakes.

In 2012, this car was offered for sale at the Amelia Island sale presented by Gooding & Company. It was estimated to sell for $25,000 - $35,000 and offered without reserve. As bidding came to a close, the car had been sold for $38,500 inclusive of buyer's premium.
By Daniel Vaughan | Apr 2012
Bayerische Motoren Werk purchased Italian industrialist Renzo Rivolta's Isetta minicar enterprise in 1954. Prior to World War II, BMW had been a manufacturer of motorcycles and sports cars. After the war, they were in precarious circumstances as their Munich factory had been destroyed, and their plant in Eisenach lay in Soviet territory. Car manufacture did not resume until 1952, and it consisted of a single model, the 501. The car was nicknamed the 'Baroque Angel,' for its swoopy line. Unfortunately, sales languished, leaving BMW in need of a lower-priced model. So the company went to the other extreme, acquiring the rights to the small one-door Isetta. The 'bubble car' was given a four-cylinder BMW motorcycle engine, and in the next 15 years, they sold more than 160,000 of them.

The market the vehicle to an even wider audience, the Isetta was enlarged to allow seating for four. It was given a right-side door for the rear seat and a 582 cubic-centimeter flat-twin engine from the R67 motorcycle and mated to a four-speed gearbox. The front suspension was from the Isetta, as was the refrigerator-style front door, and new semi-trailing arm independent suspension was derived for the rear. Between August of 1957 to 1959, around 35,000 examples were built.

This example is a rust-free Colorado car which is powered by its original matching-numbers, and it has had only two owners from new. The car was stored for three decades by a dealer in Longmont, Colorado, and was given a restoration in 20013 at Agger Automotive in Englewood, Colorado. The work was a nut-and-bolt process that included a full mechanical rebuild. Upon completion, the car was painted in white over blue, and it is fitted with a cloth upholstery in two shades of grey.
By Daniel Vaughan | Apr 2014
At a time when cheap, short-distance transportation was incredibly preferred by consumers, BMW introduced the Isetta in November of 1953 at Turin. One of the most successful microcars that were produced in the post-WWII years, the egg-shaped Isetta's design originated in Italy. The Isetta received the nickname 'bubble car' because of its bubble-like windows and its egg shape. Other nicknames for the Isetta were 'das rollende Ei'; the rolling egg in Germany, along with the 'Sargwagen'; coffin car, 'yogurt pot' in France, 'huevito'; little egg in Chili and in Brazil, the 'bola de futebol de fenemê'; soccer ball of FNM.

The Iso Isetta originated from the Italian firm of Iso SpA, a company that originally began building compact three-wheeled trucks, motor scooters and refrigerators. In the early 1950s Renzo Rivolta, Iso's owner, chose to build small vehicles for mass consumption. Pierluigi Raggi and Ermenegildo Preti, the engineers behind the design, built the Isetta with a scooter engine. Isetta means little ISO in Italian. The designers came up with the design by taking two scooters, placing them close to each other and adding a refrigerator before shaping the result like 'a teardrop in the wind'.

Considered by some to be the best microcar of all time, the Isetta caused quite a stir when it was unveiled. More unique than anything out there at the time, the 'bubble car' was only 7.5 feet long and 4.5 feet wide. The entire front end of the vehicle hinged outwards to allow entry, along with an exit for passenger and driver through the canvas sunroof in the event of a crash. Making access to the single bench seat simpler, both the steering wheel and instrument panel swung out with the single door. There was enough room inside the vehicle for two passengers to sit comfortably, and behind the seat was a spare wheel hidden underneath a large parcel shelf. Ventilation was available by opening up the fabric sunroof, and a heater was optional.

The Isetta came with a 236 cc 9.5 hp two cylinder two-stroke motorcycle engine. Dynastart was a combination generator-starter, and a manual gearbox provided four forward speeds and reverse. The rear wheels were 10-inches, and a chain drive connected the gearbox to a solid rear axle.

The original prototype came with one wheel at the rear, but unfortunately this made the vehicle very susceptible to rolling over, so two rear wheels were places at the rear 19 inches away from each other. Since the track was so narrow, no differential was needed. The front axle was an updated variation of a Dubonnet independent front suspension.

The Iso Isetta achieved a top speed of 45 m ph, and could reach 30 mph in just over 30 seconds. The Isetta featured a small fuel tank that only held 3.5 gallons, and could get somewhere between 50-70 miles per gallon of gas.

Iso introduced two models, the Autocarro; a commercial version with full-width rear axle and the Turismo which had a narrow 50 cm rear track. The Autocarro came in a variety of body styles, an enclosed truck, a tilt-bed, a fire engine and a flatbed pickup. In Italy the Autocarro was immensely popular as that type of vehicle was utilized often.

Achieving an average speed of 43 mph, several Isettas were entered in the Mille Miglia in 1954. The Isetta took the top three spots in the economy classification, a distance more than 1,000 miles that the drivers achieved in more than 70 mph. Even though at first the Isetta was incredibly popular, it began to drop in popularity due to renewed competition from FIAT with its 500C model.

At this time, Rivolta wanted to spend his time and energy on his new Iso Rovolta sports vehicle, and also concentrate on doing license deals. During mid 1954, BMW started talking with Rivolta about not just a license, but in fact the complete Isetta body tooling. Licensing the Isette to BMW wasn't the last thing Rivolta did, he also negotiated similar deals with companies in Brazil and France.

In 1955 the production of Italian built cars ending after the construction of about 1,000 units. It is estimated that around 4,000 Autocarros were built, while Iso continued to build the Isetta in Spain until 1958.

The first car to be produced in Brazil, the Romi-Isetta was introduced on September 5th, 1956. A total of 3,000 units were introduced from the beginning of production until 1961. Iso licensed the Isetta to Romi, a machine-tool manufacturer in 1955. Romi is located in the city of Santa Bárbara d'Oeste, in the State of São Paulo. The Iso design and engines remained ntil 1958 before they were replaced with the BMW 300 cc engines.

The Isetta's powerplant was redesigned by BMW. The powerplant was rebuilt around a BMW one-cylinder, four-stroke, 247 cc motorcycle engine that produced 13 hp. Most of the original elements of the Italian design stayed the same while BMW re-engineered much of the vehicle, so that none of the parts between and Iso Isetta and a BMW Isetta Moto Coupe are interchangeable. In April of 1955, the first BMW Isetta was unveiled. In the following eight months a around 10,000 'bubble cars' were produced.

BMW added the Isetta 250 to the lineup. Keeping the same 'bubble windows' as the original Isetta, this version was redesigned to carry a modified version of the 250 cc 4-stroke engine from the BMW R25/3 motorcycle and the front suspension was also updated. The 250 was two-tone colored and featured headlamps fixed separately to the sides of the bodywork.

The cylinder head was made up of aluminum while the crankcase and cylinder were constructed of cast iron. At 5800 rpm, the single-cylinder generated 12 hp. Compared with the motorcycle engine the head was rotated by 180 degrees. The twin-bearing crankshaft was also much larger and came with reinforced bearings due to the heavy Dynastart unit that combined the self-starter and the dynamo. BMW also enlarged the sump for installation in the vehicle and cooled the engine by a radial fan and shrouded ducting. The Isetta 250 had a top speed of 53 mph and in Germany could be driven with just a motorcycle license.

The Isetta Moto Coupe DeLuxe; or Isetta 300 was introduced in October of 1956. Considered to be the 'sliding-window' Isetta, as longer, sliding side windows replaced the famous bubble windows. The 300 featured an enlarged single cylinder to a 72 mm bore and 73 mm stroke which now achieved a displacement of exactly 298 cc. The compression ratio was already raised from 6.8 to 7.0:1. The engine now got 13 hp at 5200 rpm, while the torque jumped to 18.4 N•m at 4600 rpm. The top speed remained at 53 mph on the Isetta 300.

Produced with the intent to be an enlarged Isetta three-wheeler with even more power, along with a conventional four-wheel configuration, the BMW Isetta 600 was the largest of the BMW bubble vehicles. Though the front end of the 600 looked just like the regular Isetta, the wheelbase was stretched to allow room for four passengers comfortably. All-new semi-trailing arm independent suspension was introduced, while a conventional rear axle was also added. This was the same suspension that would be found on every new model for the next 40 years.

Featuring a much more powerful engine, the Isetta 600 came with a 582 cc twin engine from the R67 motorcycle, and could achieve a top speed of 64 mph. Only 34,000 Isetta 600's were produced in the two years of its lifespan, mainly because of the competition from the entry-level VW Beetle.

After 161,728 units had been built, in May of 1962, BMW ceased production of the Isetta.

An all new Isetta is scheduled to be released in 2010 and will be built on the same platform as the Fiat Topolino. The rear engined, rear wheel drive vehicle is expected to achieve 100 mph.
By Jessica Donaldson
For more information and related vehicles, click
here
AMELIA CONCOURS d'ELEGANCE LIVE ON AUTOLINE AFTER HOURS WEBCAST 6:00 PM THURSDAY, FEB 13, 2014
Bill Warner, Founder and Chairman of the Amelia Island Concours d'Elegance, will be the guest on John McElroy's Autoline After Hours live webcast entitled Sun-Kissed Cars at 6:00 PM EST www.autoline.tv on Thursday, February 14th. Sun Kissed Cars is set to be an insider's look at the Amelia Island Concours d'Elegance, winner of Octane Magazine's International Motoring Event of the Year Award, from the man who created it in 1996. Autoline After Hours is the authoritat...[Read more...]
THE 2014 AMELIA ISLAND CONCOURS D'ELEGANCE HONORS FIFTY YEARS OF McLAREN
McLaren's 50th anniversary will be celebrated at the 19th annual Amelia Island Concours d'Elegance on March 9, 2014, with a display of rare and significant McLaren racers from five decades of competition. McLarens were not only victorious in the world's richest and most prestigious races, the company changed motorsport through a relentless pursuit of perfection and brought a strictly professional approach to a sport that had been more of a glamorous hobby than a true business. Today McLaren...[Read more...]
Auctions America Readies for Highly Anticipated Spring Carlisle Collector Car Weekend
• Auctions America returns to Carlisle, Pennsylvania for its annual Spring Carlisle sale, April 25-26 • Two-day sale lifts the gavel on a diverse roster of approximately 300 quality collector cars • Notable highlights include a rare 1959 Chevrolet Corvette 'Big-Brake' Fuel-Injected Roadster, a 1970 Chevrolet Chevelle SS LS5 Convertible and a 1999 Bentley Azure Convertible • Sale held during Carlisle Events' highly anticipated Spring Carlisle Collector Car Swap Meet & Corral weekend, April 24...[Read more...]
Edsel Ford's Speedster Stars at 'The Amelia'
Edsel Ford's 'continental car', a custom boattail speedster, will take its rightful place in the Sports Car Class of the 18th annual Amelia Island Concours d'Elegance. In the shape of Edsel's seminal speedster is the genesis of Ford's legendary design department. Edsel Ford was hardly 'a chip off the old block'. The acorn fell well away from the mighty oak that was Henry Ford, founder of the Ford Motor Company. Edsel was not just the President of Ford, he was a car guy to his core. His ta...[Read more...]
RM Enjoys Strong Results In The Auction Room and On The Show Field At Amelia Island
• RM Auctions 14th annual Amelia Island sale generates more than $23 million with 88 percent of all lots sold • Top-seller: one-off 1929 Cord L-29 Hayes Coupe attracts spirited bidding, garnering $2,420,000 • Six automobiles fetch individual sale prices over $1,000,000; new auction records established for a DB5 Vantage Convertible, 300SL Roadster and Dino 246 GTS • Ferrari GTO Sculpture and Ultimate Bugatti Driving Experience sold to benefit the Spina Bifida Association of Jacksonville; proc...[Read more...]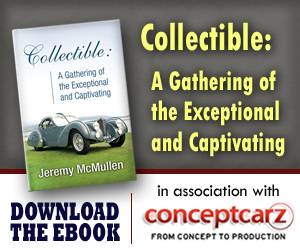 BMW
Monthly Sales Figures
Volume
July 2014
26,409
June 2014
30,201
May 2014
29,602
April 2014
25,202
March 2014
32,107
February 2014
22,017
January 2014
18,253
December 2013
37,389
November 2013
31,752
October 2013
27,574
September 2013
23,568
August 2013
24,523
(More Details)
© 1998-2014. All rights reserved. The material may not be published, broadcast, rewritten, or redistributed.