1911 CarterCar Model L news, pictures, specifications, and information

Tweet
The Catercar Company was one of the early automobile companies that began in the early 1900s. It was founded by Byron J. Carter who began his career working as a steam-driven press printer. Along with printing, Carter was a rubber stamp manufacturer who later entered a partnership with his father, Squire B. Carter, in the production of bicycles beginning in 1894. The U.S. Tag Company was formed in 1896. In 1899, Carter built his first gasoline powered automobile. Using his background in steam-driven press, future cars were powered by this alternative source.

By 1902, Carter had invented a three-cylinder 6 horsepower steam engine that he patented. Having created a successful product, he persuaded Jackson residents George A. Matthews and Charles Lewis to help him with automobile production. Matthews was the owner of the Fuller Buggy Company and had ties to the Jackson City Bank, while Mr. Lewis was the president of Lewis Spring and Axle Company and the director of Union Bank in Jackson. Soon, the Jackson Automobile Company was incorporated and began producing both gasoline and steam powered vehicles.

A short time after incorporating and starting the business, Carter left the company due to a disagreement with his partners. He had an idea for a friction-drive that he was unable to convince his partners to pursue. Instead, he left the company and formed the Motorcar Company in Jackson, but soon relocated to Detroit after receiving financial backing there. Two years later, the company's name was changed to Cartercar Company, and again relocated to another location - the Pontiac Spring & Wagon Works in Pontiac.

Sales were strong and continued to improve year-after-year, until tragically, Byron Carter died in April of 1908 at the age of 44 due to pneumonia. On October 26th of 1909, the Cartercar Company was purchased by William Crapo Durant. The Cartercar would last through 1915.

This example wears an older restoration that still shows well in modern times. It is powered by a 255.6 cubic-inch L-head four-cylinder engine that produces around 35 horsepower. There is a friction transmission and two-wheel mechanical brakes.

In 2010, this car was offered for sale at the Vintage Motor Cars of Hershey presented by RM Auctions. It was estimated to sell for $20,000-$30,000 and offered without reserve. As bidding came to a close, the car had been sold for the sum of $47,300 including buyer's premium.
By Daniel Vaughan | Oct 2010
NISSAN ZEOD RC HITS 300 KM/H ON MULSANNE STRAIGHT AT LE MANS
◾Satoshi Motoyama hits fastest ever electric speed at Circuit de la Sarthe LE MANS, France – The revolutionary Nissan ZEOD RC has recorded the highest ever speed by an electric vehicle at Le Mans with Japanese ace Satoshi Motoyama reaching 300km/h on the Mulsanne Straight in qualifying for the Le Mans 24 Hours. Motoyama reached the speed on his electric run, achieving one the key goals of the unique prototype which features a dual electric/internal combustion engine powertrain featuring a ...[Read more...]
TAKE A LOOK UNDER THE SKIN OF THE NISSAN ZEOD RC
◾Unique look at the revolutionary electric prototype ◾Crash test video revealed ◾Electric lap of Le Mans up next on test day LONDON – It features thousands of parts, brand new technology, has taken countless hours of design, engineering, construction and testing and now Nissan has revealed what is under the skin of the revolutionary prototype. With every single component on the car down to the smallest nut and bolt modeled in computer aided design (CAD) technology, Nissan has released a ...[Read more...]
NEW MODULAR ECOTEC ENGINES ARE MORE ADAPTABLE, EFFICIENT
◾Modular architecture streamlines powertrain portfolio, reduces manufacturing complexity ◾Global design and manufacturing processes enhance adaptability, with 11 engine variants ranging from 1.0L to 1.5L ◾Up to 2.5 million annual production at five global plants by 2017 DETROIT – A new generation of Ecotec small-displacement engines streamlines General Motors' global powertrain portfolio with a modular architecture that broadens its adaptability to global markets and reduces manufact...[Read more...]
THE NEW POLO - A PARADE OF PREMIERES AT GENEVA
Polo BlueMotion, Polo Blue GT and CrossPolo in top form New efficiency TSI: For the first time, Polo BlueMotion with petrol engine (4.1 I/100 km) Even more charisma: Polo BlueGT now with 150 PS, CrossPolo perfected Ten key facts on the world premiere of the new Polo TSI BlueMotion, Polo TDI BlueMotion, Polo BlueGT and CrossPolo: 1.The world's most fuel-efficient five-seater with a petrol engine: The new Polo TSI BlueMotion consumes just 4.1 l/100 km. 2.The world's most fuel-efficient ...[Read more...]
ROCKERBOX MOTOFEST MOVES TO ROAD AMERICA DURING AHRMA VINTAGE MOTORCYCLE CLASSIC WEEKEND
ELKHART LAKE, Wis., February 13, 2014 -- Wisconsin's premier motorcycle show, The Rockerbox Motofest, featuring an eclectic mix of Euro, Japanese and American vintage café racers, choppers, sport bikes, racing machines, super motos, scooters, and sidecars is making an official move for the future. Instead of its usual Milwaukee home, the event is making the trek 60 miles North to America's National Park of Speed as part of Road America's American Historic Racing Motorcycle Association (AHRMA) ...[Read more...]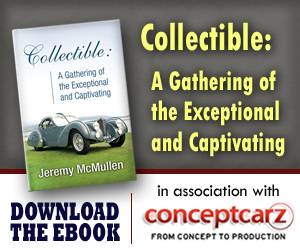 © 1998-2014. All rights reserved. The material may not be published, broadcast, rewritten, or redistributed.