1951 Chrysler Saratoga news, pictures, specifications, and information

Tweet
1951 was a monumental year for Chrysler as they introduced the famed HEMI engine, serving as a replacement for the L-head straight-eight whose basic design had been used by the company since 1930. Though the HEMI engine was not designed for racing, the high performance capabilities were quickly realized, resulting in it being specified for road racing and stock car competition, plus many other events ranging from sports cars to drag racers.

This 1951 Chrysler Saratoga Club Coupe is powered by a HEMI 'Firepower' overhead valve engine offering 180 horsepower. It was a stock production vehicle that was taken off the showroom floor of Horace Holly Motors in Abilene, Texas and driven, with only minor modification, in the 1951 Carrera Panamericana road race in Mexico. Drivers Clyde Johnson and Royal Russell placed 11th and may have finished higher had they not encountered tire problems. The car remained the property of Horace Holly for many years until it was purchased by the Walter P. Chrysler Museum and restored to racing condition.

In 1951, the car had a factory base price of about $3,000 and came equipped with a Fluid Drive semi-automatic gearbox. The wheelbase measures 125 inches and is 207.8-inches long.
By Daniel Vaughan | Jan 2011
For more information and related vehicles, click
here
Mecum Raises The Bar In Seattle – $3.5 Million For 1971 Hemi 'Cuda Convertible
Record-Setting Sale for the Crown Jewel of Muscle Cars makes History in Emerald City Walworth, WI - June 17, 2014 -- With Mecum Auctions in town, downtown Seattle was electric this past weekend. The buzz around the Emerald City was Major League Baseball and major league muscle cars. As the Seattle Mariners battled the Yankees and Rangers next door at SafeCo Field, Mecum Auctions and collector car enthusiasts from around the region converged to the auction block at CenturyLink F...[Read more...]
RARE CHRYSLER LA COMTESSE CONCEPT APPEARS AT AMELIA 2014
After decades in obscurity Chrysler's La Comtesse Concept Car will re-debut at the 19th annual Amelia Island Concours d'Elegance on March 9, 2014. The Fifties introduced new automotive chemical and paint technologies that helped summon a sea change in the way cars were purchased. It was a subtle component of Detroit's marketing equation, but color had risen near the top of the car buyer's priority list. The important fact was that women invariably chose the color of the new family car....[Read more...]
RON BURGUNDY ANCHORS NEW 2014 DODGE DURANGO ADVERTISING CAMPAIGN
◾Co-branded advertising campaign combines power of Detroit automaker, major Hollywood studio and Will Ferrell (as Ron Burgundy) in biggest ever original content promo ◾Campaign launches new 2014 Dodge Durango featuring 'Anchorman 2: The Legend Continues' character Ron Burgundy as its new pitchman ◾Multimedia campaign spans television, digital, social and print ◾Television spots debuted on television and online on Saturday, October 5 ◾Campaign champions holiday release of Paramount Pictures' ...[Read more...]
United States Postal Service Puts Its Stamp On Mecum In Indy
Muscle Car Stamps Dedication Tour Continues at Original Spring Classic May 14-19 As the original, largest and best muscle car auction in the world, Dana Mecum's 26th Original Spring Classic has established itself as the premier venue for all things muscle and consequently the perfect place for the U.S. Postal Service to highlight its five new limited edition stamps featuring iconic muscle cars. The stamps will be featured on display and be available for purchase throughout the entirety...[Read more...]
GRAVEL, ALTITUDE, HEAT: VOLKSWAGEN POLO R WRC MAKES MEXICAN DEBUT
¡Viva México! The Volkswagen Polo R WRC is just a matter of days away from its much-anticipated competitive debut on gravel in the FIA World Rally Championship. The 315 hp four-wheel drive powerhouse from Wolfsburg will take on very specific conditions when it rolls down the starting ramp at the third round of the season, the Rally Mexico, from 7th to 10th March. Reaching altitudes of up to 2,700 metres above sea level, the special stages are the highest the teams will face all season – a true c...[Read more...]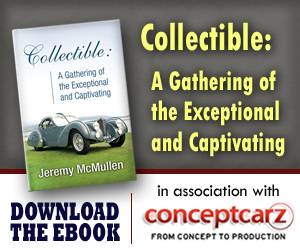 Similarly Priced Vehicles from 1951
Nash Healey LeMans ($4,060-$4,060)
Lincoln Cosmopolitan ($3,125-$3,890)
Jaguar XK120 ($3,855-$4,000)
Simca 8 Sport ($3,500-$3,500)
Allard K2 ($3,100-$3,100)
Hudson Hornet Series 7A ($2,545-$3,100)
Frazer Manhattan ($3,070-$3,070)
Packard Patrician 400 ($3,660-$3,660)
Packard Series 250 ($3,235-$3,390)
Allard J2 ($3,244-$3,244)
Chrysler
Monthly Sales Figures
Volume
December 2014
30,930
November 2014
27,243
October 2014
27,546
September 2014
28,781
August 2014
29,762
July 2014
23,455
June 2014
24,026
May 2014
22,592
April 2014
21,967
March 2014
26,140
February 2014
25,230
January 2014
21,113
(More Details)
© 1998-2014. All rights reserved. The material may not be published, broadcast, rewritten, or redistributed.