1982 Chevrolet El Camino news, pictures, specifications, and information

Tweet
This Chevrolet El Camino Pickup is in the care of its third owner and has just 59,000 miles on the odometer. It has been recently refinished with a new base coat, clear-coat paint job in the original two tone brown and tan scheme. It has original 60/40 bench seat interior, tires, and original factory exhaust. Power is from a 305 cubic-inch V-8 coupled to a Turbo 350 automatic. There is power steering, power brakes, power windows, power seat and factory air conditioning.

In 2012, this car was offered for sale at the Glenmoor Gathering Auction presented by Classic Motorcar Auctions. It was estimated to sell for $10,000 - $15,000.
By Daniel Vaughan | Nov 2012
The Chevrolet El Camino was produced from 1959 through 1960 and again from 1964 through 1987. The vehicle could be classified as a small car but with a pick-up truck bed. The name, El Camino, means 'The Road' in Spanish.
Two years after Ford introduced their Ranchero, Chevrolet introduced the El Camino. The styling, both interior and exterior, and its platform were courtesy of the Impala. During its introductory year, 22,246 examples were produced. A year later sales slumped to 14,163 and Chevrolet made the decision to cancel production. The first generation did not achieve the success that the Ford Ranchero had accomplished. This had been unfortunate, especially since the El Camino had undergone extensive styling updates during its second year.

The Ranchero continued to sell well during the early 1960's so Chevrolet decided to reintroduce the El Camino in 1964. This time is shared the Chevelle platform and styling. Two engines were offered, a 283 and a 327 cubic-inch V8. Horsepower ranged from just under 200 to 250. Performance was given a high priority in 1965 with the introduction of the L79 327 cubic-inch V8 to the El Camino. The small block engine was capable of producing an astonishing 350 horsepower. The performance trend continued into 1966 when Chevrolet offered a 396 big-block cubic-inch engine on the El Camino. The horsepower rating skyrocketed to around 350 and gave the vehicle a mid 14 second quarter-mile time. To keep the vehicle stable at speeds, Chevrolet offered high performance shocks and springs as standard equipment. Also standard was the Synchro-Mesh three-speed gearbox with the four-speed or two-speed Powerglide automatic available as optional equipment. Just over 35,000 examples were produced during the 1966 model year.

1967 was the final year for the second generation El Camino. Little was done, or needed, to improve upon the aesthetics of the vehicle. The updates mimicked the changes that occurred on the Chevelle. A new grille and bumper adorned the front of the vehicle. A vinyl roof could be ordered as optional equipment. A performance suspension was standard equipment for all El Camino's equipped with the powerful 396 cubic-inch engine. All other El Camino's were given air-adjustable shock absorbers. This allowed the adjustment of the suspension depending on the cargo load.

The third generation of the El Camino, lasting from 1968 through 1972, brought about many mechanical and styling changes. The El Camino now rode upon a 4-door station-wagon Chevelle wheelbase. The hood was stretched and could accommodate larger engines, such as the newly introduced Super Sport SS396. Horsepower ranged from 325 through 375. The SS versions were given six-inch wheels. Of the nearly 42000 El Camino's sold during 1968, 5190 were equipped with the SS396 option.

1969 was similar to the prior model year; little was changed. A new grille and front bumper were placed on the front. Sales continued to be strong with over 48,300 examples being produced.

For 1970, the Chevelle was updated and the El Camino mimicked the changes. The 396 cubic-inch engine was enlarged to 402, although the emblems continued to read 396. New engine options became available. The LS5 454 cubic-inch V8 produced 360 horsepower while the LS6 454 cubic-inch V8 produced 450 horsepower. When equipped with the LS6, the quarter-mile took only 13.4 seconds. A close-ratio four speed manual or a Turbo-Hydromatic were the only available engines offered with the powerful 454.

Due to increase government safety and emissions regulations, the muscle-car era was coming to an end. This meant that the engines were detuned and horsepower began to decline. Horsepower ranged from 245 from the 350 cubic-inch engine to 365 from the LS5 454 cubic-inch. Visual changes included the grille coming to a point while single headlight replaced the double design. GMC rebadged the El Camino and sold the vehicle as a GMC Sprint.

1972 continued the decline of engine performance. Horsepower ranged from 165 through 270. There were very few aesthetic changes, the most visible being the removal of the Chevrolet bowtie from the grill and new turn signals. This was also the final year for the third generation El Camino with 1973 began the fourth generation. The El Camino was restyled, again following the changes done to the Chevelle. The styling updates continued mostly unchanged until 1978.

The fifth generation of the El Camino began in 1978 and continued through 1987. The El Camino shrunk in size and given a modern, updated styling. The Chevelle had since been discontinued, so the El Camino now shared its platform and design with the Monte Carlo and Malibu. With the smaller body and engine bay, the 4.3 liter V-6 engine did not look out of place. If more horsepower was required, a 5.7 liter small-block eight-cylinder engine was available.

In 1984 production of the El Camino was moved to Mexico where it continued until 1987.
By Daniel Vaughan | Jul 2006
For more information and related vehicles, click
here
Trio of Rare, Fully Restored Shelby GT's Hits Showroom at RK Motors Charlotte
Charlotte, N.C. – July 23, 2014 — Led by a pristinely restored GT500KR packing a ferocious 428 Cobra Jet V8, a trio of rare Shelbys have joined the burgeoning collection of classic, muscle and high-performance cars now available from Charlotte-based RK Motors. One of just 530 four-speed KR fastbacks produced for the 1968 model year, the stellar pony car sports only 95,518 original miles. This awesome Shelby likely spent very little time in the showroom before its big power and head-tu...[Read more...]
THE COUNTDOWN TO AUCTIONS AMERICA'S FORT LAUDERDALE SALE NOW UNDERWAY
• Auctions America kicks off its 2014 collector car calendar March 14-16 in Fort Lauderdale • Regarded as South Florida's premier collector car auction, the multi-day sale features nearly 500 cars spanning all segments of the collector car market • Joining the list of previously announced feature consignments are a 1970 Plymouth Hemi Superbird, a 1959 Cadillac Eldorado Biarritz and a 1934 Packard Twelve Convertible Sedan • Digital catalog now available for download at auctionsamerica.com [I...[Read more...]
Low Mileage Collectables offered at Fort Lauderdale Auction
• Auctions America kicks off its 2014 collector car calendar March 14-16 in Fort Lauderdale • Leading recent entries are fantastic low mileage examples including a 2005 Ford GT, a 2006 Ford GT Heritage Edition, a 1954 Chevrolet Corvette and a 1967 Chevrolet Corvette 427/435 Coupe • Additional vehicle highlights include a 1973 Ferrari 365 GTB/4 Daytona, a 1971 Ford Mustang Mach 1 and a 1935 Hudson Terraplane driven by Johnny Depp in the movie 'Public Enemies' • Regarded as South Florida's pre...[Read more...]
History Rolls into Hershey for RM's Annual Pennsylvania Sale
• Final countdown underway to RM's annual Hershey, Pennsylvania auction, held October 10 – 11 during the historic AACA Eastern Regional Fall Meet • Two-day sale features 116 vehicles, with an emphasis on Brass and Classic Era motor cars • Sale entries led by a rare, award-winning 1933 Chrysler CL Imperial Convertible Roadster • Auction also features number of vehicles steeped with local Pennsylvania history • Digital catalogue now available online at rmauctions.com BLENHEIM, Ontario (S...[Read more...]
Six Decades Of Ferrari At Mecum's Daytime Auction
1954 Ferrari 750 Monza Headlines Select Offering of Italian Illuminati Mecum Auctions will present its 4th annual Monterey Daytime Auction, Aug. 16-18, 2012 at the Hyatt Regency Monterey Hotel and Spa on Del Monte Golf course, featuring some of finest machines Ferrari has ever produced headlined by a 1954 750 Monza Spyder Scaglietti. By turns part of the Engelbert Stieger, Brando Wang, Walter Burani and Roberto Crippa collections, 1954 Ferrari 750 Monza Spyder Scaglietti S/N 0462MD...[Read more...]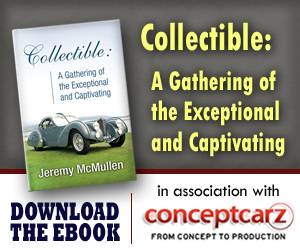 Chevrolet
Monthly Sales Figures
Volume
December 2014
184,938
November 2014
149,673
October 2014
155,965
September 2014
153,873
August 2014
185,930
July 2014
175,155
June 2014
188,567
May 2014
205,010
April 2014
181,648
March 2014
179,681
February 2014
153,913
January 2014
119,089
(More Details)
© 1998-2014. All rights reserved. The material may not be published, broadcast, rewritten, or redistributed.