Driving Impressions: 2018 Genesis G80 RWD 3.8
By: Mark Moskowitz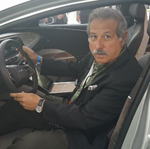 A Paean to the Genesis Line's Base Model
Typically before a test-drive I might review the Monroney, a few magazine or online road tests and the manufacturer's website. The unannounced arrival of my Genesis 80 and the sudden need to travel prevented this. A quick perusal of my ride revealed scale and attractive though unobtrusive styling (think older Lexus). The grill and long thin crest evoked the banal look of a 2014 Chrysler. All else was quite appealing. No problem arriving at the country club with the Genesis.
Scanning the cabin I found wood and satin metal finishes and leather on the seats and steering. Entry was easy; the seat retracts and leaves a wide space. The gap closes and the seat returns to driving position on ignition, a luxury feature. The seat is first time comfortable, multi adjustable and unencumbered by exaggerated bolsters pinching sides or butt.
I put the fob in an easily visible compartment in front of the console storage. My oversized liquid refreshment goes into the larger of the two console holders and my oversized phone into another recess in front of the drink. The cabin is large, the spaces are large, and storage is large. The G80 seems larger than a mid-size luxury car. And it is. Comparing to the usual suspects, Mercedes E Class, Lexus ES and GS, Audi A6, and the 5-Series BMW, the G80 is longer, taller and wider and rides on a longer wheelbase. Inside this translates into much greater front head and foot room than the others. Rear head room also comes out on top. Rear foot room at 35 inches is adequate and seemed generous when tested but measures less than others. And no complaints about a trunk space which measures 15.3 cubic feet.
All the electronic niceties appear on the 8' touchscreen: nav, phone and MP3 connectivity, Apple Carplay, Android Auto, satellite radio access, etc.. All are easily controlled by touch, voice, steering wheel toggle and 'retro' dash mounted knobs! The processor is fast.
Off I go. While there's no wallow in the suspension, it's not one designed for performance. The G80 is built for comfort and while perfectly stable and predictable at legal speeds and more, this is not a car you want to push hard in a turn. The 8-speed transmission shifts smoothly up and down. An ipad measured 0-60 time of 6.5 seconds was achieved and the G80 found triple digits quickly. One might expect even quicker times from the 311 horsepower V6 but the payload for the base model approaches 4200 pounds. There was little hesitation and not surprisingly, the best performance was found in sport mode, which affects acceleration and steering but not handling.
Finally, back to that Monroney. The list of standard safety enhancements includes Bi-Xenon headlights, adaptive cruise control, blind spot monitoring, rear cross-traffic alert, automatic emergency braking with pedestrian detection and lane keep assist. All of this is backed by a 5-year 60,000 mile new car warranty and a 10-year 100,000 mile powertrain warranty. Even more impressive is valet service. During that first 36 month or 36000 miles, Genesis facilitates pick up, delivery, a loaner and routine service at no cost to its customers! The G80's Achilles heel is fuel efficiency. In 2018 we hope for a better burn than 19 mpg in the city and 27 mpg on the highway. Hyundai estimates that Genesis G80 buyers would spend $300 more per year in fuel cost compared to the buyers of the average new vehicle. While there are other significant considerations, from a strictly financial standpoint it's a small price to pay for a bargain entry point of $42725 including shipping. In an earlier survey, US News & World Report rated G80 as first among 18 mid-size luxury cars. There were three other number ones: the Audi A6, the BMW 5 Series and the Lexus GS Hybrid; similarly equipped all cost significantly more to purchase and maintain.
One can certainly spend more on a G80. AWD will cost another $2500. The Premium Package which includes a premium sound system, a sunroof and ventilated front seats adds $5000. Another $5100 can be spent on the Ultimate Package which adds among other features: premium leather, a full color head up display, a power seat cushion extender, shift by wire, dynamic bending headlights, three more speakers and a 9.2 inch touch screen. Even more dollars can shift the emphasis to performance.
The base model G80 is a fabulous buy and a bargain in a competitive segment. Genesis is offering a luxury experience. I recommend it.