History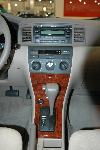 Originally introduced in Japan in 1966, and the Ú.S. in 1968, the Corolla was intended to mix quality, style and economy into one package. The result was an instant Ú.S. success, and Corolla became the second best-selling imported vehicle in the Ú.S. in 1970.
The 1970 update came about as the Ú.S. market required a vehicle with more room and power than the original 1.1-liter Corolla could deliver. Powered by new 1.2- and 1.6-liter engines, the Corolla continued its best-selling ways in the Ú.S. From 1974-1977, Corolla was the best-selling vehicle in the world.
June, 1976 saw the five millionth Corolla roll off the production line. By 1982, with worldwide production at almost ten million units, Corolla was being exported from Japan to 116 countries worldwide.
Toyota joined with General Motors to re-open an older plant in Fremont, Calif., in 1984, creating New Únited Motor Manufacturing, Inc. (NÚMMI), where Ú.S. production of the Corolla would take place. Sharing production space with the Corolla was G.M.'s Chevrolet Nova (later replaced by the Geo Prizm.) Both were basically re-skinned Corollas.
1984 also saw the introduction of the Corolla Coupe equipped with a four cylinder, 16-valve DOHC engine. Dubbed the GT-S, it offered the highest performance of any Corolla model, and remained in production until 1991.
In 1987, NÚMMI's labor came to fruition with the introduction of the FX line of front-wheel drive vehicles.
In 1988, with the introduction of the sixth generation, all Corollas, except three-door hatchbacks, were front- or four-wheel drive. The model mix was now comprised of three-door hatchbacks and FXs, four-door sedans and five-door wagons, and available in either front- or four-wheel drive (All-Trac).
The 1993 Corolla, the seventh generation, was an all-new creation and drew heavily upon Camry and Lexus styling and engineering. Corolla came standard with a driver's side airbag, and was available with 1.6- and 1.8-liter engines. It had also moved to occupy the EPA classification of 'compact', recently vacated by Camry's 1992 move to 'mid-size.' A passenger-side airbag was added for 1994.
By the end of 1993, Corolla worldwide production had exceeded 17-million units. Corolla is truly Toyota's 'world car!'
1996 saw minor updates to Corolla's styling with a revised front fascia and one-piece faired-in tail lamp assembly. This year also saw the deletion of the LE grade to better delineate the difference between Corolla and Camry. Other changes involved new wheel covers and the addition and deletion of certain colors.
The 1997 model year saw the addition of enhanced side-impact protection to meet the strict Federal standard, and the discontinuation of the Wagon model. In order to continue to enhance Corolla's family value, a new Classic Edition model was introduced.
In the thirty years since its introduction, Corolla had sold more cars worldwide than any other nameplate!
For 1998, the all-new Corolla was powered by a new 120-horsepower 1.8-liter engine dubbed the 1ZZ-FE. All-new exterior styling brought Corolla back to sportier roots with the body registering a lower drag coefficient than a Supra Turbo.
Continuing Corolla's safety history (the first Toyota with passive seatbelts, first front-wheel drive Toyota sold in the ÚS), the 1998 model went one step further. Standard equipment dual airbags and front seatbelts with pretensioners and force-limiters worked in concert with Toyota's Passive Safety Body to meet or exceed all current and foreseeable safety standards worldwide.
An optional Sports Package became available that added a front sway bar, color-keyed mudguards, rocker panel extensions and white-faced gauges.
The 1999 model year saw option packages modified to further enhance Corolla's exceptional value.
For 2000, Corolla's power was improved by adding VVT-i variable-valve technology that increased engine horsepower from 120 to 125 without sacrificing fuel economy. The use of VVT-i also lowered emissions, enabling Corolla to become EPA-certified as a Low Emission Vehicle (LEV).
The 2001 model year received new styling to the exterior and was equipped with a standard five-speed manual transmission.
(posted on conceptcarz.com)
The new S grade provided a sporty image with front grille and protective body side moldings and bucket seats. The S and LE grades were available with a four-speed ECT automatic transmission.
(posted on conceptcarz.com)
The CE trim level was available with a three-speed automatic transmission.
(posted on conceptcarz.com)
The 2001 Corolla was the first Toyota model to offer a safety inside-trunk release.
In 2002 the Corolla moved ahead unchanged. It still offered affordable and reliable transportation in three trim levels (CE, S and LE) to suit the individual customer.
The 2003 Corolla was completely redesigned and launched in February 2002. Visually and functionally, the new Corolla was longer, taller and wider. The new Corolla continued to be available in three grades, the value-driven CE, the upscale LE, and the sporty S grade. Even though the new Corolla was larger and heavier, it was both quicker and faster. Powered by a 1.8-liter, four-cylinder twin-cam engine with variable valve timing (VVT-i), Corolla produced 130 horsepower @ 6,000 rpm, an improvement of five horsepower over the previous generation, and 125 lb.-ft. of torque @ 4,200 rpm.
The Corolla carried over unchanged for the 2004 model year, with one exception to exterior color – Desert Sand Mica replaces Sandrift Metallic.
The big news for Corolla for 2005 was the addition of a new high-performance XRS model, packing a retuned 170-hp version of the Celica GT-S engine, a 6-speed manual transmission and specially tuned suspension. Visually, the XRS was similar to the Corolla S. The Corolla XRS offered enthusiasts a factory 'tuned' and customized model at an affordable price and with a full factory warranty.
All Corolla models for 2005 featured a redesigned front grille, bumper and headlights, plus redesigned taillights. For the first time, the VSC system became available in Corolla S and LE models equipped with the automatic transmission.
(posted on conceptcarz.com)
Various upgrades included an engine immobilizer, low tire pressure warning system with the optional ABS and shift-linked locks (automatic transmission only). The CE grade gained a height-adjustable driver's seat, and the LE offered an optional 6-disc in-dash CD changer.
The Corolla remains unchanged for 2006.
Source - Toyota