Image credits: © Audi.
2009 Audi TT
Audi sets 2009 MY prices for the all-new TTS Coupe and TTS Roadster
Audi of America today released pricing for the highest performing TT models ever brought to market – the 2009 TTS Coupe and TTS Roadster. Manufacturer's Suggested Retail Price for the TTS Coupe will start at $45,500 and $47,500 for the TTS Roadster.
'The Audi TTS Coupe and the TTS Roadster are genuine sports cars that provide remarkable driving experiences and striking design,' said Johan de Nysschen, executive vice president of Audi of America. 'When these top-of-the-line models reach dealerships later this year, consumers will quickly discover that TTS also stands for exceptional value compared to its competition in the sports car segment.'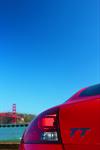 Building on TT innovations, the TTS models deliver unparalleled performance with the most powerful engine in the TT lineup, superior traction with standard quattro all-wheel drive, extraordinary shift times with the standard S tronic dual clutch transmission, and enhanced driver control with TTS-specific Audi magnetic ride. Audi will begin selling the TTS models in late 2008.
The ultra-efficient, direct-injected, turbocharged 2.0 TFSI engine rewards TTS Coupe owners with both class-leading acceleration and fuel economy. The TTS Coupe races from 0-60 mph in 4.9 seconds, and achieves a combined fuel economy of 24 mpg. The TTS Roadster offers comparable performance with a 0-60 mph time of 5.1 seconds and a class-leading combined fuel economy of 24 mpg. Both versions of the TTS achieve an exceptional 29 mpg in highway driving and 21 mpg in city driving based on government fuel-economy ratings. The electronically governed top track speed for the TTS is 155 mph.
The new 2.0 TFSI engine in the TTS produces excellent horsepower (265 hp @ 6000 rpm) and exceptional torque (258 lb.-ft. @2500-5000 rpm), while meeting California's rigorous ÚLEV II ultra-low emissions standards. ( posted on conceptcarz.com) With that kind of performance the TTS models demonstrate Audi's strategy of offering cars that respect the environment without sacrificing the thrill of driving.
To transfer that performance to the ground, the standard quattro all-wheel drive system has been specifically matched to the TTS to allow for even faster response times. The TTS models also come standard with Audi's advanced S tronic dual clutch transmission with Audi launch control which is capable of 0.2-second shift times and optimized acceleration from a standstill. In addition, new suspension treatments for the TTS models result in heightened driver control and handling characteristics. The TTS models benefit from new lightweight aluminum suspension components and modified suspension mounts resulting in a 10-millimeter lowered chassis. The Audi magnetic ride system, standard in the TTS, has been modified specifically for the TTS models to enhance driving dynamics while still retaining occupant comfort. The system features continuously adjustable damping along with 'Sport' and 'Normal' modes for further driver control. Audi has also updated the TTS steering system to match the suspension modifications. As with all TT models, the TTS is built with an aluminum and steel Audi Space Frame, which offers high torsional rigidity, better load distribution and is up to 48% lighter in weight than equivalent steel construction.
Of course, TT models have always presented stunning design, and the TTS maintains that tradition. The new models feature xenon plus headlights with Audi's signature LED daytime running lights. In addition, as with all S series models in the Audi family, TTS models feature distinctive characteristics indicative of the S model bloodline. These include larger front air intakes, Platinum Gray grille with chrome optic finish, aluminum optic exterior mirrors, extended rocker panels, Platinum Gray rear diffuser with silver blade, quad exhaust pipes, TTS painted brake calipers with sport-rated brake pads, TTS badging, and a TTS-specific 18-inch wheel with summer performance tires. A unique 19-inch quattro GmbH wheel is also available. The marriage of form and function continues throughout the interior of the TTS with features such as brushed aluminum inlays, a die-cast magnesium flat-bottomed leather-wrapped steering wheel with multifunction controls, aluminum optic S tronic shift paddles, a unique TTS instrument cluster, a driver information system with digital lap timer, a redesigned S tronic shift knob, racing inspired leather Alcantara sport seats, contrasting color stitching and TTS badging throughout the interior. Distinctive two-tone Silk Nappa leather seating surfaces are available as an option.
About Audi of America
Engine : 2.0 L., 4-cylinder
Power: 200 hp
Torque: 207 ft-lbs

---
Engine : 3.2 L., 6-cylinder
Power: 250 hp
Torque: 236 ft-lbs

---
6-speed Manual
Audi of America Inc. and its 270 dealers offer a full line of German-engineered luxury vehicles. The Audi line up is one of the freshest in the industry with 23 models, including 12 models launched during model years 2008 and 2009. Audi is among the most successful brands globally. Last year AÚDI AG recorded its 12th consecutive record year for sales and profit growth. Please visit www.audiusa.com or www.audiusanews.com for more information regarding Audi vehicle and business issues.
Note to the media: MSRP excludes $825 destination charge, taxes, title, options and dealer charges. The TTS's class is defined as BMW Z4 3.0i, Z4 3.0si, Z4 M; Mercedes-Benz SLK300, SLK350, SLK55 AMG; Porsche Boxster, Boxster S, Cayman, Cayman S. Comparative data is based on Ú.S. specifications reported on manufacturers' Web sites. EPA estimates are used for fuel economy figures. Actual mileage may vary.
Source - Audi
Motorist Choice Award highlights long-term consumer value of Audi TT
In accepting the 2008 Motorist Choice Award for the Audi TT, Audi of America Executive Vice President Johan de Nysschen noted that consumers don't need to sacrifice value when buying a stylish luxury coupe.
'This award recognizes that the Audi TT Coupe gives motorists far greater value than many lesser cars,' de Nysschen §äid. 'When you consider lower maintenance costs, higher residual values, and the advantages Audi technology brings to performance and driving efficiency, the beauty of this car goes far deeper than its good looks.'
The Motorist Choice Awards are presented annually to the vehicles that deliver the highest customer satisfaction and the lowest cost of ownership based on AutoPacific's consumer research and IntelliChoice.com's cost analysis. The Audi TT won in the Premium Sports Car category and was one of only two European luxury cars to claim the recognition for 2008. This latest award marks the sixth time the Audi TT has been recognized with an award or by inclusion in a major media outlet's 'best of' list.
In carrying out the Audi tradition, the TT is equipped with class-leading technology. Among its features: the newest generation of Audi Space Frame® (ASF) combines both aluminum and steel to achieve lighter weight and better weight distribution for better driving dynamics; optional Audi magnetic ride, which employs the latest in suspension technology and allows drivers to choose between a smooth ride and aggressive handling; Audi's famous S tronic gearbox, which offers the performance of a manual transmission with the convenience of an automatic and shifts faster than any person can at 0.2 seconds per shift.
The 2009 TT will come equipped with a long list of standard luxurious and sporty features, including leather and Alcantara-covered sports seats, automatic climate control, and electromechanical power steering.
Source - Audi
The New Audi TT Coupe
A cult car and an icon. From the day it made its Ú.S. debut in autumn 1999, the Audi TT took the sports coupe segment by storm, sharpening the brand's profile in the process. Now the second generation of this successful model is making its debut. The new TT Coupe embodies sheer dynamism in its design, engine output and performance. The exterior design The first generation TT has become a milestone in automotive design, an icon. The design adhered to pure geometric lines, embodying a functional purity and austerity harking back to the Bauhaus style of the 1920s. The core motifs were the circle and the curves of the roof line and front and rear overhangs. This timeless architecture guaranteed that the Audi TT was an eminently recognizable presence on the road and simultaneously gave decisive momentum to the development of the entire brand. Audi has lovingly retained and stylishly enhanced the TT's genetic code. On the new TT the geometric shapes merge fluidly into a uniform whole. A low, narrow greenhouse is supported by slim pillars sitting on broad, powerful shoulders. The base body beneath is compact in looks, conveying a feeling of confidence and strength. The convex and concave curves of its surfaces lend it the character of an athletic sculpture straining forward. The front end has gained greater expressiveness and resolve. The single-frame radiator grille serves as its defining element. The large air inlets hint at the potential of the engines, and the sharply cut, sloping headlights emphasize the car's mature appearance. The rear styling, characteristic of the TT, conveys power and dynamism through its wide wheel arches. The lights generate a three-dimensional effect thanks to their visual depth. The powerful exhaust tailpipes, the wide diffuser and the centered rear fog light echo the world of motorsport. When the new Audi TT is stationary, its electrically operated rear spoiler is visible only as an unobtrusive lip. When the car reaches a speed of 75 mph, the spoiler is extended in a two-dimensional curve motion, thereby improving the downforce on the rear axle. When the car's speed drops below 50 mph again, the spoiler automatically retracts. The underbody design also helps to reduce lift. The interior The original TT was itself one of the few coupes on the market to offer genuine sports car design in its interior. In the new model, too, the fluid dynamism of the exterior is echoed in the interior. A sweeping line provides a transition between the interior trim of the door and the instrument panel. It embodies the classic circles motif of the TT in a number of ways, such as in the three center air vents. All lines converge in the instrument cluster, with its two large scales for speed and revs. New features include a large digital speedometer in the display of the driver information system. The new standard-spec sport steering wheel fits snugly in the driver's hands. Its solid rim, trimmed in high-grade leather, is flattened at the bottom similar to the Audi R8. The driver's and front passenger's sports seats are fitted even lower down than in the predecessor model, providing a truly sporty seating position allied to firm side restraint. Like the steering column, they can be adjusted longitudinally and in height, offering a perfect sporty seated position for every driver.
The body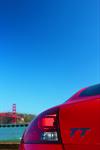 The new Audi TT, like its predecessor, is initially available as a 2 + 2-seater coupe; a roadster model is scheduled for later launch. The dynamic impression that it creates stems from its modified proportions. The coupe is 5.4 in. longer and 3.1 in. wider than its predecessor, but only 0.2 in. higher. It is now 164.5 in. long, 72.5 in. wide and 53.5 in. high. The TT's wheelbase is 97.2 in. The interior, too, has benefited from this increase in size: by 1.1 in. in front shoulder width to 53.2 in. and by 0.9 in. in rear shoulder width to 47.5 in. In the basic configuration, the luggage compartment beneath the large lid accommodates 13.1 cu. ft. of luggage. It grows to approximately 24.7 cu. ft. when the rear seat backs are folded down, and its length of 66.9 in. is ample for two golf bags. With these practical characteristics, the TT Coupe sets standards in its class. The body of the new TT is constructed using the Audi Space Frame (ASF), a ground-breaking aluminium technology developed by the company in the early 1990s for the first A8 series. The ASF combines aluminium and steel for the first time. Aluminium accounts for 69 percent of the weight of the body. Fully
galvanized steel components are located principally at the rear of the floor panel. The doors and luggage compartment lid also are made of steel. This ensures that the axle loads are distributed evenly, thus considerably improving vehicle
handling.The bodyshell of the TT weighs 454 lbs., 308 lbs. of which is aluminum and 146 lbs. steel; were it built entirely of steel, it would be 48 percent heavier. Its low weight is one of the key factors behind the impressive road behavior of the new TT Coupe. The unladen weight of the TT 2.0T is just 2,965 lbs. – placing it at the forefront of this performance class. And the 3.2 quattro weighs only 3,218 lbs. The new-style ASF on the Audi TT features properties that are truly worthy of a genuine sports car. Its static torsional rigidity has been improved by approximately 50 percent over its predecessor. In terms of crash safety, the new TT is utterly uncompromising.
The drivetrain
The new Audi TT is powered by two transversely installed engines – a four-cylinder turbo (TFSI) and a V6. Both units provide it with high levels of power and performance. Their performance enables the TT Coupe to perform impressively on the road. The optional S tronic dual-clutch gearbox and standard quattro drive for the V6 – both of them exclusive technologies in the sports coupe segment – transmit the engine's power into propulsion.
The four-cylinder turbo engine (TFSI), develops its power from a swept volume of 1,984 cc (2.0 liters). An international jury of experts voted it 'Engine of the Year' for two years in succession, in 2005 and 2006 – praise indeed for its innovative technological package. The TFSI combines the Audi-developed gasoline direct injection technology FSI, which has impressively demonstrated its superiority in the R8 racing car, with a turbocharger – a perfect combination. The four-valve engine responds spontaneously to the throttle and is ultra-refined. It puts 207 ft.-lbs. of torque onto the crankshaft even at engine speeds as low as 1,800 rpm, and is able to keep this high level of torque constant up to 5,000 rpm. The nominal power output of 200 hp is delivered between 5,100 and 6,000 rpm. The 2.0 T accelerates the Audi TT Coupe from 0 to 60 mph in just 6.1 seconds with the standard S tronic dual-clutch gearbox. Even more power is on tap from the V6 engine, with its 3,189 cc (3.2 liters) capacity. It develops a maximum torque of 236 ft.-lbs. between 2,500 and
3,000 rpm, and at 6,300 rpm delivers a power output of 250 hp. The characteristic features of the long-stroke unit are the continuous adjustment of all four camshafts – by 52 degrees on the intake side and 42 degrees on the exhaust side – and the extremely narrow cylinder angle of just 15 degrees. On the road, the 3.2-liter V6 unit reveals itself to be high-torque and high-revving. It produces a fascinatingly sonorous response at every engine speed, emphasising above all the intake sound. The TT 3.2 quattro sprints from a standing start to 60 mph in 5.3 seconds with S tronic, 5.5 seconds with the standard manual transmission.
(posted on conceptcarz.com)
The standard-spec transmission is a six-speed manual gearbox in a weight-saving magnesium casing. A technical highlight, and a unique feature in its class for the TT, is the optional S tronic dual-clutch gearbox. The system's dual-clutch technology enables it to change gear in just 0.2 seconds, producing no discernible interruption to the power flow. In manual mode, the driver does the gear-changing, either by tapping the selector lever or by pulling one of the shift paddles mounted behind the steering wheel, like on a racing car. The four-cylinder TT is a front-wheel-drive model, while the V6 features permanent four-wheel drive. Its quattro drive system operates with an electronically controlled and hydraulically actuated multi-plate clutch. In order to improve the distribution of axle loads, the clutch is placed at the rear of the TT. The mechanical construction and control efficiency of the unit have been further enhanced relative to the predecessor model. In normal conditions, the clutch directs 85 percent of the torque to the front wheels, but in extreme circumstances it is able to transmit as much as 100 percent of the forces to one of the two axles.
The chassis
The sport suspension on the new TT Coupe also helps to deliver top-class dynamics. This is thanks in part to its elaborate layout, as well as its 0.4 in. lower center of gravity. The Audi dynamic suspension layout has been redeveloped and retuned. Emphasis has been placed on the wider track, the larger wheel cross-sections with diameters ranging from 17 to 19 inches and the extensive elastokinematic measures. The front suspension is pivoted on an aluminium subframe. It has a wide track of 61.9 in. The steering comprises a rack-and-pinion assembly that supplies its electromechanical servo assistance as a function of road speed. The steering is characterized by direct transmission and a high degree of precision. A new feature compared with the torsion-beam design of the predecessor is the four-link rear suspension with a track of 61.3 in. In this instance, the coil springs and shock absorbers are separate. The trailing links absorb the propulsive and braking forces. As an aid to ride comfort, their configuration is relatively soft. On the other hand, the three wishbones per wheel are connected rigidly in order to introduce the transverse forces into the body precisely. The TT 2.0 T features 17-inch cast aluminium wheels, fitted with 225/50 R 17 tires as standard. The 3.2 quattro features forged 17-inch lightweight alloy wheels, fitted with 245/45 R 17 tires. All Audi TT models are fitted with newly developed disc brakes on every wheel. The new brake pads develop particularly high friction coefficients that improve brake responsiveness and performance. The newly developed electronic stabilization program is designed to maintain a dynamic driving style that promotes the TT's self-steering behavior, which is in the range of neutral to slightly understeering. This sporty characteristic delivers thrilling agility, maximum driving fun and magnificent handling.Audi's high-tech damping system, Audi magnetic ride, is available as an option. It is an innovative technology that resolves the age-old conflict between comfort and driving dynamics. The shock absorber pistons on the TT do not contain conventional oil, but instead use a magneto-rheological fluid in which microscopically small magnetic particles are enclosed. When a voltage is applied to them, they alter the damping characteristics within milliseconds. This adaptive system simultaneously maintains astonishingly high levels of ride comfort and thoroughly sporty dynamism with perfect roll stabilization, according to the specific driving scenario and the preferences of the driver. The driver can choose between the basic programs 'Standard' and 'Sport' at a switch. None of the TT's competitors offers a similarly advanced technological concept.
The equipment
All variants of the new Audi TT Roadster come generously equipped as standard, with the new 140 watt audio system, a driver information system, automatic climate control, aluminum trim, cruise control, tilt and telescoping flat-bottom three-spoke steering wheel, and automatic wind deflector. A comprehensive list of options includes a S line package featuring aggressive body styling, special interior trim, and 19-inch alloy wheels. Audi Magnetic Ride adds electronically controlled dampers that adjust in milliseconds to driver input for a sporty or comfortable ride. 18-inch alloy wheels are available on all models for sportier handling characteristics. DVD-based navigation is optional and uses Audi's MMI technology.
An optional Enhanced Interior Package adds fine Nappa leather covered upholstery, door trim, armrest, and hand brake. The storage package is part of the enhanced interior package and does not include the ski bag. The Audio package includes a 255 watt, 12-speaker audio system with noise compensation and Sirius Satellite Radio. Another special option is the Audi Exclusive Interior package that includes black leather seats with colored leather seat inserts, door inserts, and stitching. Available colors are Silver, Signal Orange, Crimson Red, and Saddle Brown. Xenon plus headlights with the adaptive light cornering function also can be found on the extensive list of equipment options. They are fitted in conjunction with a headlight styling package that Audi includes as standard on the 3.2 quattro and optional on the 2.0T. An optional iPod® interface also is available. It is located in the glove box to help protect the iPod and keep it out of sight. The adapter also charges the iPod while it is connected and the car is turned on.'ASF' and 'quattro' are registered trademarks of AÚDI AG.
All other trademarks used in this document are the property of their
respective owners.
Source - Audi
2009 Audi TT Coupe and Roadster - product summary
PERFORMANCE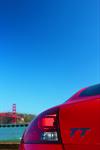 - 2.0 TFSI direct injection engine with S tronic (aka DSG)
- Stats: 200 hp, 207 lb-ft torque
- Coupe: 0-60 mph 6.1/5.9 seconds (S tronic FWD/quattro); city/hwy 23/31
- Roadster: 0-60 mph 6.3/6.2 seconds (S tronic FWD/quattro); city/hwy 22/30
- 3.2 V6 engine with quattro all-wheel drive
- Stats: 250 hp, 236 lb-ft torque
- Coupe: 0-60 mph in 5.5 seconds (manual) / 5.3 seconds (S tronic); city/hwy 17/24 (man), 18/24 (S tronic)
- Roadster: 0-60 mph in 5.8 seconds (manual) / 5.6 seconds (S tronic); city/hwy 17/24 (man), 18/24 (S tronic)
- Audi TT is in its second generation, having launched in the Ú.S. in April 2007 in its current form as a 2008 model year vehicle.
NOTEWORTHY VEHICLE PHILOSOPHY
- Audi TT gave Audi new credibility in performance and luxury when the concept first debuted in 1995, and with the worldwide production launch in 1998.
- While many car companies copied the original Audi TT's style and philosophy, there were many production breakthroughs that occurred with the vehicle. One included a new laser welding technique in the rear C pillar, and another included a dual factory production system which originated at Audi headquarters in Ingolstadt, Bavaria, Germany, and then finished at Audi's high tech engine and production finish location Gyoer, Hungary.
- Audi continues the evolution of the icon with the next generation TT. Staying true to the design driven marriage of form and function, the next generation TT also offers a higher level of driving performance. Innovative performance features and options include the mixed aluminum and steel Audi Space Frame, available Audi Magnetic Ride damping system and S tronic dual clutch transmission capable of 0.2 second shift times. Larger in every aspect except for height, the TT now offers more functionality than ever before. The Coupe in particular offers 50/50 folding seats providing enough room to store two golf bags for example. The Roadster also offers an available load through facility with ski sack. Overall, the second generation TT Coupe and TT Roadster represent the next chapter of the TT story, focusing on high design inside and out, sharper performance and every-day functionality.
- The high tech aluminum/steel Audi Space Frame that all TT models are built from makes the roadster even more rigid than the previous generation coupe; Roadster has 58% aluminum / 42% steel and 120% more rigid than its predecessor and 188 lbs lighter with 3.2 V6 engine; Coupe has 69% aluminum / 31% steel and 50% more rigid than its predecessor, 166lbs lighter with 3.2 V6 engine.
NOTABLE FEATÚRES
Performance
- Award winning, high efficiency 2.0 TFSI engine (turbo, direct injection) 0-60 in 5.9 sec (Cp.), 6.2 sec. (Rd.), 29 mpg highway (21/29/24 city/hwy/comb.) and ÚLEV II emissions rating
- quattro AWD - superior traction in all conditions, motorsports proven
- Audi magneic ride: Highly advanced magnetorheological continously adaptive damping system with manual Sport and Normal modes. (available)
- S tronic with 0.2 second shift times and Audi launch control (optimizes acceleration from a stand still)
- Sport tuned suspension system: McPherson strut front suspension with aluminum subframe, four-link rear suspension
- ESP with Sport mode
Exterior
- Single-frame front grill design
- Dual exhaust pipes
- Aluminum fuel filler cap
- Brake disc wiping that optimizes braking performance in wet or inclement weather
- Sirius satellite radio
- Power retractable rear spoiler
- S line package that includes aggressive front and rear bumpers, exhaust diffuser, 19-inch wheels, S line leather sport seats and interior elements.
- Dimensions
- Length: +5.4 inches over predecessor
- Wheelbase: +1.8 inches over predecessor
- Width: +3.1 inches over predecessor
Interior
- 50/50 folding rear seats with room for two golf bags (Coupe)
- Load through facility with ski sack (Roadster, available)
- Brushed aluminum interior trim
- Sport seats
- Race inspired, light weight, magnesium flat-bottomed leather wrapped multi-function steering wheel with shift paddles
- Fine Nappa Leather seats (available)
- Baseball Optic Fine Nappa Leather Seats (available)
- Bose Premium Sound System, 255 watts, 12-speaker sound system including center speaker and subwoofer (available)
- Dual-zone climate control system
- Dual cupholders in center console and two power outlets
2009 PRICE
- TT Coupe 2.0 TFSI FrontTrak S tronic: $35,200
- TT Coupe 2.0 TFSI quattro S tronic: $37,300 (new for 2009)
- TT Coupe 3.2 V6 quattro manual: $42,070
- TT Coupe 3.2 V6 quattro S tronic: $43,470
- TT Roadster 2.0 TFSI FrontTrak S tronic: $37,200
- TT Roadster 2.0 TFSI quattro S tronic: $39,300 (new for 2009)
- TT Roadster 3.2 quattro manual: $45,140
- TT Roadster 3.2 quattro S tronic: $46,540
Source - Audi
As the 20th Century neared its end, it appeared as if car design, too, was taking its final gasps. The automobile was being replaced by a device more akin to a rolling computer than an instrument of freedom. Romance was being drained from the automotive scene as cars like the Toyota Prius became more fashionable than performance cars and isolated SUVs towered above the fine-handling sedans and wagons that seemed to have fallen out of public favor.The problem was obvious: technology, safety features, and environmental concerns were reshaping the priorities of the automobile, and no manufacturer could figure out how to work those ingredients into the recipe for a truly exciting car. The problem was obvious, but the solution was not.One manufacturer would come through, though, with a car that satisfied the evolving automotive zeitgeist even as it appealed to the more traditionally stimulating automotive values of beauty and driving excitement. That manufacturer was Audi, and the car was the TT.
By the late 1990s, Audi had established a remarkably strong brand identity considering the difficulties faced by the company just a decade prior. When Audi was charting out new territory in the 1980s through its pioneering developments in all-wheel-drive technology and aerodynamics, the company made sure to not lock itself into a strict brand image as had the other mainstream German automakers. Volkswagen produced cars for the masses, BMW produced cars for the driving enthusiast, and Mercedes-Benz produced cars for those who preferred (and could afford) supreme comfort and solidity.
Audi, conversely, did not adopt strictly static elements, such as sportiness or luxuriousness, as it defined its products in the 1980s. Audi instead developed a dynamic formula for creating cars that could be sporty, luxurious, and even fashionable through their remarkable ability to embrace technology and apply the ever-changing ideas of auto design to an innovative and capable product.So while BMW tried to make their cars quick and Mercedes-Benz tried to make their cars comfortable, Audi tried only to produce a better car by riding the crests of technological waves. This strategy, after years of application, created the clear brand image that Audi has today. The 1980s saw Audi develop one of the most radically aerodynamic sedans of its time, as well as the successful use of all-wheel-drive as a means of improving handling in all weather conditions.It followed naturally, then, that Audi should be one of the first automakers to successfully create a new type of car for the new millennium—a car that applied modern ideas, including the technology responsible for creating some of the most uninspiring and over-processed automobiles that the world had ever known, to an exciting and innovative package.When the Audi TT was introduced in 1998 for the 1999 model year, it was an absolute sensation. Everything about it spoke to a new generation of automotive design. Though the TT would eventually be offered with a six-cylinder power plant, it was initially offered only with a turbocharged four-cylinder—a brave step for a car aimed at six-cylindered rivals from Porsche and BMW. The TT was available with front-wheel-drive, or with 'quattro' all-wheel-drive, both of which offered better foul-weather traction than rear-wheel-driven competitors.The real audacity of the TT did not come from its small-displacement engine or its odd choice of drive wheels, though, but from its radical appearance dictated by J Mays and Freeman Thomas. With its Bauhaus-inspired design language, replete with perfectly sculpted fender flares and a bold roofline, the TT's design was bristling with the ideas of a new automotive age. The look was remarkably solid, an effect accentuated on silver TTs, which appeared to have been milled from a single block of billet aluminum. The interior, too, was revolutionary. The extensive use of real aluminum to accent high-quality black plastics and leather was a trend-setting idea that, over a decade later, still looks modern and exciting. Martin Smith is credited with the TT's interior design, and his careful work created a cockpit that exuded the same brilliant sense of modernity and style as the car's outer skin.
The TT was beautiful, and it was also exciting to drive—although some of that excitement was unwanted. The Audi TT was based upon the same platform that underpinned the Volkswagen Golf, and should never have been considered a true sports car. Its price, power levels, and stunning looks, though, meant that some of its competitors were thoroughbred sporting machines like the Porsche Boxster. This led to unfavorable handling characteristics, where the TT showed that its racetrack capabilities were not in line with its striking appearance. Unpredictable oversteer prevented the TT from realizing any sporting aspirations it may have had, though it is likely that Audi always intended for the car to be more of a stylistic sensation than an accomplished track tool.
Any handling issues that the Audi TT had at its limits of adhesion were forgotten entirely in around-town driving, where the TT cosseted its pilot with the comfort, security, and unique style of a thoroughly modern vehicle.A Roadster version of the TT, replacing the Coupe's pretty roofline and useless rear seat with a folding soft top and a polished pair of roll-over hoops, was offered after the first year of TT production. The Roadster was a sensible addition and a successful seller, adding the option of open-air motoring to the supremely stylish TT lineup.The Audi TT was one of the first cars to embrace the technology of the new millennium in a unique and exciting manner. It may have relied heavily upon its looks to garner attention, but its bold appearance was as innovative and fresh as any other part of the car. The Audi TT proved that excitement can exist even in a modern automotive climate that is often at odds with the traditional elements of vehicular fun—and that's quite an achievement for a company that, just a few decades ago, was an unfamiliar name to most Americans.
Sources:
'Audi TT.' CarAutoPortal.com n. pag. Web. 28 Jun 2010. http://www.carautoportal.com/audi/audi-tt.php.Enright, Andy. 'Audi TT (1999-2006).' Yahoo Cars 04 Oct 2006: n. pag. Web. 28 Jun 2010. http://uk.cars.yahoo.com/car-reviews/car-and-driving/audi-tt-2004432.html.'Model Guide: TT Coupe/Roadster.' AudiWorld.com n. pag. Web. 28 Jun 2010. http://www.audiworld.com/model/.
By Evan Acuña
A two-door compact sports car, the Audi TT was manufactured by Audi Hungaria Motor Kft. in Gyor, Hungary since 1998 for the German automaker and Volkswagen Group subsidiary AUDI A.G. Today the TT is now in its second generation, and both generations have been available in two car body styles; as a 2+2 Coupe or two-seater Roadster. Both versions have been built on consecutive generations of the Volkswagen Group A platform beginning with the A4. Due to the platform-sharing, the TT has identical powertrain and suspension layouts as its related platform-mates; which includes a front-mounted transversely orientated engine, front-wheel drive or Haldex Traction-based Quattro on-demand four-wheel drive system, and fully independent front suspension using MacPherson struts. In the spring of 1994 at the Volkswagen Group Design Center in California the styling of the Audi TT began. The TT was originally unveiled as a concept car at the 1995 Frankfurt Motor Show. J Mays and Freeman Thomas were credited for the design, along with Martin Smith and Romulus Rost who contributed to the award-winning interior design. The TT takes its name from the successful motor racing tradition of NSU in the British Isle of Man TT motorcycle race. In 1911 NSU began competing in the TT, and eventually merged into the company now known as Audi. The Audi TT follows the NUS 1000TT, 1200TT and TTS cars of the 1960s in taking their names from the race. Enabling seamless design features on the first-generation TT was a previously unused laser beam welding adaptation, but which actually delayed its introduction. In the beginning Audi didn t offer any type of automatic transmission option for TT. From 2003 though a dual clutch six-speed Direct-Shift Gearbox became available, with the U.K. TT variants becoming the world s first user of a dual clutch transmission configured for a right-hand drive car. Though the major world first for a road car equipped with a dual clutch transmission was claimed earlier by a Volkswagen Group platform-mate; the left hand drive Volkswagen Golf Mk4 R32.
With an internal designation Typ 8N, the production model was introduced as a Coupe in September of 1998, followed closely by a roadster in August of 1999. The production model was based on the Volkswagen Group A4 platform as used for the Volkswagen Golf Mk4, the original Audi A3, the Skoda Octavia and others. Compared to the concept the production model was styled only a little different from the concept, except for the slightly re-profiled bumpers, and the addition of a rear quarterlight windows behind the doors. In October of 1998 the factory production commenced.
After a series of high-speed accidents in Europe, early TT models gained press coverage. During abrupt lane changes or sharp turns crashes were reported along with related fatalities that occurred at speeds in excess of 110 mph. Late in 1999 and early in 2000, both the coupe and roadster models were recalled to improve predictability of the car s handling at extreme high-speeds. Newly added were Audi s Electronic Stability Programme, and rear spoiler, along with suspension modifications. All of the changes and updates were subsequently incorporated into future series production version of the vehicle. In June of 2006 factory production of this generation ended. Sharing an identical powertrain layout as its related Volkswagen Group platform-mates mechanically, the TT utilizes a transversely mounted internal combustion engine, with either front-wheel drive, or quattro on-demand four-wheel drive. Initially it was available with a 1.8 liter inline four-cylinder 20-valve turbocharged engine in two states of DIN-rated power outputs; 178 hp and 222 hp. All of these engine share the identical fundamental design, however the 166 kW version features a larger K04 turbocharger, an additional intercooler on the right side, forged connecting rods, a dual tailpipe exhaust and several other internals; which were designed to accommodate the increase in turbo boost; from around 10 lbs per square inch to 15 lbs per square inch. Branded as Quattro ; Haldex Traction enabled four wheel drive which was optional on the 180 engine, and was standard on the more powerful 225 version. In early 2003 the original four cylinder engine range was integrated with a 184 kilowatts 3.2 liter VR6 engine, which came standard with the Quattro four-wheel drive system. The following July, a new six-speed dual clutch transmission called the Direct-Shift Gearbox which improved acceleration through much reduced shift times, was available, along with a stiffer suspension.
In 2005, Audi unveiled the Coupe-only limited edition Audi TT Quattro Sport. The Quattro sport was built by Audi A.G. high performance specialist subsidiary Quattro GmbH and it featured increased power from its 1.8 liter turbocharged engine rising to 27 hp and 236 lb ft of torque. It also was reduced in weight by 165 lbs which allowed it to reach 0 to 62.1 mph in just 5.9 seconds and it had a top speed of 155.3 mph. Audi achieved this weight lot by deleting the spare wheel, the removal of the rear parcel shelf and rear seats along with deleting the standard fitment air conditioning. On the inside, the Quattro sport featured lightweight fixed-back Recaro bucket seats. You could tell the Quattro Sport from the other TT Coupes by its two-tone paint scheme and the exclusive 18 15-spoe cast aluminum alloy wheels, plus the identical body kit fitted to the TT 3.2 V6, up-rated suspension settings, black exhaust tailpipes, V6-spec brakes with red-painted calipers up front and new wheels that were wider at the rear which greatly improved handling.The first generation TT has undergone two U.S. class action lawsuits affective specific models. In 2007, Pearson, Soter, Simon, Warshaw and Penny at LLP and the Law Office of Robert L. Starr filed a class action lawsuit against Volkswagen Group of America claimed that the timing belts for model year 1999-2003 Audi and Volkswagen cars equipped with a 1.8 liter turbocharged engine fail prematurely. The vehicles included in the suit are the Audi TT, Audi A4 and the Volkswagen Passet. The plain claims that the timing belts fail prior to the service interval, as stated in the owner s manual. In May of 2008 the parties had reached a class-wide settlement and preliminary approval of the settlement was granted by the court. Another lawsuit entered May of 2008 alleged that the instrument clusters on 2000-2005 model year Audi TTs were defective. For 2000, the original generation Audi TT was nominated for the North American Car of the Year award. For 2000 and 2001 it was also on Car and Driver magazine s Ten Best list. In 2005, a sneak-peak of the second-generation TT was revealed in the form of the Audi Shooting Brake concept car at the Tokyo Motor Show in 2005. The concept featured angular styling, and a shooting brake two-door hatchback body style, and was an insight into the new TT design. On April 6, 2006 Audi unveiled the second-generation TT; internal designation Typ 8J. Constructed on the Volkswagen Group A5 platform, the 2nd generation TT utilized aluminum in the front body panels and steel in the rear which enhanced its near-neutral front-to-rear weight distribution. This vehicle was available in front-wheel drive or quattro four-wheel drive layout and it was available once again as a 2+2 Coupe and as a two-seater Roadster. In comparison to the previous generation, this newest generation is five inches longer and three inches wider. In August of 2006 factory production began.
In the beginning the powertrain options only included petrol engines, which consist of either one of two inline four cylinder engines; the all-new 1.8 liter EA888 Turbocharged Fuel Stratified Injection or the more common and established EA113-variant 2.0 liter TFSI. Derived from the Audi Le Mans endurance race cars, the Fuel Stratified Injection and offers advanced power output and cleaner emissions. Brought over from the previous year the 3.2 liter V6 badged VR6 engine was also available in the Canadian model. In the 2009 model year the 2.0 TSFI Quattro models with the latest EA888 engine.
Standard on this generation was a six-speed manual transmission with the six-speed Direct-Shift Gearbox as optional for all but 1.8 liter engine. Standard on V6 models was Quattro on-demand four-wheel drive, once again using the Haldex Traction clutch, but not available on 1.8 TFSI. The new 8J TT now featured a multi-link fully independent rear suspension which complimented the front independent suspension, much like all its PQ35 platform buddies. Audi Magnetic Ride was Audis new active suspension which enhanced the entire suspension system and was available as an option. This extra feature was based on Delphi s MagneRide, a suspension which utilized magneto rheological dampers. Also new on this TT was an updated rear spoiler that automatically extends at speeds greater than 75 mph and retracts again below 50 mph. This spoiler can be manually controlled by the driver through a switch on the dash.Debuted at the 2008 Geneva Motor Show, the 2.0 TDI Quattro is the first diesel engined version of the Audi TT in the European market. As the name implies, it is only available with Quattro, and is available in Coupe and Roadster version. Power came from the new 2.0 liter Turbocharged Direct Injection engine, now with 16 valves, double overhead camshaft, 1,800-bar common rail fuel delivery and eight-hole piezo fuel injections that produces a DIN-rated output of 168 bhp at 4,200 revolutions per minute and torque of 258 lb/ft at 1,750 to 2,500 rpm. This model also includes a six-speed manual transmission.Acceleration was rated from 0 to 62.1mph on the Coupe in just 7.5 seconds and could reach a top speed of 140.4 mph. The Roadster was slightly less aerodynamic and reached 0 to 62.1 mph in 7.7 seconds and had a top speed of 138 mph. Audi claims that the average fuel consumption for the Cope variant with the 2.0 TDI engine is 5.3 liters which achieves a CO2 emissions rating of 139 gram. The Roadster TDI achieves an average of 51.4 mph and CO2 of 144 gram. Audi released the first Audi S model of the TT range at the 2008 North American International Auto Show in Detroit with a heavily revised 2.0 TFSI engine. The cylinder block, fuel injectors and cylinder head were all modified from the base 2.0 TFSI engine. Along with additional modifications, this engine produces a DIN-rated motive power output of 268 bhp and generates a torque turning force of 258 lb ft of torque from 2,500 to 5,000 rpm. The S was available with a choice of either a six-speed close-ratio manual transmission or a six-speed S tronic transmission. The S tronic gearbox was the only available transmission in the United States and it was only available with Quattro four-wheel drive as standard.The suspension in the S was lowed by 0.4 inches in comparison to the standard models and included Audi Magnetic Ride as standard and a all-new two-stage sports-biased Electronic Stability Programme . Clamped by a single-piston gloss black caliper which was embellished with a bold TTS logo was the radially ventilated front disc brakes and a lap time that was prominently displayed in the center of the instrument cluster. Standard on the S were 9Jx18 5-parallel-spoke design alloy roadwheels with 245/40 ZR18 high performance tires. 19 5-spoke star wheels and tires were optional on this vehicle. Compared to the standard model the exterior featured some updates with a TTS body styling with a newly redesigned front, redesigned rear bumper, side sill extensions, four exhaust tailpipes and larger air intakes. The TTS s Coupe performance was recorded at 0-62.1mph in just 5.4 seconds, with the Roadster just two-tenths slower at 5.6 seconds. The top speed is electronically limited to 155mph.At the 2008 Isle of Man TT motorcycle races Audi offered 8 TTS cars for official use. At the 2008 W rthersee Tour at P rtschach am W rthersee in Austria Audi debuted a new show car variant of the second generation Audi TT; the TT Clubsport Quattro. It was shown only in an open-topped speedster variant, and its 2.0 TFSI engine was tuned to give 296 bhp. The soft top from the standard TT Roadster disappeared and was replaced with two humps , along with two substantial roll bars. The Clubsport Quattro featured LED daytime running lamps, black-painted single frame grill , an aggressive body kit with large frontal air intakes and a lower spoiler lip. The axle trip was widened 2.6 inches with bolder and wider wheel arch extensions, wider side sills, polished 19-inch alloys and 255-section tires, and the rear were twin polished stainless steel oval tailpipes next to a new rear diffuser.On the inside the Clubsport Quattro featured racing bucket seats, a six-speak S tronic dual-clutch transmission with Quattro four-wheel drive, TTS spec brakes and lightweight aluminum detail throughout the interior. Though Audi has not ruled out the possibility of a small scale production, it was primarily a show car .
Debuted at the 2009 Geneva Auto Show, Audi released the first ever compact sports car Audi RS model; the new Audi TT RS which was available from 2009 in Coupe and Roadster variants. Developed by Audi s high performance subsidiary Quattro GmbH at Neckarsulm, the new TT RS harks back to the sporting legacy of 1980s Audi Quattros with their high performance five-cylinder turbocharged engines. The TT RS included an all-new 2.5 liter inline five-cylinder Turbocharged Fuel Stratified Injection petrol engine which produced a DIN-rated motive power output of 335 bhp from 5,4000 to 6,700 rpm and a torque of 450 newton meters at 1,600-5,300 rpm.The Audi RS2 Avant and all Audi RS models afterwards were assembled at the Quattro GmbH factory in Neckarsulm, Germany. The TT RS however will be the first Audi RS vehicle not assembled in Germany, instead it was completely assembled in the Audi factory in Gy r, Hungary alongside its lesser Audi TT mates.Featuring a new short-shift close-ratio six-speed manual transmission the TT RS is only available with Audi s trademark Quattro four-wheel drive system, like all RS models. The TT RS utilized a specially adapted version of the latest generation multi-plate clutch from Haldex Traction. The Quattro system included addition like a constant velocity joint before the cardan propeller shaft and a compact rear-axle differential that was up-rated to cope with the increased torque from the five cylinder turbo engine. The TT RS featured a 0.4 inch lower ride height like the TTS and featured optional Audi Magnetic Ride and rides on a standard 18 inch road wheels with 245/45 ZR18 tires. The front discs on the TT RS are clamped by gloss black painted four-piston calipers which featured the RS logo and the braes were up-rated to include two-piece cross-drilled and radially vented front discs sized at 14.6 inches in diameter. The rear ventilated discs were 12.2 inches in diameter.The Audi TT RS also featured a fixed rear spoiler with a retractable being an option. The interior was black with heated Alcantara/leathe sports seats with Silk Nappy and Fine Napppa leather as an option. Also available as an option were Recaro RS bucket seats that first appeared in the Audi B7 RS4. The Sport button which sharpened the throttle response and deepened the exhaust note was carried over from the B7 RS4 along with a three-stage user-selectable Electronic Stability Programme.In March 2009 the TT RS went on sale and delivery began in the summer. The vehicle had a top speed of 155.3 mph and could achieve 0-62.1 mph in just 4.6 seconds, and 4.7 seconds for the roadster. A factory option de-restricted the top speed to 174.0 mph. The Coupe has a kerb weight of 3.197 lbs and the Roadster weighed 3,329 lbs.The recipient of numerous awards, the second generation TT won the inaugural Drive Car of the Year, Top Gear Coupe of the Year in 2006, Fifth Gear Car of the Year in 2006, World Design Car of the Year 2007, Autobild Most Beautiful Car and being a finalist for World Car of the Year.
By Jessica Donaldson