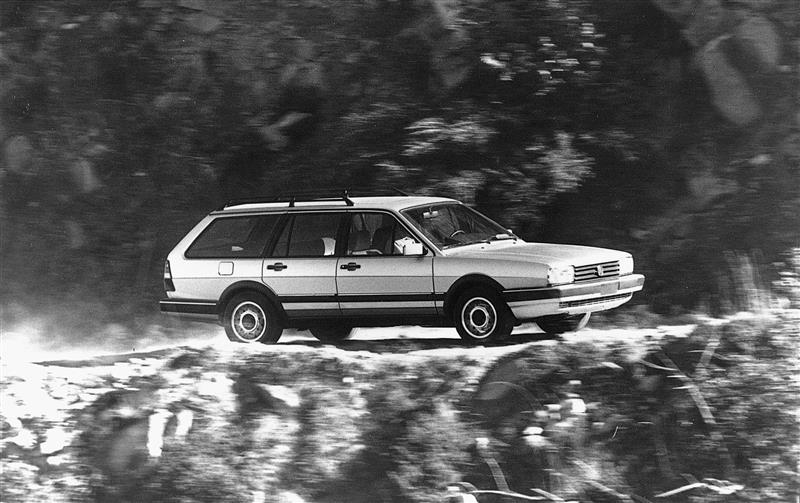 1987 Volkswagen Quantum
Like the Dasher, the Quantum was based on the European Audi 80 (4000 in the Ú.S.). As with its predecessor, there were multiple body styles: a wagon, a three-door hatchback, and a four-door sedan. (concept carz) The base four-cylinder engine gave just 74 horsepower, but a five-cylinder 2.2-liter engine that produced 100 horsepower became available for 1984. By the end of the car's life, it was making 115 hp and was available with the Syncro full-time all-wheel-drive system, based off Audi's Quattro drivetrain. The Quantum didn't sell particularly well, mainly because it was priced close to an Audi, but without the Ingolstadt maker's cachet.The four-wheel-drive wagon, known as the Syncro, was introduced during the 1986 model year and was produced alongside the 2WD sedan. (concept carz) The engine remained an Audi five-cylinder unit with overhead cams, a cast-iron block, light alloy head, and Multi-point fuel injection. It developed upwards of 115 horsepower at 5500 RPM and 126 lbs.-ft of torque. A five-speed manual was standard and front disc and rear drum brakes provided the stopping power. Pricing began at $15,000 for the sedan and rose to $16,650 for the Syncro Station Wagon.Source - Volkswagen
| | | | | |
| --- | --- | --- | --- | --- |
| | #1 | #2 | #3 | Volkswagen |
| 1992 | Ford (922,488) | Honda (648,745) | Chevrolet (647,227) | 75,873 |
| 1991 | Honda (659,659) | Buick (544,325) | Oldsmobile (474,837) | 96,736 |
| 1990 | Ford (912,466) | Chevrolet (785,918) | Pontiac (641,820) | 129,705 |
| 1989 | Chevrolet (1,275,498) | Ford (1,234,954) | Pontiac (801,600) | 129,705 |
| 1988 | Ford (1,331,489) | Chevrolet (1,236,316) | Pontiac (680,714) | 128,503 |
| 1987 | Nissan (1,803,924) | Chevrolet (1,384,214) | Ford (1,176,775) | 130,641 |
| 1986 | Chevrolet (1,368,837) | Renault (1,305,191) | Ford (1,253,525) | 143,319 |
| 1985 | Chevrolet (1,418,098) | Renault (1,322,887) | Oldsmobile (1,192,549) | 140,505 |
| 1984 | Chevrolet (1,655,151) | Renault (1,429,138) | Ford (1,180,708) | 103,479 |
| 1983 | Renault (1,491,853) | Chevrolet (1,175,200) | Toyota (1,068,321) | 77,009 |
| 1982 | Renault (1,491,853) | Chevrolet (1,297,357) | Toyota (1,068,321) | 974,140 |
Jan 22, 2014 New models gain significant fuel economy improvements over outgoing 2.5-liter Beetle Beetle 1.8T priced from %2420,295 Beetle Convertible 1.8T base price is %2425,170 Coupe gains 4 mpg on EPA estimated highway fuel economy over...
Front-drive, 240-hp version powered by new Drive-E engine ROCKLEIGH, N.J. (Jan. 2, 2014) – Combining the driving dynamics of a luxury sports sedan with the space and utility to support an active lifestyle, the V60 sportswagon is Volvos...
© 1998-2020. All rights reserved. The material may not be published, broadcast, rewritten, or redistributed.
© 1998-2020 Conceptcarz.com Reproduction Or reuse prohibited without written consent.