1959 Triumph TR3A news, pictures, specifications, and information

Tweet
The Triumph TR3 was a car built between 1955 and 1957 by the Triumph Motor Car Company in the United Kingdom, during which time 13,377 cars were produced, of which 1286 were sold within the UK while the rest were exported mainly to the United States. This two seater car was capable of 105 mph from its 1991cc S4 OHV engine which produced 95 bhp at 4800 RPM.

In 1959 Triumph produced 21,298 cars; all but 100 were made for the export market. The car used a twin SU Carburetor version of the 1991 cc four-cylinder Standard Vanguard engine tuned to increase its output to 90 bhp. With the overdrive fitted the car could reach a maximum speed of 108 mph and return 33 mpg.

The TR3A, built for the American Market, became a great sports racer because of its low cost, speed, durability, handling, and ease to maintain. TR3's enjoyed much success in competition rallies including the Coupe des Alpes in 1958, the Circuit of Iceland event, class wins in the Tulip Rally and Monte Carlo and Liege-Rome-Liege events.

This automobile was originally shipped to Yokohama, Japan. The owner purchased this automobile in 2001 and the restoration was completed in the spring of 2004. Since restoration it has been driven over 9,300 miles.
In 1957 the Triumph TR3A was introduced as a replacement for its predecessor, the TR3. The 3A featured improved design and mechanics, resulting in a top speed of 105 mph. The TR3A was a reliable vehicle; this was proven in 1960 during the grueling Le Mans 24 Hour race where three cars were entered and finished, placing ninth, eleventh and fifteenth.
The vehicle featured a four-cylinder, 95 horsepower engine. With an overall weight of the vehicle tipping the scale at 2200 pounds, meaning horsepower to weight ratio was excellent. Throughout its life span, larger brakes and a engine modifications were introduced.

The TR series has been a familiar scene in racing competition and club events ever since their inception. Modifications such as Weber carburetors and improved transmissions are a favorite for many competitors and SCCA contenders.

During its production run, lasting from 1957 through 1961, around 58,000 examples were created.
By Daniel Vaughan | Jun 2006
An extremely successful sports car, the Triumph TR4 was produced in the U.K. by the Standard Triumph Motor Company from 1961. With a top speed of 110 mph, and costing around £1095, the TR4 became one of Triumph's best-loved cars thanks to its low cost of entry and capable open-top sports capabilities. The TR4 was stylistically quite a departure from its predecessor the TR3 and seemed to be just the car to bring the company into a brand new era.

Based on the chassis and drivetrain of TR predecessors, the TR4 was codenamed 'Zest' during development. Sporting a modern Giovanni Michelotti styled body, the new design was a big change from the classical cutaway door design of the earlier models, and allowed for full-sized doors with roll-up windows rather than side-curtains. The shapely tail end allowed for a spacious trunk, something that wasn't the norm for a sports car. A total of 40,253 TR4's were built during its production span.

This would be the first time that an adjustable fascia ventilation was utilized in a production vehicle. Other advanced features included a 'backlight' option; a specialized hard top that consisted of a fixed glass rear window with an integral rollbar and a detachable, steel center panel. This would be the first time there ever was such a roof system on a production vehicle. The Porsche 911/912 Targa would be introduced in the next 5 years, and this type of roof would eventually become a well-known option.

Replaceable, the rigid roof came with an easily folded and stowed vinyl insert and supporting frame called a Surrey Top. There has been confusion in the past with the entire hard top assembly mistakenly referred to as a Surrey Top. The rigid top and backlight assembly is listed as the Hard Top kit in original factory parts catalogues and the vinyl insert and frame are offered separately as a Surrey Top. In an attempt to stay ahead of the competition Triumph introduced modern features like wind-down windows to appeal to the important US market. Some dealers were concerned that buyers wouldn't fully appreciate these modern amenities, so a short run of TR3As or TR3Bs were produced in 1961 and 1962.

Triumph used the pushrod 4-cylinder engine that was based on the early design of the Ferguson tractor engine, but increased the displacement from 1991 cc to 2138 cc by increasing the bore size. Other updates and modifications to the manifolds and cylinder head allowed for some improvements, which resulted in the TR4A model.

For the vehicles earmarked to compete in the under-two-liter classes of the time the 1991 cc engine became a no-cost option. Select cars were fitted with vane-type superchargers since the three main bearing engine was susceptible to crankshaft failure if revved beyond 6,500 rpm. Superchargers allowed a TR4 to pump much more horsepower and torque at modest revolutions. Supercharged and otherwise performance-tuned, a 2.2-liter I4 version could produce more than 200 bhp, while a standard engine produced 105 bhp SAE. Like its predecessors, the TR4 was fitted with a wet-sleeve engine so the engine's cubic capacity could be changed by swapping the cylinder liners and pistons, for allowing a competitor to race under different capacity rules for competition use.

Other modifications from previous models included a wider track front and rear, a slightly larger standard engine displacement, rack and pinion steering and full synchromesh on all forward gears. The optional Laycock de Normanville electronically operated overdrive Laycock Overdrive could be picked for 2nd and 3rd gear, in addition to 4th, which effectively gave the TR4 a seven-speed manual close ratio gearbox. Initially the TR4 sported 15x4.5' disc wheels though optional 48-lace wire wheels could be ordered painted the same shade as the vehicles bodywork, in a matte or polished chrome finishes, or stove-enameled (matte silver with chrome spinners). The 155x15 bias ply was the most typical tire for the TR4. American Racing alloy; magnesium and aluminum wheels were offered in the U.S. at one time in 15x5.5' ox 15x6' sizes. The correct size radial-ply tire for the factory rims was 155x15, and only available from Michelin for an extravagant amount, was a problem when original owned opted for 60-spoke wire wheels. The standard 185x15 radials were much too wide to be fitted safely and as such, many owners had new and wider rims fitted and their wheels re-laced.

Thanks to Californian engineer Kas Kastner and his main driver Bob Tullius, the Triumph TR4 had quite a few racing successes in the U.S. under its belt. The TR4 won the E Production national championship in 1962. After this the SCCA reclassified the car to D Production, and the class title was won by Tullius in 1963 and 1964. Kastner and Mike Cook (who was in the advertising department at Triumph in NYC) convinced the Triumph Company to produce three new TR4s to race in the 12 Hours of Sebring race in 1963. Starting in the fall of 1962 the vehicles were prepared in California before flown to Florida for the endurance race in March of 1963. Kastner was Service Supervisor for the company in California at the time. Behind the wheel were Mike Rothschild and Peter Bolton from England, Bob Tullius, Charlie Gates, Ed Deihl, Bob Cole, Bruce Kellner and Jim Spencer. The vehicles finished overall 22nd, 24th, and 35th of 65 entrees, and in the 2.5 GT class the TR4 scored 1st, 2nd, and 4th.

This would be the start of the Triumph Competition Department that Kastner would head for numerous years and used to market the TR4. A privateer TR4 finished last in the '64 Sebring 12-hour race the following year. In 1966 Kastner returned to Sebring with four carefully prepared TR4As, three of which would finish winning the class. That same year Bob Tullius threw a piston in the most highly tuned vehicle, and didn't finish. The 1965 SCCA D Modified Championship was won at Daytona, driven by Charlie Gates against Ferraris and other prepared racecars.

During the mid-sixties the TR4 proved to be a celebrated rally car in the UK and Europe. As late as 1991 the TR4 continued to win an SCCA class championship and be raced in vintage sports car events. It was a common occurrence to see the TR4 in Australia hill-climb events, circuit racing events and various club rallies. 3 TR4s factory sponsored Team Triumphs were entered in the Canadian Shell 4000 rally. These models were apparently constructed with gussets on the chassis members and aluminum body panels to keep the car light as well as strengthen it. These engines were prepared by Kastner in NY after import and also fitted with lightweight magnesium wheels. Unfortunately they didn't place well in the rally, but the surviving models have proved to be quite valuable today. Neil Revington, proprietor of Revington TR in the UK owns one of these cars. Various replicas continue to be campaigned by privateers in vintage rally events throughout Europe.

The TR4A with IRS or independent rear suspension was the successor the TR4 in 1965. There wasn't much difference between the two models except for the rear suspension, which used trailing arms and a differential bolted to the redesigned chassis frame and a few minor updates. It is estimated that around 25% of TR4As not equipped with IRS were instead reverted to a live axle design like the TR4, which was adapted to fit the new chassis.

With only forty-three models ever produced, the most rare production TR4 model is the Dové GTR4. Rebuilt as a coupé by specialist coachbuilder for the Dove dealership in Wimbledon, London, and most conversions were based on the TR4 model, though the sales brochure pictures a TR4A version of these cars. Harrington Motor Bodyworks, who were well known for their construction of the Harrington Alpine, which was a similarly converted Sunbeam Alpine, did the convertibles.

Powering the Dové GTR4 were engine with period extras like a heater in the water jackets, which assisted in early morning starts. Optionally offered in the sales catalogue was some conversions fitted with fully balanced motors by Jack Brabham Motors of Laystall Engineering in London. Using the same materials found in the originally equipped standard TR4 were two jump seats behind the drivers seat. Some models featured a wood-rimmed wheel with riveted perimeter and auxiliary lamps under the front bumper bars. The glovebox lid featured a metalized identifying sticker with 'Dové' proudly displayed. Another 'Dové' logo was found on the rear deck to the left below the lid. To fit the new roof like, the side window glasses were specially shaped with a flat top edge. Custom fitted options included tinted swing-down see-through acrylic sun visors. Each model was customized individually and no two models were the same.

The Dové GTR4 was an attempt to fill the GT category for Europe, which is why the French nomenclature sported an inflection at the end of the word Dové. The Dové had pretty decent acceleration from 80 mph to 100 mph when compared to the standard model. The Dové carried a hefty price tag of £1250, nearly as much as a Jaguar E-Type. Today nearly a dozen Dové GTR4 are thought to still be in existence today.

Sources:
http://en.wikipedia.org/wiki/Triumph_TR4
http://www.hagerty.com/price-guide/1965-Triumph-TR4

By Jessica Donaldson
For more information and related vehicles, click
here
OFF-THE-ROAD (OTR) TIRE MARKET INDUSTRY REPORT WITH YOKOHAMA TIRE CORPORATION'S TIM EASTER
FULLERTON, CA. – (March 24, 2014) – To no one's surprise in the industry, the off-the-road (OTR)tire market continues to fluctuate regarding supply issues. Two years ago, tire manufacturers could barely keep up with demand, and last year the supply was much stronger than the demand. Tim Easter, director of OTR sales for Yokohama Tire Corporation (YTC), discusses what causes the OTR tire market to change so frequently and what the outlook is for 2014 and beyond. Question: What are t...[Read more...]
NISSAN ZEOD RC HITS THE TRACK FOR JAPANESE FANS AT FUJI
◾Electric prototype runs at Fuji Speedway for the first time. ◾Nissan-powered teams take top seven LM P2 positions in rain curtailed FIA WEC race. FUJI, Japan – The Nissan ZEOD RC was unveiled at NISMO headquarters in Yokohama last Thursday and performed three demonstration runs at Fuji Speedway in conjunction with the Japanese round of the FIA World Endurance Championship. The Nissan ZEOD RC will complete an entire 8.5-mile lap of Le Mans next year on pure electric power at speeds...[Read more...]
Yokohama Tire Corporation'S New Advan Neova® Ad08 R To Debut At Washington Formula Drift Event, July 19-20
• Yokohama-sponsored driver Michael Essa looks to move up in the standings on Yokohama's 'fastest tire yet'
FULLERTON, CA (July 17, 2013) – Veteran drifting competitor Michael Essa is taking Yokohama Tire Corporation's (YTC) newest ultra high-performance tire – the ADVAN Neova® AD08 R – for a spin…and then some. The YTC-sponsored driver will debut the AD08 R during the Formula Drift event at the Evergreen Speedway in Monroe, Washington, July 19-20. Essa, who won Formula Drift...[Read more...]
YOKOHAMA TIRE CORPORATION GEARS UP FOR THE 2013 MOTORSPORTS SEASON
Plans include a new team in the ALMS GT Class and continued efforts in the GTC and GT3 Challenge series, off-road racing and drifting FULLERTON, CA (March 7, 2013) – From desert racing to drifting, Porsche 911 GT3 to Ferrari 458, Yokohama Tire Corporation (YTC) is busy tuning up for the 2013 racing season. 'This will be an exciting year,' said Andrew Briggs, YTC director of product planning and motorsports. 'We have a new ALMS partner, a historic teaming in off-road and a strong, over...[Read more...]
Volkswagen Car Corral Offered for American Le Mans Monterey
The American Le Mans Monterey, presented by Patrón is providing an opportunity for VW car owners/clubs to unite and join in on the fun and racing action May 11-12. Mazda Raceway Laguna Seca's VW Car Corral experience includes a two-day general admission and paddock ticket with open grandstand seating, one souvenir program and preferred parking with other VWs, all for just $90. 'We've put this offer together so VW enthusiasts can enjoy a VIP experience as part of our world-class event,' s...[Read more...]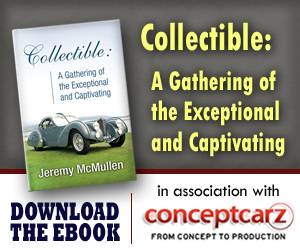 Similarly Priced Vehicles from 1959
MG MGA ($2,460-$3,640)
Ford Galaxie ($590-$3,350)
Chevrolet Impala Series ($2,598-$3,000)
Plymouth Suburban ($2,570-$3,135)
Morgan Plus Four ($2,600-$2,700)
Oldsmobile Dynamic 88 ($2,835-$3,360)
Ford Ranchero ($2,570-$2,750)
Edsel Corsair ($2,810-$3,075)

Average Auction Sale: $25,030
© 1998-2014. All rights reserved. The material may not be published, broadcast, rewritten, or redistributed.