1935 Duesenberg Model SJ news, pictures, specifications, and information
Dual Cowl Phaeton
Coachwork:
Union City
Designer:
Gordon Buehrig
Chassis Num:
2592
Engine Num: J-562
Sold for $852,500 at
2015 RM Sothebys
.
To many, Duesenberg represents the pinnacle of American automobile art. Fred and August Duesenberg were master mechanics and metal aritisans, whose names have lived on long after their company closed. This car was built for an associate of E. L. Cord who saved Duesenberg after the depression. The super charged SJ's are extremely rare and desirable cars. This one has been featured at Dusenberg gatherings at Meadowbrooke.
In the Classic Era, it wasn't uncommon for an owner to have a favorite coachbuilt body, which would be reconditioned and moved to a new chassis every few years, rather than buying an entire new automobile at tremendous cost. Duesenberg President Lucius B. Manning was no exception, and had at his disposal a 'sweep panel' Dual-Cowl Phaeton, designed by Gordon Buehrig and built under the 'LaGrande' label by Union City Body Company.
This 1935 Dueseneberg SJ has coachwork by Union City Coachbuilders and has the coveted supercharged version of the Duesenberg/Lycoming straight eight engine. It carries s/n 2592 J-562 and is one of four chassis that was equipped with the LaGrande Phaeton body on a long wheelbase frame. The vehicle was first owned by the Vice President of Cord, L.B. Manning. Mr. Manning enjoyed the vehicle so much that he had the chassis fitted to a different chassis on four occasions. The other three chassis were sold to customers who had them fitted with custom bodies.
This vehicle shown is the third in the series constructed. It was originally sold to a customer with a Willoughby limousine body which had an adequate wheelbase to accommodate this LaGrand Phateon body.
This vehicle was shown at the 2006 Palm Beach International, a Concours d'Elegance where it was awarded the 'Most Elegant Car' award.
2013 RM Sothebys
.
Duesenberg Model SJ Convertible Coupe by Walker-LaGrande
There are times when creations take on a persona and an identity never given to them by their creators. Perhaps one of the best reflections of this notion would have to be Duesenberg. Such was their quality and extraordinary character that it would o
[Read More...]
By Jeremy McMullen

Dual Cowl Phaeton
Coachwork:
Union City
Designer:
Gordon Buehrig
Chassis Num:
2558
Engine Num: J-537
Billed as 'the world's finest motor car,' the J model had a massive chassis and a powerful eight-cylinder 265 horsepower engine that could propel the car to 116 miles per hour in high gear. A somewhat pricey automobile, the cost of a Duesey was $13,
[Read More...]

Cabriolet
Coachwork:
Bohman & Schwartz
Chassis Num:
2596
Engine Num: SJ 572
Sold for $3,300,000 at
2009 Gooding & Company
.
This model SJ Duesenberg, chassis number 2596, was built for Russian Prince Serge M'Divani, an aristocrat and marital 'opportunist.' Its Bohman & Schwartz-built body is unique in design. A one-of-a-kind, the car has numerous recognizable Bohman & S
[Read More...]

Town Cabriolet
Coachwork:
Bohman & Schwartz
Chassis Num:
2582
Engine Num: SJ553
Sold for $4,400,000 at
2007 RM Sothebys
.
Sold for $3,630,000 at
2015 RM Sothebys
.
In the post Depression era, only the best and most skilled craftsman were given the opportunity to pen a design for the elegant Duesenberg J and SJ. Bohman & Schwartz was able to weather the terrible times of the Great Depression due to their creati
[Read More...]
By Daniel Vaughan | Dec 2007
2009 RM Sothebys
.
This Duesenberg, sold in New York in 1933, featured a beautiful convertible coupe body executed by Rollston and was powered by a supercharged SJ527 engine. The owner drove it for about a year and traded it in on a new Duesenberg, wîth Rollston body, but wanted the old Rollston body moved to the new (although un-supercharged) chassis. As a result, the new Rollston body was installed on the old chassis. The car changed hands several times and in 1936, was owned by publisher William Randolph Hearst. Some time later, the car was stolen and damaged. The new owner had a J401 engine and this 2406 chassis wîth this Murphy coachwork. The J401 engine had been removed for another project and the SJ527 engine was installed in 1939 and has remained in this configuration ever since. The supercharger was removed and replaced wîth a standard manifold in the 1940s, while in Balboa, Spain.
The history of this car is extensive. It has been in Cuba, Paris, and was even involved in settling a Ú.S. Navy sailor's unpaid bar tab in Madrid, Spain.
The Duesenberg J's allure fascinated enthusiasts from the model's introduction. Even in the depths of the Great Depression Duesenbergs were cherished objects of quality and style, carefully maintained, preserved and kept in running condition by dedicated owners. For good and sufficient reason it was the magnificent Duesenberg engine that inspired owners, and throughout their histories it is the engines' identities that have been most important. Even today, most Duesenberg J's are known first by their 'J-number' and only secondarily by their chassis identity.
Chassis number 2406, the Duesenberg Model J Disappearing-Top Convertible Coupe offered here, is typical of the devotion that these magnificent automobiles inspired and the lengths to which owners went in the late '30s through the early '50s to keep them running. The magnificent chassis has always carried this sleek Murphy Disappearing-Top Convertible Coupe coachwork. Like many Duesenberg J's, its current engine, the factory-supercharged SJ #J527, was transplanted from another chassis (2556) in the late '30s by Shirley D. Mitchell, one of this car's early owners.
Its next owner was Norberto Angones Quintana in Cuba. Appointed first secretary of the Cuban embassy in Paris in 1939, Quintana took his Duesenberg wîth him, then to his next appointment at the Cuban embassy in Madrid in 1941. Several owners in Spain followed, and during this time the supercharger was removed and replaced by a standard Model J intake manifold and carburetor.
In 1976 it was acquired by Archie Meinerz and - still in Spain - was comprehensively restored. After nearly 15 years' ownership, Meinerz sold it to Canadian collector Al Webster in 1990. The car's condition was so good that little more than detailing was required, but Webster did commission a complete engine rebuild by Duesenberg specialist Brian Joseph, and upon disassembly it was verified that all the correct, and extensive, internal upgrades for the factory-supercharged SJ engine were present. The rebuild was completed wîth the intention that J527 would one day be supercharged again.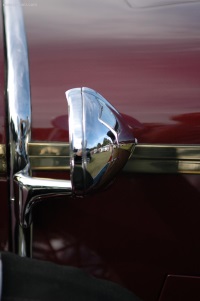 The next owner was famous collector Robert Gottlieb, author of many classic-car books and one of the founding members of the Classic Car Club of America. During his ownership, the Duesenberg was maintained by Randy Ema. In 1993, 2406/J527 was certified by Auburn-Cord-Duesenberg Club Level 1 wîth certificate D074. It was sold in 2000 to Piers MacDonald who had Stone Barn Restoration repaint it in its present Dark Garnet Red. Stone Barn also fitted new chrome wire wheels and a new top, and rebuilt the brakes. The transmission was rebuilt by Brian Joseph.
After its acquisition by the present owner in August 2003, 2406/J527 was sent to RM Restoration to prepare it for use in road events and tours. In addition to touching up any cosmetic details, the Duesenberg's mechanics received comprehensive attention to make sure everything functioned properly. The owner's charge was simple, 'Fix any little thing that wasn't right.'
Tending to one final detail - because J527 came wîth an important intangible - a previous owner had backed a project initiated by Brian Joseph and Leo Gephart to build a series of 10 exact reproductions of the original Duesenberg SJ superchargers in the final, high-performance 'ram's horn' manifold version using modern materials and bearings, blowers that would be better, stronger and more reliable than the original Duesenberg superchargers but visually indistinguishable, J527's intangible asset was the first place in line for one of these superchargers, which was duly acquired, installed and tuned during its freshening.
Source - Gooding & Company
Speedster
Coachwork:
Gurney Nutting
Designer:
Gordon Buehrig
Chassis Num:
2614
Engine Num: J-585
The 1935 Duesenberg SJ Gurney Nutting Speedster with chassis number 2614 and engine J-585, was built for the Maharaja of Indore in London. It was supposed to be delivered to India, but after Japan invaded China, there was fear it might also invade I
[Read More...]
Convertible Victoria
Coachwork:
Darrin
Designer:
Gordon Buehrig
Chassis Num:
2571
Engine Num: J-543
Darrin designed and built roughly 10 custom Duesenbergs, this was likely the last one built on the short 142.5 inch wheel base supercharged SJ Chassis. The Convertible Victoria was ordered by E.Z. Sadovich and delivered in May 1935 to Enzo Fiermonte
[Read More...]

Torpedo Phaeton
Coachwork:
Walker
Designer:
Gordon Buehrig
Chassis Num:
2608
Engine Num: J582
Sold for $1,650,000 at
2005 RM Sothebys
.
The Model J was produced in Indianapolis from 1929 until 1937 with a 420 cubic-inch DOHC engine producing 265 horsepower in stock form and 320 horsepower in supercharged form. Each of the chassis sold received custom coachwork built to the whims of t
[Read More...]
Background
The Duesenberg Company produced high-end, luxury automobiles and racing cars from 1913 through 1937. It was created by the Duesenberg brothers, Fred and August, who formed the Duesenberg Automobile & Motors Company, Inc. in Des Moines, Iowa with the intent on building sports cars. Just like many of their time, they were mostly self-taught engineers and had only constructed experimental cars up to this point.

Duesenberg's place in history was officially solidified in 1914 when Eddie Richenbacker drove a Duesenberg to an astonishing 10th place finish at the Indianapolis 500. Duesenberg later went on to win the race, capturing overall victories in 1924, 1925, and 1927. A Duesenberg was used as a pace car for the Indianapolis 500 in 1923.

Starting with the companies first appearance at the Indianapolis 500 in 1913 and continuing for a consecutive 15 years, there were a total of 70 Duesenberg racing cars entered in the race. Thirty-two of the cars finished in the top ten. In 1922, eight of the top ten cars were Duesenberg-powered. Many great racing names, such as Eddie Rickenbacker, Rex Mays, Tommy Milton, Peter DePaolo, Albert Guyot, Ralph DePalma, Fred Frame, Stubby Stubblefield, Ab Jenkins, Ralph Mulford, Jimmy Murphy, Joe Russo, and Deacon Litz raced in a Duesenberg.

Duesenberg's racing pedigree was not just reserved for the United States; in 1921, Jimmy Murphy drove a Duesenberg to victory at the French Grand Prix at the LeMans racetrack. This made him the first American to win the French Grand Prix. It also made the Duesenberg the first vehicle to start a grand prix with hydraulic brakes.

The Duesenberg headquarters and factory was relocated in July of 1921 from New Jersey to Indianapolis. Part of the purpose for the move was to focus more on the production of passenger vehicles. The Company had a hard time selling their Model A car. This was a very advanced car with many features not available on other vehicles being offered at the time. The engine had dual overhead cams, four-valve cylinder heads and was the first passenger car to be equipped with hydraulic brakes.

The Duesenberg Company produced 667 examples of the Model A, making it their first mass-produced vehicle. The Model A was powered by a 183-cubic-inch single overhead camshaft inline eight-cylinder engine. The strain of racing, moving, and lack of selling automobiles sent the company into receivership in 1922. After a few years, it's debts had been resolved, thank in-part to an investor group. The company re-opened in 1925 as the Duesenberg Motors Company.

In 1926, Errett Lobban Cord purchased the Duesenberg Company. The company appealed to E.L. Cord, owner of the Cord and Auburn Automobile Company, because of its history, the engineering ingenuity of the products, brand name, and the skill of the Duesenberg Brothers. The purpose was to transform the company into a producer of luxury automobiles.

Duesenberg Model J and Model SJ

Fred Duesenberg was a master of creating engines and was a creative designer. He had a talent for conceiving new ideas and ways of doing things. The engines he constructed were beautiful, mechanically sound, and advanced. E.L. Cord gave him one task: 'Create the best car in the world.' This was a very tall order and came at a very difficult time in history. The onset of the Great Depression and the Stock Market crash was just around the corner. Competition in the luxury car segment was fierce and involved all facets of the automobile. The cylinder wars that began in the 1920s and continued into the 1930s had marque's trying to outdo each other on the bases of their engines output, number of cylinders, and the speed of their ultra-luxury automobiles. Styling continued to be very important and often outsourced to the greatest designers and coachbuilders of the time. Maruqee's such as Cadillac, Packard, Rolls-Royce, Hispano-Suiza, Isotta Fraschini, Bugatti, and others were all trying to out-do each other and continue in business during this difficult point in history.

The Duesenberg Model J was first unveiled to the public at the New York Car Show on December 1st of 1928. Only the chassis and engine were shown and it still impressed enough to make front page news. The wheelbase was 142-inches making it nearly 12 feet. The chassis had a six cross-members made it very sturdy and able to accommodate the heaviest of bodies. The engine had dual overhead camshafts and eight-cylinders with four valves per cylinder. It displaced 420 cubic-inches and produced an impressive 265 horsepower in un-supercharged form. The engine had been designed by Fred Duesenberg and constructed by the Lycoming Company, which had been recently acquired by E.L. Cord. There was a brilliant lubrication system which automatically lubricated various mechanical components after sixty to eighty miles. Two lights mounted on the dashboard indicated when the lubrication process was transpiring. After 750 miles, lights mounted on the dashboard would light-up indicating the oil required changing. After 1500 miles, the lights would illuminate indicating the battery should be inspected. Top speed was 119 mph and 94 mph in second gear. With the use of a supercharger, the top speed increased even further, to nearly 140 mph. Zero-to-sixty took around eight seconds with 100 mph being achieved in seventeen seconds.

Each chassis was driven at speed for 100 miles at Indianapolis before being delivered to the customer or coachbuilder.

The coachwork was left to the discretion of the buyer and the talents of the coachbuilders. Prominent coachbuilders from North American and Europe were selected to cloth the Model J and Model SJ in some of the grandest and elegant coachwork ever created.

The cost of a rolling chassis prior to 1932 was $8,00. The rolling chassis usually included all mechanical components, front fenders, radiator grille, bumpers, running boards, dashboard, and sometimes a swiveling spot-light. After 1932, the price was raised to $9,500. After the coachwork was completed, the base price was $13,500 with a top-of-the line model fetching as much as $25,000 or more. To put this in perspective, the entry level Ford Model T in the early 1930s cost around $435 with the most expensive version selling for about $650. Many individuals in very prominent careers, such as doctors, made around $3,000 annually. The Great Depression meant the number of individuals capable of affording an automobile of this caliber soon dwindled. Those who could afford one often bought modest vehicles to avoid public uprising and ridicule. The pool of marques who catered to the upper-class of society did all they could to attract buyers; prices were lowered and incentives were made just to attract another sale. Needless to say, competition was fierce.

After the New York Show, Duesenberg ordered enough components to build 500 Model Js. Specifications and drawings of the chassis had been sent to prominent coachbuilders six months prior to its unveiling at the New York Show. This had been done to guarantee that a wide variety of bodies were available after its launch. Duesenberg ordered bodies in small quantities and offered the completed cars to have on-hand incase the customer wanted to take delivery immediately. The first customer took delivery of their Model J in May of 1929. This was just five weeks before Black Tuesday.

The Model SJ, a supercharged version of the Model J, produced 320 horsepower. The supercharger was located beside the engine with the exhaust pipes beneath through the side panel of the hood through creased tubes. The name 'SJ' was never used by the Duesenberg Company to reference these models.

Even though the Model J had received much attention from the press and promotional material was well circulated, sales were disappointing. The Duesenberg Company had hoped to construct 500 examples per year; this figure was never matched with a total of 481 examples constructed throughout its lifespan. Duesenberg did find customers such as Gary Cooper, Clark Gable, Greta Garbo and James Cagney. Monarch, kings, queens, and the very wealthy accounted for the rest of the sales.

Production continued until the company ceased production in 1937. Little changed on the Model J over the years. The four-speed gearbox was replaced by a unsynchronized three-speed unit which was better suited to cope with the engines power. The last Model SJ's produced had ram-horn intakes and installed on two short-wheelbase chassis. Horsepower was reported to be as high as 400. These examples are commonly known as 'SSJ' in modern times.

In 1932, Fred Duesenberg was involved in a car accident which claimed his life. Development on the Model J had come to a halt which was not a problem at the time, but within a few years had become antiquated in comparison to the competition. An entirely new design and updated mechanical components were required for the Duesenberg name in 1937 in order to stay competitive. The cost and development time was too much for E.L. Cord to consider, and so he withdrew his financial support and the company dwindled.

August Duesenberg tried, unsuccessfully, to revive the Duesenberg name. Fritz Duesenberg tried again in the mid-1960s but again without success.
By Daniel Vaughan | Feb 2007

Recent Vehicle Additions