1911 Baker Electric news, pictures, specifications, and information

Tweet
The first electric cars produced by the Baker Motor Vehicle Company of Cleveland, Ohio, had three quarter horsepower motors and a range of up to 50 miles. The Baker-built 'Torpedo' held a electric land speed record in 1902. Baker merged with another electric vehicle maker, Rauch & Lang, in 1915. Then they were absorbed by another builder, the Owen Magnetic Company.

The car shown is a 'V' Extension Front Coupe. It has shaft drive, tiller steering and right and left brake pedals. It uses 84 volts to produce eight horsepower, has six forward speeds and two reverse. It tops out at 23 mph, for up to one hundred miles. Seating for four is provided in wool broadcloth and finely appointed. The car also features locking steering and ignition, and a reverse lockout. The side windows drop down and the windshield pivots out to provide a completely open interior. Electric cars were prized for their crankless starting, smooth operation and silent running.
'Handsome, elegant and dignified,' the Baker Special Extension Coupe by Baker Motor Vehicle Company, based in Cleveland, Ohio, was put on the market to meet the demand for an inside-driven car. It has shaft drive, tiller steering and right and left brake pedals, but 'virtually no mechanical distractions' inside. You could buy one new in 1912 for $2,700.

Baker Motor Vehicle Company produced electric cars from 1899 to 1914. Thomas Edison purchased a Baker Electric as his first car. Edison's batteries were used to power some of the Baker models. An older model (1909) is owned by Jay leno, who calls the interior 'rather froufrou,' highlighting the fact that many electric cars were marketed especially for women. 'The social prestige Baker Electric,' proclaims one ad, 'is the result of years of refined usage by women who will pay for the best.'

This gorgeous 1912 Special Extension Coupe has undergone a complete restoration by Bill Auerbach and the interior has been redone by Mark Larder to bring this beautiful car back to its former glory: 'It is easy to underestimate the difficulty involved in restoring an Edwardian-era car, but special attention was required for the aluminum body panels and patent leather fenders, which were reconstructed by Amish craftsmen.'

In 1913 Baker was overtaken in sales by Detroit Electric. The company merged with Rauch & Lang, and the last baker cars were produced in 1916.
NISSAN CELEBRATES LEAF SALES MILESTONE ON NATIONAL PLUG IN DAY
• All-electric Nissan LEAF deliveries top 35,000 since Dec. 2010 launch
NASHVILLE, Tenn. – With cumulative U.S. sales passing 35,000, Nissan LEAF is bringing owners throughout the United States together to share their enthusiasm and experiences during National Plug In Day on Sept. 28 and 29. Nissan — the global leader in electric vehicle sales — is the first automaker to serve as a presenting sponsor of National Plug In Day. Nissan LEAF sales in the United States are up 317 p...[Read more...]
YOUNG CAR BUYERS MISSING, NOT ABSENT FROM MARKET
TRAVERSE CITY, Mich. – Disinterest in new cars by young people is hard to prove, but they are buying fewer cars than their generation has in previous economic recoveries, General Motors Chief Economist Mustafa Mohatarem said Tuesday. New car affordability, the overhang of student loan debt and higher operating costs are delaying some young people from buying cars, but Mohatarem told the Center for Automotive Research Management Briefing Seminars: 'It's not a permanent withdraw from th...[Read more...]
Nissan Leaf Charges Through 10,000 European Sales Milestone
◾10,000th Nissan LEAF delivered in Europe ◾Paris-based nurse, Sylvie Lailler was the 10,000th customer ◾Sales milestone hit as new Nissan LEAF sales about to start ROLLE, Switzerland - Sylvie Lailler became the 10,000th Nissan LEAF customer in Europe this week, further cementing the ground-breaking zero emission car's status as the best-selling electric vehicle of all time. Mrs. Lailler is a nurse who will be driving the Nissan LEAF on visits to elderly patients and using it with ...[Read more...]
A Taste Of Shanghai: Concepts, Evs, Crowds
Automakers are offering a cornucopia of choice for Chinese consumers and enthusiasts at Asia's top auto show in Shanghai. For Nissan, the China-centric Friend-ME concept is the product of deep market research and consumer-tailored design by a Beijing-based team looking to create a car for a generation. Nissan Executive Vice President Andy Palmer says Friend-ME is as tech-savvy and modern as the young Chinese consumer it is designed for. 'It doesn't come any more Chinese than this. This ...[Read more...]
Mercedes-Benz at Pebble Beach Automotive Week: An Expression of Fascinating Design and Innovation
•Historical Tribute to SL: W194 Chassis No. 2, 7 and 11 among 300SL vehicles on display •The Concept Style Coupé opens a new chapter and generation of Mercedes-Benz vehicles •AMG 45 year anniversary highlights the pinnacle of performance and style A tribute to Mercedes-Benz SL Roadsters is set for Pebble Beach Automotive Week with three 1952 W194 vehicles among a mix of vintage and new vehicles bearing the three-pointed star that express the marque's breadth and depth of fascinating desi...[Read more...]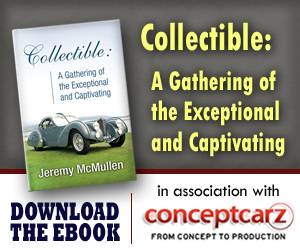 Similarly Priced Vehicles from 1911
Ford Model T ($681-$1,105)
Penn Model 30 ($975-$1,075)
Velie Model G ($1,800-$3,000)
Stevens Duryea Tourer AA ($3,500-$3,500)
Stanley Steamer ($1,000-$1,500)
Pope-Hartford Model W ($2,750-$4,150)
© 1998-2014. All rights reserved. The material may not be published, broadcast, rewritten, or redistributed.