1911 Baker Electric news, pictures, specifications, and information

Tweet
The first electric cars produced by the Baker Motor Vehicle Company of Cleveland, Ohio, had three quarter horsepower motors and a range of up to 50 miles. The Baker-built 'Torpedo' held a electric land speed record in 1902. Baker merged with another electric vehicle maker, Rauch & Lang, in 1915. Then they were absorbed by another builder, the Owen Magnetic Company.

The car shown is a 'V' Extension Front Coupe. It has shaft drive, tiller steering and right and left brake pedals. It uses 84 volts to produce eight horsepower, has six forward speeds and two reverse. It tops out at 23 mph, for up to one hundred miles. Seating for four is provided in wool broadcloth and finely appointed. The car also features locking steering and ignition, and a reverse lockout. The side windows drop down and the windshield pivots out to provide a completely open interior. Electric cars were prized for their crankless starting, smooth operation and silent running.
'Handsome, elegant and dignified,' the Baker Special Extension Coupe by Baker Motor Vehicle Company, based in Cleveland, Ohio, was put on the market to meet the demand for an inside-driven car. It has shaft drive, tiller steering and right and left brake pedals, but 'virtually no mechanical distractions' inside. You could buy one new in 1912 for $2,700.

Baker Motor Vehicle Company produced electric cars from 1899 to 1914. Thomas Edison purchased a Baker Electric as his first car. Edison's batteries were used to power some of the Baker models. An older model (1909) is owned by Jay leno, who calls the interior 'rather froufrou,' highlighting the fact that many electric cars were marketed especially for women. 'The social prestige Baker Electric,' proclaims one ad, 'is the result of years of refined usage by women who will pay for the best.'

This gorgeous 1912 Special Extension Coupe has undergone a complete restoration by Bill Auerbach and the interior has been redone by Mark Larder to bring this beautiful car back to its former glory: 'It is easy to underestimate the difficulty involved in restoring an Edwardian-era car, but special attention was required for the aluminum body panels and patent leather fenders, which were reconstructed by Amish craftsmen.'

In 1913 Baker was overtaken in sales by Detroit Electric. The company merged with Rauch & Lang, and the last baker cars were produced in 1916.
HONDA AIRCRAFT COMPANY AND AMERICAN HONDA FINANCE CORPORATION TO OFFER HONDAJET FINANCING IN THE UNITED STATES
10/21/2013 - LAS VEGAS Honda Aircraft Company announced achievements and significant milestones in the development of the HondaJet, the world's most advanced light jet, at the 2013 National Business Aviation Association's Business Aviation (NBAA) Convention and Exhibition in Las Vegas, Nev. The HondaJet flight test program is nearing its final phase and manufacturing is approaching build completion on the first production HondaJet. 'The HondaJet program continues its steady progress to...[Read more...]
Nissan Plugs Electric Leaf Into Certified Pre-Owned Vehicles Program
• Nissan offers additional confidence for pre-owned LEAF buyers
NASHVILLE, Tenn. - As demand for electric cars continues to grow among U.S. consumers, Nissan is adding the all-electric LEAF to its Certified Pre-Owned Vehicles program. Beginning in September, Certified Pre-Owned Nissan LEAF vehicles will be backed by the company to provide years of quality and performance at a great value. In addition to the existing 8-year/100,000 mile* battery warranty coverage protecting ag...[Read more...]
Power To The People: Nissan Showstoppers Set To Star At Goodwood Festival Of Speed
◾Interactive stand set to engage visitors with NISMO, new Note and EV ◾Note Safety Shield demonstration highlights amazing new technology ◾EV Zone debuts radical ZEOD Le Mans contender and MY13 LEAF ◾Hillclimb cars include FIA GT3 GT-R racer, MY13 GT-R and 370Z NISMO LONDON, UK – Nissan is celebrating the 20th anniversary of the Goodwood Festival of Speed (July 11-14) with a spectacular range of activities that bring the excitement and passion of the brand to life. The entertainm...[Read more...]
TESLA REPAYS DEPARTMENT OF ENERGY LOAN NINE YEARS EARLY
Wednesday, May 22, 2013 PALO ALTO, Calif.-- Tesla Motors announced that it has paid off the entire loan awarded to the company by the Department of Energy in 2010. In addition to payments made in 2012 and Q1 2013, today's wire of almost half a billion dollars ($451.8M) repays the full loan facility with interest. Following this payment, Tesla will be the only American car company to have fully repaid the government. For the first seven years since its founding in 2003, Tesla was funded...[Read more...]
BMW HONORS BOSCH
'BMW Supplier Innovation Award' for outstanding partnership - Special prize in the innovation partnership category - BMW honors several innovation milestones - Bosch continues to drive progress in automotive technology The BMW Group has awarded Bosch its 'BMW Supplier Innovation Award'. The German carmaker presents the prize to suppliers who have distinguished themselves with outstanding innovation and performance. 'We are very proud of this award,' says Peter Tyroller,...[Read more...]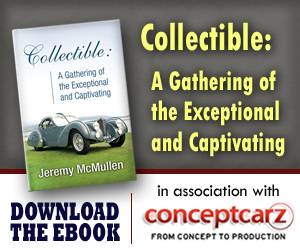 Similarly Priced Vehicles from 1911
Ford Model T ($681-$1,105)
Penn Model 30 ($975-$1,075)
Velie Model G ($1,800-$3,000)
Stevens Duryea Tourer AA ($3,500-$3,500)
Stanley Steamer ($1,000-$1,500)
Maxwell I ($1,100-$1,100)
Pope-Hartford Model W ($2,750-$4,150)
© 1998-2014. All rights reserved. The material may not be published, broadcast, rewritten, or redistributed.