1911 Baker Electric news, pictures, specifications, and information

Tweet
The first electric cars produced by the Baker Motor Vehicle Company of Cleveland, Ohio, had three quarter horsepower motors and a range of up to 50 miles. The Baker-built 'Torpedo' held a electric land speed record in 1902. Baker merged with another electric vehicle maker, Rauch & Lang, in 1915. Then they were absorbed by another builder, the Owen Magnetic Company.

The car shown is a 'V' Extension Front Coupe. It has shaft drive, tiller steering and right and left brake pedals. It uses 84 volts to produce eight horsepower, has six forward speeds and two reverse. It tops out at 23 mph, for up to one hundred miles. Seating for four is provided in wool broadcloth and finely appointed. The car also features locking steering and ignition, and a reverse lockout. The side windows drop down and the windshield pivots out to provide a completely open interior. Electric cars were prized for their crankless starting, smooth operation and silent running.
'Handsome, elegant and dignified,' the Baker Special Extension Coupe by Baker Motor Vehicle Company, based in Cleveland, Ohio, was put on the market to meet the demand for an inside-driven car. It has shaft drive, tiller steering and right and left brake pedals, but 'virtually no mechanical distractions' inside. You could buy one new in 1912 for $2,700.

Baker Motor Vehicle Company produced electric cars from 1899 to 1914. Thomas Edison purchased a Baker Electric as his first car. Edison's batteries were used to power some of the Baker models. An older model (1909) is owned by Jay leno, who calls the interior 'rather froufrou,' highlighting the fact that many electric cars were marketed especially for women. 'The social prestige Baker Electric,' proclaims one ad, 'is the result of years of refined usage by women who will pay for the best.'

This gorgeous 1912 Special Extension Coupe has undergone a complete restoration by Bill Auerbach and the interior has been redone by Mark Larder to bring this beautiful car back to its former glory: 'It is easy to underestimate the difficulty involved in restoring an Edwardian-era car, but special attention was required for the aluminum body panels and patent leather fenders, which were reconstructed by Amish craftsmen.'

In 1913 Baker was overtaken in sales by Detroit Electric. The company merged with Rauch & Lang, and the last baker cars were produced in 1916.
MICHELIN DESIGNS NISSAN ZEOD RC'S TIRES FOR LE MANS
OYAMA-CHO, Japan – Nissan ZEOD RC's invitation to participate at Le Mans next year from the Automobile Club de l'Ouest is a tremendous technological development opportunity for the automaker, but also a ready laboratory for next-generation tires, says Michelin Director Serge Grisin. Michelin makes more than half the tires for vehicles competing at Le Mans, but the Garage 56 status, reserved for cars with new technology, has special allure. Grisin, speaking with the Global Media Cent...[Read more...]
DHL DELIVERS FORMULA E ACROSS THE GLOBE
• DHL chosen as logistics supplier for FIA Formula E Championship
• Strategic partnership to accelerate innovative and environmentally friendly solutions for the future of e-mobility and city logistics
BONN, GERMANY (September 10, 2013) – DHL has today announced a multiyear global partnership with the FIA Formula E Championship, the world's first fully-electric car racing series beginning in September 2014. The new Championship features single-seater open-wheel cars powe...[Read more...]
Berlin Announced As Tenth Host City For Fia Formula E Championship
• Berlin announced as tenth host city for FIA Formula E Championship
• Tempelhof revealed as race location for German Formula E race
BERLIN (July 11, 2013) – Cornelia Yzer, Senator for Economics, Technology & Research, today welcomed the FIA Formula E Championship to Berlin as one of 10 global cities – and only the third in Europe – to host the new fully-electric racing series, beginning in 2014. Formula E is a new FIA championship that brings electric vehicle racing...[Read more...]
Tesla Motors Announces Offerings Of Common Stock And Convertible Senior Notes
Palo Alto, CA – May 15, 2013 — Tesla Motors, Inc. (NASDAQ: TSLA) announced today offerings of 2,703,027 shares of common stock and $450 million aggregate principal amount of convertible senior notes due 2018 in concurrent underwritten registered public offerings. In addition, Tesla has granted the underwriters a 30-day option to purchase up to an additional 405,454 shares of common stock and $67.5 million in aggregate principal amount of the notes. In addition, Elon Musk, Tesla's Chief...[Read more...]
BMW LAUNCHES THE 'ELECTRONAUT EFFECT,' A NEW DIGITAL TOOL OFFERING DRIVERS REAL-LIFE DATA
BMW today launched the Electronaut Effect, a new digital tool that gives consumers access to key aggregated data about the range, cost savings and positive environmental impact that actual BMW ActiveE drivers – called 'Electronauts' – are experiencing across the country. This unfiltered information, updated weekly, will help inform consumers' decision about purchasing an electric vehicle. The Electronaut Effect at www.bmwusa.com/ElectronautEffect features aggregate car data for the 700 BMW ...[Read more...]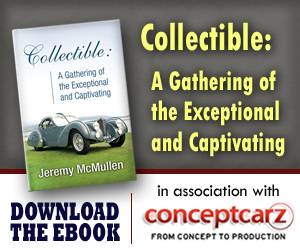 Similarly Priced Vehicles from 1911
Ford Model T ($681-$1,105)
Penn Model 30 ($975-$1,075)
Velie Model G ($1,800-$3,000)
Stevens Duryea Tourer AA ($3,500-$3,500)
Stanley Steamer ($1,000-$1,500)
Maxwell I ($1,100-$1,100)
Pope-Hartford Model W ($2,750-$4,150)
© 1998-2014. All rights reserved. The material may not be published, broadcast, rewritten, or redistributed.