1941 Mercury Model 19A news, pictures, specifications, and information

Tweet
The Mercury was introduced in 1939 as Ford's mid-level line, priced to compete wîth Pontiac and Oldsmobile. Edsel Ford took the lead in developing the line, naming it after the fleet-footed messenger of the gods. Although early Mercury's were frequently viewed as upscale Fords, brisk performance helped the car achieve a dedicated following. The line attained a stronger identity after World War II wîth the establishment of the Lincoln-Mercury Division.
Source - AACA Museum
Edsel Ford had been pressuring his father to expand their product line similar to the marketing strategy that General Motors had been doing for a number of years. The result of his efforts was the Lincoln Motor Company, which was purchased by Ford in 1921 and placed under the guidance of Edsel. The Lincoln Company prospered during the 1920s but the onset of the Great Depression left Henry Ford on the verge of abandoning the company. Edsel proposed a lower-priced car that could be sold a price range between the Fords and the expensive Lincolns. His request was granted in 1935 when the Lincoln Zephyr was introduced.

After the Depression, the market again gained momentum and car sales began increasing. The fastest growing market was for the medium-priced vehicle which favored other marques such as Pontiac, Oldsmobile, and Dodge. Edsel and Henry began working on a new car that was larger and more expensive than the Ford but less elegant and more economical than the Lincolns. The result of their work was introduced in 1941 and dubbed 'Mercury', after the swift Roman god. It was given a larger engine than its competitors whiling weighing less meaning it offered superior performance for a lower price. Less than 9000 examples were created before the United States entered into World War II and Ford switched to war production. In 1945 Mercury was transferred to the Lincoln Division and became known as Lincoln-Mercury.

The 1941 Mercury Series 19A, Model Eight Club Convertible Coupe carried a $1070 factory price tag. Its 118 inch wheelbase was propelled by an eight-cylinder 239.4 cubic-inch engine that produced just under 100 horsepower.
By Daniel Vaughan | May 2006
Mercury was introduced in 1939 and was named after the Roman god and was the culmination of Edsel Ford's idea. The car became an immediate sales success with over 70,000 units sold during the first year.

This example was purchased in 1992 by Cleveland Browns owner Alfred Lerner, a noted car enthusiast. The car was sold a year later to James Berick who donated it to the Crawford Museum in 1999. There is dark blue leather upholstery with rubber mats in front and blue carpets in the rear.

The engine is a Flathead V8 displacing 239 cubic-inches and producing 95 horsepower. There is a three-speed manual transmission and four-wheel hydraulic drum brakes.

In 2009, this car was offered for sale at the Vintage Motor Cars of Hershey presented by RM Auctions where it was estimated to sell for $40,000 - $50,000 and offered without reserve. The lot was sold for the sum of $49,500, including buyer's premium.
By Daniel Vaughan | Oct 2009
Work began in 1937 on the soon-to-be introduced Mercury cars. The cars were introduced in New York at the time of the November 1938 auto show, and offered in four bodystyles including a two-door sedan, a four-door, a convertible coupe and a novel sedan coupe. The company was the brainchild of Edsel Ford and the design work was courtesy of E.T. 'Bob' Gregorie.

The Mercury cars were very similar in design to their Ford counterparts, and in many respect a larger version of the Ford. They were mechanically similar and obviously Ford-shaped. Among the main differences were a four inch longer wheelbase and ten extra horsepower.

During the first year of production, around 75,000 Mercury's were sold, with price tags to range from $916 to $1,018. The following year, in 1940, 81,000 examples were sold, and a new body style - a convertible sedan - was introduced. Ford had discontinued the four-door convertible after 1938, and Mercury had added to their listings.

For 1941, the Ford wheelbase grew to 114 inches, and the Mercury's now measured 118-inches. A station wagon option became available, and was one of seven body styles in the 1941 Mercury catalog. Costing $1,141, it was the most expensive Mercury, the convertible sedan having been dropped. Along with more power and a longer wheelbase, the Mercury Wagon was available in a choice of birch or gum panels to contrast the maple framing, and color-coordinated leather seats. Just like the Fords, the bodies were all built at Iron Mountain.

In total, Mercury sold 2,145 examples of the Woodie Wagon in 1941, easily out-selling Buick and Packard.

This 1941 Mercury Station Wagon has been given a high-quality restoration and finished in Cayuga Blue. It has earned a Dearborn Award from the Early Ford V8 Club. It wears its original Birch wood body and has a new black artificial leather roof. The seats are upholstered in new red leather and there are lap belts for two in the front. There are black rubber mats on the floor in both the front and the rear. The car is equipped with a hot water heater, a radio, and dual outside mirrors. The current mileage is just under 100,000.

In 2009, this Mercury Station Wagon was offered for sale at the Sports & Classics of Monterey auction in Monterey, California presented by RM Auctions. The car was estimated to sell for $135,000-$155,000 and offered without reserve. The lot was sold for the sum of $121,000, including buyer's premium.
By Daniel Vaughan | Dec 2009
HILTON HEAD ISLAND MOTORING FESTIVAL TO FEATURE CARS OF THE RICH & FAMOUS
This year's 'Life' exhibit puts the spotlight on cars with headline heritage HILTON HEAD ISLAND, S.C. – The Hilton Head Island Motoring Festival & Concours d'Elegance, one of the nation's largest and fastest-growing automotive and motorsports enthusiast event weeks, takes a more glamorous approach with its annual 'Life' exhibit and presents Life of the Rich & Famous sponsored by Marriott Vacation Club. Life of the Rich & Famous is the sixth annual 'Life'-themed exhibit on the Fe...[Read more...]
SPIRIT OF THE LEGENDARY DODGE BROTHERS LIVES ON IN NEW AD CAMPAIGN INTRODUCING 2015 MODEL YEAR DODGE MUSCLE CARS
◾First television ad in series begins Saturday, Oct. 4, for the new 2015 Dodge Challenger ◾Fully integrated campaign highlights the Dodge Brothers' passion for making great cars and how that passion and spirit still drives Dodge brand today ◾Additional television, print and digital ads launch later this year for 2015 Dodge Charger and Dodge SRT Hellcats and Viper ◾View ads at www.youtube.com/dodge October 3, 2014 , Auburn Hills, Mich. - One-hundred years after John and Horace Dodge ...[Read more...]
Automobiles with Exceptional Provenance Highlight Gooding & Company's Pebble Beach Auctions
SANTA MONICA, Calif. (July 10, 2014) – Gooding & Company, celebrated for its world-class automotive auctions and record-breaking results, will begin its second decade as the official auction house of the Pebble Beach Concours d'Elegance® on August 17 and 18. Gooding & Company is pleased to share a hand selected group of consignments from our Pebble Beach Auctions with exceptional provenance. Exciting entries include an extremely rare 1939 Alfa Romeo Tipo 256 Cabriolet with spectacular one...[Read more...]
FORD BRINGS CUSTOM TRANSIT CONNECT WAGONS TO MAKER FAIRE 2014; MAKERS GET A CHANCE TO MEET THE UNMINIVAN
◾Two new custom Ford Transit Connect Wagons, Hackmobile and Happy Mutant Mobile, will be on display at Maker Faire – an all-ages event for the do-it-yourself enthusiast ◾Ford and MAKE magazine teamed up in the construction of Hackmobile, the ultimate Transit Connect Wagon for the do-it-yourselfer, and Happy Mutant Mobile, which was personalized for the Web-based magazine Boing Boing ◾All-new Ford Transit Connect Wagon, the #unminivan, is available as a five- or seven-seat vehicle that can be p...[Read more...]
Edsel Ford's Speedster Stars at 'The Amelia'
Edsel Ford's 'continental car', a custom boattail speedster, will take its rightful place in the Sports Car Class of the 18th annual Amelia Island Concours d'Elegance. In the shape of Edsel's seminal speedster is the genesis of Ford's legendary design department. Edsel Ford was hardly 'a chip off the old block'. The acorn fell well away from the mighty oak that was Henry Ford, founder of the Ford Motor Company. Edsel was not just the President of Ford, he was a car guy to his core. His ta...[Read more...]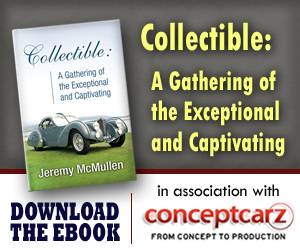 Similarly Priced Vehicles from 1941
Studebaker Commander ($11-$1,250)
Chevrolet Special Deluxe ($770-$1,004)
Plymouth P12 Special DeLuxe ($765-$1,125)
Packard 110 Series 1900 ($1,000-$1,325)
Packard 120 ($1,135-$1,784)
Ford Deluxe ($732-$970)
Chrysler Windsor ($1,045-$1,492)

Average Auction Sale: $63,073
© 1998-2014. All rights reserved. The material may not be published, broadcast, rewritten, or redistributed.