1939 Graham Model 97 Supercharged news, pictures, specifications, and information

Tweet
In 1927, Joseph, Robert and Ray Graham acquired the Paige-Detroit Company. The company still exists today but they are no longer in the automotive business. They now deal in real estate.

The Graham brothers had developed a successful business in the glass industry. Their business was later sold to the Owens Glass Company. The brother's next adventure involved modifying Ford Model T vehicles into trucks. Later, they built their own trucks using various engines before settling with the Dodge Brothers engine. In 1925, the Graham Brothers Truck Company was purchased by the Dodge Brothers. Three of the brothers remained at the company, appointed to executive positions.

The Graham-Page cars were powered by six and eight cylinder engines. A short experiment in the trucking industry lasted for a few years before the company focused solely on automobiles.

Part of the success of the vehicles was attributed to their durability, quality and success at the racing circuit. During the Great Depression the company suffered. Their Blue Streak vehicle introduced many 'industry firsts' and creative design and mechanical innovations. In 1935 a camshaft-driven supercharger was introduced and offered exclusively on the eight cylinder engines. A year later, the eight cylinder was no longer offered and the superchargers were adapted to the six.

Near the close of 1940, Graham struck a deal with the Hupp Motor Company. The deal specified that Graham could build cars based on the body dies of the Cord 810/812. Cord had ceased production in 1937 due to bankruptcy and Hupp had acquired the Cord dies, leaving them without the financial resources to build the car.

In September of 1940 the Graham-Paige Company switched production to military items in support of the World War II effort. After the war, in 1946, the company resumed the production of automobiles. Their new car, the Frazer, was named in honor of Joseph Washington Frazer, the president of the Graham-Paige Company.

In 1945 the Henry J. Kaiser and Frazer became the owners of the Graham-Paige assets and became known as the Kaiser-Frazer. Graham's facilities were sold to the Chrysler Corporation.

Graham-Paige went into the real estate building. In 1962 the company changed its name to the Madison Square Garden Corporation.

This Graham-Paige Model 97 Supercharged Convertible Coupe is a wonderful example of the 'Spirit of Motion' and 'Shark-nose Graham' designs. It is powered by a 216 cubic-inch supercharged inline six-cylinder L-head engine. It sits atop a 120 inch wheelbase and is suspended in place by coil springs with semi-elliptic leaf springs. Four-wheel hydraulic drum brakes provide the stopping power while a three-speed manual transmission transfers power to the rear wheels.
By Daniel Vaughan | Aug 2006
The Model 97 Graham-Paige was powered by a 216 cubic-inch supercharged six-cylinder, L-Head engine mated to a three-speed manual transmission.

This example was in the Tucson, Arizona area in the fifties. In 2006, it was purchased by the John O'Quinn Collection. By that point in history, it had been fully restoration and presented in dark green with a matching leather interior.

In 2010, this car was offered for sale at RM Auctions 'Automobiles of Amelia Island' event, where it was estimated to sell for $75,000 - $100,000 and offered without reserve. As bidding came to a close, the car had been sold for the sum of $137,500, inclusive of buyer's premium.
By Daniel Vaughan | Apr 2010
JAGUAR LAND ROVER REPORTS U.S. SALES FOR JUNE 2014
◾Jaguar Land Rover North America sales increase 4 percent in June, for its best June sales month result since 2007 ◾Land Rover brand has its best June sales month since 2007 ◾Best Range Rover Evoque and Range Rover Sport June sales month ever ◾Jaguar F-TYPE lineup, now featuring Coupe and Convertible models, increase 3 percent (MAHWAH, NJ) - July 1, 2014 - Jaguar Land Rover North America today reported June 2014 U.S. sales: Land Rover sales reached 4,038 units, up 16 percent from 3,...[Read more...]
1937 Delahaye 135 Competition Court Torpedo Roadster by Figoni et Falaschi
Even by the 1930s, the performance capabilities of the automobile had progressed to such an extent that many manufacturers would shy away from offering chassis that tested those limits for fear their customers would not be able to handle what was available to them. A few, however, would throw caution to the wind and would make such performance available to their customers. Delahaye was just such a manufacturer. Delahaye's offering of track performance for the street would come in the form of ...[Read more...]
LAND ROVER ANNOUNCES 2014 U.S. MODEL LINEUP
(MAHWAH, N.J.) - September 12, 2013 - The 2014 model year continues the most dynamic product development and introduction period in the brand's history. An all-new Range Rover Sport is introduced, based on the all-new aluminum-intensive Range Rover that debuted for 2013. The Range Rover itself sees a significant increase in fuel efficiency for 2014 with the introduction of a new supercharged 3-liter V6 engine, for up to EPA-estimated 23 mpg in highway driving1, replacing the naturally asp...[Read more...]
Bentley Ready For Classic Thousand Mile Challenge
•Iconic Bentley Blowers ready for great Mille Miglia adventure •Bentley Continental W12 and V8 models join historic cars in Italy (Crewe, England & Brescia, Italy. 16 May, 2012) W.O. Bentley's gift for creating cars that combined the speed of a thoroughbred racing machine with an enviable reputation for strength and comfort, allowing them to effortlessly cover hundreds of miles, is set to be underlined once again at the 2012 Mille Miglia when two 4½ litre Bentley Blowers take on the ...[Read more...]
JAGUAR EXPANDS POWERTRAIN CHOICE WITH TWO ADDITIONAL FORCED-INDUCTION PETROL ENGINES
As Jaguar expands its product offer in key global markets it is introducing two additional petrol units to its range to enhance customer choice; the new 3.0-litre V6 Supercharged Petrol, and the 2.0-litre I4 Turbocharged Petrol. Adrian Hallmark, Global Brand Director, Jaguar Cars, said: 'Jaguar currently has its strongest range of products for several decades. Our continued growth is dependent on two things; activating the awareness of the brand, and expanding our range to enable us to access...[Read more...]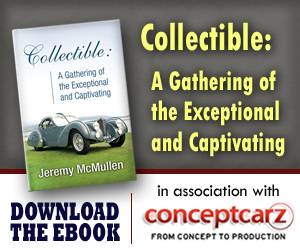 © 1998-2014. All rights reserved. The material may not be published, broadcast, rewritten, or redistributed.