1968 Chrysler Newport news, pictures, specifications, and information

Tweet
What separates this automobile from most others of the period is the woodgrain side panels, a unique Chrysler Newport option available in April 1968 (with a mere 174 cars being produced with this wood trim feature). The side panels, a unique marketing feature, are reminiscent of the famous Chrysler Town and Country wood trimmed cars of the 1940's.

This Chrysler features a 383 cubic-inch V8 engine, 290 horsepower, three-speed automatic Torqueflite transmission, 24-gallon gas tank, and had a base price of $3,704.

This award winning automobile was painstakingly and totally restored by its owner.
The Chrysler Newport first appeared in the early 1940's. It was known as the Newport Phaeton and production lasted from 1940 through 1941 partly due to low production numbers. Only five were produced. The design was by Ralph Roberts. It was powered by an eight-cylinder engine and used a three-speed manual gearbox to send the power to the rear wheels. A Newport appeared at the Indianapolis 500 race in 1941 and served as a pace car.

The name was revised in the 1950s and was a trim level on each of the Chrysler series. The Newport signified a two-door hardtop bodystyle.

In 1961 the Newport name reappeared as its own Model. It was immediately popular and was responsible for most of Chrysler's sales. At a price of just $2964 the vehicle featured full-wheel covers, and minimal amounts of exterior and interior trim. Under the hood was an eight-cylinder engine that produced 265 horsepower. It was available as a two- and four-door convertible, and two- and four-door hardtop.

In 1963 the design was update and again in 1965. It now sat atop of the Chrysler C-platform with the station wagon being renamed to the Town and Country lineup. The convertibles were discontinued in 1971.
By Daniel Vaughan | Nov 2006
The name Newport was first used by Chrysler on a 1940 showcar of which five actual vehicles were produced. Between 1961 and 1981 the Newport was a name used by the Chrysler division of the Chrysler Corporated used as both a hardtop body designation and for its entry level model.

Unveiled in 1940, the Chrysler Newport Phaeton was a 2-door low production roadster than utilized an I8 engine that was linked to a 3-speed manual transmission. Only produced for one year, the first generation Newport was based on the Chrysler New Yorker and was designed by Chrysler designer Ralph Roberts. A total of five units were produced. Chrysler founder Walter P. Chrysler had one that he used as a personal vehicle. Another owner was actress Lana Turner. The 1941 indianapolis 500 race featured the Newport Phaeton as the pace car.

From 1949 through 1961 the second generation of Newport was featured to designate the 2-door hardtop body style in Chrysler's lineup. A new hardtop Newport model was placed in each Chrysler series, Saratoga, the Windsor and the New Yorker. Orginally, the totally redesigned '49 Chrysler Town and Country was proposed as a hardtop, but in the end the body style only appeared during the model's final year in 1950.

In 1961 Chrysler revived the Newport name for their full-size entry-level model. Priced at $2,964, the Newport was strategically placed to fill the price gap between Dodge and Chrysler that emerged when DeSota was deleted. Quite successful, the Newport comprised the bulk of Chrysler production. The base Newport sedans were detrimmed versions of Chrysler's traditional upmarket models that featured hubcaps rather than full-wheel covers, very plain interiors and a minimal amount of exterior trim. Unfortunately, in the long run, cheapening the brand's cache with an inexpensive model wasn't good for Chrysler.

The '61 Newport was available to the buying public as either a 2-door convertible, 2-door hardtop, 4-door sedan, 4-door hardtop and 4-door station wagon. Though most Newports were equipped with the 305 hp 383 in³ V8, the base engine was the 361 in³ V8 engine that was rated at 265 hp. The trademark fins were removed for the 1962 model year. For 1963 the Newport was restyled next to the New Yorker and Chrysler 300. This body style remained until 1964. The Newport received the small, chrome-topped fins again in 1964.

The fourth generation Newport was assembled at Jefferson Assembly Plant in Detroit Michigan. Redesigned on the then-new Chrysler C platform, the next Newport ran from 1965 through 1968. The Newport station wagon was renamed the Chrysler Town and Country.

Assembled in Belvidere, Illinois, the fifth generation of the Newport was again built on the C-body platform. Redesigned for the 1969 model year, the Newport now featured the 'Fuselage Styling' that would eventually become symbolic of Chrysler's full-size vehicles until the end of the 1973 model year.

After 1970, Newport convertibles were discontinued. In 1978 production of the C-body Newport also ended along with the Chrysler New Yorker. During the previous year, related Dodge and Plymouth C-body car had already been dropped. The American car industry's last true two-door and four-door hardtops were offered with the 1978 Newport.

A newly resized Newport was introduced in 1979 on the Chrysler R platform which was a derivative of the circa 1962 Chrysler B platform. This downsized model reduced model availability to a single 'pillared hardtop' 4 door sedan. Chrysler went about the reduction of their vehicle a different way from GM and Ford who downsized their big cars by chopping with an ax. Chrysler improved fuel efficiency by reducing weght but retaining as much of the traditional full-size look and feel as possible.

A much more attractive vehicle was built from this process, but unfortunately some of the weight-saving measures proved to be more trouble then they were worth. The plastic brake wheel-cylinder pistons that had the tendency to swell and bind up the brakes following a couple of years of service. Another new innovation where chrome-plated aluminum bumpers that were replaced in 1980 with a newer and stronger steel rear bumper.

Sales were strong at the beginning of 1979, but unfortunately due to Chrysler's unsteady financial condition, along with tightening oil and gasoline supplies, all of the R-body models were discontinued following a short run of 1981 models. Chrysler began to shift towards smaller front-wheel drive vehicles and the Newport was replaced with the front-wheel drive Chrysler Executive for 1983.
By Jessica Donaldson
For more information and related vehicles, click
here
Chrysler Group LLC Reports December 2013 U.S. Sales Increased 6 Percent – Best December Sales in Six Years; Full-Year Sales Up 9 Percent – Strongest Annual Sales Since 2007
•45th-consecutive month of year-over-year sales gains •Chrysler Group full-year U.S. sales increase 9 percent in 2013; fourth-consecutive year of annual sales growth •Jeep® and Ram Truck brands each post double-digit sales increases in December compared with same month a year ago •Jeep brand posts best December sales ever with 34 percent sales gain; brand sets global sales record in 2013 •All-new 2014 Jeep Cherokee sales top 15,000 units in its second full month of sales; sales up 48 percent...[Read more...]
MOTOR TREND NAMES RAM 1500 AS 2014 TRUCK OF THE YEAR
Ram 1500 Outclasses Competition with the Fuel Economy, Torque, Style and Amenities to Satisfy the Most Demanding Truck Buyers December 4, 2013 , El Segundo, Calif. - Motor Trend has selected the Ram 1500 as its 2014 Truck of the Year®. The announcement was made at the Chrysler Group LLC Warren Truck Assembly Plant in Michigan, the birthplace of Ram Trucks. A full report on Motor Trend's comprehensive Truck of the Year testing will be featured on MotorTrend.com and in the ...[Read more...]
CONSUMERS DIGEST NAMES SEVEN CHRYSLER GROUP VEHICLES 'BEST BUYS' FOR 2014
◾Chrysler 300 and Town & Country earn 'Best Buy' awards ◾Dodge Durango and Grand Caravan honored ◾Jeep® Grand Cherokee named a 'Best Buy' ◾Ram 1500 honored in Full-Size Pickup segment ◾Fiat 500 awarded a 'Best Buy' in Subcompact segment November 1, 2013 , Auburn Hills, Mich. - Seven Chrysler Group vehicles, representing each vehicle brand, have earned a spot on Consumers Digest's list of 2014 Best Buys. Vehicles chosen as 'Best Buys' deliver the most value for the money in thei...[Read more...]
Chrysler Group Llc Dominates The 21St Annual Texas Truck Rodeo Winning 15 Of 24 Awards
◾2014 'Truck of Texas' awarded to Ram 1500 for second consecutive year ◾Jeep Grand Cherokee wins 'SUV of Texas' for the fourth consecutive year ◾Dodge Durango awarded 'Full-size SUV of Texas' for the second time in three years ◾Ram Trucks and Jeep Brand SUVs sweep the competition, winning highest honors in every category entered ◾All-new 2014 Jeep Cherokee wins Compact SUV of Texas, earning award in first head-to-head vehicle competition October 14, 2013 , San Antonio, Texas - Once...[Read more...]
Jeep® Brand Receives Three Significant Awards From New England Motor Press Association
- Jeep Grand Cherokee 'Official Winter Vehicle of New England' for third consecutive year - 2011 Grand Cherokee captures Wheels TV 'Previously Owned Vehicle of the Year' award - Mike Manley, Jeep Brand President and CEO, receives 2013 NEMPA Executive of the Year Award - 2013 Ram 1500 4x4 named 'Best All-Weather Pickup Truck' May 10, 2013 , Cambridge, Mass. - The Jeep® brand captured three significant awards here last evening at the New England Motor Press Association's (NEMPA) annua...[Read more...]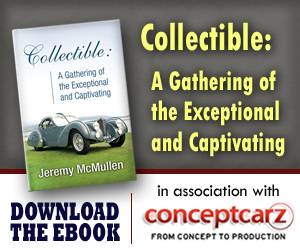 Similarly Priced Vehicles from 1968
Chevrolet Corvette C3 ($4,350-$4,661)
Chrysler 300 ($4,207-$4,535)
Alfa Romeo 1750 ($3,950-$3,950)
Chevrolet Camaro Series ($2,600-$3,797)
MG C ($3,355-$3,725)
Citroen DS21 ($3,680-$3,930)
Buick Sportwagon ($3,340-$3,870)
Volvo 1800S ($4,115-$4,115)
Mercury Park Lane ($3,550-$3,820)
Land Rover Series II ($2,600-$3,900)

Average Auction Sale: $5,961
Chrysler
Monthly Sales Figures
Volume
February 2014
25,230
January 2014
21,113
December 2013
20,270
November 2013
21,024
October 2013
23,452
September 2013
25,251
August 2013
28,678
July 2013
19,978
June 2013
27,249
May 2013
29,070
April 2013
27,836
March 2013
33,905
(More Details)
© 1998-2014. All rights reserved. The material may not be published, broadcast, rewritten, or redistributed.