1970 Mercedes-Benz 280 SE news, pictures, specifications, and information

Tweet
The Mercedes-Benz 280SE 3.5 cabriolet was introduced in 1970 and was identical to the standard 280SE cabriolet, with the exception being under the hood. In place of the standard-issue six, the 280SE 3.5 was given an all-new 3.5-liter V-8 and featured Bosch electronic fuel injection and transistorized ignition. The 280SE 3.5, with its 230 horsepower, was capable of going from zero-to-sixty in less than 10 seconds.

Standard equipment included power steering, power brakes, stereo radio, air conditioning, electric windows, and automatic transmission. Inside, there was leather upholstery and polished wood trim. Between 1969 and 1971, there were 1,232 examples produced with the convertible bodystyle. Priced at $14,509, they were very expensive.

This example is a two-owner car. It has been given just on repaint (in the 1990s) and is finished in dark blue with a tan upholstery and a blue convertible top. The odometer shows approximately 98,500 miles.

In 2012, this car was offered for sale at the St. Johns Concours auction presented by RM Auctions. It was estimated to sell for $70,000-$90,000. As bidding came to a close, the car had been sold for the sum of $74,250 inclusive of buyer's premium.
By Daniel Vaughan | Oct 2012
This 280SE Cabriolet is an original, unrestored car with less than 100,000 miles over nearly 39 years, yet it is in top condition. The high level of build quality, top-shelf materials and components, and excellence in engineering apparent in Mercedes-Benz cars of this era truly make these classic cars, and this particular model is still quite capable of keeping up with modern traffic. Its distinctive stacked headlights set it apart visually from many other Mercedes models. Coupe and Cabriolet versions of this model are relatively rare and desirable.
280SE Coupé, Cabriolet and 300SEL saloon models were chosen by Mercedes-Benz to carry its new 3.5-liter V8 engine in 1969. It was an over-square design with a Bosch electronic fuel injection system, transistorized ignition, and a cast-iron block and aluminum cylinder heads, each equipped with a single overhead camshaft. The 200 horsepower engine could carry the 280SE to speeds near 125 mph, and from zero-to-sixty in just 9.5 seconds.

The SEL salon used the 'New Generation' bodyshell while the Coupe and Cabriolet were given the elegant coachwork that had debuted back in 1959 on the 220SE. They featured automatic transmissions, air conditioning, power windows and stereo radio as standard equipment. The 280SE 3.5 was to be the final model to feature this long-established body style.

Chassis no. 111026.12.001918
This 280SE Coupe was finished at the Stuttgart works during the summer of 1970, during the second production year for the 3.5 models. Specified for the US-market, the 3.5 was delivered to its first owner in September of 1970, though Allen Auto Leasing in Culver City, California. By 1991 the car had relocated to Massachusetts where it was owned by the Satran family. It was treated to a restoration and refurbishing by Hudson, Massachusetts based Hatch and Sons Automotive. Along with other work, the car was re-painted and the wood trim was re-finished.

The Satran's sold the car in 2004, and in September of 2005 it was purchased by the current caretakers. Since then, additional restoration work has been performed to the car, including further refinishing of the interior wood, a new leather interior, a new headliner, new carpets, and a thorough service of the A/C system. The car is finished in Dark Blue with Parchment upholstery. It is fitted with power assisted disc brakes, power windows, factory sunroof, books, tools, and a jack.
By Daniel Vaughan | Dec 2013
The Mercedes-Benz 280 SE was produced from 1965 through September 1972. Mounted under the bonnet as a six-cylinder engine fitted with a fuel injection system. (The 250S and 280S had carbureted engines.) By 1970, Mercedes-Benz introduced a larger, eight-cylinder engine displacing 3.5 liters. It was available in a sedan, coupe, and convertible bodystyles with a total of 5187 examples of the coupe and convertibles being built. The standard sedan was far more popular with 91,051 examples produced. Part of the popularity was the price tag which was almost half the cost of the convertible option, which carried a sticker price of $12,444.

A four-speed manual gearbox was standard with an automatic available as option equipment. Disk brakes could be found at all four corners. With just under 100,000 examples produced during their short lifespan, these were very important and popular for the Mercedes-Benz company.
By Daniel Vaughan | Apr 2010
For more information and related vehicles, click
here
2014 MERCEDE-BENZ M-CLASS: ALL M-CLASS MODELS FEATURE COLLISION PREVENTION ASSIST
May 08, 2014 - MONTVALE, NJ - The 2014 Mercedes-Benz M-Class sport utility has COLLISION PREVENTION ASSIST as standard equipment on all four 2014 M- Class models. Using a dedicated radar sensor to monitor the distance to a vehicle in front and closing speed. If the system senses a risk of imminent collision, it alerts the driver with a warning tone and light in the instrument cluster. COLLISION PREVENTION ASSIST also networks with brakes to prepare for emergency braking, so that as soon a...[Read more...]
Advanced 2.7-Liter EcoBoost with Auto Start-Stop Brings New Capability and Efficiency to Next Ford F-150
• Latest EcoBoost® technology in an all-new, even more efficient 2.7-liter engine that features extremely high output and lightweight design coupled with standard Auto Start-Stop optimized for trucks
• Delivers the performance of a mid-range V8 with greater efficiency
• Real-world durability tested in grueling Baja 1000 off-road race
Ford, America's truck leader, is expanding its industry-leading range of powerful and efficient powertrains with the addition of an all-ne...[Read more...]
2014 MITSUBISHI LANCER EVOLUTION: TURBOCHARGED FUN IN A 4-DOOR SPORTS CAR
Thanks to its potent turbocharged and intercooled powerplant, precision-tuned handling, communicative steering feel and 4-door configuration, the 2014 Mitsubishi Lancer Evolution is an ultra-high-performance sports car that allows the driver to take to the track – along with several of his/her like-minded friends. For the 2014 model year, the Lancer Evolution gains several upscale-oriented improvements to make an already very enjoyable ride an even more sumptuous experience. These new feature...[Read more...]
Andy Warhol'S 1979 Bmw M1 Art Car To Be Center Piece At Saratoga Automobile Museum
• BMW History and Heritage on four wheels and two on display from May – November, 2013
Woodcliff Lake, NJ – May 17, 2013… Andy Warhol's 1979 BMW M1 Art Car will be the center piece of the exhibition 'BMW – The Ultimate Driving Machine', which opens this weekend at the Saratoga Automobile Museum. The exhibition will also feature the BMW 3.0 CSL which won the Daytona 24 Hour race in 1976. The exhibition, which features a retrospective of BMW cars and motorcycles, will run until ...[Read more...]
BOSCH CONTINUES GROWTH PATH IN NORTH AMERICA
- Regional business results - Automotive and Industrial Sectors Boost 2012 Sales - Bosch 2012 sales in North America up 8.1 percent to $10.6 billion USD - Near double-digit sales growth expected in 2013 - Bosch aligns into four business sectors: Automotive Technology, Industrial Technology, Consumer Goods and Energy & Building Technology FARMINGTON HILLS, Mich., May 15, 2013 - In spite of a cooling global economy in 2012, strong sales in the company's Automotive Technology and Indu...[Read more...]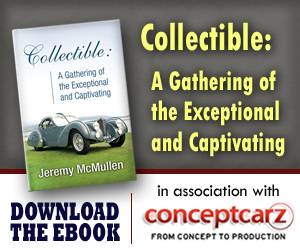 Similarly Priced Vehicles from 1970
Mercedes-Benz 280SL ($6,950-$7,375)
AMC AMX III ($10,000-$10,000)
Lincoln Continental Mark III ($7,281-$7,281)
Porsche 911T ($6,435-$7,100)
Porsche 911E ($7,890-$8,600)
Porsche 911S ($8,665-$9,355)
Mercedes-Benz 280 SEL ($11,330-$11,330)
Studebaker Avanti II ($7,140-$7,140)
DeTomaso Mangusta GT ($11,135-$11,135)
Cadillac Fleetwood Sixty Special ($6,950-$7,280)

Average Auction Sale: $68,295
Mercedes-Benz
Monthly Sales Figures
Volume
December 2014
37,297
November 2014
37,110
October 2014
30,733
September 2014
29,523
August 2014
28,958
July 2014
29,406
June 2014
28,707
May 2014
26,617
April 2014
28,281
March 2014
29,316
February 2014
22,609
January 2014
23,892
(More Details)
© 1998-2014. All rights reserved. The material may not be published, broadcast, rewritten, or redistributed.