1940 Buick Limited Series 80 news, pictures, specifications, and information

Tweet
Buick began the 1940s by changing its entire lineup and it paid off, as 311,000 vehicles were sold. The Roadmaster had been the Series 80, but in 1940 became the Series 70 and for the first time shared the same wheelbase as the Century. Its bodystyles were shared with the Super. The new Series 80 had seating for six for all of the bodystyles offered and was commonly referred to as the Limited. The cars rode on a large 133-inch wheelbase that was once solely reserved for the Roadmaster. Above the Series 80 was the Series 90 which was similar to the Series 80 but rode on a large 140-inch wheelbase, had seating for eight, and were bodied with only closed coachwork.

There were only seven Buick 80C Limited Convertible Phaeton's created in 1940 and these are regarded as the most elegant of Buick's offerings for that year. The cost to own one of these gorgeous machines in 1940 was a staggering $1,952 which was a high price, especially for the Buick line.

This 1940 Buick 80C Limited Convertible Phaeton is number 7 of the 7 created and is one of the most rare Buick's ever created. It has resided for many years in the Tamaroff Collection and has been treated to a complete restoration. It is finished in Verde Green which is an original Buick color. The interior is finished in a complimentary lighter shade of green with a tan canvas top. The car includes original amenities such as Sonomatic push-button radio, Fresh Air under-seat heater/defroster, lighter, ashtray, and fold down armrests in the rear. The exterior options include dual amber colored fog lamps, dual side mounted spare tires in hard covers with mirrors, and whitewall tires at all four corners.

This car has earned its CCCA Senior badge which is a testament to its quality and craftsmanship. This car was offered for sale at the 2007 RM Auctions held at Meadow Brook where it was offered without reserve and estimated to sell between $125,000 - $175,000. At auction the car was sold, selling above the estimated value, and fetching $187,000.
By Daniel Vaughan | Aug 2007
Limited Convertible Phaeton
Chassis Num: 225

The Buick Motor Division of General Motors was riding high in 1940. That year's Buicks, offered in six series, were among the hottest cars on the road - in terms of both performance and in sales. With General Manager Harlow H. Curtice (a future GM President) at the helm, the Flint-based automaker built a record-setting 283,204 cars for 1940. Buick also placed fourth in US calendar year sales for 1940 - only cars from the 'low-priced three' were more popular.

The Limited Model 81-C 4-door Convertible Phaeton was the largest convertible Buick offered in 1940. Spanning a 133-inch wheelbase, the massive car weighed 4,540 lbs. Original price was $1,952, which included the dual side-mounted spare tires that were standard on this model. Production of the Limited Model 81-C totaled just 250, including 20 that were built for export.

The 141 horsepower, 320 cid Buick 'Dynaflash' inline eight-cylinder engine powering the Limited featured an overhead-valve design, as had every other Buick automobile produced since 1903. The transmission was a three-speed manual.

This example of the prestigious Limited is done in the same colors as the 81-C illustrated in the 1940 catalog. It was originally registered in New York and New Jersey and is said to have been used by the Gambino family when new. The present owner found the car in Arizona many decades later. It was taken to Ohio where it was restored at his shop, which specializes in 1940-1941 Buicks.
This 1940 Buick Limited Model 81C Fastback Convertible Phaeton is one of only 14 documented examples remaining in existence. It is a CCCA Full Classic and formerly the possession of the Buick Club of American founder, Greg Field. During the early 1990s, Mr. Field had the car restored. It is painted in Sequoia Yellow and fitted with a tan convertible top with red piping. There are large amber fog lights, front and rear bumper guards, dual side-mounted spare tires with hard covers, and dual chrome plated mirrors.

The interior is Burgundy leather upholstery with a wood grain dash and a DeLuxe steering wheel. The list of amenities include a standard clock, Fresh Aire underseat heater and defroster system, a folding rear windscreen, and a fold-down armrest for the rear passenger compartment.

In 2008, this car was brought to the 2nd Annual Vintage Motor Cars of Hershey presented by RM Auctions where it was estimated to sell for $100,000-$125,000. Though the vehicle carried a reserve, it was lifted even though bidding did not reach the estimated value. The lot was sold for $$77,000 including buyer's premium.
By Daniel Vaughan | Oct 2008
This Buick Limited Phaeton is a special vehicle as it was mildly modified when new by Los Angeles coachbuilding firm Bohman & Schwartz. The original side windows were removed and the gaps were filled, plus wind wings were added. It is believed that the original owner was Hollywood actress Shirley Temple. Subsequent owners include Lorin Tyron, co-founder of the Pebble Beach Concours d'Elegance, and Tom Barrett. It is believed that the car was restored during the 1970s and subsequently repainted. In 2001, it was honored with Most Distinguished Open Car at the Greenwich Concours d'Elegance in Connecticut.

In 2011, this vehicle was offered for sale at the Hershey Auction presented by RM Auctions. It was estimated to sell for $60,000 - $80,000 and offered without reserve. As bidding came to a close, the vehicle had been sold for the sum of $55,000 including buyer's premium.
By Daniel Vaughan | Dec 2011
| | | | |
| --- | --- | --- | --- |
| | | | Fastback Convertible Sport Phaeton |
By the late 1940s Buicks were one of the best-selling American cars. The 1940 top-of-the-line Buicks, the Roadmaster and Limited, had become quite popular among luxury car purchasers, giving even Cadillac a run for their money. In 1940, Buick had a higher horsepower engine than the Cadillac at 141 horsepower vs. Cadillac's 140. The difference was even greater in 1941 with the Cadillac at 150 vs. the Limited at 165 horsepower making it the most powerful American car at the time. Cadillac management object to the Buick having higher horsepower but was over ruled by top GM executives. The 1940 Limited had a 320 cubic-inch 141 horsepower straight 8 overhead valve engine. It was large with a 133 inch wheelbase and shared basic body shells with Cadillac.

Buick introduced the Model 81C, a four door convertible phaeton, on September 22, 1939. There were only 230 produced. The car sits on a 133-inch wheelbase, it has standard heaters and defrosters and seats six. All 1940 Buicks were delivered with oil filters and sealed beam headlights.

The straight-eight engine displaces 320 cubic-inches and develops 141 horsepower. This car is well optioned, sporting a front bumper guard, fog lights, and a telescoping vacuum antenna.

The current owner purchased this car ten years ago from a body shop in Delaware. The vehicle was in pieces when it was purchased. It underwent a lengthy (4,500 hour) full frame-off restoration at Prueitt Auto Restoration of Glen Rock, Pennsylvania. Analysis of the first layer of paint revealed that the original color was Bandelier Blue and this has been duplicated. Authenticity has been maintained throughout. This was completed in 2012.

This car was originally delivered to one of the DuPont families in Delaware. A DuPont crest was found under layers of paint during restoration. The car was rescued from a junk yard in 1957 and went through two more owners.
CHRYSLER GROUP IN 2015, UNDER THE HOOD: MORE POWER, GREATER EFFICIENCY AND EXCEPTIONAL VALUE
◾Introducing the HEMI® Hellcat – Chrysler Group's most powerful V-8 ever; 18th new engine added to Company lineup in less than five years ◾Celebrated TorqueFlite family grows by one with most robust eight-speed automatic in Chrysler Group history; 15th new transmission ◾TorqueFlite transmissions – projected to save current Chrysler Group customers more than 700 million gallons of gasoline – now available across entire Dodge full-size car lineup ◾Debut of new, high-efficiency, lightweight axle...[Read more...]
THE COUNTDOWN TO AUCTIONS AMERICA'S FORT LAUDERDALE SALE NOW UNDERWAY
• Auctions America kicks off its 2014 collector car calendar March 14-16 in Fort Lauderdale • Regarded as South Florida's premier collector car auction, the multi-day sale features nearly 500 cars spanning all segments of the collector car market • Joining the list of previously announced feature consignments are a 1970 Plymouth Hemi Superbird, a 1959 Cadillac Eldorado Biarritz and a 1934 Packard Twelve Convertible Sedan • Digital catalog now available for download at auctionsamerica.com [I...[Read more...]
MERCEDES-BENZ 2014 G63 AMG: THE ULTIMATE G-CLASS
The latest technology for the AMG off-road icon: the new 2014 G63 AMG impresses with a state-of-the-art powertrain, expressive new design and improved efficiency. All this is largely attributable to the AMG 5.5-liter V8 biturbo engine delivering 536 hp and the AMG SPEEDSHIFT PLUS 7-speed automatic transmission. Every new AMG high-performance vehicle offers an outstanding mix of 'more power from less fuel' – and the G63 AMG is no exception. The 'strong man' in the AMG model range has been furt...[Read more...]
Mercedes-Benz USA Announces Pricing for 2014 SLS AMG Black Series and C63 AMG Edition 507
MONTVALE, N.J. – Mercedes-Benz USA (MBUSA) today announced pricing for the 2014 SLS AMG Black Series coupe and the 2014 C63 AMG Edition 507 sedan and coupe. Both models are part of an exclusive lineup of high-performance AMG models available at all U.S. Mercedes-Benz dealers. The Manufacturer's Suggested Retail Pricing for the MY14 SLS AMG Black Series is $275,000 (plus $1,800 for destination and delivery). Pricing for the MY14 C63 AMG Edition 507 sedan will begin at $70,000 (plus $925 fo...[Read more...]
Magnificent Series of Coachbuilt Classics To Grace RM's Amelia Island Concours D'Elegance Sale
• RM Auctions returns as the official auction house of the Amelia Island Concours d'Elegance, March 9, 2013 • Single-day sale features breathtaking roster of more than 80 investment-quality collector cars • Notable highlights include an outstanding series of coachbuilt classics headlined by a multi-million-dollar 1935 Duesenberg Model SJ Walker-LaGrande Convertible Coupe and a trio of Cords from the personal collection of Jim Fasnacht • Frequently updated list of entries available online at r...[Read more...]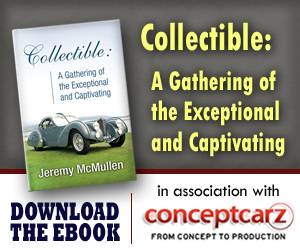 Similarly Priced Vehicles from 1940
Lincoln Zephyr ($1,360-$2,840)
Lincoln Continental ($1,360-$2,845)
Packard Super 8 160 ($1,500-$2,200)
Packard 120 ($1,000-$3,800)
LaSalle Series 50 ($1,240-$1,895)
LaSalle 40-52 ($1,380-$1,895)
Buick Series 70 ($1,277-$1,768)
Buick Series 50 ($1,058-$1,549)

Average Auction Sale: $81,950
Buick
Monthly Sales Figures
Volume
December 2014
20,357
November 2014
19,143
October 2014
18,699
September 2014
17,466
August 2014
22,143
July 2014
17,683
June 2014
21,403
May 2014
19,957
April 2014
19,214
March 2014
20,428
February 2014
19,192
January 2014
13,278
(More Details)
© 1998-2014. All rights reserved. The material may not be published, broadcast, rewritten, or redistributed.