1924 Packard Single Six news, pictures, specifications, and information

Tweet
This is Packard's 'Sport' Phaeton. It is lower and more narrow than standard 1924 Packards.

In the 50's this car was used by the Shriners as a parade car, they painted the car yellow with red wheels, harem girls, camels and palm trees.

The car has had 6 owners, in 1985 it was purchased by someone in New York and had it restored. The current owner purchased the car in 2002.

It is believed there are only 4 other 'Sport' Phaetons in the world today.
This sporty Packard was reportedly purchased new by Broadway mogul Flo Ziegfield for one of his follies dancers. The second owner was famed heavyweight boxer Jim Corbett, in whose family the car remained until 1986. The Packard Six was known for both peppy performance and easy handling so it was a perfect choice for both of these first two owners!
The Single Six was added to Packard's Second Series model lineup in December of 1923. The Single Six was an affordable model, had good fuel economy and long tire life, and shared many features with Packard's larger models. The shared features included four-wheel brakes and a service brake-actuated spotlight, along with a tonneau light and long-grain black leather upholstery for open cars.

This Touring car was given a restoration many years ago. The current owner acquired the car in mid-2008 from an individual who had carefully stored the car at his winter home in Florida. The car is painted in bright yellow with black fenders and navy blue pinstripe accents. Under the bonnet is a 268.4 cubic-inch L-head six-cylinder engine delivering 54 horsepower. There is a three-speed manual transmission and four-wheel mechanical brakes.

In 2010, the car was offered for sale at the Vintage Motor Cars of Hershey auction presented by RM Auctions. It was estimated to sell for $50,000-$70,000. As bidding came to a close, the car had been sold for the sum of $42,900 including buyer's premium.
By Daniel Vaughan | Oct 2010
Alvan Macauley became president of the Packard Motor Car Company in 1916 when Henry Joy retired. Macauley would remain in that position until 1938.

Packard's flagship vehicle during the 1910s and 1920s was the Twin Six and it was a very popular vehicle with those who could afford it. To stimulate sales, generate additional revenue, and to boost production, Packard created a scaled-down version, offered at a lower price, called the Single Six. It was introduced in the fall of 1920 and it was comprised of an engine that that half the cylinders of its twin-six counterpart.

Though this was an opportunity for more of the public to own a Packard, Macauley and his board of directors were shocked to find that the Single Six had not met sales expectations. In the post-War era, the economy had entered a depression, resulting in slow sales throughout the industry, and Packard being left with half of the Single Six models produced, unsold, and taking up space in dealer inventory.

The sales for the Twin Six remained solid, with 1921 being another fantastic year for the big twelve cylinder vehicle. Packard trucks also sold well, helping Packard rebound from the Single Six models.

For 1922, Packard introduced a new version of the Single Six. They had analyzed the first series of the Single Six and determined that slow sales were the result of a number of issues customers had with the vehicle. It was believed that the wheelbase length and its styling were not up to par for customers' demands. Maximum occupant capacity was limited to just five individuals. The Second Series rectified these issues, and was offered in two wheelbase sizes, the 126- and 133-inch. A seven-passenger model was also available.

Production of the Second Series was not ready in time for the start of the 1922 model year, so Packard carried over their Model 116 Sixes from the prior year, which they had 1,384 units still remaining.

When the Second Series was finally ready for consumer consumption, it was immediately obvious that Macauley and their stylists were headed in the right direction. The Second Series Six received great reviews for its sporty and attractive styling. In the first forty days, Packard realized $10 million in retail sales. Within a few months, production was unable to keep with demand and a backlog of orders continued to accumulate.

In 1924 the Single Eight was introduced and it was the first volume-produced American automobile to house an eight-cylinder engine and be outfitted with four-wheel brakes. In 1925, the Single Eight became the Eight, and the six-cylinder line was renamed to the Six.

The Eight was available in either a 136- or 143-inch size and offered with 12 cataloged factory bodies. The opportunity to take the rolling chassis to a custom coachbuilder was also made available to the customers. A special custom catalog offered a four-passenger sedan cabriolet by Judkins, town cabriolet by Fleetwood, a five-passenger stationary town cabriolet by Derham, a seven-passenger limousine sedan by Holbrook, and three custom models designed by the legendary designer, Dietrich.

The Six was available in a variety of configurations, sizes, and could even be taken to custom coachbuilders to be bodied to customer scrutinizing specifications.

Sales during the mid-1920s were good for many of the companies that had weathered the poor economic times of the early 1920s. For Packard, the increase in sales in their Six Models meant that prices were able to be reduced. Packard reduced the price of the Six by more than half, in so doing, making it available to more consumers. For 1926, the Six was available in a variety of paint colors of which the consumer was able to select.

As the world closed out the 1920s and began the 1930s, another depression was on the horizon. For many automakers, these would be their final years. Sales slowed considerably for Packard and other marques in 1930; Packard attempted to stimulate sales by dropping the price on all models by $400. Sadly, this did little to attract new buyers. With some of the greatest stylists in the industry, and financial stability going into the Depression, Packard was able to survive this difficult time, and even created what are arguably some of their finest and most memorable creations. Another advantage for this independent marque was a single production line with inter-changeability between models. This helped keep costs to a minimum.

As the Depression came to a close, Packard began offering their first sub-$1,000 car, beginning in 1935. It was dubbed the Packard 120 and sales were exceptional, with more than triple the amount in 1935, and doubling again in 1936. Packard's Junior model '120's were outselling the senior line, consisting of the Twelve, Super Eight, and Eight, by over 10 times.

One-Twenty
The Packard One-Twenty was produced from 1935 through 1937 and again from 1939 through 1941. The One-Twenty signified Packard's move into the mid-priced eight cylinder market; a highly competitive segment that was filled with many marques with numerous offerings, options and price ranges. The move had been made due to financial reasons and the need to stay competitive; the Great Depression was taking its toll on the entire automotive industry but mostly on the high priced manufactures. The lower cost marques also had a tough time but a few were still able to move a considerable amounts of products and wade out this terrible time in history.

The One-Twenty was quickly designed, created, and made ready for sale. First offered in 1935, it could be purchased in numerous body styles that included coupes, convertibles, and two- and four-door configurations. Under the hood lurked an L-Head eight cylinder engine capable of producing 110 horsepower. The price range was competitive, with prices ranging from the mid $900's to the low-$1000's. This combination of mid-cost and adorned with the Packard nameplate proved to be the right combination and in its first year nearly 25,000 examples were created. The rest of the Packard model lines only accumulated to around 7000 examples being sold.

For 1936 Packard increased the displacement of the engine and horsepower rose to 120 and gave the One-Twenty a top speed of 85 mph. A convertible four-door sedan was added to the line-up with a $1395 price tag, making it the most expensive One-Twenty body style. Sales continued to be strong and more than doubled over the prior year. This would be the best sales year for the Packard One-Twenty.

Packard introduced the Six in 1937. This was the first time in ten years that a six-cylinder engine could be found in a Packard. The reasoning was again economics and the constant struggle to stay in business by offering a quality product at a reasonable price. The Packard Six meant that the One-Twenty was to move higher up the market, being offered with more amenities and options. Two of these options were the 'C' and 'CD' trim levels. A wood-bodied station wagon and Touring Sedan were added to the line-up. A limousine body style, sitting atop a 138 inch wheelbase was also available for the first time, setting the buyer back a hefty $2000. There were 50,100 examples of all One-Twenty body styles producing during this year.

To conform to Packard's standard naming conventions, the One-Twenty was known as the Packard Eight for 1938. A year later, it was back to being called the One-Twenty. There were still a slew of body styles to choose from, able to satisfy all of their customer's desires and needs. The price range was competitive, costing from around $1100 to $1856. Though the product and the price were good, sales were slow with only 17,647 units being produced. The recession was taking its toll. Packard had even introduced many new mechanical improvements such as placing the shifter on the column rather than on the floor. For the following years, sales began to rise again, now amassing to 28,138 examples being produced. The name One-Twenty was now hyphenated.

For 1941 Packard offered the One-Twenty in eight body styles. The styling had been modified from the prior years, with the headlamps now residing in and on the fenders.

The One-Ten and One-Twenty were both dropped in 1942 and their names were merged with the Packard Six and Packard Eight lines. The One-Twenty had in production for seven years and 175,027 examples were produced.

Packard Six
The Packard Six, Packard's first six-cylinder engine in ten years, was introduced in 1937 and produced until 1947. In its first year in production it accounted for over half of Packard's total production, selling 65,400 examples. Production and profits continued to climb, jobs were saved, and the company was moving away from extinction which many of their competitors had succumbed.

The Six conformed to Packard's reputation for quality and style. They had an all-steel body, independent 'Safe-T-fleX' front suspension, and four-wheel hydraulic brakes. The engine displaced 237 cubic-inches and produced 100 horsepower. Much of the drivetrain, including the engine and transmission, were derived or borrowed from the One Twenty. Their sticker prices, however, were different. The One Twenty would set the buyer back nearly $1,000 while the Sixes starting price was $795. This was just $170 more than a Ford.

The Six Models were priced at such a discounted rate because they did not have as many amenities or features as the One Twenty. It had less chrome on the dashboard, no chrome on the hood louvers, smaller tires, no broadcloth upholstery, and no side-mounted spare tires. They were built atop a 115-inch wheelbase and were 'every inch a Packard.'

In 1938 Packard moved the Six up-market. This proved to be a poor move for the Six and sales reflected. Sales for the six reached just 30,000 examples.

In 1939 an optional overdrive, called 'Econo-Drive' and column-mounted 'Handi-Shift' was offered as optional equipment. The 'Handi-Shift' proved to be problematic and replacement kits were offered by the factory to help alleviate the mechanical problems. Ride and handling improved in 1939 with the addition of a fifth shock absorber in the rear. Sales finally began improving, now amassing 76,000 cars for the entire Packard production.

The Packard One-Ten, also written as 110, was produced in 1940 and 1941. It was a range of six-cylinder automobiles that were created as a replacement for the Packard Six. The Six Series had been introduced by Packard in 1937 after being out of the market for ten years. The re-introduction of the six-cylinder cars was in response to The Great Depression and the need to stimulate sales.

The less expensive Packard may have hurt Packard's prestigious name, but it did help give the company some financial stability. They were constructed on a shorter wheelbase and offered in a wide range of body styles, including both two and four-door sedans, station wagon, and convertibles.

The first year of its introduction yielded 62,300 units; following on this success Packard introduced a more expanded line for 1941, which included a second trim level called the Deluxe. Also on the One-Ten model line, Packard added a taxi line.

Standard options on the One-Ten included air-conditioning, spotlight, radio and heater.

For 1942, Packard reverted back to its old naming scheme and changed the One-Ten to the Packard Six. The six-cylinder would remain available until after 1947, though it was still available in taxicabs. The six-cylinder unit could also be purchased in a few export sedans, marine applications, and White trucks.
By Daniel Vaughan | Aug 2012
For more information and related vehicles, click
here
VOLVO ANNOUNCES ADDITIONAL DETAILS, PRICING OF ALL-NEW XC90 T6 AWD
• XC90 T6 AWD Momentum and Inscription deliver a true next-generation, luxury SUV experience
Rockleigh, N.J. (Oct. 2, 2014) -- Volvo Cars, as part of the reveal of the all-new XC90, recently announced its new trim level structure – Momentum, Inscription and R-Design –offering a tailored experience at every level. Momentum provides a well-appointed vehicle designed to meet and exceed the needs of most customers. Inscription is crafted specifically for customers that hold an addit...[Read more...]
Enhanced Kia Rio set for Paris Show world premiere
•Enhanced Kia Rio to be unveiled at 2014 Paris Motor Show •B-segment Kia's makeover gives exterior and cabin a fresh appearance •Enhanced Rio range on sale in Europe from early 2015 Frankfurt, 29 September 2014 – Kia will celebrate the world premiere of an enhanced Kia Rio at the 2014 Paris Motor Show on 2 October, featuring a number of improvements to maintain the competitiveness of its global best-selling car. 'The Kia Rio was our best-selling vehicle nameplate worldwide in 2013...[Read more...]
THE COUNTDOWN TO AUCTIONS AMERICA'S FORT LAUDERDALE SALE NOW UNDERWAY
• Auctions America kicks off its 2014 collector car calendar March 14-16 in Fort Lauderdale • Regarded as South Florida's premier collector car auction, the multi-day sale features nearly 500 cars spanning all segments of the collector car market • Joining the list of previously announced feature consignments are a 1970 Plymouth Hemi Superbird, a 1959 Cadillac Eldorado Biarritz and a 1934 Packard Twelve Convertible Sedan • Digital catalog now available for download at auctionsamerica.com [I...[Read more...]
EXCLUSIVE VOLVO OCEAN RACE EDITION AND V70 & XC70 EDITION RELEASED IN GENEVA
Exactly forty years after the completion of the first race, Volvo Car Group (Volvo Cars) is celebrating the upcoming 2014-2015 Volvo Ocean Race by presenting another special edition of sailing-inspired cars. The fifth generation Volvo Ocean Race Edition, which includes the Volvo V40, V40 Cross Country, V60 and XC60, will be launched at the 2014 Geneva Motor Show. At the same time, Volvo Cars will introduce the V70 and XC70 Editions for customers with a taste for a more dynamic look and handli...[Read more...]
Lost Mercedes - Surfaces At Bonhams
One owner, unrestored, supercharged 'S' Type Mercedes to be sold by Bonhams at Goodwood Revival this autumn One of the greatest and most important motor car finds of the last decade, the 'Lost Mercedes' is to be offered at Bonhams Goodwood Revival sale on Saturday 15th September 2012. Bonhams announced today that it has been commissioned to sell a recently discovered 1928 Mercedes-Benz 26/120/180 'S' Type Sports Tourer which almost without precedent for motor cars of this type and d...[Read more...]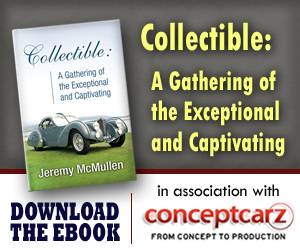 Similarly Priced Vehicles from 1924
Stanley Model 750B ($2,750-$2,750)
Lincoln Model L ($3,600-$6,400)
Cadillac Type V-63 ($3,090-$4,605)
Marmon Model 34 ($2,785-$4,285)
Packard Single Eight ($3,655-$4,975)
Chrysler Model B-70 ($1,195-$3,725)

Average Auction Sale: $42,900
© 1998-2014. All rights reserved. The material may not be published, broadcast, rewritten, or redistributed.