1960 Cadillac Eldorado news, pictures, specifications, and information

Tweet
Wearing the signature design of Dave Holls, in an era where no design was too wild, the nineteen-foot-long Cadillac Eldorado Biarritz Convertible you see before you is a more reserved version created for 1960. Powered by a 390 cubic inch, 345 horsepower V8, wearing three carburetors, and riding on a 130-inch wheelbase and chock full of power equipment, this is the ultimate American convertible, Cadillac style.

Cadillac assembled 1,285 Eldorado Biarritz convertibles in 1960. Costing $7,400 (two-and-half-times the average new car price), the car came very well equipped. Equipment which includes air suspension, a fiberglass parade boot, fog lights, autronic eye, electric trunk pull down, power vent windows, vacuum door locks and Florentine leather. The car touts a new taillight design with thin red lenses replacing the bullet style lenses used earlier, but retained much of the 'finfully' over-the-top styling that debuted in 1959.

Mr. Coccaro is the third owner. During its life, it has accumulated only 23,000 miles. The vehicle was restored by the Beverly Hills Garage, in Chicago, in 2002 and has been amassing awards at shows in both the United States and Canada since.
The 1960 Cadillac Eldorado Brougham is a little-known, but highly significant automobile. Perhaps its most notable distinction is the fact that it is the last of the custom-bodied Cadillac's. The bodies on these cars were hand built in Italy by Pinin Farina Coachworks and shared no sheet metal or glass with factory-built 1960 Cadillac's. At $13,075, the Edorado Brougham was priced nearly three times higher than a standard Cadillac and would compete with Rolls Royce and Bentley. It exhibited a refinement of detail only possible by meticulous hand craftsmanship. Every body panel was hand hammered into shape and is unique to the Brougham. There are no seams anywhere in the body work, and doors, hood and trunk lid were all fitted with exacting panel gaps. Chrome trim was far more subdued and vastly more delicate than that of standard Cadillac's. Of particular note is the seamless windshield and rear glass surrounds hand made from chrome-plated brass and individually fitted to each car.

Most Eldorado Broughams were built to customer order and a new owner need only specify leather or broadcloth upholstery with sheared mouton or nylon blend loop carpet. Every available Cadillac accessory was standard equipment, including air suspension, air conditioning, cruise control and a high performance Eldorado engine with three 2-barrel carburetors. Styling was handled by Cadillac's top stylist, Dave Holls and Chuck Jordan, and the 1960 Brougham set the tone for styling of standard Cadillac's for years to come.

This is body 87 of the 101 Broughams built in 1960. The original owner, industrialist Otto Nieman, used this car only as his special occasion vehicle and it generally stayed in the garage while two Fleetwoods served as daily drivers. Jim Todd, the Cadillac franchise owner in Central Valley, NY who sold the car new in July 1960, repurchased it from Mr. Nieman's estate in the early 1980s. This car was then put on display in his Cadillac showroom until February 2002, when Mr. Todd decided to retire.

The result of its sheltered life are the like-new condition of the leather covering the seats, door panels, rear package shelf and garnish moldings. The carpet is the original sheared mouton. Best of all, this car still rides beautifully on its original air suspension. Aside from minor paint retouching this is one of the finest and most original 1960 Eldorado Broughams in existence.
Cadillac introduced the Eldorado convertible in 1953 and it was known as a status symbol around the world throughout the 1950's, 60's, and beyond. Car Life magazine selected the 1960 Cadillac as its 'Best buy in the luxury field.' The Biarritz sold for the same $7401 list price. 1,282 Eldorado Biarritz convertibles were produced for the 1960 model year.

1960 was the year that marked the division's last use of triple two-barrel carburetion. According to contemporary road tests, gas economy rating for 1960 Cadillac's were approximately 14 miles per US gallon at a steady 60 miles per hour.

This Eldorado Biarritz was sold new by Thompson McConnell Cadillac of Cincinnati. The current owners acquired the car in 1986 and the restoration was completed in 2007.
This 1960 Cadillac Eldorado Biarritz Convertible was offered for sale at the 2007 RM Auctions held in Meadow Brook. The car has spent most of its life in California and was treated to a complete frame-up restoration in 2000. The exterior is finished in champagne color with matching interior and beige top. It has won numerous trophy's and Best in Class or Best in Show awards at a variety of events. It was the Eyes on Design Concours Best of Show Winner for Cadillac/LaSalle. It was Best of Show and Best of Interior at the 2005 Concours at Ault Park. It was awarded a First in Class at Meadow Brook in 2001.

This vehicle is powered by an eight-cylinder engine with tri-carburetor setup and column shift Hydramatic automatic gearbox. The engine displaces 390 cubic-inches and is capable of producing 345 horsepower. There are four-wheel power assisted drum brakes and a wheelbase that measures 129.5 inches.

This car was estimated to sell for $125,000 - $150,000 at auction. Its quality restoration and proven reputation as an award winner helped attract a new owner, and one who was willing to spend $110,000, after buyer's premium, for this vehicle.
By Daniel Vaughan | Aug 2007
In 2009, this 1960 Cadillac Biarritz Convertible was offered for sale at the Vintage Motor Cars of Meadow Brook presented by RM Auctions. It was estimated to sell for $60,000 - $90,000. The lot was sold for the sum of $65,000 including buyer's premium.
By Daniel Vaughan | Sep 2009
The Eldorado was near the top of the Cadillac line during the early part of its existence. It was part of Cadillac from 1953 to 2002 and is the longest running American personal luxury car. The original 1953 Eldorado convertible and Eldorado Brougham models of 1957-1960 were the most expensive models that Cadillac offered during those years.

The 1960 Cadillacs had smoother, more restrained styling than the earlier cars. Changes included a full-width grille, the elimination of pointed front bumper guards, restrained application of chrome trim, lower tailfins with oval shaped nacelles and front fender mounted directional indicator lamps. Externally, the Biarritz convertible had bright body sill highlights that extended across the lower edge of fender skirts and Eldorado lettering on the sides of the front fenders, just behind the headlamps. Standard equipment included power brakes, power steering, automatic transmission, dual back-up lamps, windshield wipers, two-speed wipers, wheel discs, outside rearview mirror, vanity mirror, oil filter, power windows, six-way power seats, heater, fog lamps, Eldorado engine, remote control trunk lock, radio with antenna and rear speaker, power vent windows, air suspension, electric door locks, license frames, and five whitewall tires.

This car is an unrestored example, which had been in the current owner's collection since 2004.
Although the 1959 Cadillacs may be the most recognized, the 1960 models are certainly among the most beautiful. At the top of the lineup is the Eldorado Biarritz. With a smoother and more subdued look, it is among the most desirable Personal Luxury cars of the era. The elimination of the 1959's pointed grill guards and the lowered rear fins that flowed with the body lines made the 1960 models considerably more conservative, but certainly not boring.

The Eldorado Biarritz Convertible, with a mere 1,285 produced, marks the final year that Cadillac used air suspension, a wraparound windshield and tri-power carburetion. The 390 cubic inch engine produces 345 horsepower and provided plenty of power to move its hefty 5060 pound curb weight.

This prime example of The Standard of the World joins us from the Ed Meurer collection. It features a long list of standard and optional equipment, including leather upholstery, the Autotronic automatic eye lighting system, an AM-FM transistor radio and much more.

When purchased in 1990, the current owner drove this car home over 700 miles with no incidents. Several years later, it was treated to a full body-off restoration which included new paint, refinished chrome and stainless trim, a new top and a fully rebuilt all-original drive-train.

This Eldorado is a fine example of what 'Car Life' magazine called 'The best buy in the luxury field' for 1960. It is splendid in its original shade, Carrera Green.
The Eldorado was a word with many meanings. It was chosen as the name to adore an upscale car that was built by Cadillac to celebrate its Golden Anniversary in 1952. Mary-Ann Zukosky, a secretary in the merchandising department, participated in a in-house competition and suggested the name. Eldorado was derived from the Spanish words 'el dorado' meaning 'golden one'. The name had first been used by the chief of a South American Indian tribe. The story was that his followers and tribe would sprinkle his body with gold dust on ceremonial occasions. He would later cleanse himself by diving into a lake.

Another story states the name represents a legendary but undiscovered city in South America filled with riches. Many European adventurers have long sought for this city including England's Sir Walter Raleigh.

'Palm Spring Life' magazine claimed the name Eldorado was derived from a Californian resort that was frequently visited by General Motors executives. The name of the resort located in Coachella Valley was the Eldorado Country Club.

In respects to the automobile built by General Motors, the Eldorado name was first used in 1953 and given to a limited-edition, low production, convertible and would continue to be used for many years. The original Eldorado was indeed a limited-production vehicle with only 532 examples created. The year prior, GM had shown the 'El Dorado' concept car in celebration of its 50 year anniversary. The Eldorado was the production version of this concept. It was based on the Series 62 and carried no special badging except a golden nameplate 'Eldorado' could be found in the center of the dash.

The convertible tops were available in black or white while the rest of the body could be ordered in one of four colors that included Azure Blue, Artisan Ochre, Alpine White, and Aztec Red. It carried a factory sticker price of $7,750 which was nearly twice as expensive as the vehicle it had been based, the Series 62.

The styling was influenced by the legendary Harley Earl who championed the wraparound windshield design along with other unique and stylish features.

The following year the Eldorado lost much of its unique qualities as it began sharing its body with other standard Cadillac's. This standardization allowed for lower, more cost effective pricing.

For 1955 the Eldorado continued to grow in bold features and radical designs. Tailfins could now be found in the rear giving the impression the car was in motion or pointing forward, even at a stand still. The following year Cadillac introduced the Eldorado Seville, a two-door hardtop coupe version.

One of the most memorable and sought-after designs of the Eldorado appeared in 1957, the Eldorado Brougham. At a price of over $13,000, the Brougham brought ulta-luxury and four doors. Event at this high price, it is estimated that GM lost over $10,000 on each of these hand assembled masterpieces. It cost more than most luxury marque models such as Rolls-Royce. The hardtop roof was stainless steel and it included almost every convenience option offered by General Motors, including dual headlights and air suspension. During its two year production run, only 704 examples were produced.

1957 also saw a new rear-end design on the Eldorado, often referred to as the 'chipmunk cheeks.' Little changed in 1958 and in 1959 Cadillac scaled back on the design. Though it was a couple years older its price remained relatively the same, selling at around $13,075. The assembly was handled by the famous Italian coachbuilder, Pinin Farina. These virtually hand-built machines had large fins, 'rocket-ship' taillights, and a very modern design for its era.

1960 was the last year Cadillac built the Seville version. GM made the Eldorado a trim option on the standard Cadillac convertible which would continue until 1966.

In 1967 the Eldorado was redesigned and now shared an E-Body platform with the Build Riviera and the Oldsmobile Toronado. The styling had been courtesy of GM's styling chief Bill Mitchell. One of the more distinctive features were the hidden lights. It continued to define luxury, prestige, and style. Under the hood lurked a potent 429 cubic-inch V8 which drove the front wheels. Zero-to-sixty took less than 9 seconds. This excellent performance did not translate to all of its mechanical components and its drum brakes were rather inadequate for its size and speed. Disc brakes could be purchased for an additional price.

Strict government regulations, emissions, and safety concerns meant the Eldorado changed slightly in aesthetics and mechanical components for 1968. For 1969 the hidden headlights were no longer part of the Eldorado design. A halo vinyl roof was offered as optional equipment.

A massive 500 cubic-inch V8 engine capable of producing 400 horsepower was offered exclusively on the Eldorado from 1970 through 1975. Thereafter, it was standard on all full size Cadillac's.

GM redesigned their full-size cars in 1971, with the new design lasting until 1975. The Eldorado was again offered as a convertible with fender skirts. The opera window design was all new and would prove to be very popular, indicated by its imitation by almost every domestic manufacturer. The opera window was a fixed rear side window surrounded by a vinyl roof.

Near the close of the 1970's many marques were decreasing the size of their cars. The Eldorado and Toronado continued to remain large and luxurious. In 1979 the Eldorado decreased in size and now sat atop a chassis which it shared with the Buick Riviera and the Toronado. Due to increasing oil prices and stricter government regulations, the engines began to decrease in size as well.

The notchback roofline was perhaps the most distinctive feature on the Eldorado. Its rear window was nearly vertical. An Independent rear suspension could now be found on the Eldorado, offering more rear passenger seating and a larger trunk while retaining a smaller body. The Eldorado Biarritz model was offered with a stainless-steel roof, just like the one that had been used on the first Brougham.

To further comply with evolving government regulations and rising fuel concerns, GM introduced a variable displacement engine in 1981. The idea was to turn off inactive cylinders while not in use. When power was needed, those sleeping cylinders would come alive and provide the power that was need. The idea was genius, but the execution was disastrous. On many occasions, it did not work well or at all which did much to scare the reputation of the Eldorado resulting in poor sales. Within the next few years, the sales rebound and the Eldorado was able to regain its market share.

By 1986, the size of the Eldorado had decreased substantially, now being similar in size to a compact car. The design was mediocre and for the first time in its history it was available with sedan frames around its windows. Many believed that this drastic change was due to fears of skyrocketing fuel prices that would send consumers running to smaller, lighter, and fuel efficient vehicles. Rather, fuel prices remained reasonable and the Eldorado sales plummeted. There were future revisions and aesthetic changes but sales continued to slow for the following years.

In 1992 the Cadillac Eldorado was reborn. Though it did not grow much in size it gained much ground in the styling department. Its design drew from its past and incorporated the frameless window glass that was distinctive to the Eldorado. The Northstar V8 was placed under the hood and provided excellent power and response. The styling and power resulted in increased sales and popularity. Though the four-door Cadillac Seville consistently outsold the two-door Eldorado, it had regained much of its prestige that it had lost.

For the following years, there were minor enhancements to the design and the interior.

In 2003, Cadillac celebrated the 50th model year of this nameplate. An ETC version was offered that produced an astonishing 300 horsepower. A limited number of red and white colored cars, the same as the 1953 convertible, were produced as a tribute to the legacy of the Eldorado.

On April 22, 2002, production of the Eldorado ceased.
By Daniel Vaughan | May 2006
For more information and related vehicles, click
here
THE PINNACLE OF COLLECTOR CAR AUCTIONS: RM AND SOTHEBY'S OFFER A CENTURY OF AUTOMOTIVE HISTORY AND DESIGN IN NEW YORK CITY
• Final countdown underway to RM Auctions and Sotheby's expertly curated Art of the Automobile sale, November 21, in New York City • First major collector car auction to be held in Manhattan in over a decade; the sale's catalogue features examples of the upper echelons of design from each era of motoring • Extraordinary exhibition that showcases all vehicles on offer will be held from November 18–20 on the 10th floor galleries at Sotheby's New York • Official digital catalogue now availab...[Read more...]
MERCEDES-BENZ 2014 G63 AMG: THE ULTIMATE G-CLASS
The latest technology for the AMG off-road icon: the new 2014 G63 AMG impresses with a state-of-the-art powertrain, expressive new design and improved efficiency. All this is largely attributable to the AMG 5.5-liter V8 biturbo engine delivering 536 hp and the AMG SPEEDSHIFT PLUS 7-speed automatic transmission. Every new AMG high-performance vehicle offers an outstanding mix of 'more power from less fuel' – and the G63 AMG is no exception. The 'strong man' in the AMG model range has been furt...[Read more...]
1964 Nurburgring 1000 Kilometers: Survive for One Last Victory
During the late 1950s, Richie Ginther would begin a relationship with John von Neumann and this partnership would result in one of the most dominant periods of American sportscar racing in which Ginther and Porsche would be virtually unbeatable. Nearly a decade later, that same combination would again join forces to provide one more moment of glory. By the mid-1950s Porsche had developed its 550. This was a small car more than capable of dominating its class and consistently able to challenge...[Read more...]
Magnificent Series of Coachbuilt Classics To Grace RM's Amelia Island Concours D'Elegance Sale
• RM Auctions returns as the official auction house of the Amelia Island Concours d'Elegance, March 9, 2013 • Single-day sale features breathtaking roster of more than 80 investment-quality collector cars • Notable highlights include an outstanding series of coachbuilt classics headlined by a multi-million-dollar 1935 Duesenberg Model SJ Walker-LaGrande Convertible Coupe and a trio of Cords from the personal collection of Jim Fasnacht • Frequently updated list of entries available online at r...[Read more...]
Corvette Shines in the Big Apple
All-new Corvette Stingray comes to New York City 60 years to the day after Motorama debut 2013-01-16 Sixty years ago tomorrow, spectators lined New York City's posh Park Avenue, waiting to get a glimpse of the ground-breaking Chevrolet Corvette on display at the General Motors' Motorama show. On Thursday, the Corvette will be back in The Big Apple, marking the historic milestone with the all-new 2014 Chevrolet Corvette Stingray. The all-new Corvette Stingray debuted earlier...[Read more...]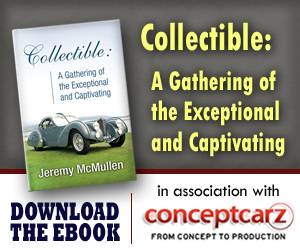 Similarly Priced Vehicles from 1960
Mercedes-Benz 300 SL ($10,955-$11,130)
Lincoln Continental Mark V ($6,595-$10,235)
Aston Martin DB4 GT ($12,555-$13,500)
Aston Martin DB4 ($10,550-$11,255)
Porsche 356B ($3,720-$36,000)
Mercedes-Benz 220 Series ($4,283-$8,090)
Maserati 3500GT Vignale ($12,300-$12,300)
Maserati 3500GT Touring ($11,400-$12,300)

Average Auction Sale: $63,103
Cadillac
Monthly Sales Figures
Volume
December 2014
16,150
November 2014
13,148
October 2014
13,615
September 2014
13,829
August 2014
16,650
July 2014
15,241
June 2014
13,941
May 2014
14,688
April 2014
13,900
March 2014
14,765
February 2014
13,437
January 2014
11,386
(More Details)
© 1998-2014. All rights reserved. The material may not be published, broadcast, rewritten, or redistributed.