1947 Chrysler Windsor news, pictures, specifications, and information

Tweet
Between 1946 through 1949, Chrysler produced a total of 1980 Windsor business coupes. It is unknown how many were produced year-by-year during this time, as Chrysler did not keep annual production records right after the war. The three-passenger business coupe is an iconic design of the 1930s and 1940s. Typically, they were offered only one the least expensive series in the marque's entry-level model. Things were different for Chrysler, as the business coupes could be found in all passenger cars lines from Plymouth to Chrysler. They were available in all series except the Imperials.

From 1946 through 1949, the business coupes were one of the more prolific of the body styles offered, representing a mere portion of the 330,000 cars produced during this period by Chrysler. The New Yorker was the most sought after business coupe variant, as it was fitted with the eight-cylinder engine. The Windsor models were fitted with a six-cylinder L-head engine that displaced 250.6 cubic-inches and produced 114 horsepower.

This vehicle's odometer reads just 10,988 miles since new. The spare tire is believed to have never been used and still has instructions for washing off its protective coating. The tires show very little wear. The exterior of the car is now painted Andante Green. There is an undercoat which has helped protect it during the years. There is some light surface rust on the frame, but overall it is in good condition. The doors close well and the chassis is straight.

This 1947 Chrysler Windsor 3-Passenger Business Coupe was offered for sale at the Vintage Motor Cars sale at Hershey, PA presented by RM Auctions. It was estimated to sell for $30,000 - $40,000 and offered without reserve. The lot was sold for $27,500 including buyer's premium.

For 1947, the Windsor was basically just an upgraded version of the Royal. It included all Royal updates and features plus the addition of two-tone wool broadcloth upholstery. There was an electric clock, rear seat folding armrest on sedans, and carpeted front compartment. The convertibles included exterior 'goose-neck' mirrors. In comparison to their 1946 counterparts, little had changed. They were very similar tot he New Yorker line, but without the larger engine. The price ranged from around $1,480 to just under $2400, without the addition of optional equipment.
By Daniel Vaughan | Dec 2007
Chrysler's first Town and Country was introduced in 1941 on the six-cylinder Royal line. The body style was a wood-bodied, barrel-back sedan with a fastback profile with twin hinged 'barn doors' at the rear. There were exactly 999 built and 200 of them in six-passenger configuration. The rest had three bench seats allowing up-to 9 passengers. A similar lineup was continued into 1942, with nearly identical production despite the war-shortened model year.

When World War II came to an end, Chrysler planned to expand the range with five body styles. However, only a conventional trunk-back sedan and an eight-cylinder convertible coupe were built. There were just 100 long-wheelbase eight-cylinder sedans built and the rest were six-cylinder cars on the shorter Windsor wheelbase.

The second-series 1949 line dropped the Town & Country sedan, and for 1950 the model was only available on the eight-cylinder line in hardtop coupe configuration with painted insert panels. The Town and Country line continued for many years, thereafter, enjoying a long succession of Chrysler steel-bodied station wagons and minivans.

This example is a nearly original, 31,000 mile car. In 2009, it was brought to RM Auctions 'Vintage Motor Cars of Meadow Brook' where it was estimated to sell for $75,000-$100,000. As bidding came to a close, the lot failed to sell after reaching a high bid of $52,000.
By Daniel Vaughan | Sep 2009
Known for developing high quality vehicles, the Chrysler Corporation was established by Walter Percy Chrysler on June 6, 1925. Existing as an independent company from 1925 until 1998, it was then purchased by Daimler-Benz.

Labeled as the Chrysler group, the full-size Chrysler Windsor was introduced in the 1940's. Larger than a mid-size and sitting on a wheelbase of more than 2.79 meters, the full-size Windsor was sold from the 1940's through the 1960's.

Releasing a fairly new design for the time, the 1940 Chrysler Windsor was a convertible type that was very attractive to consumers. The option of an adjustable top was a very pleasant feature to buyers. The convertible type was fairly new at the time and extremely popular.

Equipped with the newly developed Fluid Drive transmission system that allowed the driver to shift without using the clutch, the Windsor was a rear wheel drive car that had an S6 configuration. The 1940's Windsor was capable of producing 108 bhp at 3600 rpm.

A new batch of Windsor models were released by the Chrysler Corporation in 1953. Continuing in rear wheel drive form, the engine was situated in the front. This time around a V8 engine powered the Chrysler Windsor. Capable of a very secure ride, the new Windsor featured a 230 bhp and torque of 310 ft-lbs. A 3-speed automatic transmission was now offered. Able to seat up to five passengers, the new Windsor was both roomy and comfortable.
The final Chrysler Windsor known to Americans was introduced in 1961 for only two years, 1965 and 1966. In Canada, the Chrysler Corporation released a Windsor model basically equivalent to the Newport in the U.S. for those years.

Until the 1961 model year, the Windsor was the Chrysler price leader until the Chrysler Newport took the spot. The Windsor name was replaced in 1962 by the non-lettered series Chrysler 300.

Today the Chrysler Windsor is considered to be a vintage car though at one time it truly did make its mark in the automobile world.
By Jessica Donaldson
Formerly a U.S. based automobile manufacturer, the Chrysler Corporation and all of its subsidiaries are now part of the American and German based DaimlerChrysler AG after being acquired by Daimler-Benz in 1998.

All previous production records were shattered during the Second World War when Chrysler Canada plants produced 180,816 military trucks and other vital war material. In 1945 the peacetime vehicle production resumed and expansion continued at the Chrysler plants. In 1949 the company moved into a new administration building on Chrysler Centre. In 1955 the Chrysler Company produced its first V8 passenger car engine, while further expansions were undertaken through the mid-1950s.
Built from 1940 until 1967, the Chrysler Windsor was a full-sized vehicle produced by the Chrysler Corporation of Highland Park, Michigan. In 1949 the Chrysler Windsor was priced at $3,206.

The last Chrysler Windsor was produced in 1961 for two years only, 1965 and 1966. In Canada the Chrysler Corporation produced a Windsor model equivalent to the Newport in the U.S. for those years. Chrysler's price leader until the 1961 model year, the Newport replaced the Windsor as the marques price leader. The non-lettered series Chrysler 300 replaced the Windsor name in 1962.

A significant step away from the boxy, woody model, the 1941-1942 Chrysler Windsor Town & Country was the new modern station wagon. Featuring a streamlined steel roof and tailgate doors that opened like a clam-shell via outboard hinges, the new Chrysler was somewhat sedan-like in appearance. The performance of the Windsor was leisurely with Chrysler's L-head six and semi-automatic Fluid Drive.

The Chrysler Windsor Highlander was introduced in 1940 and shared the same distinctive trim package as the larger New Yorker Highlander – Scottish plaid cloth and leatherette upholstery. The six-cylinder vehicle had an eye-catching interior and was a smooth ride.
By Jessica Donaldson
For more information and related vehicles, click
here
Fiat Chrysler Automobiles key player in the Classic Days in Germany
Concours d'elegance, parades and special races on roads closed to traffic: this is the packed programme reserved for the historic cars arriving at the medieval Dyck castle • Alfa Romeo takes part with four precious models: the prototype 750 Competizione (1955), the 8C 2900 Le Mans (1938), the Giulietta SZ (1960) and the 1900 Sport Spider (1954) • Under the spotlight the Lancia 037 Rally (1984 - group B) and the Formula 1 Lancia D50 (1955) • At the German event also the Abarth 1000 Monomille ...[Read more...]
History Rolls into Hershey for RM's Annual Pennsylvania Sale
• Final countdown underway to RM's annual Hershey, Pennsylvania auction, held October 10 – 11 during the historic AACA Eastern Regional Fall Meet • Two-day sale features 116 vehicles, with an emphasis on Brass and Classic Era motor cars • Sale entries led by a rare, award-winning 1933 Chrysler CL Imperial Convertible Roadster • Auction also features number of vehicles steeped with local Pennsylvania history • Digital catalogue now available online at rmauctions.com BLENHEIM, Ontario (S...[Read more...]
Auctions America Continues Successful 2013 Season with its Annual Fall Carlisle Sale
• Auctions America rounds out its 2013 auction season in Carlisle, Pennsylvania, October 3-4 • Two-day Fall Carlisle sale, held in conjunction with the Carlisle Events Collector Car Swap Meet & Corral, features a diverse roster of 300 classics, exotics, muscle cars, hot rods, and customs • Auction highlights include a desirable 1967 Chevrolet Corvette 427/435 Roadster, a 1969 Chevrolet Camaro Z-28 RS Sport Coupe, and a 1960 Mercedes-Benz 190SL Roadster • Full event details and a frequentl...[Read more...]
The Champion in Touring Car Racing : The BMW M3
In August 1985, a rumour surfaced in motor magazine Auto-Deutschland which emanated from a new sports car. An A Group Car from BMW that was a thoroughbred racing car according to the rules but was also to be produced in a version licensed to drive on open roads for everyday use. Speculation about this dream car that could take to normal roads and was intended for the 'Most dynamic among BMW 3 Series drivers' was right on target. But the pundits missed the mark about the motor-sport car by a mile...[Read more...]
Auctions America By RM's 2012 Auburn Spring Auction
'Variety' is the buzzword for this year's Auctions America by RM June 1-3 Auburn Spring auction, which will offer a huge range of collector vehicles and an enormous private collection of automotive memorabilia. More than 600 American muscle cars, Classics, foreign sports cars and hot rods will cross the block at the historic Auburn Auction Park, the company's national headquarters in Auburn, Indiana. 'Last year was our first spring event at the park,' said Auctions America by RM's President ...[Read more...]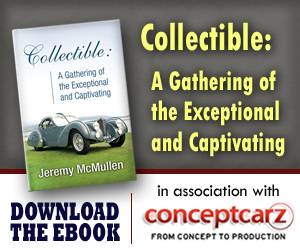 Similarly Priced Vehicles from 1947
Lincoln Continental ($4,660-$4,745)
Chevrolet Fleetmaster ($1,280-$1,891)
Ford Super Deluxe ($1,250-$2,275)
Cisitalia 202SC ($5,000-$5,000)
Chrysler Town and Country ($2,365-$2,365)
HRG 1500 ($2,455-$2,455)
Cadillac Series 75 ($4,194-$4,710)

Average Auction Sale: $56,879
Chrysler
Monthly Sales Figures
Volume
September 2014
28,781
August 2014
29,762
July 2014
23,455
June 2014
24,026
May 2014
22,592
April 2014
21,967
March 2014
26,140
February 2014
25,230
January 2014
21,113
December 2013
20,270
November 2013
21,024
October 2013
23,452
(More Details)
© 1998-2014. All rights reserved. The material may not be published, broadcast, rewritten, or redistributed.