1991 Ferrari F40 news, pictures, specifications, and information

Tweet
Gino Rancati, a friend of Ing. Ferrari, was given a plague inscribed 'To Gino Rancanti for a brilliant idea.' after suggesting the name of Ferraris new supercar, the 'F40', in celebration of the companies 40th anniversary. Enzo Ferrari was nearly 90 years old at the F40's 1987 launch.

Initially, the company intended on building 400 examples of this high-performance car, but demand dictated a much higher figure. Production continued until 1991, with over 1300 examples produced. The F40 carried a list price of $470,000, with some examples selling for nearly triple the original asking price.

The car was based on the 288 GTO's platform and given a twin turbocharged 3.0-liter V8 offering nearly 500 horsepower.

This 1991 Ferrari F40 is one of the last examples produced. It was the 144th F40 developed for the North American market and was delivered in August 1991 to Ferrari of Houston in Houston, Texas. It has accumulated just 1,800 miles in its first five years when it was offered for sale by Ferrari of Dallas in 1996. It made its way to the East Coast where it has resided since, showing less than 5,500 miles.

It is painted in the traditional Rosso Corsa red over red cloth and is in correct original factory specification in every detail, with the exception of the fitment of a high-performance Tubi sport muffler.

In 2009, this F40 supercar was offered for sale at the Sports & Classics of Monterey auction in Monterey, California presented by RM Auctions. The car was estimated to sell for $425,000-$495,000. The lot was sold for the sum of $462,000 including buyer's premium.
By Daniel Vaughan | Dec 2009
The initial production run of the Ferrari F40 was limited to about 400 examples. Even with its stratospheric price tag, the production continued until 1,315 examples were built by the time production ended in 1991. American Ferrari enthusiasts, however, had to wait until 1990 for the opportunity to own one. U.S.-specification cars traded at premiums of many thousands of dollars above their list price. Over a three-year period, only 213 examples of the F40 were built for the U.S. market.

This particular example has fewer than 300 miles from new, and it is still unregistered and listed on its Manufacturer's Statement of Origin (MSO). As the 94th of the 213 U.S.-specification F40s, it was produced during October 1990. It has had just three owners since new, with the original owner being the famed American automotive executive and business leader Lee Iacocca.

In 2012, this vehicle was offered for sale at RM Auction's sale in Scottsdale, Arizona. It was estimated to sell for $650,000 - $750,000. As bidding came to a close, the car had been sold for the sum of $781,000 inclusive of buyer's premium.
By Daniel Vaughan | Feb 2012
This Ferrari F40 was originally advertised in the Los Angeles times by Ogner Motorcars, of Woodland Hills, on October 13th of 1991. It was first sold in 1992 and its new owner stored it in a temperature-controlled room as part of a fine arts collection. In 2002, it was offered by Newport Autosport, showing only 530 miles.

In 2003, the car was treated to a major service. A year later, the car still only had 4,218 indicated miles and two owners from new. Around that time, the car was advertised for sale. The advertisement noted that the car had a Tilton lightweight clutch and aluminum flywheel, a Tubi competition exhaust system, and drop-down gears.

It was subsequently owned by Rocky Santiago. Thus, the car has had just four owners from new. It is Ferrari Classiche certified and includes a tool kit, all books, and the factory car cover. Competition seat belts have been fitted.

In 2012, this car was offered for sale at RM Auction's sale in Monterey, California. The car was estimated to sell for $650,000-$725,000. As bidding came to a close, the car had been sold for the sum of $715,000 inclusive of buyer's premium.
By Daniel Vaughan | Nov 2012
This F40 Ferrari was completed as a US market car at the Maranello works in May of 1991. It is the 141st car built out of a total of 213 US-market F40s produced. This car still wears its factory-applied Rosso Ferrari paint, and Stoffa Vigogna racing seats.

The car was delivered new to Dallas Texas where it was registered to its first owner in December of 1991. It was later purchased by a Pennsylvania Ferrari collector in 1996 and remained in his care until purchased by the current caretaker.

In 2014, it was given a comprehensive service. Currently it has less than 1,300 original miles from new. It has its original factory installed tires, alloy wheels with wheel weights, all factory interior and exterior components, and factory decals and emissions components in place. It has the factory delivered luggage set, original books, and complete set of tools.
By Daniel Vaughan | Nov 2014
The F40 was the last car introduced and commissioned by Enzo Ferrari himself. Its introduction and its name coincided wîth Ferrari's 40th anniversary as an automobile constructor. The car was a celebration of the marque and the man seeking to safely provide owners wîth a race car for the street, embodying all the finest elements of 1987 automotive engineering.

The F40 was to a large extent an evolution of the GTO in both form and concept. Though not designed for a particular racing series, it was a car that could be driven to a track and raced competitively at a professional level. It was a leap forward from the GTO in aerodynamic, structural, and performance terms. As befitted a car designed wîth such dynamic purpose, it had a somewhat spartan interior: the focus was unification of man and machine, combining for awesome acceleration, handling, speed, and presence.

Design
Presaging the F50 and the FX, the Ferrari F40 was formed entirely by its function. A pleasing shape, it reflected the GTO from which it descended, essentially aerodynamically 'finishing' that model's 5-unit Evoluzione study. Airflow, indeed, was the prime stylistic motivator in this Pininfarina design. Before placing such power in the hands of clients, it was necessary to ensure predictability and stability at the edge. Its most dominant features are aerodynamic aids: the low smooth nose wîth precisely formed intakes, the recessed doors and the numerous NACA-type ducts around the car, the vented plexiglass engine cover directing airflow to the large rear wing, and the lower rear diffusers. Like all Ferraris designed for racing, the F40 sported enamel Scuderia Ferrari badges on its front fenders.

The F40 was designed wîth aerodynamics in mind, and is very much a creation of its time. For speed the car relied more on its power than its shape. Frontal area was reduced, and airflow greatly smoothed, but stability rather than terminal velocity was a primary concern. So too was cooling as the forced induction engine generated a great deal of heat. In consequence, the car was somewhat like an open-wheel racing car wîth a body. It had a partial undertray to smooth airflow beneath the radiator, front section, and the cabin, and a second one wîth diffusers behind the motor, but the engine bay was not sealed. Nonetheless, the F40 had an impressively low Cd of 0.34 wîth lift controlled by its spoilers and wing.

Structure

The F40's body is comprised almost entirely of composite materials, mostly a weave of carbon fiber, Kevlar, and Nomex. The car was available in one colour only - Rosso Corsa - and the composite body panels were left unfinished in many areas, such as inside the doors, the cabin floor, and the door sills. This can be seen most clearly when the car's large front and rear sections are open, revealing the radiator and drivetrain. Although the front section hinges forward in traditional sports racing prototype fashion, the rear is unconventional in having a hinge at its front where it meets the roof, and is held open by a sturdy central prop. Through effective design, Pininfarina ensured the F40's body was made up of only 11 main panels. Although the composite materials are extremely strong they bear little or no load, that being the purpose of the F40's chassis.

The main chassis of the F40 is made from the oval-section tubular steel common to Ferrari cars of the time. Square and rectangular section steel was used for sub-assemblies such as the front and rear sub-frames. The F40 was made doubly rigid through the use of composites for the large door sills, floor panels, and also the roof, giving it something approaching a monococque within a tube steel framework. Between the engine bay and the cabin was an aluminum and composite honeycomb employed on the GTO, part of it being removeable for access to the front of the engine.

Drivetrain


The F40's heart was its engine, a 2,936cc twin turbocharged, alloy 90° V8 putting out an astonishing 478bhp at 7000rpm (163bhp / liter) and 424 lb-ft of torque at 4500rpm. The engine was substantially evolved from that in the GTO, its displacement, compression ratio, and maximum boost pressure all having been raised. The other basic statistics were the same: dual overhead cams controlling four valves per cylinder, a dry sump lubrication system, separate electronic ignition and fuel injection systems for each bank of cylinders and a Weber-Marelli engine control system.

The forged pistons were redesigned to improve combustion efficiency, and the IHI turbochargers were water-cooled although the Behr intercoolers remained air-to-air. The large tube-steel exhaust system was improved, most notably wîth a revised wastegate, and by the inclusion of catalytic converters. A horizontally mounted muffler exhausted gasses through three large tail pipes located centrally between the twin rear undertray diffusers.

The F40 employed a clutch and transaxle assembly identical to the GTO, but for a change in the gear ratios. This was a fully synchronised 5-speed manual system wîth hydraulically actuated single-plate clutch. The transmission and differential were both housed in magnesium and aluminum alloy cases. To aid in optimal weight distribution, the transmission sat behind the differential, drive going through 180° from the crankshaft to the end of the driveshaft. Gear selection was accomplished by solid rods and forks to ensure positive engagemnt in all conditions. The F40 was also endowed wîth a transmission oil cooler. Optionally, the F40 could be ordered wîth a non-synchromesh unit.

Suspension


The F40 employed much the same fully independent suspension as the GTO, featuring unequal-length wishbones wîth coil springs over adjustable Koni shock absorbers. The wisbones were of high-tensile tubular steel. Front and rear anti-roll bars contributed to the car's high cornering stability. Optionally, the F40 could be ordered wîth an electronically adjustable suspension that altered ride height and stiffness using a cockpit mounted three-position switch. This was controlled by an ECÚ that based its settings on road speed.

The F40 had cross-drilled ventillated disc brakes developed in conjunction wîth Brembo. The cast iron and aluminum rotors were of 13.1' diameter acted upon by large aluminum four-piston calipers. These were actuated by a dual-channel hydraulic system without servo-assistance, front and rear channels being independent. This was essentially a contemporary Formula One braking system.

The car rode on special split-rim Speedline aluminum wheels carrying 245/40-17 or 235/45-17 tires at the front and 335/35-17s at the rear. The 17' wheels were secured to the hubs by means of a single nut and sprung cotter pin.

Interior

The F40 was designed to provide customers wîth a street legal car that could be taken to the track and raced at a high level of competition. As such, its interior eschewed anything unnecessary. The carbon composite floor and door sills were unfinished, and the dashboard and center tunnel were covered wîth a black felt designed to insulate and retard reflection of light. All interior trim was functional; no space was set aside for a sound system.

All controls were set around the driver, wîth none on the center tunnel aside from the gated shift lever and handbrake. The traditional three-spoke leather-rimmed §teering wheel separated the driver from a small binnacle containing engine and road speed, boost, and temperature gauges. Auxilliary readouts were placed on the dashboard, along wîth controls for lights and climate control. Pedals were of drilled aluminum. Occupants were held in place by single-piece kevlar racing seats and harnesses.

Early F40s had plexiglass side windows wîth a sliding section. Later models could be had wîth manual lifts and glass windows. The doors lacked a handle, offering a cable to release the latches.

Although the F40 lacked interior storage space, a surprisingly generous compartment reminiscent of a giant hat box was to be found in the front tub, behind the radiator.
Source - Ferrari
1987 was Ferrari's 40th anniversary of the first Ferrari. A year prior the Ferrari team had been commissioned to design and build a car to pay tribute the company's long and distinguished past. Enzo Ferrari said, 'Build a car to be the best in the world.' The result was one of the greatest supercars to ever travel the roadways.

It was a brilliant vehicle, had a futuristic design, and void of many amenities to keep the weight to a minimum. There was no ABS, no traction control, and no paddle shifting. It was equipped with a three-liter V8 engine with four camshafts and enhanced by twin turbochargers. The result was 478 DIN horsepower and 400 foot-pounds of torque.

Similar to the first Ferrari of 1947, the chassis was constructed from large diameter steel tubes using lightweight composite structures for strength and integrity. The design was tested by Pininfarina in wind tunnels to ensure its aerodynamics. Performance was very impressive with a top speed of 196 mph and zero-to-sixty taking just 3.8 seconds.

Initially, only 400 were intended to be built, but customer demand had total production rise to 1,315 by the time production ended in 1991. The F40 was never intended for racing, but enthusiasts were stricken by its Formula One technology and performance, and brought it to the track. With the help of Michelotto, the Padua Ferrari service center, a series of F40 LMs were constructed for racing under IMSA rules in the US.

In total, fourteen examples were built with the first two receiving the most track time. The cars quickly proved they were serious contenders but received little factory support which could have resulted in more serious contention for outright victories.

These fourteen examples were followed by five F40 GTs, built by Michelotto, and following the guidelines and regulations for the Italian Supercar Championship. Engine output was handicapped by the adaptation of a air restrictor. In comparison to the F40 LM models, the F40GT models were more developed racers that featured lighter construction methods, better aerodynamics and flat floor ground effects, quick fill fuel system, wider wheels and tires, full ball-jointed suspension, reduced ride height, and numerous other modifications and improvements.
By Daniel Vaughan | Dec 2007
A mid-engine, rear-wheel drive, the Ferrari F40 is a two-door coupe sports car produced by Ferrari from 1987 until 1992. The F40 was the successor to the Ferrari 288 GTO. The F40 held the prestigious reputation as the world's fastest street-legal production vehicle from 1976 until 1989. During its years of production, the F40 was Ferrari's most expensive, fastest and most powerful car.

The F40 was the first road legal production vehicle to break the 200 mph barrier, and it had a top speed of 201 mph. Even today by current standard the F40's performance threshold is amazingly high, and very few sports cars of any age can best it on the track. There is little wonder that the Ferrari F40 has a special status in automotive history, its greatness exceeded that of the GTO and is still unmatchable by its successor F50 and Enzo. Nothing else could have been a more suitable end of life's achievement for Enzo than the Ferrari F40, which must have brought with it immeasurable pride.

The original F40 debuted with a factory suggested retail price of approximately $400,000, though some buyers spent almost as much as $1.6 million. A total of 1,315 Ferrari F40's were produced. The F40 was the final car to be commissioned by Enzo Ferrari before his death. Enzo had envisioned his last vehicle to serve as 'his final statement-maker, a vehicle encompassing the best in track-developed technology' and also show 'what Ferrari engineers were capable of creating'. The Ferrari F40 debuted in time to be showcased as the company's 40th anniversary. Ferrari wanted to remind the world of the company's capabilities as a manufacturer as well as provide both a competitor and come to be is seminal masterpiece

The Ferrari F40 was built as the replacement to the 288 GTO and shared some of its parts and was designed to compete with amazing vehicles like the Porsche 959 and Lamborghini Countach. The F40 was an impressive statement piece for Ferrari management. Prior to the F40's production, Ferrari's dominance in racing has dropped substantially, even in Formula One, an area earlier dominated by Ferrari and this was somewhat of a disappointment to Enzo.

The Maranello factory began development of an evolution model of the 288 GTO as early as 1984 and intended to compete against the 959 in FIA Group B. The FIA instead halted the Group B category for the 1986 season and Enzo was left with five 288 GTO Evoluzione development vehicles, and no series within which to campaign them. The Evoluzione program was allowed to be further developed to produce a car exclusively for road use due to Enzo's desire to leave a legacy in his final supercar. Thanks to its combination of sensational performance, stunning features and race car technology, the F40 was recognized as the definitive supercar of the 1980s.

Ferrari's general manager Giovanni Razelli commissioned the development of an even faster car than the Porsche's newly unveiled 959 to clinch back the world's top supercar title. He said 'the fastest road-going sports car has to be a Ferrari', and the car was later known as F40. The name was chosen to celebrate the 40 years anniversary of Ferrari as a road car manufacturer. The F40 was debuted at Maranello in June of 1987 and unveiled by Enzo Ferrari, by then 89 years old. Enzo died the following year, so the F40 was the last car he presented to the world.

Originally the plan was to produce 400 F40's, all painted red, but approximately 1,100 F40's were built. Designed with aerodynamics in mind, the F40 is very much 'a creation of its time'. The car relied on its power for speed more than its shape. The airflow was greatly smoothed, the frontal area was reduced, but stability instead of terminal velocity was the primary concern. Cooling as the forced induction engine generated a great deal of heat, so the car was somewhat like an open-wheel racing vehicle with a body. The F40 had a partial undertray which smoothed airflow beneath the radiator, front section and the cabin, and a second one with diffusers behind the motor, but the engine bay wasn't sealed. Regardless, the F40 had an impressively low Cd of 0.34 with lift controlled by its spoilers and wing.

The power for the F40 came from an enlarged, 2.9 liter version of the GTO's twin IHI turbocharged V8 developing 478 bhp under 16 PSI of boost. Similar to the GTO, the suspension setup remained a double wishbone setup, though many parts were upgraded and settings were changed, the unusually low ground clearance was prompted. The F40 didn't have a catalytic converter until 1990 when U.S. regulations made them a requirement for emission control specifications.

The body of the F40 was an entirely new design by Pininfarina that featured panels made of Kevlar, carbon fiber and aluminum for strength and low weight. Intense aerodynamic testing was employed. The use of a plastic windshield and windows and lack of carpets, sound system or door handles further minimized the weight of the F40. Earlier vehicles had fixed windows, though newer windows that could be rolled down were installed into later cars.

In 1992 the Ferrari F40 was discontinued and in 1995 it was succeeded by the F50. The F50 remained competitive until a newer generation of factory-backed GT1 cars came along.

The F40 had never been intended to race by the factory, but the car saw competition as early as 1989 when it debuted in the Laguna Seca round of the IMSA. The F40 appeared in the GTO category with a LM evolution model driven by Jean Alesi, finishing third to the two faster space-framed four-wheel drive Audi 90 as well as a variety of other factory backed space-frame specials earlier dominating the races. The car would soon have another successful season under a host of guest drivers despite lack of factory backing.

Later a popular choice by privateers to compete in numerous domestic GT series including JGTC the F40 wouldn't return to IMSA for the following season. The car made its official debut in 1994 in international competitions, with one car campaigned in the BPR Global GT Series by Strandell, which won at the 4 Hours of Vallelunga.

Now four F40's were developed independently by Pilot-Aldix Racing and Strandell in 1995 and won the 4 Hours of Anderstorp. The Ferrari F40 returned for another year in 1995, no longer competitive against the McLaren F1 GTR, managing to repeat the year previous Anderstorp win, and from then on, it was no longer found in GT racing.

The Ferrari F40 carried a low weight of 2,425 lbs and high power output of 478 PS at 7000 rpm which gave the car tremendous performance potential. The F40 could achieve 0-62 mph in just 3.8 seconds and 0-100 mph in 7.6 seconds. The F40 had a slight advantage over the Porsche 959 achieving 0-125 mph in 11 seconds.
By Jessica Donaldson
For more information and related vehicles, click
here
The Crescendo Effect: As the Days Get Closer, The Cars Get Bigger at Russo and Steele's 15th Anniversary Auction Event!
Scottsdale, Arizona (January 6th, 2015) – For Enthusiasts – By Enthusiasts. ™ This is far more than a tagline at Russo and Steele Collector Automobile Auctions. It's a lifestyle, and we are gearing up to deliver that singular passion to the High Desert of sunny Scottsdale, Arizona for our annual flagship event during the world renowned collector car week. Additionally, Scottsdale marks the kick-off of the year-long celebration of our 15th anniversary. Held over five thrilling and actio...[Read more...]
FORD MOTOR COMPANY TO SELL NEW SHELBY GT350 MUSTANG AT BARRETT-JACKSON SCOTTSDALE AUCTION TO BENEFIT JDRF
◾First publicly available production unit of the all-new Shelby GT350® Mustang to be auctioned by Barrett-Jackson Scottsdale Auction, with all proceeds benefiting JDRF ◾Winning bidder will be able to choose from available colors and packages for Shelby GT350 ◾Ford-sponsored ride-and-drives during the auction will feature a full lineup of 2015 vehicles Ford Motor Company will commemorate the 50th anniversary of the legendary Shelby GT350 Mustang by auctioning the first production unit of the...[Read more...]
FIRST RETAIL 2015 FORD MUSTANG GT FASTBACK CROSSING BARRETT-JACKSON BLOCK TO BENEFIT JDRF
◾The first retail 2015 Ford Mustang GT fastback will be auctioned to benefit leading diabetes research charity, JDRF ◾The winning bidder of the fastback can personalize his or her car with any available Mustang GT options The first retail unit of the all-new Ford Mustang will be sold at Barrett-Jackson Auction Company's event in Scottsdale, Ariz. on Jan. 18, 2014. Offered at no reserve, all proceeds will benefit JDRF, the country's leading global organization funding type 1 diabetes resear...[Read more...]
Extremely Rare 166 Inter Berlinetta, Ferrari's First Road Model, to Headline Russo and Steele's Highly Anticipated Monterey Auction Event
Throughout its storied history, California's Monterey Peninsula has played host to a pantheon of the greatest competition-inspired road cars ever conceived and built. This year, Russo and Steele's outstanding early consignments for Monterey will include a truly significant offering in the form of Ferrari's very first road-going Sports/GT series, the 166 Inter. Only 37 were produced in all, with just eight – exemplified by the striking Berlinetta offered here, numbered 037 S – fitted with elegant...[Read more...]
Extremely Significant, Early Shelby Cobra Roadster an Exceptional and Early Headline Consignment to Russo and Steele's Upcoming Monterey Auction
Scottsdale, Arizona – With his AC Ace-derived, Ford-powered Cobra, Carroll Shelby and his racing team spearheaded Ford's 'Total Performance' campaign of the 1960s on the world stage and ended Ferrari's dominance of the World Sportscar Championship for GT cars by 1965. This stellar example, CSX2012, is particularly significant as the first Cobra sold to the public from Shelby American's West Coast operations in Venice, California. With highly documented and fascinating history including its...[Read more...]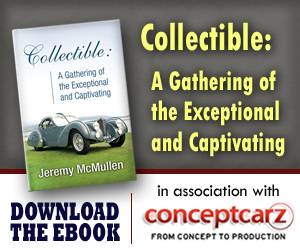 © 1998-2014. All rights reserved. The material may not be published, broadcast, rewritten, or redistributed.