1931 Hudson Series T news, pictures, specifications, and information

Tweet
The Hudson Series T, also known as the Greater Eight, rode on a wheelbase size that measured 119-inches for 1931. They received minor styling changes over the prior year with the grille inserts, headlights, and fenders being one of the more visual and modern changes. The bumpers, hubcaps, running boards, and much of the exterior hardware were restyled for 1931.

Hudson had earned a reputation for being the 'World's Largest Builder of Six-Cylinder Cars.' This reputation began in 1913 and would continue for the following two decades. By the late 1920s, the cylinder wars had escalated and Hudson was in need of change. For 1930, Hudson readied a straight eight. It was derived from the companion make Essex Six, and was smaller in displacement and down on power than the old Super Six. Its main advantage was being 500 pounds lighter, which gave it better performance than the unit it replaced.

By the start of the 1930s, Essex and Hudson were sharing bodies. Essex had offered boat-tails in 1927 and 1929, and again in 1931. The boat-tails were built by Murray. There were so few boat-tail bodies made that bore the Hudson name, that they did not even make the sales literature.

This boat-tail Hudson was given a restoration by a former owner. It was purchased by Dr. Atwood from a Canadian collector in November of 1984. While in her care, she gave the car another restoration by John Sanders' Antique Auto Restoration in Rockford.

In 1985, the car earned another AACA National First, followed by a Grand National First in 1986 at Asheville, North Carolina.

The car is painted in orange paint, with brown fenders, and a tan canvas top. The interior and rumble seat are upholstered in brown leather. The chassis is painted gloss black. In the engine bay is a 233.7 cubic-inch L-head inline eight-cylinder engine that offers 87 horsepower. There is a three-speed manual transmission and four-wheel mechanical brakes.

In 2009, this Super Bearcat was offered for sale at the Automobiles of Arizona auction presented by RM Auctions. The lot was estimated to sell for $110,000 - $150,000 and offered without reserve. As bidding came to a close, the lot had been sold for the sum of $110,000, including buyer's premium.
By Daniel Vaughan | Apr 2009
Boat-Tailed Sport Roadster
Coachwork: Murray

Roy Chapin, Howard Coffin and Roscoe Jackson founded the Hudson Motor Car Company in Detroit during 1909. A short time later and during that same year, the first automobiles were introduced. Must of the initial capital for the company was provided by J. L. Hudson, owner of Hudson's department stores and uncle to Roscoe Jackson's wife.

The Hudson Speedster with its boat-tail design was cataloged as the Series T 2-Passenger Sport Roadster for 1931. Twelve Greater Eight chassis were sent to the Murray Body Co. in 1931 to receive the boat-tail body. Power was from an 87-horsepower straight-8 engine.

In 1954, the Hudson Motor Company was merged with Nash-Kelvinator to create American Motors. The 1955 Hudsons had Nash bodies, with the Wasp and Hornet models retaining Hudson's six-cylinder engines. The last Hudson automobiles were built in 1957.

This 1931 Hudson Sport Roadster is one of five known to survive. It is one of 49 vehicles included in a 2007 donation by Eldon and Edna Hostetier to the Town of Shipshewana, Indiana, for the purpose of establishing the Hostetler's Hudson Auto Museum facility in that community.
By Daniel Vaughan | Aug 2010
Boat-Tailed Sport Roadster
Coachwork: Murray
Chassis Num: 925232

Hudson introduced a straight eight in 1930. It was derived from the companion make Essex Six, and it had a smaller displacement and less power than the old Super Six. With the new Great Eight being 500 pounds lighter, the new model saw a performance improvement. The following year, the engine was given a wider bore, higher compression, and an increase in power. The name was upgraded to 'Greater Eight.' Two wheelbase sizes continued to be offered; a shorter Series T measuring 119 inches and the longer, top-of-the-line Series U which had a 126 inch platform.

The boat-tailed roadsters offered by Hudson were not available every year. In 1927 and 1929 there were Essex boat-tails. It re-appeared in 1931. By this point in history, Hudson and Essex shared bodies, so a Hudson boat-tail was created, with the bodies built by Murray. Ray Dietrich was under the employment of Murray during this time, and it is believed the Hudson boat-tail speedster, with its convertible top design and steeply raked windshield, was among his achievements.

This 1931 Hudson Greater Eight Boat-Tailed Sport Roadster was purchased from the William F. Harrah Collection in the 1980s by Mr. Rose of Nebraska. The car wears an older restoration. It is believed Mr. Rose later sold the car to a collector in Gordonsville, Virginia, where it stayed for many years until sold by the owner's estate to a collector in Meriden, Connecticut.

In 2011, this car was offered for sale at the Hershey, PA. sale presented by RM Auctions. It was estimated to sell for $100,000 - $125,000. As bidding came to a close, the car had been sold for the sum of $72,500 inclusive of buyer's premium.
By Daniel Vaughan | Dec 2011
Boat-Tailed Sport Roadster
Coachwork: Murray

Hudson Motor Company formed in the very early days of automobiles. A group of businessmen headed by Roy D. Chapin, Sr., who had worked with Ransom Olds, named the new car company after its main financial backer, J.L. Hudson, founder of the Hudson department store chain. Both the motorcar company and the department stores were Detroit mainstays for the first half of the century. The car company continued producing innovative and beautiful cars until 1954 when a merger with Nash-Kelvinator formed the new American Motors.

The 1931 Hudson Boattail Speedster with body by Murray represents the apex of the company's products. Built as a limited edition of less than 10 cars, only 5 to 7 are believed to exist today. The Boattail Speedster was intended to compete with the coveted Auburn Boattail Speedster, a sporting luxury car designed by Ray Dietrich who had also designed bodies for Murray about that time. The car features a small rumble seat, dual side mounts and radically raked windscreen. With a lightweight body and Great Eight engine, it will do 90 MPH.

This particular car spent time in Denmark, probably during World War II, and found its way back to the United States in the 1950s where it remained in storage until the 1990s. The current owner bought it and rebuilt the motor leaving the rest of the car in original condition.
For more information and related vehicles, click
here
MERCEDES-BENZ 2014 G63 AMG: THE ULTIMATE G-CLASS
The latest technology for the AMG off-road icon: the new 2014 G63 AMG impresses with a state-of-the-art powertrain, expressive new design and improved efficiency. All this is largely attributable to the AMG 5.5-liter V8 biturbo engine delivering 536 hp and the AMG SPEEDSHIFT PLUS 7-speed automatic transmission. Every new AMG high-performance vehicle offers an outstanding mix of 'more power from less fuel' – and the G63 AMG is no exception. The 'strong man' in the AMG model range has been furt...[Read more...]
POTEET, CIZEK EARN TOP AWARDS AT GOODGUYS 16TH PPG NATIONALS
Columbus, OH – Tennessee's George Poteet and Nebraska's Ron Cizek collected the top two awards at the Goodguys 16th PPG Nationals in Columbus, Ohio last weekend. Under brilliant sunshine and in front of record crowds, Poteet's vintage NASCAR-inspired '69 Torino won the Goodguys 2013 Optima Batteries Street Machine of the Year while Cizek's popular Ridler award-winning '40 Ford coupe collected the Goodguys 2013 Classic Instruments Street Rod of the Year title. For Cizek, it's the second ma...[Read more...]
BMW ANNOUNCES PRICING FOR ALL-NEW X5 SPORTS ACTIVITY VEHICLE
Woodcliff Lake, NJ – June 24th, 2013 … It isn't often that an automobile manufacturer gets to launch an entirely new vehicle segment, but that's exactly what BMW did in 1999 when it introduced the world's first Sports Activity Vehicle – the BMW X5. Two generations and some 1.3 million vehicles later, the BMW X5 is set to enter its third generation. As its predecessors have done before, the all-new 3rd generation X5 will again set new standards for luxury, versatility and – because it is a BMW f...[Read more...]
GMC PICKUPS 101: BUSTING MYTHS OF TRUCK AERODYNAMICS
• 2014 Sierra gains fuel economy, quietness from time in wind tunnel
DETROIT – The all-new 2014 Sierra full-size pickup truck spent more development time in a wind tunnel than any GMC pickup before it, resulting in design changes that benefit both fuel efficiency and interior quietness. To achieve improved airflow, aerodynamic engineers like Diane Bloch examined every millimeter of the truck to find areas of improvement, debunking some popular myths along the way. To study...[Read more...]
Auctions America By RM's 2012 Auburn Spring Auction
'Variety' is the buzzword for this year's Auctions America by RM June 1-3 Auburn Spring auction, which will offer a huge range of collector vehicles and an enormous private collection of automotive memorabilia. More than 600 American muscle cars, Classics, foreign sports cars and hot rods will cross the block at the historic Auburn Auction Park, the company's national headquarters in Auburn, Indiana. 'Last year was our first spring event at the park,' said Auctions America by RM's President ...[Read more...]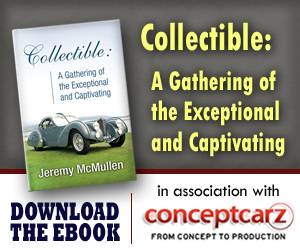 © 1998-2014. All rights reserved. The material may not be published, broadcast, rewritten, or redistributed.