1958 DeSoto Firesweep news, pictures, specifications, and information

Tweet
This Desoto Firesweep Convertible was purchased by its first owners on January 17th of 1958. It left the dealership painted in Rose Beige and Suede Brown Metallic and was fitted with the push-button TorqueFlite, a slew of power options and undercoating. The car would remain in their family until 20022.

The car was purchased by its next custodian when it had 75,000 original miles. It was given an extensive restoration bringing it back to its original condition.

There were only 700 Firesweep Convertibles built and it is one of only 12 known to exist.

In 2009, this DeSoto Firesweep Convertible was offered for sale by Gooding & Company at their Pebble Beach auction. The lot was estimated to sell for $175,000 - $225,000. As bidding came to a close, the lot had been sold for the sum of $154,000, inclusive of buyer's premium.
By Daniel Vaughan | Jan 2010
For nearly thirty-three years the DeSota name was a fixture in the automotive world and offered advanced engineering, economy and style.

The DeSoto and Plymouth lines were launched by Walter P. Chrysler in May of 1928 in an effort to compete with the GM mid-prices lines, Oldsmobile and Pontiac. The appointed president of the new DeSoto Motors Corporation was Joseph E. Fields.

Production of the original 1929 Model K DeSoto 6 began in July 1929 at the Dodge Highland Park plant and the launch was August 4th of that same year. The appeal was immediately stunning, and within one year a total of 80,000 units of the new model had been sold. Setting a sales record for new model introduction, the 100,000th DeSoto was sold in November of 1929 resulting into a record that wouldn't be topped until almost 1960. The sales reached a level that required a new plant to be opened for DeSoto, and her sister line, Plymouth. The Lynch Road facility was opened in 1929.

The Desoto Model CF with a straight-eight engine was introduced in January of 1930. Though too expensive to be marketed as a mid-priced vehicle, the following year Chrysler introduced its own version with a straight-eight, based on the DeSoto tooling. By 1933 both DeSoto and Plymouth had outgrown their Lynch Road home and production was moved to the Jefferson Avenue Plymouth plant.

Sold through the DeSoto brand of Chrysler Corporation, the Firesweep was a brand of automobile produced from 1957 through 1959. Though resembling current models at the time, the DeSoto might just as well have been a Dodge; as it consisted of a DeSoto body on Dodge chassis, with Dodge engines and Dodge doors. The front clip was based on the Dodge Coronet, while the signature tail fins were directly from the DeSoto's lineup. Typical of Dodge, the headlight design was located under heavily chromed lids. The grille on the Firesweep was also very similar to those on other DeSoto models. The Firesweep was also built at the Dodge Main facility in Hamtramck.


The Firesweep was sold in a 4-door sedan, 2-door coupe, 5-door station wagon or a 2-door convertible version. The Firesweep could seat up to six passengers. Weighing between 3,660 and 3,980 lb depending on body style, the Firesweep's power came from Chrysler's 361 V8 overhead valve engine capable of 295 hp at 4,600 rpm. Standard was a 3-speed manual transmission and an option was Torqueflite automatic transmission. Automatic transmission was found on the majority of 1959 Firesweeps.

Offered in one and two-tone exterior finishes, the base price on the 1957 DeSota Firesweep was $3,169. Available features included power brakes and steering, push-button radio, dashboard clock and whitewall tires.

The most lucrative year for Firesweep sales, 1957, the first year was a blazing success. Unfortunately by 1959 the decline in DeSota quality along with increasing market pressures led to the demise of Firesweep's production. At this time all vehicles carried only DeSota external nameplates.
The individual companies were downgraded to divisions of the parent Chrysler Corporation in June, 1958 and the presidents 'demoted' to general managers. DeSoto was downgraded from an independent division in October, and Harry E. Cheseborough was named the general manager of the new Plymouth-DeSoto-Valiant Division.

The once-proud DeSoto line was reduced to the final two series introduced in 1960, the Adventurer and Fireflite. The marque was merged with the Plymouth line. In this same year the 2 millionth DeSoto was sold. Lacking a series name, for the 1961 model year, the final DeSoto model was introduced. In November of 1960 DeSoto production ended. The marque was relegated to history as the remaining stock of 1960 parts were used to build the last few vehicles.
By Jessica Donaldson
For more information and related vehicles, click
here
Chrysler Canada: Number-One Selling Automaker in Alberta Brings All-New, Segment-First 2014 Ram 1500 EcoDiesel - Alongside Eight Other Regional Premieres - to 2014 Edmonton Motor Show
•Best-ever fuel economy for a full-size pickup: 2014 Ram 1500, powered by all-new 3.0-litre EcoDiesel V6, registers 7.1 L/100 km (40 mpg) highway •Ram is the only ½-ton truck to offer a diesel engine •All-new EcoDiesel delivers unsurpassed torque among V6 pickups (420 lb.-ft.) •EcoDiesel and Pentastar V6-powered Ram – at 7.8 L/100 km (36 mpg) - rank 1-2 for fuel economy in 2014 •Ram 1500 is world's first and only pickup with 8-speed transmission, a major contributor to efficiency •One in ev...[Read more...]
Chrysler Group LLC Reports February 2013 U.S. Sales Increased 4 Percent; Best February Sales in Five Years
• Best February sales since 2008
• 35th-consecutive month of year-over-year sales gains
• Dodge, Ram Truck, and FIAT brands each post sales increases in February compared with same month a year ago
- Dodge brand sales increase 30 percent; best February sales since 2007 and largest year-over-year percentage increase of any Chrysler Group brand - Dodge Dart sales increase 8 percent month over month; best sales month since June launch last year - Dodge Dart, Ram 1500,...[Read more...]
Final Countdown Underway To South Florida's Premier Collector Car Auction
• Auctions America kicks off its 2013 auction season, March 22-24 with its highly anticipated Fort Lauderdale Collector Car Auction • Celebrating its 11th year, the multi-day auction features more than 550 quality collector cars • Latest feature attractions include an outstanding 1963 Shelby Cobra and a 1974 Ferrari Dino 246 GTS • Digital catalog now available for download at auctionsamerica.com AUBURN, Indiana (February 27, 2013) – With the final countdown underway to its highly an...[Read more...]
2013 Ram 1500: North American Truck/ Utility of the Year
The new Ram 1500 has been named 2013 North American Truck/Utility of the Year by a panel of automotive experts. The award is unique and considered by many to be one of the world's most prestigious based on its diverse mix of 49 automotive journalists from the U.S. and Canada who serve as the voting jurors. The winners were announced at a news conference today at the North American International Auto Show in Detroit. 'For the Ram Truck Brand, this ranks as one of the proudest days in our hi...[Read more...]
CHRYSLER GROUP LLC DRIVES AWAY WITH HIGHEST AND MOST HONORS AT THE 20TH ANNUAL TEXAS TRUCK RODEO
Vehicles from Ram Truck and Jeep® brands win eight of 19 awards from the Texas Auto Writers Association at this year's Texas Truck Rodeo •'Truck of Texas' awarded to the 2013 Ram 1500 •Jeep Grand Cherokee - the most awarded SUV in history – captures 'SUV of Texas' award for third consecutive year October 22, 2012 , SAN ANTONIO, Texas - Ram Truck and Jeep® brand vehicles won significantaccolades this year at the 20thannual Texas Auto Writers Association (TAWA) Texas Truck Rodeo. ...[Read more...]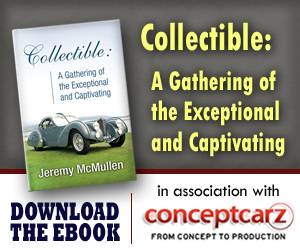 Similarly Priced Vehicles from 1958
Porsche 356A ($3,200-$5,900)
Edsel Villager ($2,895-$2,953)
Edsel Bermuda ($3,155-$3,155)
Elva Courier MKI ($2,895-$2,895)
Ford Fairlane 500 Skyliner ($3,135-$3,135)
Austin-Healey 100-6 ($2,920-$3,390)
Chevrolet Bel Air Series ($2,400-$2,900)
Alfa Romeo Giulietta ($3,298-$3,780)
Alfa Romeo Giulietta Veloce Sprint ($3,298-$3,298)
Pontiac Star Chief Series 28 ($3,070-$3,211)

Average Auction Sale: $109,217
© 1998-2014. All rights reserved. The material may not be published, broadcast, rewritten, or redistributed.