1951 Lincoln Cosmopolitan news, pictures, specifications, and information

Tweet
The Lincoln Motor Company was founded in 1917 by Henry Leland. He was an ambitious entrepreneur who had previously started the Cadillac Motor Car Company in 1903 from the remnants of Henry Ford's second failed attempt to start an auto company (Henry's third attempt resulted in the Ford Motor Company we know today).

The Lincoln's built by Leland were very expensive and well-built, but stodgy in design. The Ford Motor Company acquired Lincoln in 1922. Edsel Ford, Henry's son, was put in charge and used his natural design instincts to lead Lincoln to build beautiful, luxurious cars. With Ford's backing during the lingering depression, Lincoln was able to continue its focus on the luxury market.

The Cosmopolitan was the last Lincoln designed by E.T. Gregorie and influenced by Edsel Ford before his death in 1943. It was a full-size sedan introduced in 1949 and continued into the early 1950s. The Cosmopolitan featured a Hydra-Matic transmission and a 331 cubic-inch V8 engine. It had an 'aerodynamic' hood ornament and suicide doors that opened from the B-pillar.

This car is one of 1,427 Cosmopolitan coupes built in 1951 and was purchased by the current owner in 1987 in Spokane, WA. It is equipped with standard hydraulic power windows and seats. Its restoration was completed in 1998.
This 1951 Lincoln Cosmopolitan Convertible was offered for sale at the 2007 RM Auctions held at Meadow Brook. It is powered by a 337 cubic-inch V8 engine that is capable of producing over 150 horsepower. It has a Hydra-Matic gearbox and four-wheel hydraulic drum brakes. It is one of only 857 examples of the Cosmopolitan Convertible Coupe produced in 1951 and one of 19 known to have survived in modern times. When it left the dealership, it carried a sticker price of $4,234. When it was brought to the auction, it was estimated to sell between $70,000 - $90,000.

It has been treated to a comprehensive restoration that was done to the highest of standards. It is finished in light green paint, called Chantilly Green, and was exclusive to the convertibles that year. The interior is in brown leather. It has power windows, power top, spotlight, whitewall tires, and fender skirts.

At auction the car was sold, though its selling price was less than the estimated value. It was sold for $60,500.
By Daniel Vaughan | Aug 2011
The Lincoln Cosmopolitan was introduced in the late 1940s and remained in production until the early 1950s. For 1949, the entire Lincoln model line was all new; no longer were there pontoon fenders. In their place were a flowing envelope styling that gracefully drifted down to the rear bumper. The Lincoln models were similar to the Mercury, mostly distinguished by their grille and larger engine.

In 1950, Johnny Mantz finished in 9th place in the Mexican Road Race. They were popular with racers due to their small size and powerful engines. Even the White House ordered 19 examples for presidential, governmental, and VIP use.

The 1951 Lincoln Cosmopolitan was easily identifiable by its front end, which featured sunken in head lights. In the back were slight fins and fender blades.
By Daniel Vaughan | Aug 2007
The whole Lincoln model lineup was revamped in 1949 and lost the dated pontoon fenders and instead received a flowing envelope styling that flowed to the rear bumper. Similar to the Mercury, the Lincoln models grille and larger engines set them apart. Easily distinguished from the 1948 models, these models featured recessed headlights and a more 'streamlined appearance'.

A stately full-size luxury car, the Cosmopolitan from Lincoln was the type of car to chauffeur presidents. Introduced in 1949 the all-new postwar Cosmopolitan was produced until 1954. The design of these elegant models came from high-school dropout turned automobile designer Eugene T. Gregorie, or 'Bob'. Its one-piece windshield and chrome spears trailing the front fenders could easily differentiate the Cosmopolitan.

Available in four body styles, the grand Cosmopolitan came in club coupe, town sedan, sport sedan and convertible. The vehicle had a 125-inch wheelbase, an overall length of 220.5 inches, and a width of 77.8 inches and had a height of 62.7 inches. The most expensive and the heaviest, the convertible had a base price of $3,948. Only 1,230 convertible Cosmopolitans were produced. Weighing around 4,400 pounds, the Cosmopolitan featured a base three-speed manual and a 5.5-liter (337 cubic inch) 152 hp or a four-speed Hydramatic automatic transmission from General Motors.

Sporting a sleek ornament on the hood, the Cosmopolitan was every inch of its detailed body majestically perfect. Suicide doors opened from the B-pillar and the headlights and taillights typified a new styling trend called 'frenching' where parts were recessed into the bodywork. New coil springs were added to the front in 1949. Power windows and power seats became a standard option in 1951.

Johnny Mantz finished in 9th place in the Mexican Road Race. The White House purchased 19 Lincoln Cosmopolitans for their presidential, governmental and VIP needs.

The second generation of the Cosmopolitan was introduced in 1952 and ran until 1954. Following a restyle in 1952, the Cosmopolitan was paired with the new full-sized Capri. Updates this year included sunken headlights in the front end, slight fins and fender blades. Replacing the previous engine was the new OHC 317 cu in (5.2 L) Lincoln Y-Block V8. For long legged passengers leg room in the front was increased to 42 inches. Thanks to the new V8 engine Lincolns won the top four spot in 1952 and 1953 in the Stock Car category of the Pan American Road Race. Lincoln took both first and second place in 1954, its final year.

Based on a regular Cosmopolitan sedan, the Limousine was modified heavily and featured a variety of luxury features. Specially designed for U.S. President Harry S. Truman, the Cosmopolitan Limousine sported gold plating, letter desks and reading lights. Incredibly modern for the day and time, the vehicle featured two-way intercom between the driver and passengers and full power windows, which could be completely controlled from the President's seat. Only 18 of these unique models were built. Nine models were sent to the White House and eight travelled around the U.S. to place Truman often visited. Henry Ford II donated a very special 1950 Cosmopolitan Limousine to Dr. Weizmann in Israel.

Sources:
http://en.wikipedia.org/wiki/Lincoln_Cosmopolitan
http://www.brewtowncruisers.com/Lincoln
http://www.complex.com/rides/2012/11/the-complete-history-of-presidential-rides/2-1950-lincoln-cosmopolitan-limousines

By Jessica Donaldson
For more information and related vehicles, click
here
HILTON HEAD ISLAND MOTORING FESTIVAL TO FEATURE CARS OF THE RICH & FAMOUS
This year's 'Life' exhibit puts the spotlight on cars with headline heritage HILTON HEAD ISLAND, S.C. – The Hilton Head Island Motoring Festival & Concours d'Elegance, one of the nation's largest and fastest-growing automotive and motorsports enthusiast event weeks, takes a more glamorous approach with its annual 'Life' exhibit and presents Life of the Rich & Famous sponsored by Marriott Vacation Club. Life of the Rich & Famous is the sixth annual 'Life'-themed exhibit on the Fe...[Read more...]
Edsel Ford's Speedster Stars at 'The Amelia'
Edsel Ford's 'continental car', a custom boattail speedster, will take its rightful place in the Sports Car Class of the 18th annual Amelia Island Concours d'Elegance. In the shape of Edsel's seminal speedster is the genesis of Ford's legendary design department. Edsel Ford was hardly 'a chip off the old block'. The acorn fell well away from the mighty oak that was Henry Ford, founder of the Ford Motor Company. Edsel was not just the President of Ford, he was a car guy to his core. His ta...[Read more...]
Lincoln at Los Angeles Auto Show Press Days: Celebration of Its Past and Future As Brand Rolls Out Its Reinvention
> The brand pays tribute to its heritage today, displaying seven of the most influential Lincoln designs > Thursday sees a display full of the all-new MKZ premium midsize sedan and MKZ Hybrid, the future of Lincoln, on the Lincoln stand > Lincoln launches on Tumblr http://lincolnnow.tumblr.com beginning with the visually stunning classic Lincolns shown on the stand and select images from archives. Continues with an all-new collection of photographs by photographers Jamie Beck and Kevin Burg ...[Read more...]
Classic Motorcar Holds Grande Salon Auction During Glenmoor Gathering
1912 Edsel Ford Model T Six Cylinder Speedster to Cross the Block CANTON, Ohio - Classic Motorcar Auctions LLC will hold their 3rd annual Grande Salon Auction Sept. 15-16, 2012 during the Glenmoor Gathering event at the historic Glenmoor Country Club in Canton, Ohio. The Grande Salon Auction will feature more than 150 antique, classic and sports cars as well as various automotive memorabilia up for bid. Vehicles will be available for preview on Friday, Sept. 14 from 1-8 p.m. The a...[Read more...]
Edsel Ford's Restored 1934 Model 40 Special Speedster Returns to Amelia Island Concours d'Elegance
It has been 13 years since Edsel Ford's 1934 Model 40 Special Speedster first made headlines when it rolled onto the field at the Amelia Island Concours d'Elegance. The elegant roadster, which was rediscovered in 1999 by the show's founder and Chairman Bill Warner, will return again on Sunday, March 11 to the 17 the annual Concours; this time as part of the collection of the historic Edsel Eleanor Ford House (Ford House) and completely restored to its timeless elegance. The Speedster's ...[Read more...]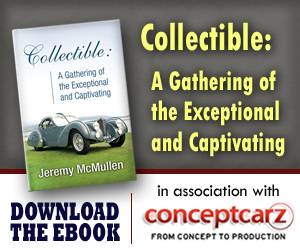 Similarly Priced Vehicles from 1951
Jaguar XK120 ($3,855-$4,000)
Simca 8 Sport ($3,500-$3,500)
Packard Patrician 400 ($3,660-$3,660)
Packard Series 250 ($3,235-$3,390)
Allard J2 ($3,244-$3,244)
Buick Roadmaster Series 70 ($3,143-$3,977)
Mercedes-Benz 170D ($3,600-$3,600)
Chrysler New Yorker ($3,350-$4,025)
Chrysler Saratoga ($2,990-$4,240)
Cadillac Series 62 ($3,440-$3,985)

Average Auction Sale: $54,611
Lincoln
Monthly Sales Figures
Volume
December 2014
9,690
November 2014
8,113
October 2014
8,883
September 2014
7,257
August 2014
8,146
July 2014
7,863
June 2014
7,271
May 2014
8,845
April 2014
6,803
March 2014
8,969
February 2014
6,661
January 2014
5,973
(More Details)
© 1998-2014. All rights reserved. The material may not be published, broadcast, rewritten, or redistributed.