Image credits: © Chrysler.
1963 Chrysler Turbine news, pictures, specifications, and information

Tweet
The Car of the Future in 1963
In a gas-turbine engine, the engine draws air through a compressor, heats the air to form a hot rushing gas, then directs the gas against turbine wheels. The spinning turbine transmit power through drive shafts to the vehicle itself as well as to all accessories.

The Chrysler Turbine program ran from 1954 to 1981. The fifth-generation car, by far the most famous and beautifully styled, was the 'Turbine Bronze' 1963 Coupe designed by Elwood Engel and assembled by Ghia in Italy. The resemblance to the 1961 Thunderbird is not accidental; Mr. Engel was Ford's lead designer for the T-Bird and the 1961 Lincoln Continental before moving to Chrysler Styling in the fall of 1961.

Fifty of these coupes were built for Chrysler Engineering, and in an unusual and highly publicized program, loaned to carefully screened members of the public for driving evaluations. All but nine of the historic vehicles were scrapped. This is one of three retained by Chrysler.
The Chrysler Turbine had 80-percent fewer moving parts than a regular piston engine. The Turbine's power plant was almost entirely enclosed an never needed timing adjustments, tune-ups or oil changes. It ran on kerosene, diesel, or unleaded gasoline.

For all the positives that the Turbine offered, it had its drawbacks; it was smelly, got very hot, and did just 12 miles to the gallon. The Turbine's engine did not use jet fuel, yet its exhaust still measured a scorching 525 degrees. The 'jet' engine spewed superheated gases and went through fuel like a 747.

Chrysler built 50 Turbines during a three-year trial period. After that time, it was given a 'thumbs down' for its poor efficiency and economy. All but ten of the cars were scrapped.

Nevertheless, the car's jet-age appeal and swept-back styling was alluring. The 'whirling turbine', exotic tail lights, and futuristic dash were equally as impressive.
By Daniel Vaughan | Dec 2011
Chrysler built 50 experimental gas turbine cars in 1963 which they loaned to a sampling of preferred customers for evaluation in everyday driving conditions. High fuel consumption, high production costs, and difficulties experienced by drivers who were not used to the behavior of a turbine engine doomed the effort. With the exception of six which went to museums and one retained by Chrysler engineering, all were dismantled so Chrysler could avoid paying import duties on the Italian Ghia-built bodies.

Collection of the Los Angeles County Natural History Museum. Gift of Chrysler Corporation.
Source - Petersen Museum
The introduction of the 1963 Chrysler turbine-power car marked the first time any automobile company had committed to building the more than one or two gas turbine vehicles and releasing them for driving and evaluation by the public.

Fifty of the contemporary-styled, 2-door, 4-passenger hardtop were built, wîth the purpose of determining how the public would react to this new powertrain, wîth its advantages of decreased maintenance, longer engine life, and other operating advantages. The public was invited to drive them for free, for three-month increments, wîth over 200 families participating the program.
Source - Chrysler
Chrysler experimented with turbine powered cars in the 1950s. It was a natural extension of the jet-inspired styling of the period. Turbines were seen as a possible replacement for the internal combustion engine. They were lighter, smoother and simpler. Also, they offered fuel flexibility and potentially lower manufacturer costs.

By 1964, Chrysler began consumer testing, placing a fleet of 50 turbine cars in customer's hands, for three month shifts. 200 lucky consumers got to amaze and confound their neighbors, by driving the coolest sounding cars ever built. Initial testing revealed concerns with overheating, if drivers didn't monitor engine temperature and speed. This caused stress cracks where the turbine wheel met the impeller.

The engine produced 130 peak horsepower at 44,610 rpm, but they made 425 foot pounds of useable torque. They idled at 21,000 rpm and had exhaust temperatures of 1,750 degrees. Most of the cars were scrapped after the program. There are nine cars remaining of the fifty. Chrysler retains three. There are two operational examples.
The Chrysler Turbine program began in 1954 and lasted until 1981. There was a total of seven generations of turbine engines. This vehicle has a fifth generation engine. The majority of the turbine engines were installed in standard Chrysler cars and trucks. Only the 1963 Ghia version was specially designed to be powered by a turbine engine. A total of 50 Ghia bodied gas turbine cars were built between 1963 and 1964. Most of the vehicles were loaned to members of the general public for a 3 month period. A total of 200 families used the vehicle. Their feedback was overwhelmingly positive. All of the vehicles were painted the 'Turbine Bronze' and had matching interiors.

This vehicle rides on a 110 inch wheelbase and weighs 4,100 pounds. Fuel type consists of kerosene, diesel, JP-4 jet fuel and even ran on perfume and alcohol. The turbine engine was never put into production due to the cost of its manufacture and the fact that fuel economy ratings were never dramatically better than the standard internal combustion engine. At the end of the evaluation period all but 9 of these cars were scrapped due to tax and import tariffs. Of the 9 remaining 3 were kept by Chrysler and one each was given to the other museums. Of these 9, only 5 are in running condition.
Andy Warhol'S 1979 Bmw M1 Art Car To Be Center Piece At Saratoga Automobile Museum
• BMW History and Heritage on four wheels and two on display from May – November, 2013
Woodcliff Lake, NJ – May 17, 2013… Andy Warhol's 1979 BMW M1 Art Car will be the center piece of the exhibition 'BMW – The Ultimate Driving Machine', which opens this weekend at the Saratoga Automobile Museum. The exhibition will also feature the BMW 3.0 CSL which won the Daytona 24 Hour race in 1976. The exhibition, which features a retrospective of BMW cars and motorcycles, will run until ...[Read more...]
RM Auctions In Association With Sotheby's To Showcase Automotive Artistry At New York Sale
• RM Auctions, in association with Sotheby's, announces exclusive New York collector car auction, November 21
• Groundbreaking sale to celebrate the automobile as an art form and feature an elite, handpicked selection of approximately 35 significant motor cars
• Early highlight: bespoke, one-off 1956 Aston Martin DB 2/4 MkII 'Supersonic' embodies wonderful concept of 'rolling sculpture'
BLENHEIM, Ontario (April 30, 2013) - RM Auctions, in association with Sotheb...[Read more...]
Concours Dealer Super Car Class At The Concours d'Elegance of America
WHAT IS A 'DEALER SUPER CAR?' In the muscle car world, the term 'Dealer Super Car' has specific and very important meaning. There are basically two distinct types, one considerably more valuable and desirable. Original Dealer Built Super Cars: The cream of the crop built to order for a customer through a new car dealership and sold new. Yenko Chevrolet, Nickey Chevrolet, Mr. Norms Grand Spaulding Dodge, Baldwin-Motion and Royal Pontiac are some of the most recognized. ...[Read more...]
BMW TO BE FEATURED AT SARATOGA AUTOMOTIVE MUSEUM
• BMW History and Heritage on four wheels and two on display from May – November, 2013
Woodcliff Lake, NJ – March 8, 2013… BMW's rich heritage will be showcased at the Saratoga Automobile Museum in an exhibition called 'BMW – The Ultimate Driving Machine.' The exhibition, which will feature a retrospective of BMW cars and motorcycles, will run from May 6 – November 3, 2013. The array of BMW automobiles will include road cars and race cars, both from the modern era, as well as p...[Read more...]
POW! BAM! ZOOM! The Original 1966 TV Batmobile To Cross Auction Block At Barrett-Jackson Scottsdale
Holy Grail of TV Star Cars to be Sold for First Time January 19, 2013 Barrett-Jackson, the World's Greatest Collector Car Auctions™, announced today that it will offer one of the most recognized and popular pieces of entertainment history worldwide, at its 42nd annual Scottsdale www.barrett-jackson.com/scottsdale/ auction in January – the only 1955 Lincoln Futura concept car which was heavily modified by legendary customizer George Barris to become the original 1966 Batmobile in the l...[Read more...]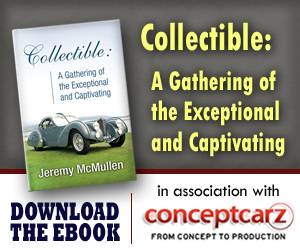 Chrysler
Monthly Sales Figures
Volume
December 2014
30,930
November 2014
27,243
October 2014
27,546
September 2014
28,781
August 2014
29,762
July 2014
23,455
June 2014
24,026
May 2014
22,592
April 2014
21,967
March 2014
26,140
February 2014
25,230
January 2014
21,113
(More Details)
© 1998-2014. All rights reserved. The material may not be published, broadcast, rewritten, or redistributed.