1956 Chevrolet Bel Air news, pictures, specifications, and information

Tweet
Timing is everything. When anything is done, at the right time, the results are powerful. However, in the case of the hardtop design, it not only needed the right time, but also, the right car. The obviously 'right' car for the hardtop was Chevrolet's Bel Air of the mid-to-late '50s.

Considered a convertible with a fixed top, the hardtop had been tried throughout the years, but with little success. Added to the very appealing Bel Air design, the hardtop became sought after like it never had before.

A good deal of the interest in the Bel Air, obviously, had to do with the Bel Air design. The hard top just seemed to go with the car better than it had with any other. The model that truly became iconic in the minds of the public was the second generation of the Bel Air, made between 1955 and 1957.

Heading into 1955, the Bel Air received new styling. Each production year of the Bel Air was like a progression. The 1955 model's styling was subtle, but clean. The '57 model was much more flamboyant. Those looking for a balance would lean toward the 1956 model. The '56 constituted the middle-of-the-road between the simple styling of the '55 and the more flamboyant lines of the '57.

One of those middle-of-the-road 1956 models was offered at the RM Auction in 2011. Basically just having undergone a face-lift, the '56 model had a wider grille on the nose. The chrome front bumper came with more artistic designs and the headlight's eye-lids protruded a little further forward.

When compared to Ford's models during the same period, the Bel Air seemed lighter and more attractive. This was no more true than with the '56 model. The car was lighter due to the small-block V-8 engine. This provided the '56 with a high power-to-weight ratio. A Powerglide two-speed automatic transmission and an independent front suspension and live rear axle provided the '56 with increased top-end speed and improved handling.

The model offered this year had been through a restoration and was presented in nice condition. Externally finished in a two-tone paint scheme, the car came accented by highly-polished chrome throughout. The car came complete with color matching Continental spare wheel kit, rear-wheel skirt and white-walled tires.

Its interior was finished in red, complete with the signature 1956-model round, analog clock in the passenger-side dash. This model included safety-belts, an AM radio, traffic-light viewer and even a tissue dispenser.

The car's engine bay was clean and housed a 170 hp 265 cubic inch V-8 engine with a single, two-barrel carburetor. The car even featured dual exhaust outlets with chrome deflectors and a two-speed Powerglide automatic transmission.

Finished off with a matching hardtop, this lovely two-tone color finished '56 proudly represented its model year. With its many desirable period features, this '56 more than adequately reflects the beauty and elegance of the hardtop and Bel Air design.

The '56 goes a long way to prove that Chevy's Bel Air of the mid-1950s offered something for everybody. And it proved that 'good things come to those who wait'.

Sources:
'Buy: View Lots (Lot 303: 1956 Chevrolet Bel Air Hardtop)', (http://www.rmauctions.com/FeatureCars.cfm?SaleCode=AZ11&CarID=r142&fc=0). RM Auction Arizona. http://www.rmauctions.com/FeatureCars.cfm?SaleCode=AZ11&CarID=r142&fc=0. Retrieved 13 January 2011.

Wikipedia contributors, 'Chevrolet Bel Air', Wikipedia, The Free Encyclopedia, 9 January 2011, 22:57 UTC, http://en.wikipedia.org/w/index.php?title=Chevrolet_Bel_Air&oldid=406956925 accessed 13 January 2011
By Jeremy McMullen
By 1956, the flashy styling popularized by General Motors design boss, Harley Earl, had significantly impacted even the low-priced Chevrolet. Two-tone paint schemes, liberal use of chrome-plated trim, and a powerful V-8 engine introduced the previous year contributed to Chevrolet's popularity and enabled the General Motors division to outsell archrival Ford by 150,000 units.

The 1956 Chevrolet Bel Air is among the most recognizable American cars of all time and convertibles are sought after by enthusiastic collectors. Roomy, fuel-efficient, and with tastefully restrained use of tail fins and chrome, they are seen by many as vastly superior to the oversized and over-decorated full-size models that would roll out of Detroit for the next 20 years.

One of the most famous advertising programs of all times was Chevrolet's sponsorship of 'The Dinah Shore Chevy Show' and the famous advertising song went 'See the USA in your Chevrolet.' This Chevy Show television program began in 1956.
This 1956 Chevrolet Bel Air has been in the same ownership for the past twenty years. It was purchased in 1987 from its original owner. The car has traveled a mere 61,000 miles since new. Most of the chrome and stainless has been re-plated or polished. It is powered by a 265 power-pack engine and mated to an automatic gearbox. It is painted in Sierra Gold & Beige with matching Gold & Beige interior. It is fitted with many options and accessories including a rare padded dash, floor mats, seat belts, wide white-wall tires, power pack engine, side skirts, electric clock, power steering, and push button radio. The engine has been rebuilt and nicely detailed.
By Daniel Vaughan | May 2008
Chevrolet division of General Motors produced the Bel Air series from 1953 through 1975. The 1956 Bel Air is among the most recognizable American car of all time. The Bel Air was roomy, fuel-efficient, and had tastefully restrained tail fins and chrome which was seen as vastly superior to the oversized and over decorated full-size models produced in pervious years. Distinctive two-tone body side treatments on Bel Airs imparted a look of motion with graceful front and rear wheel openings which completed the graceful styling.

This Bel Air has a 185 horsepower V8, 265 cubic-inch engine. The Bel Air was priced between $2,025 and $2,608. Chevrolet produced 128,000 two-door hardtop models.
General Motors spent some $40 million to make the 1956 Chevrolets as visually different as possible within the context of mild face lifting. It was an expensive alteration that, in general, bulked up the body. But careful attention was paid by designers to insure the car did not look 'heavy,' and that its basic simplicity of line was preserved. And despite an industry-wide drop in production, Chevy's market share actually rose to 27.9%.
This 1956 Chevrolet Bel Air Nomad Station Wagon has had a frame-up restoration and finished in correct Sierra Gold over Adobe Beige. It has correct cloth seating surfaces with copper bolster. It has the rarely seen fresh air vents that are in place and fully functional. It has its original numbers matching 265 V8 engine and factory four-barrel carburetor mated to the original three-speed manual transmission. It came from the factory equipped with a wire wheel covers, tissue dispenser, factory heater/defroster, vibrator horn, courtesy lamps, cigar lights, Wonderbar radio, remote outside mirror, sun visors, and low glare rear-view mirror.

In 2009, this Nomad Station Wagon was offered for sale at the Houston Classic Auction in Seabrook, Texas, presented by Worldwide Auctioneers. The lot was estimated to sell for $55,000 - $65,000.
By Daniel Vaughan | May 2009
This Bel Air Convertible was fitted from the factory with power steering, power brakes, power windows, a power front seat, heater, defroster, Wonderbar AM radio, twin spotlights, whitewall tires and a chrome-plated tissue dispenser. Under the bonnet is a 'Power Pack' V8 engine mated to a Powerglide automatic.

In 2010, this Bel Air was offered for sale at the Gooding & Company Auction held in Amelia Island, Florida. The car was expected to sell for $80,000 - $110,000. As bidding came to a close, the car had been sold for the sum of $71,500, inclusive of buyer's premium.
By Daniel Vaughan | Apr 2010
This car is fitted, like all 1956 Nomads, with air-conditioning, power steering and power brakes. There are several optional items such as push-button radio and the Turbo Fire 265 V8 engine, so nicknamed for its impressive power-to-weight ratio. It is equipped with a four-barrel carburetor and dual exhaust pipes.

In 2011, the car was offered for sale at the Gooding & Company auction held in Amelia Island, Florida where it was estimated to sell for $40,000-$60,000. As bidding came to a close, the car had been sold for the sum of $57,200 inclusive of buyer's premium.
By Daniel Vaughan | Apr 2011
The classic lines of the popular Bel Air are accented to the highest degree in this wonderfully restored Convertible. Little is known of the car's early history, its chassis number indicates that it was originally equipped with a V-8 engine and manufactured at GM's Kansas City plant. It is fully optioned with the most desirable features, including a Turbo-Fire 265 engine with dual exhaust, a Powerglide automatic transmission, air-conditioning, power steering, power brakes, a power top, Continental rear-wheel carrier, wire-wheel covers, radio with antenna, oil-bath cleaner, and an electric clock.

The car was acquired by the present owner at auction in the late 1990s. It had just been treated to a restoration. It was finished in Sierra Gold offset with Adobe beige.

In 2013, the car was offered for sale at Gooding & Company's Scottsdale, Arizona sale. It was estimated to sell for $70,000 - $90,000 and offered without reserve. As bidding came to a close, the car had been sold for the sum of $68,200 inclusive of buyer's premium.
By Daniel Vaughan | Feb 2013
As in 1955, the Nomad Sport Wagon was Chevrolet's most expensive car, excluding the Corvette, selling for $2,707. Just 7,886 found new homes, against 113,656 210 4-door wagons.

This Nomad came from the factory finished in Matador Red and Dune Beige, with matching red vinyl contrasted with beige cloth inside. It was assembled in GM's Oakland, California plant and was built early in the production run. It came with the standard comfort items like power brakes and steer as well as A/C, a push-button radio, and the Turbo Fire 265ci V8. The engine is a four-barrel unit offering 205 horsepower and 268 ft-lb of torque. It has the optional 2-speed Powerglide automatic and dual exhausts.

In 2013, the car was offered for sale at the Bonhams Auction in Scottsdale Arizona. It was offered without reserve and sold for the sum of $36,800 including buyer's premium.
By Daniel Vaughan | Feb 2013
Just like the advertising jingle suggested, 'See the USA in your Chevrolet.' Many happy buyers took Chevrolet up on this offer, and enjoyed seeing the American countryside through the wraparound windshield of a two-tone Chevy Bel Air convertible. They became one of the most recognizable 1950s American automobiles. The second generation Bel Air received a minor facelift in 1956, a so-called 'Speedline' restyling that featured distinctive two-tone bodyside treatments and elegant wheel openings in both the front and rear.

The two-door hardtop remained of the more popular bodystyles on the 1956 Bel Air, with 128,382 finding owners at a cost of $2,275. The new trim followed a color spear, which carried forward to the headlight and mimicked the roof and trunk color. In the front, the grille was widened to include the sidelights. In the back, the taillights were enlarged, with the left one concealing the gas filler. Bel Air script was attached to the rear fenders.

This example is finished in Matador Red and Dune Beige and was built in GM's Kansas City factory. It was given a 265 cubic-inch, dual-barrel carburetor, overhead valve V8 engine rated at 170 horsepower. It came equipped with a two-speed Powerglide automatic. This was later replaced with a three-on-the-tree manual transmission. Optional details included rear wheel spats and chrome tips for the dual exhaust pipes. The color scheme continues into the interior, with red vinyl interlocking with beige cloth. There is an AM radio, a tissue box, and a traffic light viewer in front of the driver.

This example has been previously restored prior to joining the Oldenburg Family Collection in early 2011. The previous eight years were spent in the late David Walters collection.

In 2013, the car was offered for sale at the Bonhams Auction in Scottsdale, Arizona. As bidding came to a close, the car had been sold for the sum of $31,050 including buyer's premium.
By Daniel Vaughan | Feb 2013
From 1950 through 1952 Chevrolet hardtops in the Deluxe model line were dubbed the 'Bel Air'. It took a few more years before it would become its own distinct series. In 1953, the Bel Air became its own model and was applied to Chevrolet's top-of-the-line model range. By 1955, the cars were offered with an optional V8 engine which greatly improved the cars performance.

In 1953 Chevrolet had three new models and 17 body styles to select from. This was the company's widest range of offerings in its history. The introduction of the Chevrolet was stirring press for the company, but so was the Bel Air, considered the company's Crown Jewel.

The Bel Air Series consisted of a two and four-door sedan, sport coupe, and a convertible coupe. Everything that was standard on the lower priced series was standard on the Bel Air, plus so much more including comfort, convenience and styling options. There was a one-piece curved windshield which added superb visibility. The luggage compartment was massive and the 115-inch wheelbase provided plenty of interior room for its occupants. The 115-horsepower Blue-Flame six-cylinder engine was new and the most powerful engine in Chevrolet's history.

In 1954, the Bel Air was launched as a 1955 model and brought with it a fresh new, elegant look for Chevrolet. With bold features that included hooded headlights, tailfins, wrap-around windshield, and rear fender skirts, the Bel Air was able to out-style the competition. The base engine was a six-cylinder, 115 horsepower power-plant. At a base price of $1095, it was a bargain. It is considered America's first low-priced 'hardtop coupe'. The most famous of the Bel Air engine options was the 283 cubic-inch V-8 small-block, with Ramjet Fuel injection. It delivered one horsepower per cubic inch, a first for production cars. Along with style, the Bel Air was a fast machine. Chevrolet quickly ascertained a reputation for building performance vehicles.

A full-width grill, redesigned front and rear fenders, gas cap behind the left taillight, larger rectangular parking lights, and sweeping side trim were just a few of the changes that set the 1956 Chevrolet apart from the 1955, which had taken the country by storm with its all new body re-design.

For the performance-minded public, the 1956 Chevrolet offered three 265 cubic-inch Turbo-Fire V-8 engine options: base 170 hp, 205 hp 4 bbl and the 225 hp dual 4 bbl.

Chevrolet produced 1,574,740 cars in the 1956 model year, of which 41,268 were Belair Convertibles. The 3,320 pound car cost $2,443 with the base V-8. You could literally load your new Chevy with factory options and accessories and stay under $3,000.

In 1957, the Bel Air grew in length by 2-1/2 inches and received a wider and taller grille. Additional options became available including two-tone interior, power convertible top, shoulder harnesses, tinted glass, seat belts, tissue dispenser, and ventilated seat pads.

In total, there were seven body styles to select from. In 1957, a two-page Chevrolet magazine ad proclaimed that 'Chevy puts the purr in performance'. This Bel Air Convertible, with the optional 245 HP 283 CID small block V-8 equipped with two four barrel carburetors, would certainly deliver on the promise made by the ad copy noted above, delivering a hearty purr from its dual exhausts.

Over the years these popular cars became an icon for the entire generation and they have gone on to become one of the most desirable and collectable post war cars of all. 47,000 Bel Air convertibles were produced in the 1957 model year.

The Chevrolet models grew in length in 1958 and increased in size. The Chevrolet Impala became their top-of-the-line model, followed by the middle-range Bel Air. The front end featured a broad grill with quad headlights.

By the later part of the 1960s, the Chevrolet Bel Air moved into the territory of a fleet vehicle. It was a basic machine built on Chevrolet's large platform and outfitted with few thrills or options. It was a good car though it lacked the prestige of times gone by.

The 1964 Chevrolet Be Air (Series 1600) was Chevrolet's mid-priced line between the basic Biscayne and the Impala.

The Biscayne was discontinued after 1972 and the Bel Air was moved into its place, becoming Chevrolet's low-level model. Production in the United States continued until 1975 though production continued in Canada until 1981.
By Daniel Vaughan | Dec 2007
For more information and related vehicles, click
here
VOLKSWAGEN ANNOUNCES PRICING OF 2015 GOLF MODELS, STARTING AT $17,995
The seventh-generation version of VW's worldwide best seller offers more space, less weight, and increased efficiency at an even better value ◾Pricing starts at $17,995 for the two-door Golf Launch Edition model with manual transmission ◾New TDI® S model reduces Clean Diesel entry pricing by more than $3,000 ◾New available technology including Forward Collision Warning and Automatic Post-Collision Braking System ◾Room for five with a larger trunk than any midsize sedan ◾New 1.8-liter TSI® e...[Read more...]
Barrett-Jackson Cruises North, Launches New Auction At Hot August Nights In Reno, Nev. Aug. 8-10, 2013
SCOTTSDALE, ARIZ. (January 20, 2013) – Today, during the Barrett-Jackson Scottsdale auction, a groundbreaking partnership was announced that brings The World's Greatest Collector Car Auctions™ to the base of the Sierra Nevadas to join the world's premiere classic car and nostalgia festival. The inaugural Hot August Nights Auction Presented by Barrett-Jackson will take place in Reno Tahoe, Aug. 8-10, 2013. This event marks a historic partnership between two of the most recognized names in ...[Read more...]
CADILLAC CONCEPT CARS STAR at AMELIA CONCOURS d'ELEGANCE
There are limited production cars, there are rare cars and there are concept cars that never find their way to the showroom. A fleet of Cadillac's rare and mythic Motorama and Detroit Auto Show Concept Cars will take to the field at the 18th Annual Amelia Island Concours d'Elegance on Sunday March 10, 2013. Created under the supervision of GM's legendary styling chief, Harley Earl, the Cadillac Concept cars of the 'Fifties were created as the stars of GM's Motorama shows. All are blood anc...[Read more...]
Bonhams to offer the renowned Oldenburg family collection of classic automobiles at Scottsdale
More than 30 American, British and Italian cars of various vintages head to Scottsdale, Arizona Bonhams is honored to have been chosen to represent the highly esteemed Oldenburg Family Automobile Collection at its second annual Scottsdale Auction in January. The extensive collection of more than 30 cars from the prominent horse breeding family includes multiple models of the same marque, including Ferrari and Jaguar. The Italians Leading the impressive assembly are ...[Read more...]
Chevrolet, GMC Announce Bi-Fuel Pickup Pricing
Chevrolet Silverado and GMC Sierra bi-fuel pickups available for order April 19 Chevrolet and GMC extended cab heavy-duty pickup trucks with a bi-fuel option will sell for $11,000 above the suggested base-vehicle price. Fleet and retail customers can place orders for the 2013 Chevrolet Silverado HD and GMC Sierra 2500 HD beginning Thursday (April 19). The pickups, which run on compressed natural gas (CNG) and gasoline, have a Vortec 6.0L V8 engine that seamlessly transitions betwe...[Read more...]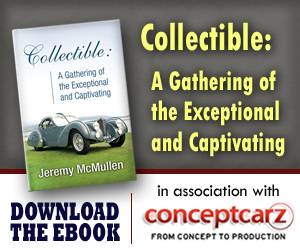 Chevrolet
Monthly Sales Figures
Volume
December 2014
184,938
November 2014
149,673
October 2014
155,965
September 2014
153,873
August 2014
185,930
July 2014
175,155
June 2014
188,567
May 2014
205,010
April 2014
181,648
March 2014
179,681
February 2014
153,913
January 2014
119,089
(More Details)
© 1998-2014. All rights reserved. The material may not be published, broadcast, rewritten, or redistributed.