Image credits: © Buick. GM Corp
1938 Buick Y-Job Concept news, pictures, specifications, and information

Tweet
The first concept car, or 'Drean Car' ever produced. It had concealed headlights and an electric top that was concealed beneath a metal cover when closed. The car was solely created for the purpose of testing new ideas, and not intended for production. Ideas from the Y-Job later found their way into GMs production line.

The Y-Job was GM's first concept car and an icon in the automotive . Constructed in 1938 under the direction of Harley J. Earl, GM's first design chief, the Y-Job made the rounds of the auto show circuit. But the Y-Job was not a turntable queen; Earl regularly drove the low-slung two-seater on the streets of Detroit where its appearance must have seemed as alien as a flying saucer.

But dream cars, like yesterday's newspapers, have a short shelf life. The Y-Job's innovative styling and advanced features soon paled alongside even more futuristic products from GM's supercharged design staff. The Y-Job was eventually consigned to a warehouse, and later transferred to the Sloan Museum in Flint, Mich. There the Y-Job languished in dusty anonymity - until a burgeoning interest in Detroit's fanciful dream cars rescued the Y-Job and its descendants from obscurity.


As historians and enthusiasts began to appreciate the significance of these landmark vehicles, the Y-Job was returned to its former glory as the centerpiece of a concept car revival at the Henry Ford Museum in Dearborn, Mich. In 1993, the Y-Job came home to the GM Design Center in Warren, Mich., where it now resides as an honored member of GM's heritage collection.
Source - GM
The 1938 Buick Y-Job is generally considered the 's first concept car. Created by General Motors Styling and Buick Engineering, it was designed by Harley J. Earl, GM's first design chief, and built on a production Buick chassis modified by Charlie Chayne, then Buick's chief engineer. Power was supplied by a Buick 320 cubic inch straight 8.
Buick called it 'Y' because so many makers dubbed experimental cars 'X.' Styling and mechanical features of the 'Y Job' showed up on GM products, particularly Buick and Cadillac, throughout the '40s. Particularly noteworthy is the introduction of a wide horizontal grille wîth thin vertical bars, which remains a Buick styling feature to this day.

The car served as Harley's Earl personal transportation for many years, until he replaced it wîth the 1951 General Motors LeSabre dream car.
Source - GM
It is difficult to imagine a time when concept cars did not exist. These mainstays of the show circuit have become as commonplace as electricity and indoor plumbing. But in 1938, the idea of creating an expressive automobile to explore new worlds of design and technology may have seemed as fanciful as space flight. General Motors was the first manufacturer to take this step - and the result was the Buick Y-Job, a car that is widely acknowledged as the 's first concept car.

Designer Harley J Earl was the catalyst for the creation of this unique automobile. Colorful, charismatic and opinionated, Earl left his mark on generations of GM products. The Y-Job was a signpost that pointed to design trends that would endure for decades. Why the Y-Job name? In Earl's lexicon, every new project was a job. The letter ''Y'' went one step beyond the prosaic X-for-experimental designation and paid homage to the prototype fighter planes that were identified wîth the prefix ''Y'' by aircraft manufacturers.

The Y-Job was a collaborative effort within GM Design. Earl supplied the inspiration and a critical eye, George Snyder put the lines on paper and Buick Chief Engineer Charlie Chayne supervised the modifications to the production Buick Century chassis that became the foundation of GM's groundbreaking concept car.


They created a vision that inspired a new genre of automotive art: the Dream Car. With a 126-inch wheelbase and a body that extended more than 17 feet long, the two-seat convertible was an exuberant expanse of streamlined sheetmetal. Sporty yet elegant, the Y-job introduced innovative features such as concealed headlamps, electrically operated windows, flush door handles and a power-operated convertible top that was fully concealed by a steel boot when retracted.

But it was the Y-Job's long, low profile that left the impression that this was a time machine from the future. Gone were the running boards and formal, upright shapes of the classic coachbuilders. In their place, the Y-Job had fenders that flowed seamlessly into the doors, integrated bumpers that complemented the bodywork and strong horizontal styling elements. It introduced themes that would reverberate throughout the automotive through the '60s.

While contemporary road cars rode on 16-inch wheels, Earl specified special 13-inch diameter rims to give the Y-Job a lower stance. The small-diameter wheels were backed wîth airplane-inspired finned brake drums that were more than a match for the Y-Job's 320-cubic-inch/141-horsepower inline eight-cylinder engine.


During Earl's 20-year tenure at the Design Center, GM became the acknowledged leader in automotive styling, producing memorable automobiles that still elicit deep emotional responses from onlookers. With its innovative technology and stunning design, the Y-Job set the standard for the dream cars that would follow in its tire tracks.
Source - GM
This car is the first Motorama clone by Harley Earl. The entire car was faithfully reproduced to match the original. Some modern upgrades such as Corvette chassis, fuel-injected 455 cubic-inch Buick engine, air conditioning, AM-FM original radio. Disc brakes, hideaway top, hideaway headlights, handmade grille, handmade dashboard, and power windows.
BUICK TURNS 110: 11 HIGHLIGHTS OF 11 DECADES
Buick vehicles today are built in state-of-the-art facilities around the world. The Enclave luxury crossover's Lansing Delta Township plant was the industry's first LEED Gold-certified manufacturing facility. The brand has evolved in many ways since 1903, when the first Buick was hand-built in a small barn behind David Dunbar Buick's Detroit home. Here are 11 top highlights from Buick's first 11 decades: • Through the end of 2012, Buick has sold more than 43 million vehicles. That's the equiv...[Read more...]
SPIRIT OF THE LEGENDARY DODGE BROTHERS LIVES ON IN NEW AD CAMPAIGN INTRODUCING 2015 MODEL YEAR DODGE MUSCLE CARS
◾First television ad in series begins Saturday, Oct. 4, for the new 2015 Dodge Challenger ◾Fully integrated campaign highlights the Dodge Brothers' passion for making great cars and how that passion and spirit still drives Dodge brand today ◾Additional television, print and digital ads launch later this year for 2015 Dodge Charger and Dodge SRT Hellcats and Viper ◾View ads at www.youtube.com/dodge October 3, 2014 , Auburn Hills, Mich. - One-hundred years after John and Horace Dodge ...[Read more...]
MERCEDES-BENZ 2014 G63 AMG: THE ULTIMATE G-CLASS
The latest technology for the AMG off-road icon: the new 2014 G63 AMG impresses with a state-of-the-art powertrain, expressive new design and improved efficiency. All this is largely attributable to the AMG 5.5-liter V8 biturbo engine delivering 536 hp and the AMG SPEEDSHIFT PLUS 7-speed automatic transmission. Every new AMG high-performance vehicle offers an outstanding mix of 'more power from less fuel' – and the G63 AMG is no exception. The 'strong man' in the AMG model range has been furt...[Read more...]
CADILLAC CONCEPT CARS STAR at AMELIA CONCOURS d'ELEGANCE
There are limited production cars, there are rare cars and there are concept cars that never find their way to the showroom. A fleet of Cadillac's rare and mythic Motorama and Detroit Auto Show Concept Cars will take to the field at the 18th Annual Amelia Island Concours d'Elegance on Sunday March 10, 2013. Created under the supervision of GM's legendary styling chief, Harley Earl, the Cadillac Concept cars of the 'Fifties were created as the stars of GM's Motorama shows. All are blood anc...[Read more...]
GM Design: 85 Years of Making Art That Moves You
As GM Design celebrates its 85th birthday this month, the 1,900 men and women in GM's 10 global design centers are focused on the future, united in their vision to entice consumers to fall in love and see vehicles as they do: art that moves you. 'Our global team is united around its passion for designing vehicles that make an emotional connection with customers,' said Ed Welburn, GM vice president, Global Design. 'What was true 85 years ago is still true today: A designer's role is to create...[Read more...]
Automotive Hall of Fame Inductees Named
Awards to be Presented in Conjunction with the Concours d'Elegance of America The Automotive Hall of Fame will present its annual induction and awards ceremony on Thursday, July 26, 2012 as one of the week-long Concours d'Elegance of America events. It will be held at The Inn at St. John's in Plymouth, Michigan. Both the Concours d'Elegance of America and the Automotive Hall of Fame celebrate the heritage and history of Detroit. The show highlights the evolution of the automobile's...[Read more...]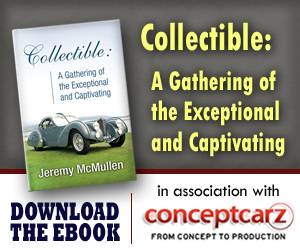 Buick
Monthly Sales Figures
Volume
December 2014
20,357
November 2014
19,143
October 2014
18,699
September 2014
17,466
August 2014
22,143
July 2014
17,683
June 2014
21,403
May 2014
19,957
April 2014
19,214
March 2014
20,428
February 2014
19,192
January 2014
13,278
(More Details)
© 1998-2014. All rights reserved. The material may not be published, broadcast, rewritten, or redistributed.