1937 Volvo PV 52 news, pictures, specifications, and information

Tweet
A company formed by Assar Gabrielsson and Gustaf Larssonon, Volvo was incorporated in 1915 as a subsidiary of AB SKF, the Swedish ball bearing manufacture, which is the largest bearing maker in the entire world. In Latin, the name Volvo manes 'I Roll'. The Volvo symbol is an alchemist's symbol for an iron ore.

Introduced in 1937 was the Volvo PV 52 was the replacement to the PV51. Much better equipped than its predecessor , the PV52 came with two windscreen wipers, double sun visors, a sprung steering wheel, an electric clock, a loud horn, folding backrests, a heater with a defroster function and a reading lamp in the rear seat along with armrests in all the doors.

The PV52 came with an inline-6 engine and it had a displacement rate of 224.0 cubic inches. The wheelbase was 113.4 inches and had 80 bhp worth of power. The year 1937 was a fantastic year for Volvo, setting several records. Production numbers rose to 1,804 units and the PV52 was the 25,000th vehicle produced by Volvo.

The PV52 Special came in a variety of colors; maroon red, light-blue, light-green and black. The all-new colors came with a variety of interior selections.
By Jessica Donaldson
THE COUNTDOWN TO AUCTIONS AMERICA'S FORT LAUDERDALE SALE NOW UNDERWAY
• Auctions America kicks off its 2014 collector car calendar March 14-16 in Fort Lauderdale • Regarded as South Florida's premier collector car auction, the multi-day sale features nearly 500 cars spanning all segments of the collector car market • Joining the list of previously announced feature consignments are a 1970 Plymouth Hemi Superbird, a 1959 Cadillac Eldorado Biarritz and a 1934 Packard Twelve Convertible Sedan • Digital catalog now available for download at auctionsamerica.com [I...[Read more...]
RARE REUNION: CHRYSLER CONCEPT CARS GATHER AT AMELIA, 2014
Nine rare and important Chrysler Concept Cars from the forties, fifties and sixties will be presented together for the first time at the 19th annual Amelia Island Concours d'Elegance on March 9, 2014. From the two-seat Chrysler Thunderbolt roadster and the dual-cowl Chrysler Newport of 1941 through the radical 1963 Chrysler Turbine car, Amelia's Chrysler Concept Car Class shows the genesis of the styling and engineering philosophy that summoned Chrysler's industry-changing 'Forward Look...[Read more...]
The Mecum Marathon In Kissimmee Sets New Record As World's Largest
Unprecedented 10-day Auction Goes Where No Other Auction Has Ever Gone Before Mecum Auctions' record-setting 10-day auction, held Jan. 18-27, exceeded all expectations transforming more than 100 acres of land at Osceola Heritage Park in Kissimmee, Fla., into the nation's collector car epicenter. A total of 3,337 lots filled every building and 15 acres of tents with a total of 2,610 cars crossing the auction block and a huge selection of Road Art and memorabilia. With 1,811 vehicles sol...[Read more...]
Barrett-Jackson Generates Nearly $109 Million In Sales
• Sets Record Attendance At The 42nd Annual Scottsdale Auction
• Batmobile sells for $4.62 million dollars to a lifelong fan to worldwide audience; marks second-highest single-car sale at Barrett-Jackson
•1,343 cars sold •$108,766,069 gross sales – A 17% increase over 2012 •300,000 in attendance •Charity cars – 21 total for $5,005,000 Scottsdale, Ariz. – Jan. 22, 2013 – Barrett-Jackson Auction Company, The World's Greatest Collector Car Auctions™, generated nearly $1...[Read more...]
Steve McQueen Chevrolet Styleline Leads Exciting List of Celebrity Rides At Auctions America's Ford Lauderdale Sale
• Auctions America kicks off its 2013 calendar, March 22 – 24, 2013 in Fort Lauderdale, Florida • Regarded as South Florida's premier collector car auction, multi-day sale expected to feature more than 550 quality collector cars • Star attraction: 1951 Chevrolet Styleline DeLuxe Convertible formerly owned by Steve McQueen to be offered at no reserve • Additional highlights include a diverse assortment of 1950s convertibles from 'The Gauthier Collection', 1967 Dodge Coronet WO23 Hemi Super Sto...[Read more...]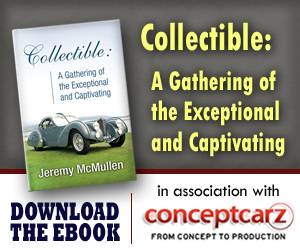 Volvo
Monthly Sales Figures
Volume
August 2014
4,960
July 2014
4,894
June 2014
5,983
May 2014
5,014
April 2014
4,635
March 2014
5,915
February 2014
4,867
January 2014
3,792
December 2013
4,888
November 2013
4,233
October 2013
3,919
September 2013
4,188
(More Details)
© 1998-2014. All rights reserved. The material may not be published, broadcast, rewritten, or redistributed.