1966 Alfa Romeo Giulia news, pictures, specifications, and information

Tweet
The Giulia was introduced by Alfa Romeo in 1962. It brought detail improvements over the Giulietta it replaced, along with major changes to the engine, now displacing 1570cc. It was an increase in displacement by 21.7% and had a longer stroke and gave the Giulia an increase in performance that the Giulietta had lacked.

The Giulia's had an improved chassis but retained the solid rear axle found on the Giulietta. Just like the Giulietta, it could be purchased in a variety of body styles, including the Pininfarina-designed Spider Normale. In total, only 9,250 examples of the Giulia Normale Spiders were produced.

This Alfa Romeo Spider is painted in red with a black interior and has 85,000 original miles. The current owner purchased it from a couple who owned it for over 30 years. It had been stored in a garage and has been well preserved. The engine has been rebuilt and accumulated a mere 750 miles.

In 2009, this Giulia Spider Normale was offered for sale at the Sports & Classics of Monterey auction in Monterey, California presented by RM Auctions. The car was estimated to sell for $35,000-$45,000 and offered without reserve. The lot was sold for the sum of $30,250 including buyer's premium.
By Daniel Vaughan | Dec 2009
Alfa Romeo produced the Giulia Sprint Speciale from 1963 to 1966 with a total of 1,400 examples produced. The design was heavily influenced by the three dramatic Berlina Aerodinamica Tecnica (B.A.T.) show cars built in the mid-1950s.

This Giulia Sprint Special is from the final year of production. It was given a restoration in early 1990 and still remains in excellent condition in modern times. The car is painted in red with gray upholstery.

In 2011, the car was offered for sale at the Gooding & Company auction in Scottsdale, Arizona. It was expected to sell for $60,000 - $80,000. As bidding came to a close, the car was sold for the sum of $79,750 inclusive of buyer's premium.
The 1966 Alfa Romeo Giulia 1600 was available as a Spider, Veloce Roadster, Sprint GT Coupe, Speciale Sport Coupe, a T.I. Sedan, GTZ Coupe, GTC Coupe, TZ Coupe, and a 2+2 GTA Coupe. Power was from a dual overhead cam four-cylinder engine that displaced 95.8 cubic-inches and had an aluminum block and head. Horsepower ranged from 105 to 126 bhp.

The production of the Sprint Speciale was handled by Bertone. The Sprint Zagato (the GTZ) fastback coupe had an independent rear suspension and an abbreviated Kamm-style tail in the back.
By Daniel Vaughan | Oct 2011
The first generation of the Giulia, also known as the 105 series, was introduced at the Monaz Autodrome in the early 1960s. The vehicles shared the same bodies as the vehicles they were replacing, the Giulietta. Power came from 1570 cc 4-cylinder engines using hemispheric combustion chambers and producing over 90 horsepower. The five speed manual gearbox was operated by a column mounted shift. The suspension was modified in the rear to improve handling but remained the same in the front.

Just like the Giulietta series, the Giulia came in multiple body-styles including the four-door berlina, spider, TZ, sprint, and Sprint Speciale.

With racing in mind, Alfa Romeo designed and built the TZ series. The TZ, meaning Tubolare Zagato, was outfitted with a light alloy body, tubular frame, disc brakes and independent suspension. The performance of the vehicle was amplified by its light body and responsive and effective handling. The large disc brakes provided excellent stopping power.

In 1963 the Giulia TI Super was introduced as a low production specialty model. With only 500 examples produced, its exclusivity is secure. Outfitted with a 112 horsepower engine, large disc brakes, and floor mounted shift, this vehicle was a performance machine.

In 1963 all models received disc brakes standard on all four wheels. Power was increased in 1965 with the introduction of the 98 horsepower Giulia Super. Externally and internally, the design was slightly modified throughout the years.

The Giulia is credited with expanding international sales of the Alfa Romeo product. Like its predecessor the Giulietta, the vehicle was available in multiple body styles and configurations. Part of its success was the economical aspects, versatility, and styling.
By Daniel Vaughan | Jan 2011
A delightfully charismatic car that proved a highly successful seller, the Alfa Romeo Giulia replaced the outgoing Giulietta beginning in 1962. Alfa Romeo produced the Giulia in myriad configurations, some drastically different from other models in the series but all with a unifying thread of polished driving fun.

The name 'Giulietta' means 'little Giulia' in Italian, so the Alfa Giulia title was a play on words identifying the new car as a grown-up version of the Giulietta. The wittiness of Alfa's naming strategy was representative of the Giulia's personality as a whole. The car bristled with clever touches, and was a superb example of world-leading engineering packed into a small and stylish automobile.

The first Giulia sedan, or Berlina, models were introduced in June of 1962 and belonged to the 105 series of Alfa cars. The Berlinas were boxy and fairly conservative in appearance, but their design was nevertheless attractive, modern, and, surprisingly, quite aerodynamic with a coefficient of drag of just 0.33.

Initially, Alfa Romeo offered only the Giulia TI (or Turismo Internationale) to buyers looking to purchase a new Berlina. This model used a 1,570cc version of Alfa's respected twin-cam four, which proved far more tractable than the 1,290cc unit used in the prior Giulietta. The Giulia TI had a 5-speed transmission, albeit with column-mounted shifter, and most were equipped with power disc brakes all around (though the earliest models still used Alfin drums). The TI was an entertaining car to drive with fine handling and a sophisticated demeanor, but details like its drab steering wheel, functional but mundane instruments, and column-mounted shifter did little to inspire owners to wring out the potential of the chassis. Alfa Romeo provided buyers with a Giulia Berlina of more obviously sporting intent by introducing the Giulia Super.

The Super, introduced in 1965, featured twin Weber carburetors to replace the TI's single Solex, and it had a lovely dash with big dials for the speedometer and tachometer. The column shift was replaced by a floor shift, and power was up slightly compared with the TI. Not to be confused with the Super, a truly racy Giulia Berlina derivative called the TI Super was offered for homologation purposes in 1963. With just 501 produced, it was substantially lighter and more powerful than the initial Berlinas.

The last Giulia Berlinas brought to the U.S. came over in 1967, but the charming sedans continued in production throughout other parts of the world. Though Americans were only offered the 1.6-liter engined TI and Super, other countries could also order Giulia Berlinas with 1.3-liter versions of the all aluminum four. A minor restyling in 1974 saw a name change to Giulia Nuova (or new in English), and there was even a diesel version introduced to some markets for 1976. In the U.S., where the Giulia name disappeared from the market after just a few years, enthusiasts could still purchase what was essentially a Giulia Berlina with larger engine by buying a later 1750 Berlina or 2000 Berlina.

The Giulia Berlina proved that Alfa Romeo could follow up its successful Giulietta Berlina with a worthy replacement that continued to define the term sports sedan as it battled with BMW. The more famous automobiles of the Giulia series, though, were not sedans at all.

Like the Giulietta before it, the Giulia was offered in Sprint (coupe) and Spider (convertible) configurations in addition to the bread-and-butter Berlina models. While the 105-series Giulia sedans offered an all-new car for 1962, the transition from Giulietta Sprint and Spider to Giulia Sprint and Spider was gentler.

The later Giuliettas belonged to the 101-series of Alfa Romeos, and the earliest Giulia Sprints and Spiders also belonged to this series before the coupe and convertible versions of the 105 body were finalized. The transitional 101-series Giulias were essentially Giuliettas with 1,570cc engines installed. The 101 Giulia Sprint looked identical to the 101 Giulietta Sprint, while the 101 Giulia Spider could be distinguished by the raised area of its hood (disguised as a fake hood scoop) needed to clear the slightly taller engine.

In 1963, the 105-series Giulia coupe arrived, named Sprint GT and styled by Giorgetto Giugiaro during his time at Bertone. The primary features of the chassis, including its disc brakes, front A-arm suspension, and live rear axle, were all shared with the 105 Berlina models as well as the Spider models that were still a few years away. Much like the Berlina, Alfa Romeo sold the Sprint GT in many different trim levels, with both 1.3-liter and 1.6-liter engines, though all U.S. cars used the 1.6-liter engines. Also like the Berlina, production of what was essentially still the Giulia Sprint continued even after the Giulia title was dropped.

In the United States, the Sprint GT became the Sprint GTV in 1967. Alfa Romeo did not import cars to the U.S. for 1968, but in 1969 the importation of a lightly restyled Giulia coupe continued as the 1750 GTV and later 2000 GTV.

In addition to the regular production versions of the Giulia Sprint, several specialty models were produced. About 1,000 examples of a Sprint-based cabriolet with four seats, called the Giulia GTC, were produced by Touring beginning in 1965 before the two-seat 105 Spider was introduced. For the track, Zagato created highly successful racing cars with the 105-series platform by building the tube-framed TZ (Tubolare Zagato) and later TZ2 with its fiberglass body.

The TZ and TZ2 were excellent racers with stunning and low-slung bodies, but perhaps even more remarkable than these purpose-built racing machines was the GTA, which was almost identical in appearance to the Sprint GT yet proved itself as one of the most successful sports cars raced during its time. The GTA used lightweight aluminum body panels, twin sparkplugs per cylinder, a higher compression ratio, and bigger Weber carburetors to create a supremely capable vehicle. The Giulia GTA won the European Touring Car Championship in 1966, 1967, and 1968. Variations of the GTA included a smaller-engined 1300 GTA and the later GTAm, which had a downright frightening appearance thanks to its menacing fender flares and fat tires.

The Spider version of the 105-chassis finally arrived in 1966, with somewhat controversial styling by Pininfarina. Never officially labeled a Giulia, the Spider was the longest-running model of the 105-series despite its late start. Incredibly, Spider production didn't end until 1993.

It can be difficult to keep track of all of the different Giulia models and 105-series derivations. Open and closed cars, two-doors and four-doors, bodies made of steel, aluminum, and even fiberglass, designs from Bertone, Pininfarina, Touring, Zagato, and Alfa Romeo itself—clearly, the Giulia's history was rich and complicated, full of superb family sedans and successful racing cars. All of these disparate models had something in common, though: they were pure, honest, unfettered Alfa Romeos. And they were some of the finest and most successful postwar cars, both on track and in the showroom, that the company ever produced.

Sources:

'Alfa Romeo models.' CarsfromItaly.net n. pag. Web. 21 Dec 2010. http://carsfromitaly.net/fiat/index.html.

Benson, Joe. Illustrated Alfa Romeo Buyer's Guide . 2nd. Osceola, WI: MBI Publishing Company, 1992. Print.

Braden, Pat. Alfa Romeo Owner's Bible. Cambridge, MA: Bentley Publishers, 1994. Print.
By Evan Acuña
For more information and related vehicles, click
here
KIA MOTORS SHOWCASES FUTURE TRANSPORTATION TECHNOLOGY AT 2014 CONSUMER ELECTRONICS SHOW
Advancements in Kia's highly regarded UVO voice-activation telematics system highlighted ◾Thoughtful updates in smartphone integration and voice-activation technologies advance functionality and safety ◾New suite of Electric Vehicle-centered telematics serves as a preview to upcoming introduction of Kia's highly anticipated Soul EV ◾Innovative Kia CUB concept makes North American debut Las Vegas, January 7, 2014 – The journey through Nevada's desert, heading toward the brig...[Read more...]
The First McLaren F1 GTR Longtail Race Winner Leads Gooding & Company's January Offerings
SANTA MONICA, Calif. (December 18, 2013) – Gooding & Company is thrilled to announce that an exceptional collector competition car has been added to its Scottsdale Auctions on January 17 and 18. The most successful 1997 McLaren F1 GTR Longtail, 021R, finished in stunning white, blue and red FINA livery (estimate: $5,000,000-7,000,000) will proudly drive over Gooding & Company's auction stage as one of many premier offerings. The auction commences at 11 a.m. at Scottsdale Fashion Square ea...[Read more...]
BARRETT-JACKSON SELECT COLLECTION TO DEBUT IN LAS VEGAS
• Six Rare and Sought-after Vehicles Will Cross the Block at Company's Las Vegas Auction on September 26-28, 2013
LAS VEGAS (September 24, 2013) – Barrett-Jackson, The World's Greatest Collector Car Auctions™, announced today that it will debut the Barrett-Jackson Select Collection at the company's Las Vegas auction, September 26-28, 2013 at the Mandalay Bay Resort & Casino. Featuring a boutique offering of sports cars and pre-war classics, these rare vehicles have the pote...[Read more...]
GORDON RACES TO SECOND SPEED ENERGY STADIUM SUPER TRUCKS WIN OF SEASON
San Diego, Calif. (May 18, 2013) – SPEED Energy Stadium SUPER Trucks made a return trip to Qualcomm Stadium in San Diego, Calif., for the second and final time in 2013. Five distinct racing divisions took to the track to test their driving skills on the uniquely prepared dirt and asphalt course. Robby Gordon, Larry Swim, Apdaly Lopez, Derek Costella and Shelby Anderson were able to record wins in Round No. 5 of SST competition. Robby Gordon, of Orange, Calif., driving the #7 SPEED Ener...[Read more...]
TOPLINE COLLECTORS PLACE SPOTLIGHT on SPEED'S BARRETT-JACKSON BROADCAST FROM SCOTTSDALE
• TOPLINE COLLECTORS PLACE SPOTLIGHT on SPEED'S BARRETT-JACKSON BROADCAST FROM SCOTTSDALE
• 'LOST' SHELBY DUAL PROTOTYPE, HAGERTY GIVEAWAY & SALON COLLECTION HIGHLIGHT 39 HOURS OF LIVE COVERAGE
The 42nd annual Barrett-Jackson Scottsdale (Ariz.) Collector Car Event, the first of four set for live coverage in 2013, kicks off the auction season in grand style as some of the world's most sought-after machines cross the block starting Tuesday, Jan. 15 at 7 p.m. ET/4 p.m. PT. SP...[Read more...]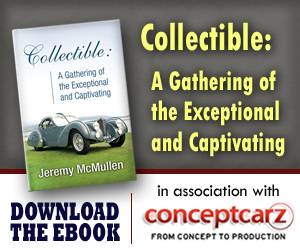 Similarly Priced Vehicles from 1966
Chevrolet Corvette C2 ($4,080-$4,290)
Ford Thunderbird ($4,393-$4,843)
Citroen DS21 ($3,585-$5,875)
Pontiac GTO ($2,780-$3,080)
Amphicar 770 ($3,400-$3,400)
Chevrolet Chevelle SS ($2,300-$3,000)
Pontiac Catalina ($2,760-$3,600)

Average Auction Sale: $49,669
© 1998-2014. All rights reserved. The material may not be published, broadcast, rewritten, or redistributed.