1970 AMC Javelin news, pictures, specifications, and information

Tweet
This car is a National Concours Winner; it won the 2005 AMO National Senior Gold Award. Total rotisserie restoration was performed in 2001-2004 by John Balow of Muscle Car Restorations in Eau Claire, Wisconsin. It was purchased from the original owner with 29,000 miles in 1977 and now has a little over 50,000 miles.

This was the last year for this body style and the Javelin as a stand-alone model. it has the 'Go' Package which includes Ram Air Hood and Sidewinder Exhaust as well as the Rally Pak Instrument Gauges. This is the factory original color, Moroccan Brown Metallic, but not a standard Javelin available color. It was ordered as a paint deviation option at an additional cost of $39.40. It is a standard Ambassador color.

This was a special ordered car and fairly well loaded with options; Leather interior, air conditioning, AM/FM radio, 290 horsepower 360 V8 and automatic transmission, among many other options costing a total of $5,148.10 sticker price.
| | | | |
| --- | --- | --- | --- |
| | | | Mark Donohue Fastback Coupe |
This 1970/71 Javelin was raced by Penske Racing in 1970 and driven by Mark Donohue and Peter Revson. The car was updated by Roy Woods Racing to 1971 specifications and driven by George Follmer to the 1972 Trans-Am Drivers Championship and Trans-Am Manufacturers Championship.
By Daniel Vaughan | Apr 2011
The AMC Javelin was produced from 1968 through 1974 intended as a 'pony' car for the American Motors Corporation. To fit into a wide variety of budgets, AMC offered the Javelin with a variety of engines that included the 232 six-cylinder variant all the way up to the might eight-cylinder power-plants. The 343 cubic-inch four-barrel V8 was a serious performance machine offering, with 280 horsepower and 365 foot-pounds of torque. Optional disc brakes and wide tires helped the driver keep the vehicle in control.

AMC had introduced the Marlin in 1965, right after the introduction of the Ford Mustang. The Mustang easily outsold the Marlin partly due to the Marlins large 112-inch wheelbase. There was seating for six with plenty of trunk space. The thing it lacked was the sporty image that the Mustang had capitalized upon.

AMC's chief designer Richard A. Teague quickly revised the design resulting in the AMX concept cars of the late 1960's. Pressured by upper management and those with financial interests in AMC, the Javelin production car was sent to market. It borrowed heavily from the AMX concept's design and was considered by many to be sporty and attractive. Its design was uncluttered and smooth with its split front grille and semi-fastback roofline. The interior featured front bucket seats and rear bench.

The six-cylinder engine offered 145 horsepower and adequate fuel economy. The 'Go' package, opted by many buyers, featured front disc brakes, tuned suspension with anti-sway bar, upgraded tires, and a choice of three potent V8 engines.

In 1969 a 390 cubic-inch engine became available. Its impressive 315 horsepower and 425 foot-pounds of torque could send the Javelin from zero-to-sixty in the seven-second range.

The standard suspension was comprised of coil springs and unequal-length wishbones in the front and semi-elliptic leaf springs and sold axle in the rear. The optional fast-ratio steering and handling package greatly improved the handling during aggressive driving.

In 1971 the Javelin was restyled and now included a roof spoiler, fender bulges, and arched fenders. The interior was given a stripe pattern.

During its introductory year, 55000 examples were produced. The AMC Company was not known as a company that could produce a performance machine. The Javelin, along with the help of Mark Donohue and Roger Penske, set a new reputation for the AMC Company on the Trans Am racing circuit. In nine races the duo scored seven wins and captured the Trans Am Series Championship. The Javelin repeated its success in the following two years.

The demise of the muscle-car era was mostly caused by an increase in government and safety regulations and fuel concerns. Javelin's sales creped along during the early 1970's but by 1974 production ceased.
By Daniel Vaughan | Jul 2006
HURLEY HAYWOOD HONORED WITH RRDC'S 2014 PHIL HILL AWARD
DAYTONA BEACH, Fla. (Jan. 24, 2014) - Hurley Haywood, winner of more endurance classics than any other driver in racing history, was honored by the Road Racing Drivers Club with the 2014 Phil Hill Award. RRDC president Bobby Rahal presented Haywood with the award at a dinner prior to the running of the Rolex 24 At Daytona, the season opener of the 2014 TUDOR United SportsCar Championship. The Phil Hill Award has been presented annually since 1993 to the person who the RRDC feels has re...[Read more...]
RRDC VOTES IN 37 NEW MEMBERS FOR 2013
HILLIARD, Ohio (Nov. 7, 2013) - Thirty-seven race-car drivers and motorsports professionals have been voted into the Road Racing Drivers Club in 2013. The group includes 13 Regular Members from the open-wheel and sports-car racing ranks, 20 Associate Members and four Honorary Members. The current roster of RRDC members now numbers 440. Voting was held among all current RRDC members. 'This year's crop of new Regular Members truly represents the spirit of the RRDC, as each driver has de...[Read more...]
Keselowski Wins NASCAR Nationwide Race at Texas
KESELOWSKI KEEPS 22 TEAM AND FORD ON NATIONWIDE ROLL · Brad Keselowski's win in today's O'Reilly Auto Parts 200 was his sixth NASCAR Nationwide Series victory of the season and the first NNS Texas win of his career. · The win was the 12th for the 22 team with four different drivers. · Overall, Ford has won 14 NNS races, eclipsing its total from 2011 and is only two shy of the all-time Ford Racing record of 16 series wins (2002). BRAD KESELOWSKI, No. 22 ...[Read more...]
ALL-NEW 2014 FIAT 500L EXPANDS FIAT BRAND'S PRODUCT LINEUP AND COMMITMENT TO INNOVATIVE AND VALUE-LOADED ITALIAN CARS
◾Loaded with value: all-new 2014 Fiat 500L arrives to FIAT studios this June with a starting price of $19,100 and four well-equipped models ◾Leveraging: taking the FIAT brand's DNA, the all-new Fiat 500L expands the appeal of the iconic 500 while adding two more doors plus best-in-class interior volume (120.1 cu. ft.) providing comfortable accommodations for five passengers ◾Large: a Fiat 500 designed on the new 'small-wide' vehicle architecture for 27 inches more length, plus six inches more ...[Read more...]
Lee Holman, Holman & Moody to be Honored at 2013 Pinehurst Concours d'Elegance
- Legendary North Carolina-based motorsports organization featured in special display, lifetime achievement award to Lee Holman - Just saying the name of Charlotte, NC-based Holman & Moody conjures up some of the most exciting motorsports moments in history – in NASCAR, Le Mans, Drag Racing and Rallying. To put an exclamation point on their accomplishments, the inaugural Pinehurst Concours d'Elegance will honor Lee Holman with the first-ever 'Pinehurst Concours Lifetime Achievement A...[Read more...]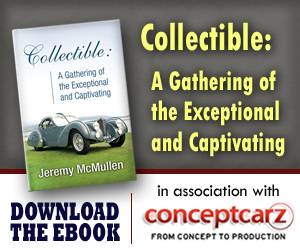 © 1998-2014. All rights reserved. The material may not be published, broadcast, rewritten, or redistributed.