1932 Oldsmobile F-32 news, pictures, specifications, and information

Tweet
The 1932 Oldsmobile 5-window Sport Coupe had white wall tires, accenting wood wheels, and contrasting body colors. The Sport Coupe was a three-passenger automobile that had chrome adornments on the front and rear bumpers, tall vertical grille and surround shell, headlamps, and fender mounted marking lamps and spotlight.

For 1932, total Oldsmobile production was 19,239 units. 1,173 Series F two-door sport coupes were produced.
By Daniel Vaughan | Jan 2011
Ransom E. Olds began producing automobiles in 1897. Oldsmobile was the first company to use the assembly line, but Ford Motor Company later added the conveyor belt. General Motors acquired Oldsmobile in 1908 and Mr. Olds later pursued another of his inventions, the power lawn mower. The Ideal Power Lawn Mower began production in 1914 and was eventually sold to the Indian Motorcycle Company in 1945.

The 1932 F-32 included many firsts for Oldsmobile. They featured an automatic choke and an automatic throttle advance which moved the throttle to a start position when the starter pedal was depressed. It was also the only year Oldsmobile featured a decarbonizer. To use this feature, the driver pressed a button when leaving the car for the night. This released a chemical into the engine which cleaned the carbon off the pistons. The F-32 also had freewheeling which was similar to overdrive; when the driver let off the acceleration, the engine began coasting. The suspension featured a ride regulator with double action shock absorbers for a choice of soft or firm ride.

There were only 333 examples of a six wire wheel convertible built. The current owner completed a five year restoration in 2010. It has since won numerous awards at Oldsmobile Club meets. It also won Best of Class and Best Restored car at the 2011 Detroit Autorama.
J.D. POWER AND LMC AUTOMOTIVE REPORT
• May New-Vehicle Retail Selling Rate Expected to be 1 Million Units Stronger than a Year Ago
WESTLAKE VILLAGE, Calif., May 23, 2013 - Robust new-vehicle retail sales in May are the driving factor of returning total sales above the 15-million unit selling level for the month, according to a monthly sales forecast developed by J.D. Power & Associates' Power Information Network® (PIN) and LMC Automotive. Retail Light-Vehicle Sales New-vehicle retail sales in May are pr...[Read more...]
CADILLAC ELR UNDERGOES WINTER CHASSIS TESTING
Fresh off its award-winning world debut at the North American International Auto Show, the Cadillac ELR is undergoing the real-world extreme testing required to take the extended-range electric luxury coupe from auto show stage to Cadillac showrooms in early 2014. Engineers last week completed winter weather chassis testing on pre-production ELR models in Michigan's Upper Peninsula, evaluating the car's handling in winter weather conditions. More than four inches of fresh snowfall during...[Read more...]
CADILLAC CONCEPT CARS STAR at AMELIA CONCOURS d'ELEGANCE
There are limited production cars, there are rare cars and there are concept cars that never find their way to the showroom. A fleet of Cadillac's rare and mythic Motorama and Detroit Auto Show Concept Cars will take to the field at the 18th Annual Amelia Island Concours d'Elegance on Sunday March 10, 2013. Created under the supervision of GM's legendary styling chief, Harley Earl, the Cadillac Concept cars of the 'Fifties were created as the stars of GM's Motorama shows. All are blood anc...[Read more...]
Mecum's 15th Annual Fall Premier Auction Exceeds $12 Million
Diverse Offerings Hammer Sold Amongst Record Crowd in Chicagoland Record crowds gathered for the 15th Annual Mecum Fall Premier, held Oct. 25-27 at the scenic Pheasant Run Resort in beautiful St. Charles, Ill. Chicagoland's only collector car auction, the Mecum 2012 Fall Premier presented a varied slate of 963 vehicles for sale over three big days, selling 577 for a 60 percent sell-through rate and total sales surpassing $12 Million. True to Mecum's reputation for offering somethi...[Read more...]
2012 Dodge Durango Receives MotorWeek Drivers' Choice Award at the Chicago Auto Show
• 2012 Dodge Durango earns MotorWeek Drivers' Choice award (shared with Jeep® Grand Cherokee)
• Dodge brand January 2012 sales increase 29 percent; best January since 2008
• Dodge Durango January 2012 sales jump 152 percent
February 8, 2012 , Auburn Hills, Mich. - The year may be young, but Dodge brand vehicles are continuing to gain momentum, earning recognition from both new car buyers and the media, alike. On Wednesday, Feb. 8, the editors of MotorWeek pr...[Read more...]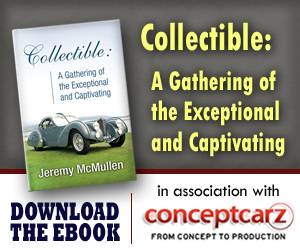 © 1998-2014. All rights reserved. The material may not be published, broadcast, rewritten, or redistributed.