1959 MG MGA news, pictures, specifications, and information

Tweet
The 1959 MGA 1500 continued with the same 1489cc engine and still was amiable in either coupe or roadster form. In the spring of 1958, MG made an announcement for a new Twin-Cam version of the MGA. This new version featured a dual-overhead-cam four-cylinder engine with an aluminum-alloy head and a displacement size of 1588cc. Horsepower was rated at 108 with 104 foot-pounds of torque. This was an increase of nearly 40 horsepower over the overhead-valve engine. The DOHC engine had hemispherical combustion chambers, inverted bucket-style tappets, and 80-degree inclined valves. Top speed was achieved at 120 mph.

Though the new engine seemed promising on paper, it would later earn a reputation for its poor reliability and as an oil burner. MG engineers worked to resolve the issue; by the time the teething problems had been resolved, the damage had been done.

The Twin-Cam MGA's came standard with Dunlop disc brakes at all four corners. They had a four-speed manual gearbox, hydraulically-operated clutch, and 4.3:1 final gear ratio.

For 1959, MG sold approximately 17,693 vehicles in the United States. This car is one of 2,111 MGA Twin Cam Roadsters produced from late 1958 to early 1960.

The MGA Twin Cam was produced to compete in the 1.6-liter racing class. The cars featured four-wheel Dunlop disc brakes and Dunlop knock-off pin drive steel wheels. The DOHC engine produced 108 horsepower compared to 68 horsepower in the 1.6-liter pushrod engine. The Twin Cam was raced by the factory at Sebring in 1959. This car has been owned by the current owner since 1978 and has been raced in numerous vintage events since 1984.
| | |
| --- | --- |
| | Coupe |
This handsome coupe represents the quickest ever MGA. It has a 1588cc B-Series engine with a twin-camshaft head designed by racecar builder Harry Westlake. This optional combination produced 108hp and had a top speed of 110 mph. With an independent front suspension and rack-and-pinion steering, handling was already far superior to the T-Series. But it was the car's lines that gave it a revolutionary aerodynamic appearance. Only 323 of these coupes were produced. This car has just completed a multi-year restoration.
In September of 1955, MG introduced its 'A' (MGA) and it marked a radical departure from its predecessors. By the spring of 1958, the Twin-Cam arrived, which included Dunlop four-wheel disc brakes and disc-type knock-off wheels. This new version had nearly 40 horsepower more than the standard 1500cc MGA, and had a top speed that exceeded 110 mph. In total, there were around 2,100 examples of the Twin-Cam coupe and roadster produced through early 1960.

This example, chassis number YD3/1841, is an original US-delivery car with a known history dating to 1967 in Oregon. The car has been completely restored and finished in its factory-original Mineral Blue color with grey leather Competition Deluxe leather seats.

In 2011, this vehicle was offered for sale at the Amelia Island auction presented by RM Auctions. The car was estimated to sell for $60,000 - $75,000 and offered without reserve. As bidding came to a close, the car had been sold for the sum of $77,000 including buyer's premium.
By Daniel Vaughan | Apr 2011
This MGA is the only known surviving car from the 1959 MGA Sebring team. The 1959 MGA Team represented the MG Car Company's first factory prepared 'Works' entries at Sebring. MG's General Manager, John Thornley was on hand with works team manager Marcus Chambers to oversee the race. Gus Ehrman and Ray Saidel piloted the car to a 2nd in class finish. After Sebring, the car was sold to Leon Mandel of Autoweek fame and was immediately driven to California. Leon entered the car at the Tracy Airport Races in 1959. Shortly thereafter, the car was sold and lost for decades.

The current owners tracked the car down in a field in California. Although found in derelict condition, fortunately the car retained all its factory works modifications from Sebring and the spare tire even retained its original Dunlop racing tire.

The car has just completed a full restoration to its 1959 Sebring specifications.
The MGA began production in 1955. The styling and mechanics were different from previous MG models. The public had been given hints of its new design during the 1951 Le-Mans 24 hour endurance race. The car was driven by George Phillips and was actually a TD Midget with body modifications.
The XPAG engine that had power many previous MG's was replaced by a new power-plant. This 1489 cc four-cylinder, B-series engine provided between 68 and 72 horsepower. The BMC B-series unit had made its debut in the MG Magnette saloon and proved to be a reliable and powerful engine.

To create enthusiasm for the cars prior to release, three aluminum bodied prototypes were created and dubbed EX182. They were entered into the Le Mans race where they finished fifth and sixth in their class. This epic achievement gave the MGA racing credibility and mechanical reliability.

The styling of the car was undeniably elegant. Its aerodynamic design and two-seat open-body was stylish and sporty. The vehicle sat very low to the ground providing an excellent center of gravity. This improved the handling and cornering ability. The chassis was a modified TD Midget unit with widely spaced side rails allowing for a low-seating position.

In the rear of the vehicle was a spare wheel mounted on the upper portion of the outside of the vehicle. Underneath was adequate trunk-space for luggage. At the front of the vehicle sat the engine.

Steel disc wheels were standard equipment but centre-locking wire wheels could be substituted at an additional fee. Since the car had an open top, it was subjected to the elements. A hard-top could be purchased making the vehicle more versatile.

A coupe version quickly followed and offered features such as wind-up windows, soft-top version, and other amenities that helped appeal to a wider customer base. To stay competitive on the race track, the MGA twin-cam version was introduced in 1958. This high performance version could be driven to the race track, race, and then be driven home. The engine had been modified with aluminum components, twin overhead camshafts, and dual SU carburetors. These enhancements increased the horsepower rating to 110 and the overall top speed to 115 miles-per-hour. Disc brakes replaced the drums which not only made the car more competitive, it made it safer. Unfortunately, the vehicle suffered from reliability issues and did not hold up well to the strain of racing. So in 1960, MG discontinued its production.

In 1959, MG introduced the MGA 1600's and offered them in coupe and open form. These were the standard MGA cars but with 1588 cc B-series pushrod engines. Drum brakes were used in the rear of the vehicle, but disc brakes were placed in the front.

In 1961, the MGA 1600 MKII was introduced. It featured a 1622 cc. B-series engine that was capable of producing 93 horsepower. 100 miles per hour was easily achieved by the MKII. Minor aesthetic changes were made to the front and rear of the vehicle.

In 1962, MG ceased production of the MGA. Nearly 100,000 examples had been produced during its life span making it the longest-running and best-selling MG. The success of the vehicle was in part to its styling, racing history, performance, and its competitive pricing. Many of the MGA's produced were exported to the United States. In the end and after so many years, the MGA was having trouble staying competitive with models offered by other manufacturers.
By Daniel Vaughan | Jun 2006
For more information and related vehicles, click
here
DAVID PIPER JOINS AMELIA'S MERCHANTS OF SPEED SEMINAR
Famous English privateer David Piper will join the Amelia Island Concours d'Elegance Merchants of Speed Seminar on Saturday, March 8, 2014 at 10:30 a.m. in the Talbot Ballroom of the Ritz-Carlton Amelia Island. Piper graciously agreed to join the seminar panel after McLaren's Tyler Alexander fell ill in February, just after the Merchants of Speed Seminar's panel was announced. David Piper brings a unique perspective to the Merchants of Speed Seminar as the only privateer entrant on the p...[Read more...]
Gooding & Company Celebrates 10th Anniversary as Global Appreciation of Cars Push Markets to New High in 2013
SANTA MONICA, Calif. (November 11, 2013) – The mystique of collectable cars continues to expand enthusiasm and buyer participation around the globe. In 2013, Gooding & Company, the auction house acclaimed for selling the world's most significant and valuable collector cars, celebrated its 10th anniversary and saw new and returning bidders flock to its three auctions. Demonstrating Gooding & Company's power in the marketplace is an annual auction total of $192.6 million for 286 lots with a...[Read more...]
Cadillac's 'Sixteen' Headlines The Amelia Concours d'Elegance Cadillac Concept Car Class
Cadillac's 2003 'Sixteen' will headline the 18th annual Amelia Concours d'Elegance's Cadillac Concept Car Class. A decade ago, the elegant excess of Cadillac's 'Sixteen' Concept Car set off alarms throughout the global auto industry as it rolled into the North American International Auto Show. Cadillac's 'Sixteen' Concept Car is a 1000 horsepower 13.6 liter V-16, 5000 pound, 19 foot long engineering and design statement taking conceptual cues from the legendary Cadillac V-16s of the 1...[Read more...]
Up 44%, Gooding & Company reports more than $189 million and 45 world records from its 2012 automotive auction sales
Gooding & Company, the auction house acclaimed for selling the world's most significant and valuable collector cars, is pleased to report its 2012 year-end sales of more than $189.6 million for 296 lots sold, averaging $640,635 per car. The 2012 year-end total is 44% higher than last year's results for the same number of cars sold, a significant increase that demonstrates the rising demand for extraordinary cars as well as the quality presented by the auction house. 'Our 2012 auctions attract...[Read more...]
Chevy Performance Rolls with Hot Rod Magazine Power Tour
Weeklong drive kicks off with unprecedented access to GM's Milford Proving Ground Road trip! It's that time of year again for the annual automotive pilgrimage known as the Hot Rod Magazine Power Tour® and Chevrolet Performance helps get it started on Saturday, June 2, at General Motors' Milford Proving Ground. The Power Tour winds up in Arlington, Texas, on June 9. With more than 3,000 hot rods, muscle cars, classic trucks and late-model performance vehicles and approximately 12,00...[Read more...]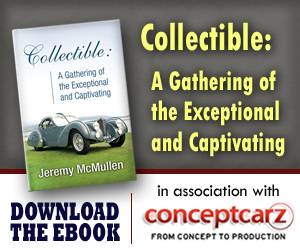 Similarly Priced Vehicles from 1959
Austin-Healey 3000 MK I ($3,050-$3,370)
Buick Invicta ($3,355-$3,840)
Plymouth Sport Fury ($2,930-$3,130)
Studebaker Lark VIII ($2,315-$2,588)
Elva Courier MKII ($2,895-$2,895)
Borgward Isabella Kombi ($2,495-$2,495)
Fiat 750 GT Zagato ($3,455-$3,455)
Alfa Romeo Giulietta ($3,520-$4,340)
Porsche 356A ($3,580-$5,900)

Average Auction Sale: $34,373
© 1998-2014. All rights reserved. The material may not be published, broadcast, rewritten, or redistributed.