Image credits: © Chevrolet. GM Corp
1960 Chevrolet Corvette LeMans Racer news, pictures, specifications, and information

Tweet
1960 24 Hours of Le Mans: An Innovator's Touch
After a brief period with one of the most dominant and formidable sportscar teams in all the world, John Fitch would be presented an opportunity that would have seemed like an insult to one's intelligence. The prospect was more than a challenge. Yet although the prospect seemed certain to be filled with very little in the way of success but flush with heartache, Fitch would revel in the challenge of making the Corvette an elite sportscar. And, by his leadership, pedigree and presence, a dominant legacy would be born.

In 2001, the Corvette Racing Team would complete a one-two victory in the 24 Hours of Le Mans finishing 8th overall and enjoying a margin of victory of more than 25 laps. Corvette had re-emerged at the top after its last class victory around three decades earlier. But, that one-two finish would turn into two-straight one-two victories at the famed 24 hour race. It would also lead to a level of dominance within the class that only some of the prototypes could ever claim.
Battling against Aston Martins, Ferraris, Porsches and numerous other sportscars, it would be the American car that would come out on top at a race that had been dominated by some of the rarest breeds of manufacturers in the world. The common had overcome the elite.

But it wasn't as though it hadn't happened before, and with Corvette. In fact, the similarities from that first class victory for Corvette to its return to dominance in the new millennium would be quite similar.

The one thing the latest Corvette Racing Team had going for it was the simple fact that it had been done before. So the team had proof it had been done. They just needed to emulate the same things that brought about the initial success for the marque. What they really needed to do was emulate the man that helped to make it possible.

John Fitch had only started racing in 1949, but, by 1952 he would already have a national championship to his name and would be a part of one of the most dominant sportscar teams in the world. Victorious in the 12 Hours of Sebring in 1953 and earning a class victory at Le Mans that same year, Fitch would be a man dearly sought after. And, by 1955, he would be signed to drive for the formidable Mercedes-Benz factory team full-time.

Although this was the opportunity of a lifetime, the tragedy at Le Mans meant it would well and truly be cut short. Despite being with arguably the best team of the period, the only real highlight Fitch would earn while with the team would be a victory in the Tourist Trophy race at Dundrod while being partnered with Stirling Moss.

In spite of the lack of success, Fitch's ability as a driver was unquestionable and kept him in high demand. But, there was really only one that garnered that much of John's attention would be fellow racer and amateur yachtsman, Briggs Cunningham.


Finishing the Targa Florio with Mercedes-Benz in 4th place overall, Fitch's career with the German team would be at an end. John would then return to the United States and would be presented with what had to be considered one of the most outlandish and taxing propositions ever, given from where he had just come.

Another chief designer, this time for Chevrolet, would take notice of Fitch and would approach the man about heading up a Corvette racing program and that the intention was to take part in the 12 Hours of Sebring just a few months away in late-winter, 1956.

This would be a tough proposition for Fitch considering he had just finished his time with Mercedes and that the Corvette program seemed far from race-ready. This seemed like a losing proposition, or at least one that would be a long time in coming. Nevertheless, Fitch would agree to the proposal and would be a part of a three car effort.

The Corvette program would be thrown together at the last minute. And though the team would enter three cars in the race, neither one really had all of the necessary parts for a 12 hour race, nor the time on the track to really determine what it needed to do to be competitive. Amazingly, under Fitch's leadership, and as a result of his abilities as a driver, he and Walt Hansgen would manage to bring the number Corvette home to a 9th place overall finish and 1st in class. One race, one victory.

This would be an incredible result given the lack of preparedness within the team. It would, however, be a great source of encouragement to the effort and would serve as an encouraging foundation upon which to build. This would be quite necessary, however, as the Corvette Racing program would struggle after that. But then came the 1960 24 Hours of Le Mans.

It had been five years since Fitch managed to lead the Corvette racing program to a surprising class victory in the 12 Hours of Sebring. However, after that, the Corvette program would experience limited success as Fitch worked with his friend Briggs Cunningham to turn the Corvette into a perennial contender. Though not an official 'works' team, GM would invest in the program a good deal and this would enable the team to make important improvements. And, in 1960, Cunningham and Fitch would determine it was time to make an assault on the 24 Hours of Le Mans.

Ever since its first running in 1923, Le Mans had been considered the ultimate in motor racing. Attempting the rare balance between performance and reliability, cars, teams and drivers would be put through perhaps the most grueling and toughest of all tests in motor racing. And, as a result, this would attract some of the best manufacturers in the world to the race in order to showcase their creations in the most demanding of all experiments.

Cunningham would first make the decision to send a car over for the test days at Le Mans just to get an idea of the performance of the car given the updates and evolutions over the last five years. When it was all said and done, Cunningham would come to know just what he was wondering. This would lead him to making the decision to send even more than a single car to take part in the actual race.

The cars would make their way by ship over to Le Havre and would be unloaded and driven the short distance to Le Mans. Cunningham would enter three cars for the race receiving numbers one through three. A fourth car would be entered by the Camoradi U.S.A. RT team. Cunningham and Kimberley would be at the wheel of car number 1. Thompson and Windridge would be driving car 2. John Fitch would be partnered with Bob Grossman and would be entrusted with car number 3. Lilley and Gambles would be driving the Camoradi Corvette, car number 4.

Coming into the race, Corvette's main challenge would come from a number of sources. Ferrari, Maserati and even Porsche would consist of the main challenge and these European teams would somewhat scoff at the notion of an American Corvette being entered in the same class. In some respects, the disbelief in the car's ability would be justly deserved. Much heavier and bulky than the European sportscars (heaviest car in the field), the Corvette seemed out of place, almost like a saloon competing against a little sports car. But the car would have an advantage—its engine.

Practice would see Corvette deal with some issues including one of the cars loosing a wheel while traveling down the Mulsanne at over 150mph. Still, the driver would manage to hold onto the car and would return to the pits to have the trouble addressed.

Because of Fitch's experience around European race tracks, he would be an invaluable asset to the team throughout the course of practice and during the race. He would have an idea of the nature of the race, the rules and even some of the ways to take advantage of situations.

Despite the belief the Corvette didn't entirely belong, the cars would attract a whole lot of attention all throughout the race weekend, especially by other manufacturers. A good reason for this would be the engine used to power the car, but also, the fact the car most closely resembled a car that could be purchased at a local dealership.

The white with blue stripe livery adorning the cars would look a stark contrast to the many other adorned in Italian red or British green. Prepared for the start of the race, the officials would seal the gas tank and the water and oil filler caps to ensure that conformity to the regulations. One of those regulations that would come into the play during the race would be the rule that would prohibit the re-filling of water or oil within a 25 lap period. This was not easy on a team that had a car that was overheating and would cause many teams a bit of trouble unless they used a little ingenuity. The Cunningham team would end up having to do just that.

Estimates of more than a quarter of a million people would assemble all around the circuit in preparation of the start of the race. The skies would be overcast and would seem certain to have some rain in store for the race, as is normal for Le Mans. The drivers would line up for the usual start, meaning the drivers would line up across the road from their respective car. When the flag would drop to start the race, the drivers were expected to sprint across the track to their cars in order to make the fastest getaway from the pits as possible.

Being positioned at the head of the line due to the numbering of the entries, the Corvettes would get away well up toward the front of the field. The roaring grumble from the Corvette engines had come to life and the crowd would know they were coming without any need of any other kind of warning.

The Maseratis and Ferraris would be fast right away but would not be matched by reliability. All four of the Corvettes would carry on during the early going without a problems whatsoever, despite the opinion of others that the heavy weight of the cars would wreak havoc on the brakes at the tight corners, like that at the end of the long Mulsanne.

The greatest battle the Corvettes would face during the early part of the race would be with the Porsches. However, the sheer pace of the Corvette, due to the massive engine, would allow the American cars to pull away into the distance. Besides the Porsches, the Corvette team would also have to deal with the Ferrari coupes. Not only were the Ferraris fast, but they were also much more reliable than some of the other manufacturers, like Maserati. But though the Ferraris were fast, the seemingly-handicapped Corvettes would prove to be just as fast. In fact, over the whole of the race, the 4th fastest speed would be achieved by the Corvette, a grand-touring coupe.

Although the Corvette attack would be strong, it wouldn't be without its share of problems. Ferrari would be controlling the pace but the Corvettes wouldn't be all that far back. However, the rain would come around 6pm and would cause absolute chaos as the circuit began to flood. Kimberley would be one of those that would find the weather conditions difficult. Around White House, he would lose control of his Corvette and it would eventually flip and catch on fire. Unfortunately, because of the flip, flames would burn out the ignition on the car and would leave him stranded, unable to make his way back to the pits. This meant one of the Corvettes was out of the race.

White House would seem to be the spot selected to give the Corvettes trouble, for, not long after Kimberley's troubles Fred Windridge would lose control and would bounce off the embankment lining the course. However, unlike the number 1 Corvette, the number 2 car would be able to limp back to the pits for necessary repairs to be made. Most of the damage would be to the right-front of the nose and at the rear of the car. A couple of hours later, the car would emerge, ready to head back into the fray.

As darkness descended upon the course, the wet conditions would combine with the low light to make driving conditions absolutely terrible. The number 3 Corvette driven by Fitch and Grossman would make it through these conditions relatively unscathed and would even pit for special tires to handle the extremely wet conditions. While many of the other manufacturers had come to the race with open-top coupes, the Corvettes would be doing great in the rain while some of the others had gotten water on the inside of the windscreen, thereby making visibility even worse.

Ferrari was still leading the way but Fitch would be behind the wheel of Corvette number 3. Experienced in European road racing, and their weather, he would find the Corvette would handle just about as good in the wet conditions as in the dry, something the others could not boast. Therefore, Fitch would make best use of this advantage and would actually begin to push in the terrible conditions. Fitch would be going like mad behind the wheel of the Corvette and there wasn't anything the other teams could do about it. In just the span of about 4 hours, Fitch would make his way from 13th up to 7th, and this was after a number of hours of racing had already gone by. It was a tremendous amount of ground he had made up over the course of those 4 hours.

By dawn on Sunday morning, the weather was already beginning to clear and the sun was beginning to shine brightly. The Corvette of Fitch and Grossman would also be running brightly. The car was still up around the top ten and looking strong. The number 2 Corvette also remained in the race and was being absolutely abused in an attempt to make up some lost ground. The number 4 Corvette would also continue to run but would still be a good distance down.

Only four hours remaining in the race, there were still three Corvettes in the race with the number 3 running highest. The car was running without problems and looking incredibly strong, still getting good speed down the straight.

Three hours from the finish another Corvette would retire. The number 2 would finally drop out after the engine in the car let go. This left just two of the four Corvettes still in the race. However, the number 3 car was still running quite well.

Ferraris remained in a strong position while all of the factory Porsches would be out. Fitch would bring the number 3 car in without about two hours remaining in the race. The stop was to be routine as the engine was running strongly and everything else was performing okay. Unfortunately, as a crewman checked the radiator on the car, all of the water would come shooting out of the radiator. It would take some time to replace what was lost and, as Fitch returned to the race, it was noticed the engine temperature would rapidly rise unlike before. This posed a problem for engine reliability. But there was an even greater problem in that the regulations prohibited oil and water changes except every 25 laps. The temperatures were rising too high to give the team any confidence the car would even make it to the next 25 lap window. The car had a problem. The team faced a challenge.

Most teams would look around the pits to see what they had to rectify a situation such as was befalling the number 3 Corvette. However, for the Cunningham team, the answer would be found behind the pits. Since the team couldn't add water except every 25 laps, the team would look for the next best substitute. The answer—ice. The team would steal buckets of ice from the catering tent behind the pits. Every three laps the number 3 Corvette would return to the pits to have those buckets of ice packed in around the engine. It would be an ingenious solution to the problem. Grossman would be behind the wheel then and would take care over the course of those three laps intervals to help ensure the car would make it to the end. This routine would continue every three laps. Still, it would work. The car would continue running and running well. Even the crowd overlooking the pits would get behind the team. Appreciating the effort put in by the team, the crowd would erupt with clapping and cheering as the ice was packed around the engine.

The effort would work. Twenty-four hours after starting the race, the number 3 Corvette would come flying up by the pits to cross the line and finish. The crowd would give the team an ovation for its incredible effort and never give up attitude everyone had exhibited in those later-stages.

And because of the attitude to never give up, the team would be rewarded. As with Sebring in 1956, Corvette would take a class victory in its very first attempt at Le Mans. Overall, the car would finish the race an incredible 8th place, the very same result that would garnered by Corvette Racing in 2001.

John Fitch had helped to make Corvette a champion. He had helped to take the brand from being treated with a little contempt to being given an ovation. It would be an incredible achievement for the team in its first attempt at the famous endurance race. What's interesting is that only one other class victory would be achieved by a Corvette until the return of the full factory effort in 1999.

When the Corvette Racing team reappeared at Le Mans around the turn of the new millennium it too would be somewhat looked down upon. It was obvious those that looked down upon a Corvette at Le Mans had forgotten their history and what had been achieved there in 1960. However, in a finish mirroring that inaugural effort in 1960, the Corvette Racing team would pay homage to the Corvette legacy at Le Mans, to the aid John Fitch brought to the fledgling team and, as a result, would remind everyone that the Corvette was just as at home on the roads of Le Mans as any other sportscar. In fact, it would prove, in a short period of time, to perhaps be more at home there than some of its competitors. Each and every year Corvette continues to remain a favorite to win in its class. Such is the legacy of Cunningham, Fitch and the Corvette.


Sources:
'Le Mans 24 Hours 1960', (http://www.racingsportscars.com/photo/Le_Mans-1960-06-26.html). Racing Sports Cars. http://www.racingsportscars.com/photo/Le_Mans-1960-06-26.html. Retrieved 10 November 2012.

McCausland, Evan. 'John Fitch, Race Legend and Safety Pioneer, Dead at 95', (http://rumors.automobilemag.com/john-fitch-race-legend-and-safety-pioneer-dead-at-95-181989.html). Automobile. http://rumors.automobilemag.com/john-fitch-race-legend-and-safety-pioneer-dead-at-95-181989.html. Retrieved 10 November 2012.

Corvette Le Mans 24 Hours 1960. Video. (2012). Retrieved 10 November 2012 from http://www.youtube.com/watch?v=DKf8wYda7vM

By Jeremy McMullen
This 1960 Briggs Cunningham Corvette Race Car (Sebring and LeMans) has VIN #00867S102538. From the factory, it featured a 290 hp, 283 cubic inch (fuel injected) engine, a four-speed transmission, posi-traction, heavy-duty brakes and steering, with Firestone Super Sport 170, 6.50/6.70-15 front and 7.10/7.60 rear (as race) - original tires.

Other factory options included heater, radio delete, windshield washers, temperature-controlled radiator fan and 24-gallon fuel tank. Steward Warner gages, Halibrand quick release fuel cap, Lucas driving and brake lights, Koni competition shock absorbers, Bendix fuel pumps (2), front additional sway bar, aircraft 'jump' seat, brake ducting, cooling duct for the driver, and 'Sebring' exhausts were added for racing.

John Fitch and Briggs Cunningham raced the car at Sebring in March 1960. Fitch was at the wheel when a Halibrand wheel broke early in the race. Fitch and Bob Grossman raced the car at LeMans in June 1960 where it won its class (Grand Touring GT 4000 to 5000 cc) and finished eighth overall. This was the first time Corvettes raced at LeMans and it wasn't until 2001 that a Corvette again placed this high - same result, first in class, eighth overall.

The #3 Corvette was driven by John Fitch and Bob Grossman at the 1960 LeMans. It was driven to a class win - an impressive accomplishment considering this was the Corvette's first year to compete at Le Mans.

During the race, the car overheated in the 23 hour. Race rules prohibited cars from receiving any fluids other than fuel, so the crew packed ice from drink coolers into the engine bay, enabling the car to continue the final hour and capture the historic victory.

There were two other Corvette entries:
- The #1 car was driven by Briggs Cunningham and William Kimberley was involved in an accident and was unable to finish the race.

- The #2 car was driven by Fred Windridge and Dr. Dick Thompson completed 207 laps before being involved in an accident.
The Camoradi Le Mans Corvette is the only straight axle Corvette to have finished the Sebring 12 Hour and the Le Mans 24 Hours; raced in the Nurburgring 1000 KM; competed in the National Corvette Museum Concours de Performance 2000 and won the NCRS American Heritage 2001 Award.

Racing and Performance History of 1960:
February:
Grand Premio de la Habana (GT race)
1st overall and Gran Premio de la Cuba
8th overall (1st in GT class)

March:
12 Hours of Sebring - 26th overall

May:
Nurburgring 1000KM - DNF

June:
LeMans 24 Hours - 10th overall

August:
Kanonloppet, Sweden - 4th in GT class
Celebrating 60 Years of Corvette History at Rolex Monterey Motorsports Reunion
• Rarely Seen Corvettes Assemble for Exhibition August 16-19 in Monterey
Monterey, Calif., July 9, 2013 — There are Corvettes, and then there are The Corvettes. Recognizing the power, performance and durability that has made Corvette America's beloved sports car, Chevrolet has assembled a collection of Corvettes that have remarkable pedigrees for a special exhibition at the Rolex Monterey Motorsports Reunion August 16-18. The annual event on the Monterey Peninsula this year cel...[Read more...]
The Trident is Raised
At this year's Rolex Monterey Motorsports Reunion the carmaker Maserati will be featured as it will mark the 100th anniversary of the iconic Italian automaker's founding. One of Italy's most famous marks, and perhaps most troubled, the trident-bearing automaker continues to provoke passion through its search of excellence. Five brothers would come together in December of 1914 to found a motor company bearing their name—Maserati. Alfieri, Bindo, Carlo, Ettore and Ernesto had all demo...[Read more...]
120 years of motor sport at Mercedes-Benz take centre stage at the Goodwood Festival of Speed 2014
'Addicted to Winning': at this year's Goodwood Festival of Speed, Mercedes-Benz looks back on some fascinating racing victories of the last 120 years •The unique motor sport heritage of the Mercedes-Benz brand is being celebrated with an exclusive installation by sculptor Gerry Judah •Mercedes-Benz and Gran Turismo®6 jointly celebrate '120 years of motor sport' Stuttgart. – The thrilling victories of the Mercedes-Benz Silver Arrows mark the peaks of the history of motor sport for...[Read more...]
1956 24 Hours of Le Mans: Collins and Moss Come Close
The 1955 24 Hours of Le Mans would be forever remembered, not for the 24 hours of racing, but for the tragic and terrible events that would take place after just two. The consequences would be dire and would send shockwaves throughout the racing world. Peter Collins would witness the events and would find it very hard to continue. However, he would do just that and would end up a very strong 2nd, practically handed the result by Mercedes. One year later, the mood would be lighter and Collins wou...[Read more...]
1955 Targa Florio: Two Brits Run Wild Over the Sicilian Countryside
The 1955 season for Mercedes-Benz had been filled with great joy, but it would also be muted by great tragedy. Now, with one final race to run, a pair of British drivers prepared to take on an impressive array of cars and drivers. Talented and young, these two would face an experienced field and a formidable course. They would certainly be battered over the course of the race. The question would be if they could rise above it all to stand at the top. Founded in 1906 by Vincenzo Florio, the Ta...[Read more...]
1955 Tourist Trophy: One Last Victory
The tragedy at Le Mans on the 11th of June, 1955 would dramatically affect motor racing. For one of the manufacturers involved, Mercedes-Benz, it would be a confirmation of what it had already come to believe. Toward the end of the 1955 season it was known Mercedes-Benz would withdraw from all motor racing having achieved just about everything possible in Formula One and sportscars. However, on the 18th of September, there would be one last race in which the mighty Silver Arrows would be gunning...[Read more...]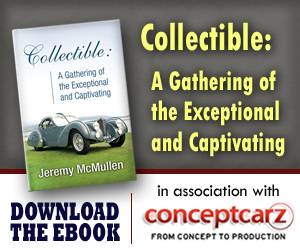 Chevrolet
Monthly Sales Figures
Volume
August 2014
185,930
July 2014
175,155
June 2014
188,567
May 2014
205,010
April 2014
181,648
March 2014
179,681
February 2014
153,913
January 2014
119,089
December 2013
153,493
November 2013
145,089
October 2013
155,214
September 2013
127,785
(More Details)
© 1998-2014. All rights reserved. The material may not be published, broadcast, rewritten, or redistributed.