1959 DeSoto Adventurer news, pictures, specifications, and information

Tweet
| | |
| --- | --- |
| | Sportsman |
The DeSoto Adventurer was a limited edition (590 hardtops) high performance model. Gold trim, emblems, truck strips, dual antennas, mirrors and wheel covers were all standard on this model. The 350 horsepower 383 V8 featured dual four-barrel carbs and a high lift cam. Donald Coen of Canton, Ohio has donated this car to the Canton Classic Automobile Museum. Mr. Coen was the original owner of this car.
Source - Canton Classic Car Museum
In 1959, DeSoto produced only 97 examples of their Adventurer in a convertible bodystyle. There were 590 examples built in the Sportsman 2-door, 6-passengers configuration.

The Adventurer was introduced in 1956 as the companies ultra-high performance model. It was redesigned in 1957 with the 'Forward Look' theme. In 1959, it was given a moderate restyling and given a generous amount of Chrysler-shared sheet metal. It was available in only two colors, white or black (with contrasting gold-anodized wheel covers and aluminum side sweeps) and model choices were limited to hardtop coupe or convertible.

Under the bonnet lurked a 383 cubic-inch V-8 engine with four-barrel carburetors responsible for producing 350 horsepower. There was a Torque-Flite automatic transmission with pushbutton controls. Selling for exactly $1000 less than the Chrysler 300E Convertible, the Adventurer Convertible sold for $4,749 in 1959.
By Daniel Vaughan | Aug 2009
| | | |
| --- | --- | --- |
| | | Sportsman |
This 1959 DeSoto Adventurer 2 door hardtop is one of only 590 built. It has gold trim, emblems, truck strips, dual antennas, mirrors and wheel covers which were all standard equipment on this rare high performance model. Power is from a 350 horsepower 3838 cubic-inch V8 that features dual four-barrel carburetors and a high lift cam and push button Torque-Flite automatic transmission. This car had an add-on air conditioning system and there are swivel bucket seats.

The DeSoto Adventurer was available in only two colors, white or black and model choices were limited to hardtop coupe or convertible.
By Daniel Vaughan | Sep 2011
| | | |
| --- | --- | --- |
| | | Sportsman |
In 1959 DeSoto, a division of Chrysler Corporation, had an upturn in sales for their Adventurer model - at 687 units - compared with the previous year, but nothing could stem the 40 percent drop in divisional sales for the year. Desoto brand was not helped by the fact that the public thought it would soon be an orphan and thus they migrated to the Chrysler showroom whose cars were virtually identical except for the grille and tail lights. DeSoto was ultimately canned November 1960. The Adventurer was powered by a Chrysler 383 V8 producing 350 horsepower at 5,000 RPM.
The DeSoto was introduced in 1956 and produced through 1960. The two-door hardtop Adventurer had received its name from a DeSoto concept car. During its production life span, the car would endure both good times and bad times. There were many reasons for the final demise of the vehicle. At the close of the 1950's the country was experiencing economic turmoil which was causing the sales of most automobiles to decline. DeSoto was unable to advertise its vehicles to the same degree that other manufacturers could due to a limited budget. In 1958 quality control and recall problems plagued the company. By 1960 the DeSoto Company, owned by the Chrysler Corporation, ceased production.

Gold plating adorned the Adventurers mesh grille and its wheels were turbine-style. When introduced it did not have elaborate styling or flashy components, it was simply a clean and powerful automobile. Under the hood lurked a Hemi 5.6-liter V8 that produced between 230 and 320 horsepower. Power brakes were offered as standard equipment and the suspension was modified to help control the horsepower produced by the engine. A push-button PowerFlite automatic, electric clock, dual rear view mirrors, padded dash, power windows, power steering, and power seats added to the amenities provided by the Adventurer. A record player was offered as optional equipment but it was never very popular and was quickly discontinued.

The base price for a 1956 Adventurer was around $3680. This was less than most of its competition.

At Daytona Beach a golden Adventurer was able to achieve 137 miles per hour. At the Chrysler's Chelsea Proving Grounds oval it topped 144 miles-per-hour. There were no other vehicles offered that could out pace the Adventurer.

During the Adventurers introductory year nearly 1000 examples were produced. For 1957 the styling was enhanced and fins were placed on the rear of the vehicle, a style that was growing in popularity at the time. A convertible option became available. The engine was enlarged from 341 to 345 cubic-inch increasing horsepower output to 345, one horsepower per cubic inch. The suspension was modified to keep up with the engine enhancements. These improvements helped the sale of 1950 Adventurers for 1957, an increase of almost half from the prior year.

For 1958 only 423 examples were produced. This was due to several factors including an economic recession and changing trends in the market place that had other manufacturers producing more vehicles. A big reason however was quality. The Hemi engine was replaced with a cheaper-to-build engine that produced equivalent horsepower. Fuel injection was standard but often failed, causing the company to issue recalls. The Bendix EFI system was later replaced with carburetors. Many of the DeSotos leaked, had faulty transmissions, or a slew of other problems. This kept people from visiting the DeSoto show rooms.

For 1959 the exterior of the car received aesthetic modifications. Swivel bucket seats were part of the interior modifications. This helped entry and exit from the low-sitting car. Sales climbed to a respectable 687 units.

For 1960 the Adventurer name was available on nearly all DeSoto automobiles. Sales for the entire vehicle line-up continued to decline causing the Chrysler Corporation to discontinue the DeSoto marque in mid-November of 1960.
By Daniel Vaughan | Jun 2007
CONTINENTAL GT3-R MAKES NORTH AMERICAN DEBUT AT 2014 PEBBLE BEACH
◾Limited edition Bentley Performance Model to be shown during Monterey Auto Week ◾Complete Bentley product range on display at the Home of Bentley (Pebble Beach, 11th August 2014) Making its North American debut at this year's Pebble Beach is the new Continental GT3-R – the most dynamic and fastest-accelerating Bentley ever produced. Inspired by Bentley's race-winning Continental GT3 race car, the GT3-R is powered by Bentley's race and road proven 4.0 litre V8 engine. Bentley engin...[Read more...]
AROUND THE WORLD IN 60 CARS AT THE 2014 CONCOURS OF ELEGANCE AT HAMPTON COURT PALACE
◾The 2014 Concours of Elegance to gather 60 of the rarest cars from around the world at Hampton Court Palace on 5-7 September ◾Two thirds of the Concours cars will be coming to Hampton Court Palace from overseas specifically for the event, with most being seen in the UK for the very first time ◾These 60 exceptional cars will be joined by over 700 other fine automobiles from the UK's leading Car Clubs and organised classic car tours In just three months' time, the third international Concour...[Read more...]
Hublot Masterpiece Mp 05 'Laferrari'
50-day power reserve: A World Record power reserve for a hand-wound Tourbillon wristwatch. Movement 100% designed, developed and produced by the Hublot Manufacture engineers and watchmakers We are in the world of the exceptional. The MP-05 'LaFerrari' represents a very special series, entirely designed and developed by the Hublot Manufacture engineers and watchmakers in tribute to 'LaFerrari'. In a demonstration and testimony that lives up to the car, it has achieved a historic ...[Read more...]
BENTLEY BOUTIQUE UNVEILS NEW SPRING SEASON SELECTION
Debut of 'Breitling for Bentley' Light Body Midnight Carbon watch •Limited edition 'zai for Bentley' ski, poles and ski bag •Showcase for two new collections: 'Bentley for Men' fragrances and Mulsanne fitted luggage set (Crewe, 5 March 2013). The 2013 Bentley Boutique at the Geneva Motor Show showcases a selection of the company's new and exciting products, created with luxury and performance in mind in collaboration with partnership brands. 'Breitling for Bentley' Light Body...[Read more...]
Joe Bortz to Host Historic Dream Car Discussion Panel
Dream car collector and historian Joe Bortz has prepared a special treat for participants at the 40th Annual Pontiac-Oakland Club International Convention in St. Charles Illinois, this coming July 17-21. In addition to bringing his four historic Pontiac Dream Cars, he has also assembled a panel, conisisting of two noted designers, a retired engineer and two veteran authors to examine the topic of Pontiac's early concept vehicles. The panel discussion will be held on Friday, July 20th at 1...[Read more...]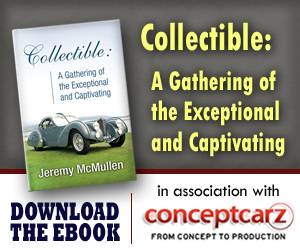 Similarly Priced Vehicles from 1959
Jaguar XK150 ($4,522-$5,100)
Arnolt DeLuxe ($4,750-$6,000)
Devin C ($4,590-$4,590)
Chrysler New Yorker Series ($4,425-$5,210)
Lancia Appia ($2,850-$4,875)

Average Auction Sale: $132,355
© 1998-2014. All rights reserved. The material may not be published, broadcast, rewritten, or redistributed.