1951 Hudson Hornet Series 7A news, pictures, specifications, and information

Tweet
In 1948 Hudson made a very important design contribution to the automotive community by introducing the 'step down' bodystyle. By 1952 they had claimed 10 of 11 stock car Grand Nationals as the dominate 'Fabulous Hudson Hornet' raced through the mid-1950's generating strong commercial success.

There were only 500 Hudson Hornets produced in 1951 and this convertible is one of them. It is finished in burgundy with dark red leather interior and black power convertible top. It was treated to a body-off restoration during the mid-1990s and has remained in good condition since. It has been carefully preserved in a climate-controlled showroom and traveled a mere 1,600 miles, all in dry weather. The car has traveled 61,250 miles since new.

There is a 308 cubic-inch L-head six-cylinder engine with Twin H power, dual carburetors, and a dual manifold induction system. It has a high compression '262' cylinder head which helps boost the power to 180. The gearbox is a dual Range Hydramatic automatic unit and there are four-wheel drum brakes.

This 1951 Hudson Hornet Convertible was offered for sale at the 2007 Monterey Sports & Classic Car Auction presented by RM Auctions, where it had an estimated value of $80,000 - $100,000. It was offered without reserve. The estimated value proved accurate as the lot was sold for $93,500.

In 2010, this Hudson Hornet Convertible was offered for sale at RM Auctions 'Automobiles of Amelia Island' sale in Amelia Island, Florida. The car was estimated to sell for $75,000 - $100,000 and offered without reserve. As bidding came to a close, the car has been sold for the sum of $99,000, inclusive of buyer's premium.
By Daniel Vaughan | Apr 2010
THE FIRST TEAGUEMOBILE HUDSON HORNET
This car is an authentic replica of the first of Marshall Teague's racing Hudson Hornets. The first Hornet had a racing career of three months, ending in Martinsville, Virginia in May 1951. Succeeding 'Teaguemobile' Hornets were NASCAR and AAA stock car champions, and in the years from 1951, when the Hornet debuted with a victory at Daytona, through 1954, Hornets won everywhere. Hudson's racing success in what was strictly 'Showroom Stock' was based on Stock' was based on three factors:
1) A well engineered, good handling design.
2) A supply of 'Severe Service' parts developed for racing and available to the public at Hudson dealers. (this was a first for an American manufacturer).
3) Marshall Teague and his team, based in a garage in Daytona, Florida. It was Teague who knew what he needed and worked with Hudson's engineering staff to develop a winner.

Teague, as team owner, mechanic, driver and sportsman, was universally admired as a gentleman. The motivation to build this replica of Teague's first Hornet was to bring both Teague and Hudson back for motoring enthusiasts to remember or discover.

Teague was killed in a race car in 1599, but we hope that this replica, and his widow Mitzi's scrapbooks, will help keep his memory alive.

Hornet Wins
Date Track Course Type
1. Feb 11 Daytona, Fl 4.1 mile beach and road
2. April 28 Gardena, CA Half mile dirt
3. April 22 Phoenix, AZ One mile dirt
4. Canfield, OH 200 laps half mile dirt
5. July 1 Grand Rapids, Mi 200 laps half mile dirt
6. Sept 3 Darlington, SC Southern '500' paved
7. Sept 15 Langhorn, Pa One mile dirt
8. Sept 23 Charlotte, NC Three quarter mile dirt
9. Oct 7 Hillsboro, NC One mile dirt
10. Nov 4 Jacksonville, Fl Half mile dirt
The Hornet was the new top of the line Hudson in 1951. Power came from a high performance 308 cubic-inch, 145 horsepower inline six-cylinder engine.

In 1948 the company launched their 'step-down' bodies, which lasted through the 1954 model year. The term step-down referred to Hudson's placement of the passenger compartment down inside the perimeter of the frame; passengers stepped down into a floor that was surrounded by the perimeter of the car's frame. In another innovative approach, the radio antenna was located on the windshield header.

Within the total production of 132,000 in 1951, not many convertible coupes were built and even fewer were fitted with the 'Twin H' race engine. Used sparingly for a number of years and with only 48,000 original miles, this car was stored in Utah until discovered in its original state. A no-holds-barred complete restoration began as the car was restored to its original factory correct color and correct interior.

It seems very fitting that this restored car's very first public showing was in Michigan where the Hudson Motor Company history began. It was shown at the 2008 Meadow Brook Concours d'Elegance.
Not only did the 1950's mark the first decade in NASCAR's illustrious history, the decade also saw NASCAR's pioneers emerge as champions and then as legends. The point contenders were as every bit as special then as the Jeff Gordons and Dale Jarretts of today; only true contenders found themselves in the thick of the race for the championship at season's end.

The 1950's brought the sport drivers like Tim Flock, Red Byron, Lee Petty and Fireball Roberts. All three names would be forever linked wîth Stock Car racing into the next decade and beyond.

As one of the most notable years in NASCAR history, 1959 saw the running of the first Daytona 500, a rookie named Richard Petty established himself as a future champion, and the crowning of the first three-time NASCAR Grand National (now NASCAR Sprint Cup Series) champion.


Marshall Teague (1922-1959) drove his fabulous Hudson Hornet in selected NASCAR events during the 1951 and 1952 seasons. Teague approached the Hudson Motor Car Company by traveling to Michigan and visiting their plant without an appointment. By the end of the visit Hudson virtually assured Teague of corporate support and cars; the relationship was formalized shortly thereafter. Teague was also instrumental in helping Hudson tune the inline six-cylinder-powered Hudson Hornet to its maximum stock capability.

He nicknamed his Hudson Hornet the 'Fabulous Hudson Hornet.' When combined wîth the car's light weight and low center of gravity (because of its monocoque body), the Hornet allowed Teague and the other Hudson drivers to dominate various stock car racing series from 1951 through 1954, consistently beating other drivers in cars powered by larger, more modern engines. Teague and his crew chief Smokey Yunick won 27 of 34 major stock car events, including seven NASCAR races. Teague left NASCAR during the 1952 season in a dispute wîth NASCAR's owner Bill France, Sr.

Teague was awarded the 1951 AAA Stock Car Driver of the Year, and the 1952 and 1954 AAA National Stock Car Champion while driving in the Fabulous Hudson Hornet.
Source - Gilmore Museum
Hudson Hornet Twin H-Power Convertible Brougham was treated to a three-year restoration. It is finished in light metallic gold with a beige and green leather interior. It has the Twin H-Power carburetor setup, dual range Hydra-Matic automatic transmission, power windows and power convertible top, radio, heater, and the distinctive Hudson sun visor mounted on the windshield frame. It rides on chrome wire wheels and period-correct wide whitewall tires.

The all-new H-145 308 cubic-inch flathead inline-six engine produced 145 horsepower which was more than the new OHV V8s offered by Oldsmobile and Cadillac. It offered nearly 20 horsepower more than the Hudson Commodore Eight - with the Hudson Super Six Custom body. The engine was offered exclusively in the Hornet in 1951. The H-145 engine had an aluminum 'Power Dome' cylinder head and higher compression at 7.2:1, making it the most-powerful and largest six-cylinder engine in an American car. Fuel was fed to the engine via a single two-barrel carburetor.

The Twin H-Power was a dealer installed option in late 1951, before becoming a factory option in 1952. Twin H-Power replaced the single two-barrel carburetor with two one-barrel carburetors feeding through individual manifolds.

Hudson described the construction of the body and frame as a 'monobloc' or unit body, one of the first in the United States auto industry. The design was introduced in 1948 as the Hudson 'Step Down' style that placed the floor panels inside a wide perimeter frame, lowering the seats and creating a spacious interior. The overall height of the car was just 60 inches.

With the H145 engine, the Hornet was a fearsome competitor for NASCAR and AAA stock car racing. With Twin H-Power and additional tuning of the H145 engine, Hudson Hornets won more races and championships between 1951-1954 more than any other manufacturer. The 'Hudson Hornets' won 13 races in 1951, 49 races in 1952, and 46 in 1953 together with the 1952 and 1953 NASCAR championships.

The Convertible Brougham accounted for only 551 cars out of a total of 44,000 Hornets produced in 1951.
By Daniel Vaughan | Oct 2014
The Hudson Motor Car Company came into existence in 1909 and produced vehicles until 1957. It was created by Howard Coffin, George W. Dunham, and Roy E. Chapin. Based in Detroit, Michigan, the company had it most successful year in 1929 when it produced and sold over 300,000 vehicles. From 1942 through 1945, the Hudson Corporation did its patriotic part by manufacturing war materials such as naval engines and aircraft parts, during the Second World War. After the war, the Company had its share of ups and downs before it merged with Nash Motors in January of 1954, when it became known as American Motors. The Hudson plant closed while the production of Nash vehicles bearing Hudson badges continued. The brand name ceased to exist after 1957.
In 1951 Hudson introduced the Hornet. The Hornet sat atop a modified version of the Super Six chassis and outfitted with a 262 and 308 cubic-inch inline six-cylinder power-plant. It dominated the NASCAR circuit in the early fifties. In 1952, it won 27 NASCAR Grand National races, 22 in 1953, and 17 in 1954.

The car sat low, giving it an excellent center of gravity. Its flowing, curvy lines and enclosed rear wheels gave it aerodynamic features. The car sold well for the company when first introduced but slowly faded into the history books. The Big Three auto manufacturers were able to change the faces of their model line-up every year, the Independent Auto Manufacturer, Hudson was not. So by the time the Hudson was discontinued, it was feeling and looking its age.

A wonderful car with seating for six and featuring an L-head straight six coupled with Twin-H Power carburetors was enough to breathe life into the Hudson Company for only a few years. The company had lasted through two World Wars and the Great Depression but it would ultimately find its demise at the hand of low-cost, mass-produced automotive giants.
By Daniel Vaughan | Mar 2006
For more information and related vehicles, click
here
BRAD KESELOWSKI COMPLETES WEEKEND SWEEP WITH FIRST NASCAR SPRINT CUP SERIES WIN AT LAS VEGAS MOTOR SPEEDWAY
◾Brad Keselowski's win today completed a NASCAR Nationwide/Sprint Cup Series sweep. ◾This marks the first time a Ford driver has won both series events on the same weekend since Carl Edwards did it at Phoenix in 2010. ◾The weekend Nationwide-Cup sweep is the first for Ford this season after doing it twice in 2013. ◾Today's win is Ford's 619th all-time series victory and the 30th by Penske Racing with Ford. ◾Today's victory is the eighth for Ford at Las Vegas Motor Speedway, most among manufa...[Read more...]
IMSA AND FOX SPORTS ANNOUNCE FIVE-YEAR MULTI-MEDIA RIGHTS DEAL
• FOX Sports 1 and FOX Sports 2 to Broadcast Entire United SportsCar Racing and Continental Tire Sports Car Challenge Seasons Beginning in 2014
DAYTONA BEACH, Fla. (Aug. 9, 2013) – FOX Sports and IMSA (International Motor Sports Association) announced today a five-year multi-media rights deal that solidifies United SportsCar Racing's home on television through the 2018 season. Today's announcement, which comes on the heels of last week's news that FOX Sports will broadcast NA...[Read more...]
FORD/AAA STUDENT AUTO SKILLS COMPETITION HELPS DEVELOP NEXT GENERATION OF AUTOMOTIVE TECHNICIANS
DEARBORN, Mich., June 5, 2013 – One hundred of the nation's best young automotive minds will converge on the Motor City to compete for the title of top high school technicians in the country at the 64th annual Ford/AAA Student Auto Skills Competition National Finals, June 9-11. With jobs in the auto industry on the rise – up more than 30 percent since last April according to the Bureau of Labor Statistics – the Ford/AAA Student Auto Skills challenge serves as a springboard for aspiring au...[Read more...]
RAGAN GIVES FRONT ROW MOTORSPORTS FIRST NASCAR WIN AS FORD SWEEPS TOP THREE SPOTS AT TALLADEGA
Ford Racing Results: 1st – David Ragan 2nd – David Gilliland 3rd – Carl Edwards 9th – Scott Speed 10th – Aric Almirola 13th – Ricky Stenhouse Jr. 14th – Marcos Ambrose 15th – Brad Keselowski 19th – Josh Wise 21st – Michael McDowell 24th – Casey Mears 35th – Joey Logano 36th – Greg Biffle 43rd – Trevor Bayne RAGAN WINS FIRST RACE FOR FRONT ROW MOTORSPORTS · David Ragan registered the second NASCAR Sprint Cup Series win of his career and first at Tallade...[Read more...]
Barrett-Jackson Flavors Its January Scottsdale Auction With NASCAR Treats
• RACING HERITAGE, HIGH PERFORMANCE ARE RECIPES FOR CAR-COLLECTING FEAST
• SPEED™ SET FOR 39 HOURS of LIVE COVERAGE STARTING JAN. 15
The great Henry Ford once said, 'Auto racing began five minutes after the second car was built.' And for more than 60 years, there are few entities that better represent auto racing in America than NASCAR. From the hallowed grounds of Daytona International Speedway, to Sonoma, California's intricate and picturesque road course, the sp...[Read more...]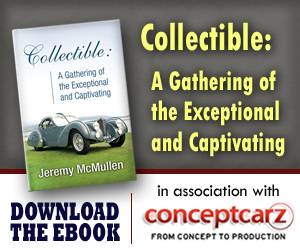 Similarly Priced Vehicles from 1951
Buick Deluxe ($2,125-$2,560)
Allard K2 ($3,100-$3,100)
Morgan Plus Four ($2,455-$2,655)
Frazer Manhattan ($3,070-$3,070)
Oldsmobile 98 ($2,270-$2,640)
Citroen Traction Avant ($2,300-$3,000)
Packard 200 ($2,300-$2,615)
Jowett Jupiter ($2,545-$2,545)
Lea-Francis Eighteen ($2,799-$2,799)
Hudson Pacemaker Custom ($1,965-$2,640)
Chrysler Saratoga ($2,990-$4,240)

Average Auction Sale: $76,726
© 1998-2014. All rights reserved. The material may not be published, broadcast, rewritten, or redistributed.