1923 Dort Six news, pictures, specifications, and information

Tweet
Josiah Dallas Dort and William Crapo Durant formed the Flint Road Car Company in 1886. This was the start of a friendship that would last for many years. Later in life, Durant would work with Buick, General Motors, and Chevrolet, while Dort stayed in the carriage business. In 1915, Dort entered the automotive world by forming the Dort Motor Car Company. Etienne Planche was hired as chief engineer, and he came with an excellent resume, having work with Louis Chevrolet to build the first Chevrolet automobile.

For the first few years, the Dort automobile was powered by a four-cylinder engine. A six-cylinder engine followed in 1923. The four-cylinder unit produced a modest amount of horsepower, rated at nearly 17 horsepower. This continued to rise over the years, gradually reaching 30 horsepower by 1920. The Six overhead valve unit developed 45 horsepower.

During the first year of production, Dort produced 8,618 vehicles. By 1920 (their best year), the company produced 30,128 vehicles.

The company remained in business until 1924. They produced 2,493 vehicles that year. The factory was sold to A.C. Spark Plug early in 1925.

For 1923, Dort produced both a Four and a Six-cylinder version of their automobile in several body styles. Pricing for the six ranged from $990 - nearly $1500. The car was completely restyled for 1923, and was given a newly designed nickel-plated radiator, larger bodywork and a Falls engine. The Model 25-K had a top speed of 60 mph and was priced at $1,020.

This vehicle is a Sport Touring that is powered by a 196 cubic-inch overhead valve six-cylinder Falls engine mated to a three-speed manual gearbox. There were two-wheel mechanical drum brakes and a rigid axle suspension with semi-elliptical leaf springs.

In August of 2000, the car was acquired by the Nethercutt Collection.

In 2011, this vehicle was offered for sale at the Gooding & Company auction in Scottsdale, Az. where it was estimated to sell for $20,000 - $30,000 and offered without reserve. As bidding came to a close, the car had been sold for the sum of $15,400 including buyer's premium.
By Daniel Vaughan | Feb 2011
FIRST RETAIL 2015 FORD MUSTANG GT FASTBACK CROSSING BARRETT-JACKSON BLOCK TO BENEFIT JDRF
◾The first retail 2015 Ford Mustang GT fastback will be auctioned to benefit leading diabetes research charity, JDRF ◾The winning bidder of the fastback can personalize his or her car with any available Mustang GT options The first retail unit of the all-new Ford Mustang will be sold at Barrett-Jackson Auction Company's event in Scottsdale, Ariz. on Jan. 18, 2014. Offered at no reserve, all proceeds will benefit JDRF, the country's leading global organization funding type 1 diabetes resear...[Read more...]
GORDON RACES TO SECOND SPEED ENERGY STADIUM SUPER TRUCKS WIN OF SEASON
San Diego, Calif. (May 18, 2013) – SPEED Energy Stadium SUPER Trucks made a return trip to Qualcomm Stadium in San Diego, Calif., for the second and final time in 2013. Five distinct racing divisions took to the track to test their driving skills on the uniquely prepared dirt and asphalt course. Robby Gordon, Larry Swim, Apdaly Lopez, Derek Costella and Shelby Anderson were able to record wins in Round No. 5 of SST competition. Robby Gordon, of Orange, Calif., driving the #7 SPEED Ener...[Read more...]
TOPLINE COLLECTORS PLACE SPOTLIGHT on SPEED'S BARRETT-JACKSON BROADCAST FROM SCOTTSDALE
• TOPLINE COLLECTORS PLACE SPOTLIGHT on SPEED'S BARRETT-JACKSON BROADCAST FROM SCOTTSDALE
• 'LOST' SHELBY DUAL PROTOTYPE, HAGERTY GIVEAWAY & SALON COLLECTION HIGHLIGHT 39 HOURS OF LIVE COVERAGE
The 42nd annual Barrett-Jackson Scottsdale (Ariz.) Collector Car Event, the first of four set for live coverage in 2013, kicks off the auction season in grand style as some of the world's most sought-after machines cross the block starting Tuesday, Jan. 15 at 7 p.m. ET/4 p.m. PT. SP...[Read more...]
Barrett-Jackson Concludes 10th Anniversary In Palm Beach
With More Than $18 Million In Revenue; Over 55,000 In Attendance Barrett-Jackson Auction Company, The World's Greatest Collector Car Auctions™, announced today that its 10th Annual Palm Beach Event, held April 5-7 at the South Florida Fairgrounds, generated more than $18 million in sales of Classics, Muscle Cars, Hot Rods, Resto-Mods, Exotics and Contemporary Collectibles in front of a crowd of over 55,000. Both attendance and sales figures were up from last year. The three-day eve...[Read more...]
GOODING & COMPANY ANNOUNCES MORE THAN $50 MILLION IN SALES AT 2009 PEBBLE BEACH AUCTION
Gooding Sold 129 Exceptional Lots with Two $4+ Million Cars and Achieved Three World Records in 2 Days Gooding & Company, the official auction house of the Pebble Beach Concours d'Elegance®, sold 129 total lots over both Saturday and Sunday auction events, collectively earning more than $50 Million* in sales. Continuing its successful presence at the Pebble Beach Concours d'Elegance and as the leading auction house in Monterey, Gooding & Company attracted thousands of collectors and en...[Read more...]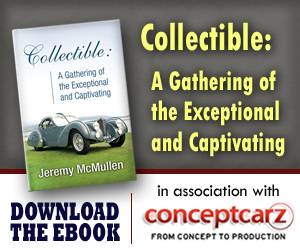 © 1998-2014. All rights reserved. The material may not be published, broadcast, rewritten, or redistributed.