1923 Dort Six news, pictures, specifications, and information

Tweet
Josiah Dallas Dort and William Crapo Durant formed the Flint Road Car Company in 1886. This was the start of a friendship that would last for many years. Later in life, Durant would work with Buick, General Motors, and Chevrolet, while Dort stayed in the carriage business. In 1915, Dort entered the automotive world by forming the Dort Motor Car Company. Etienne Planche was hired as chief engineer, and he came with an excellent resume, having work with Louis Chevrolet to build the first Chevrolet automobile.

For the first few years, the Dort automobile was powered by a four-cylinder engine. A six-cylinder engine followed in 1923. The four-cylinder unit produced a modest amount of horsepower, rated at nearly 17 horsepower. This continued to rise over the years, gradually reaching 30 horsepower by 1920. The Six overhead valve unit developed 45 horsepower.

During the first year of production, Dort produced 8,618 vehicles. By 1920 (their best year), the company produced 30,128 vehicles.

The company remained in business until 1924. They produced 2,493 vehicles that year. The factory was sold to A.C. Spark Plug early in 1925.

For 1923, Dort produced both a Four and a Six-cylinder version of their automobile in several body styles. Pricing for the six ranged from $990 - nearly $1500. The car was completely restyled for 1923, and was given a newly designed nickel-plated radiator, larger bodywork and a Falls engine. The Model 25-K had a top speed of 60 mph and was priced at $1,020.

This vehicle is a Sport Touring that is powered by a 196 cubic-inch overhead valve six-cylinder Falls engine mated to a three-speed manual gearbox. There were two-wheel mechanical drum brakes and a rigid axle suspension with semi-elliptical leaf springs.

In August of 2000, the car was acquired by the Nethercutt Collection.

In 2011, this vehicle was offered for sale at the Gooding & Company auction in Scottsdale, Az. where it was estimated to sell for $20,000 - $30,000 and offered without reserve. As bidding came to a close, the car had been sold for the sum of $15,400 including buyer's premium.
By Daniel Vaughan | Feb 2011
BONHAMS 3RD ANNUAL SCOTTSDALE AUCTION THE BEST YET, WITH MULTIPLE RECORDS MADE, STRONG SELL-THROUGH RATE AND NEARLY $25-MILLION ACHIEVED
Bonhams' third annual auction during the Scottsdale Car Week was a smashing success, nearly doubling last year's total and quadrupling that of the first year. Held on Thursday, January 16th under warm and clear desert skies at the beautiful Westin Kierland Resort & Spa, the anticipated auction exceeded pre-sale expectations. Buyers from around the world filled the sales tent to capacity with many more bidders participating online and by telephone. The viewing atmosphere on the lawns was re...[Read more...]
SEMA SHOW: MOTHERS® SHINE AWARD PRESENTED TO 1969 FORD TORINO TALLADEGA 'GPT SPECIAL'
Everything is bigger and brighter in Las Vegas, NV and here at the SEMA Show the Mothers® Shine Award is one of the brightest and most coveted achievements within the car builders' community. As always, the 13th annual edition of the Shine Award was selected from, no less than, hundreds of the world's premier cars on display at the most anticipated aftermarket industry event of the year. An international panel of respected members of the automotive world, including seasoned builders, paint speci...[Read more...]
Barrett-Jackson Announces Featured Vehicles Scheduled To Cross The Block At Upcoming Palm Beach Auction
The World's Greatest Collector Car Auctions™ to Offer an Array of Collector Cars April 4-6, 2013 Scottsdale, Ariz. – (March 27, 2013) – Barrett-Jackson, The World's Greatest Collector Car Auctions™, announced today some of the unique feature vehicles that will cross the block at its upcoming 11th annual Palm Beach auction, scheduled to take place at the South Florida Fairgrounds, April 4-6, 2013. Approximately 400 classics, exotics, muscle cars, hot rods, resto-mods and conte...[Read more...]
Bonhams Inaugural sale: Preserving The Automobile at the Simeone Foundation
New York, NY – On October 8th, 2012 Bonhams conducted Preserving the Automobile: An Auction at the Simeone Foundation, the first ever auction to promote the concept of preservation of collector cars. The sale, which took place on site and in collaboration with The Simeone Foundation Automotive Museum, a vintage car museum in Philadelphia, PA, was a resounding success, totaling just under $3.0 million. Highlights of the sale included: • The 26,500 mile, 1972 Ferrari 365 GTB/4 Daytona...[Read more...]
Russo and Steele Scottsdale Smashes 5 World Records
With enough intensity and excitement to turn non-collectors into enthusiasts, the atmosphere at Russo and Steele's Scottsdale 2012 auction block was downright palpable. An overflowing auction block, one-of-a-kind marvels and a record number of car-loving bidders led Russo and Steele to break 5 world records. From European sports to American muscle and hot rods to customs, this year's auction event held an impressing line up of cars to suit the needs of any collector. Russo and Steele Collect...[Read more...]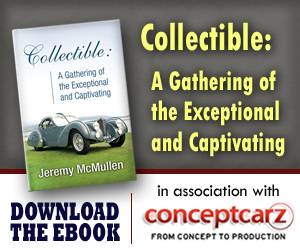 © 1998-2014. All rights reserved. The material may not be published, broadcast, rewritten, or redistributed.