1923 Dort Six news, pictures, specifications, and information

Tweet
Josiah Dallas Dort and William Crapo Durant formed the Flint Road Car Company in 1886. This was the start of a friendship that would last for many years. Later in life, Durant would work with Buick, General Motors, and Chevrolet, while Dort stayed in the carriage business. In 1915, Dort entered the automotive world by forming the Dort Motor Car Company. Etienne Planche was hired as chief engineer, and he came with an excellent resume, having work with Louis Chevrolet to build the first Chevrolet automobile.

For the first few years, the Dort automobile was powered by a four-cylinder engine. A six-cylinder engine followed in 1923. The four-cylinder unit produced a modest amount of horsepower, rated at nearly 17 horsepower. This continued to rise over the years, gradually reaching 30 horsepower by 1920. The Six overhead valve unit developed 45 horsepower.

During the first year of production, Dort produced 8,618 vehicles. By 1920 (their best year), the company produced 30,128 vehicles.

The company remained in business until 1924. They produced 2,493 vehicles that year. The factory was sold to A.C. Spark Plug early in 1925.

For 1923, Dort produced both a Four and a Six-cylinder version of their automobile in several body styles. Pricing for the six ranged from $990 - nearly $1500. The car was completely restyled for 1923, and was given a newly designed nickel-plated radiator, larger bodywork and a Falls engine. The Model 25-K had a top speed of 60 mph and was priced at $1,020.

This vehicle is a Sport Touring that is powered by a 196 cubic-inch overhead valve six-cylinder Falls engine mated to a three-speed manual gearbox. There were two-wheel mechanical drum brakes and a rigid axle suspension with semi-elliptical leaf springs.

In August of 2000, the car was acquired by the Nethercutt Collection.

In 2011, this vehicle was offered for sale at the Gooding & Company auction in Scottsdale, Az. where it was estimated to sell for $20,000 - $30,000 and offered without reserve. As bidding came to a close, the car had been sold for the sum of $15,400 including buyer's premium.
By Daniel Vaughan | Feb 2011
McLAREN NORTH AMERICA EXPANDS RETAILER NETWORK WITH FIVE ADDITIONAL LOCATIONS
◾New locations in Atlanta, Long Island, Scottsdale and Washington D.C. confirmed for North America ◾McLaren Vancouver confirmed as second Canadian location ◾Five new locations to support the continued expansion of the McLaren brand McLaren North America is pleased to announce the continued expansion of the retailer network, with the appointment of five new authorised retailers. The four locations in the US and one in Canada will take the network to 15 retailers representing the North Americ...[Read more...]
Barrett-Jackson Announces Three Bonus Hours Of Live TV Coverage During Inaugural Hot August Nights Auction August 8-10, 2013
The World's Greatest Collector Car Auctions™ Expands Coverage of the Inaugural Reno Tahoe Event on FUEL TV Scottsdale, AZ (April 30, 2013) – Barrett-Jackson, The World's Greatest Collector Car Auctions™, announced today that for the first time ever, it will broadcast three bonus hours of its inaugural Hot August Nights auction on FUEL TV, taking place at the Reno-Sparks Convention Center Aug. 8-10, 2013. The live coverage on FUEL TV will broadcast on Saturday, Aug. 10 from 5pm-8PM E...[Read more...]
POW! BAM! ZOOM! The Original 1966 TV Batmobile To Cross Auction Block At Barrett-Jackson Scottsdale
Holy Grail of TV Star Cars to be Sold for First Time January 19, 2013 Barrett-Jackson, the World's Greatest Collector Car Auctions™, announced today that it will offer one of the most recognized and popular pieces of entertainment history worldwide, at its 42nd annual Scottsdale www.barrett-jackson.com/scottsdale/ auction in January – the only 1955 Lincoln Futura concept car which was heavily modified by legendary customizer George Barris to become the original 1966 Batmobile in the l...[Read more...]
Gooding & Company Announces its Final Selection of Amelia Island Auction Cars
Star cars include a 1955 Porsche 550/ 1500 RS Spyder, 1967 Porsche 906E, Mike Hawthorn's 1951 Ferrari 212 Inter Coupe, George Reed's 1960 Chevrolet Corvette 'Race Rat,' 1988 Porsche 959, and the iconic 1948 Tucker #1034 featured in Coppola's Hollywood hit film Gooding & Company, the acclaimed auction house celebrated for selling the world's most significant and valuable collector cars, is delighted to announce its latest group of star car consignments for the highly-anticipated Amelia ...[Read more...]
GOODING & COMPANY ANNOUNCES TWO EXCEPTIONAL AUTOMOBILES FOR ITS PEBBLE BEACH AUCTION LINE-UP
The 1935 Duesenberg SJ Roadster, formerly owned by Prince Serge M'Divani, and Racing Legend Phil Hill's 1927 Packard 343 Convertible Sedan are the Final Additions to Gooding's 2009 Pebble Beach Auction Event Gooding & Company, the official auction house of the Pebble Beach Concours d'Elegance, is delighted to announce the consignment of the 1935 Duesenberg Model SJ Roadster, formerly owned by Prince Serge M'Divani, and the 1927 Packard 343 Convertible Sedan from the estate of Racing Le...[Read more...]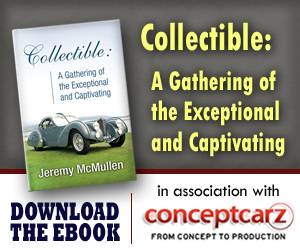 © 1998-2014. All rights reserved. The material may not be published, broadcast, rewritten, or redistributed.