1923 Dort Six news, pictures, specifications, and information

Tweet
Josiah Dallas Dort and William Crapo Durant formed the Flint Road Car Company in 1886. This was the start of a friendship that would last for many years. Later in life, Durant would work with Buick, General Motors, and Chevrolet, while Dort stayed in the carriage business. In 1915, Dort entered the automotive world by forming the Dort Motor Car Company. Etienne Planche was hired as chief engineer, and he came with an excellent resume, having work with Louis Chevrolet to build the first Chevrolet automobile.

For the first few years, the Dort automobile was powered by a four-cylinder engine. A six-cylinder engine followed in 1923. The four-cylinder unit produced a modest amount of horsepower, rated at nearly 17 horsepower. This continued to rise over the years, gradually reaching 30 horsepower by 1920. The Six overhead valve unit developed 45 horsepower.

During the first year of production, Dort produced 8,618 vehicles. By 1920 (their best year), the company produced 30,128 vehicles.

The company remained in business until 1924. They produced 2,493 vehicles that year. The factory was sold to A.C. Spark Plug early in 1925.

For 1923, Dort produced both a Four and a Six-cylinder version of their automobile in several body styles. Pricing for the six ranged from $990 - nearly $1500. The car was completely restyled for 1923, and was given a newly designed nickel-plated radiator, larger bodywork and a Falls engine. The Model 25-K had a top speed of 60 mph and was priced at $1,020.

This vehicle is a Sport Touring that is powered by a 196 cubic-inch overhead valve six-cylinder Falls engine mated to a three-speed manual gearbox. There were two-wheel mechanical drum brakes and a rigid axle suspension with semi-elliptical leaf springs.

In August of 2000, the car was acquired by the Nethercutt Collection.

In 2011, this vehicle was offered for sale at the Gooding & Company auction in Scottsdale, Az. where it was estimated to sell for $20,000 - $30,000 and offered without reserve. As bidding came to a close, the car had been sold for the sum of $15,400 including buyer's premium.
By Daniel Vaughan | Feb 2011
The First McLaren F1 GTR Longtail Race Winner Leads Gooding & Company's January Offerings
SANTA MONICA, Calif. (December 18, 2013) – Gooding & Company is thrilled to announce that an exceptional collector competition car has been added to its Scottsdale Auctions on January 17 and 18. The most successful 1997 McLaren F1 GTR Longtail, 021R, finished in stunning white, blue and red FINA livery (estimate: $5,000,000-7,000,000) will proudly drive over Gooding & Company's auction stage as one of many premier offerings. The auction commences at 11 a.m. at Scottsdale Fashion Square ea...[Read more...]
Extremely Significant, Early Shelby Cobra Roadster an Exceptional and Early Headline Consignment to Russo and Steele's Upcoming Monterey Auction
Scottsdale, Arizona – With his AC Ace-derived, Ford-powered Cobra, Carroll Shelby and his racing team spearheaded Ford's 'Total Performance' campaign of the 1960s on the world stage and ended Ferrari's dominance of the World Sportscar Championship for GT cars by 1965. This stellar example, CSX2012, is particularly significant as the first Cobra sold to the public from Shelby American's West Coast operations in Venice, California. With highly documented and fascinating history including its...[Read more...]
Barrett-Jackson Flavors Its January Scottsdale Auction With NASCAR Treats
• RACING HERITAGE, HIGH PERFORMANCE ARE RECIPES FOR CAR-COLLECTING FEAST
• SPEED™ SET FOR 39 HOURS of LIVE COVERAGE STARTING JAN. 15
The great Henry Ford once said, 'Auto racing began five minutes after the second car was built.' And for more than 60 years, there are few entities that better represent auto racing in America than NASCAR. From the hallowed grounds of Daytona International Speedway, to Sonoma, California's intricate and picturesque road course, the sp...[Read more...]
Russo and Steele Monterey Moves to Ocean Front Property
The 12th Annual Sports and Muscle in Monterey auction held by Russo and Steele Collector Automobile Auctions has announced that it's moving its venue to the waterfront remaining at the epicenter of the classic car week. Russo and Steele will feature 250 of the highest quality, collectible automobiles offered for auction over three days, August 16-18th, 2012. The new, dramatic coastal backdrop will provide a spectacular environment for its all new Monterey auction transformation. The new lo...[Read more...]
Ninth Annual Monterey Auction Event A Success
Record Attendance and Increased Sales Percentage Russo and Steele Collector Automobiles, one of the nation's premier collector car auctions, specializing in European sports cars, American muscle cars, hot rods and customs reports record breaking attendance, LIVE online auction action and a successful ninth annual Monterey auction event. The Monterey 2009 event was once again held at the downtown Monterey Marriott Hotel August 13-15, 2009. With its traditional 'rolling preview,' ...[Read more...]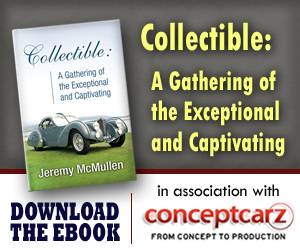 © 1998-2014. All rights reserved. The material may not be published, broadcast, rewritten, or redistributed.