1939 Pontiac Deluxe Six Series 26 news, pictures, specifications, and information

Tweet
The 1939 Pontiac Series 26 Deluxe 120 was available in several body styles, most had two doors. There was one four door body style (the Touring Sedan), a two-door coupe, sport coupe, convertible coupe, and a two-door touring sedan. Pricing ranged from $815 - $1,000 and there were a total of 53,830 examples produced during the 1939 model year. Powering the Series 26 was an L-head six-cylinder engine that displaced 222.7 cubic-inches and produced 85 horsepower; it was the same engine found in the Series 25. The transmission was a synchromesh three-speed manual gearbox with a dry disc clutch. The wheelbase was the largest Pontiac had to offer, measuring 120 inches and the same platform used for the Series 28. The Series 26 was longer, lower, and wider than the Quality Six models.

The highlight of the Series 26 lineup was a special vehicle that was designed specifically for general Motors 'highways and Horizons' pavilion at the 1939-40 New Yorks World's Fair.

Norman Bel Geddes designed the GM Pavilion, known as 'Futurama', which foretold the transportation and communities systems of 1960. This peak into the future included 'Previews of Progress,' with items such as 'Yarns made of Milk! Glass that Bends! The Frig-O-Therm that cooks and freezes at the same time! The Talking Flashlight transmitting speech over a light beam!' Sharing the spotlight was the 'Glass' Car - The first full-sized transparent car ever made in America.' General Motors along with Rohm & Haas, the chemical company that had recently developed Plexiglas, built a one-off special body using the chassis of a 1939 Pontiac Deluxe Six. Rohm & Haas, using drawings for the Pontiac four-door Touring Sedan, constructed an exact replica body using Plexiglas in place of the outer sheet-metal. All the hardware, including the dashboard, was chrome plated. The structural metal underneath was copper washed. The rubber moldings were made in white, as were the car's U.S. Royal all-white tires. The result of the work was an exterior that allowed onlookers to view the cars innards. Fittingly, the car is commonly known as the 'Plexiglas Pontiac' or 'Ghost Car.' It reportedly cost $25,000 to build.

A second Plexiglas car was later built, using a Torpedo Eight chassis, and hurriedly constructed for the 1940 Golden Gate Exposition on Treasure Island, a man-made island in San Francisco Bay. The 1939-40 Deluxe Six is the only one known to survive.

After the New York World's Fair, the Series 26 Ghost Car went on a dealership tour, and then retired to a special display at the Smithsonian Institution in Washington, D.C. where it remained until 1947. It was later owned by a succession of Pennsylvania Pontiac dealers. It appeared at the first annual meet of the new Pontiac-Oakland Club International in 1973 and was purchased by Don Barlup of New Cumberland, Pennsylvania. Barlup commissioned a partial restoration from S&H Pontiac of Harrisburg and sold it to collector Leo Gephart in 1979. The current owner's father purchased it from Gephart in the early 1980s, and it has remained in the same family ever since.

Source: RM Auctions
By Daniel Vaughan | Jul 2011
This Pontiac Silver Streak Deluxe Six Station Wagon was built in only the third year of Pontiac's Woodie production. This Deluxe Six was sent as a chassis to the Hercules Body Company in Evansville, Indiana - one of two companies that were contracted by GM in 1939 to produce wood bodies for Pontiac station wagons. This Woodie was acquired by a Connecticut owner and was used for many years as an estate vehicle, primarily during the summer months. It is believed that during the winter months, the car was stored on block.

In recent years, it has been owned by a Southern California collector. It was the poster car for the 2003 Wavecrest Woodie Meet in Encinitas, California. The Wavecrest meet is generally recognized as one of the foremost exhibitions of quality wood- bodied station wagons.

This Deluxe Six features period GM fog lights, bumper guards, mirrors, a Deluxe Safety steering wheel, a heater, and a cabin fan that is mounted on the dashboard. It has a recent repaint in the original color.

Though the correct numbers is not known, this station wagon is likely one of no more than a couple thousand examples originally produced. It is one of only seven 1939 examples of the Pontiac Woodie that are registered with the National Woodie Club.

Power is from a 223 cubic-inch L-Head six-cylinder engine breathing through a single-barrel Carter carburetor. It produces 85 horsepower and is mated to a three-speed Synchromesh manual gearbox. There are four-wheel hydraulic drum brakes and a semi-floating rear axle.

In 2012, this car was offered for sale at Gooding & Company's Scottsdale, Arizona auction. It was estimated to sell for $125,000 - $185,000 and offered without reserve. As bidding came to a close, the car had been sold for the sum of $68,200 inclusive of buyer's premium.
By Daniel Vaughan | Feb 2012
The 1939 Pontiac's featured three model lines, the Quality Six, the Deluxe Six and the Deluxe Eight. The Deluxe Six shared the frame and wheelbase of the Eight and the six-cylinder engine of the Quality Six. The engine generated 85 horsepower. For 1939, the Deluxe Six accounted for 53,830 units out of a production run of 144,340.

One feature of the Deluxe Six was a Hypoid rear axle. This enabled a lower position for the driveshaft, which resulted in a lower hump in the passenger compartment. This was the first year for the link-parallelogram steering system. This system stayed in production on GM rear drive cars until the 1990's. The shifter moved from the floor to the steering column and was adjustable to fit the drivers reach.

The only restoration on this vehicle has been some paintwork. It retains its original glass and interior. It also has the original owner's manual, a complete tool kit, clock, radio and heater.
FIRST RETAIL 2015 FORD MUSTANG GT FASTBACK CROSSING BARRETT-JACKSON BLOCK TO BENEFIT JDRF
◾The first retail 2015 Ford Mustang GT fastback will be auctioned to benefit leading diabetes research charity, JDRF ◾The winning bidder of the fastback can personalize his or her car with any available Mustang GT options The first retail unit of the all-new Ford Mustang will be sold at Barrett-Jackson Auction Company's event in Scottsdale, Ariz. on Jan. 18, 2014. Offered at no reserve, all proceeds will benefit JDRF, the country's leading global organization funding type 1 diabetes resear...[Read more...]
GORDON RACES TO SECOND SPEED ENERGY STADIUM SUPER TRUCKS WIN OF SEASON
San Diego, Calif. (May 18, 2013) – SPEED Energy Stadium SUPER Trucks made a return trip to Qualcomm Stadium in San Diego, Calif., for the second and final time in 2013. Five distinct racing divisions took to the track to test their driving skills on the uniquely prepared dirt and asphalt course. Robby Gordon, Larry Swim, Apdaly Lopez, Derek Costella and Shelby Anderson were able to record wins in Round No. 5 of SST competition. Robby Gordon, of Orange, Calif., driving the #7 SPEED Ener...[Read more...]
TOPLINE COLLECTORS PLACE SPOTLIGHT on SPEED'S BARRETT-JACKSON BROADCAST FROM SCOTTSDALE
• TOPLINE COLLECTORS PLACE SPOTLIGHT on SPEED'S BARRETT-JACKSON BROADCAST FROM SCOTTSDALE
• 'LOST' SHELBY DUAL PROTOTYPE, HAGERTY GIVEAWAY & SALON COLLECTION HIGHLIGHT 39 HOURS OF LIVE COVERAGE
The 42nd annual Barrett-Jackson Scottsdale (Ariz.) Collector Car Event, the first of four set for live coverage in 2013, kicks off the auction season in grand style as some of the world's most sought-after machines cross the block starting Tuesday, Jan. 15 at 7 p.m. ET/4 p.m. PT. SP...[Read more...]
Barrett-Jackson Concludes 10th Anniversary In Palm Beach
With More Than $18 Million In Revenue; Over 55,000 In Attendance Barrett-Jackson Auction Company, The World's Greatest Collector Car Auctions™, announced today that its 10th Annual Palm Beach Event, held April 5-7 at the South Florida Fairgrounds, generated more than $18 million in sales of Classics, Muscle Cars, Hot Rods, Resto-Mods, Exotics and Contemporary Collectibles in front of a crowd of over 55,000. Both attendance and sales figures were up from last year. The three-day eve...[Read more...]
GOODING & COMPANY ANNOUNCES MORE THAN $50 MILLION IN SALES AT 2009 PEBBLE BEACH AUCTION
Gooding Sold 129 Exceptional Lots with Two $4+ Million Cars and Achieved Three World Records in 2 Days Gooding & Company, the official auction house of the Pebble Beach Concours d'Elegance®, sold 129 total lots over both Saturday and Sunday auction events, collectively earning more than $50 Million* in sales. Continuing its successful presence at the Pebble Beach Concours d'Elegance and as the leading auction house in Monterey, Gooding & Company attracted thousands of collectors and en...[Read more...]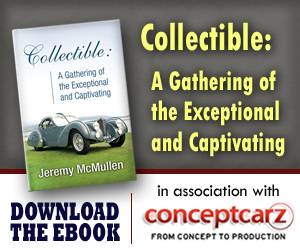 © 1998-2014. All rights reserved. The material may not be published, broadcast, rewritten, or redistributed.