1939 Pontiac Deluxe Six Series 26 news, pictures, specifications, and information

Tweet
The 1939 Pontiac Series 26 Deluxe 120 was available in several body styles, most had two doors. There was one four door body style (the Touring Sedan), a two-door coupe, sport coupe, convertible coupe, and a two-door touring sedan. Pricing ranged from $815 - $1,000 and there were a total of 53,830 examples produced during the 1939 model year. Powering the Series 26 was an L-head six-cylinder engine that displaced 222.7 cubic-inches and produced 85 horsepower; it was the same engine found in the Series 25. The transmission was a synchromesh three-speed manual gearbox with a dry disc clutch. The wheelbase was the largest Pontiac had to offer, measuring 120 inches and the same platform used for the Series 28. The Series 26 was longer, lower, and wider than the Quality Six models.

The highlight of the Series 26 lineup was a special vehicle that was designed specifically for general Motors 'highways and Horizons' pavilion at the 1939-40 New Yorks World's Fair.

Norman Bel Geddes designed the GM Pavilion, known as 'Futurama', which foretold the transportation and communities systems of 1960. This peak into the future included 'Previews of Progress,' with items such as 'Yarns made of Milk! Glass that Bends! The Frig-O-Therm that cooks and freezes at the same time! The Talking Flashlight transmitting speech over a light beam!' Sharing the spotlight was the 'Glass' Car - The first full-sized transparent car ever made in America.' General Motors along with Rohm & Haas, the chemical company that had recently developed Plexiglas, built a one-off special body using the chassis of a 1939 Pontiac Deluxe Six. Rohm & Haas, using drawings for the Pontiac four-door Touring Sedan, constructed an exact replica body using Plexiglas in place of the outer sheet-metal. All the hardware, including the dashboard, was chrome plated. The structural metal underneath was copper washed. The rubber moldings were made in white, as were the car's U.S. Royal all-white tires. The result of the work was an exterior that allowed onlookers to view the cars innards. Fittingly, the car is commonly known as the 'Plexiglas Pontiac' or 'Ghost Car.' It reportedly cost $25,000 to build.

A second Plexiglas car was later built, using a Torpedo Eight chassis, and hurriedly constructed for the 1940 Golden Gate Exposition on Treasure Island, a man-made island in San Francisco Bay. The 1939-40 Deluxe Six is the only one known to survive.

After the New York World's Fair, the Series 26 Ghost Car went on a dealership tour, and then retired to a special display at the Smithsonian Institution in Washington, D.C. where it remained until 1947. It was later owned by a succession of Pennsylvania Pontiac dealers. It appeared at the first annual meet of the new Pontiac-Oakland Club International in 1973 and was purchased by Don Barlup of New Cumberland, Pennsylvania. Barlup commissioned a partial restoration from S&H Pontiac of Harrisburg and sold it to collector Leo Gephart in 1979. The current owner's father purchased it from Gephart in the early 1980s, and it has remained in the same family ever since.

Source: RM Auctions
By Daniel Vaughan | Jul 2011
This Pontiac Silver Streak Deluxe Six Station Wagon was built in only the third year of Pontiac's Woodie production. This Deluxe Six was sent as a chassis to the Hercules Body Company in Evansville, Indiana - one of two companies that were contracted by GM in 1939 to produce wood bodies for Pontiac station wagons. This Woodie was acquired by a Connecticut owner and was used for many years as an estate vehicle, primarily during the summer months. It is believed that during the winter months, the car was stored on block.

In recent years, it has been owned by a Southern California collector. It was the poster car for the 2003 Wavecrest Woodie Meet in Encinitas, California. The Wavecrest meet is generally recognized as one of the foremost exhibitions of quality wood- bodied station wagons.

This Deluxe Six features period GM fog lights, bumper guards, mirrors, a Deluxe Safety steering wheel, a heater, and a cabin fan that is mounted on the dashboard. It has a recent repaint in the original color.

Though the correct numbers is not known, this station wagon is likely one of no more than a couple thousand examples originally produced. It is one of only seven 1939 examples of the Pontiac Woodie that are registered with the National Woodie Club.

Power is from a 223 cubic-inch L-Head six-cylinder engine breathing through a single-barrel Carter carburetor. It produces 85 horsepower and is mated to a three-speed Synchromesh manual gearbox. There are four-wheel hydraulic drum brakes and a semi-floating rear axle.

In 2012, this car was offered for sale at Gooding & Company's Scottsdale, Arizona auction. It was estimated to sell for $125,000 - $185,000 and offered without reserve. As bidding came to a close, the car had been sold for the sum of $68,200 inclusive of buyer's premium.
By Daniel Vaughan | Feb 2012
2014 CHEVROLET CAMARO Z/28 PRICED AT $75,000
DETROIT – Chevrolet today announced the 2014 Camaro Z/28 will go on sale this spring with a suggested retail price of $75,000, including a $995 destination charge, but excluding tax, title, license and dealer fees. The new Z/28 is offered in five exterior colors – Red Hot, Black, Silver Ice Metallic, Ashen Gray Metallic and Summit White. Only a single option is available: A $1,150 package that adds air conditioning and a total of six audio speakers. The standard Z/28 package includes o...[Read more...]
One of the Three Final Cars Built by Famed Italian Engineer Giotto Bizzarrini To Be Offered at Russo and Steele's Highly Anticipated Monterey Auction
Monterey, California – As the engineer responsible for the design and development of some of the most successful and innovative racing and GT cars ever conceived, Giotto Bizzarrini remains one of the most revered names in motorsport history. Hailing from Livorno, Italy and eventually leaving Alfa Romeo for Ferrari where he began as a test driver and quickly rose to Chief Engineer, Bizzarrini collaborated with Carlo Chiti on the 250 Testa Rossa's V-12 engine and the 250 SWB, with his caree...[Read more...]
Scottsdale Mayor Declares Barrett-Jackson Week As The World's Greatest Collector Car Auction Returns Home Jan. 13-20, 2013
In honor of the World's Greatest Collector Car Auctions™, Scottsdale Mayor W. J. Lane has officially declared January 13 – 20, 2013, 'Barrett-Jackson Week' to commemorate the company's 42nd annual auction in its hometown. Barrett-Jackson has become an honored tradition and point of pride in Scottsdale over the past four decades, attracting more than 250,000 visitors annually, hundreds of hours of worldwide television coverage, nearly $100 million impact on the local economy (not including au...[Read more...]
Gooding & Company's Annual Pebble Beach Auctions
Gooding & Company, the acclaimed auction house celebrated for selling the world's most significant and valuable collector cars, will host its annual Pebble Beach Auctions on August 18th & 19th in association with the prestigious Pebble Beach Concours d'Elegance. Once again, Gooding & Company is poised to present an outstanding array of blue chip and concours-quality collector cars on its record-setting stage, including the elegant 1955 Maserati A6G/54 Frua Berlinetta owned by Grammy Award-winni...[Read more...]
GOODING & COMPANY ANNOUNCES ITS FIRST-EVER AMELIA ISLAND AUCTION
Concours-Winning 'Best of Show' 1931 Voisin Demi-Berline Headlines the Sale on Friday, March 12, 2010 Gooding & Company, the internationally-recognized auction house, is thrilled to announce that it will be hosting its first-ever auction at Amelia Island, Florida. Already starring a number of exceptional consignments including the Best of Show-winning 1931 Voisin C20 'Mylord' Demi-Berline, Gooding & Company's one-day auction will take place on Friday, March 12, 2010 at 4 p.m. on the g...[Read more...]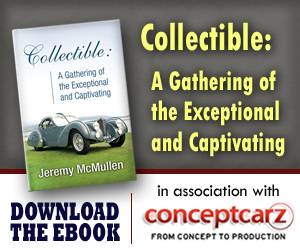 © 1998-2014. All rights reserved. The material may not be published, broadcast, rewritten, or redistributed.