The Future Is Created Through Research – Volkswagen Group Research Is Designing Tomorrow's World
By: Volkswagen
---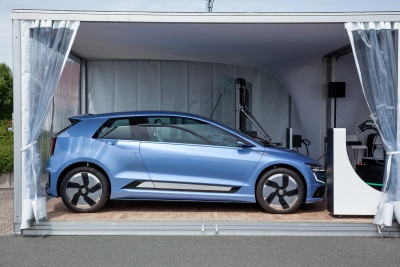 •Volkswagen Group Research is a visionary, trend identifier and technology driver •Global innovation network, intensive cooperation with the brands in the Group •'Innovations safeguard the future of our company and they are the focus of our attention,' commented Head of Research Axel Heinrich The Volkswagen Group is taking a proactive approach to designing the mobile world of tomorrow through Group Research. Volkswagen Research is a visionary, innovation scout and strategic partner for all the brands in the Group – with an enormous bandwidth of topics and projects about potential mobility scenarios for the megacities of the world, autonomous driving concepts like Sedric, new drive technologies, and new materials and product technologies. The engineers and scientists in Wolfsburg give a small snapshot of their otherwise strictly confidential topics at the Media Day for the Future Mobility Days 2017. Research has never been as important before as it is today. In a world where change is taking place with increasing rapidity, new technologies are impacting on lifestyles at breakneck speed and customer aspirations are being modified, any company needs to identify these trends at an early stage and adopt a proactive approach to structuring its own developments and offerings. Particularly when a manufacturer is operating with benchmarks on the global stage, a distinction needs to be drawn between trends and fashions. A company also needs to be in a position to assess the importance and significance of topics in different countries. Only then can it take the right decisions – and they also need to be implemented within the framework of the appropriate timing. Being first mover is not always the key factor. But being prepared for every situation is important. 'Research is a core function for success and for the long-term existence of a technology company. The Volkswagen Group takes this function very seriously,' said Axel Heinrich, Head of Volkswagen Group Research. 'Volkswagen is a highly innovative company and this will continue to remain the case in the future – particularly in times when change is rapidly gathering pace.'
Ideas Network
The centre of Group Research is located in Wolfsburg. However, research is also established on a global scale in the same way as the entire Group – with locations, research laboratories and subsidiaries in Germany and Europe, as well as the USA, in China, in Spain and in Japan. International trend and technology scouting is also part of the mission, along with addressing topics related to specific regions. The second level in the network of Volkswagen Group Research is formed by numerous cooperative ventures with teaching and research institutions all around the world. Prestigious universities in the USA and China, including Stanford and Tongji, are also integrated in projects, as are the Fraunhofer Society, the German Aerospace Centre (DLR) and the Max-Planck Institutes.
Consistent Cooperation with the Brands
'Cooperation and collaboration are core concepts for Volkswagen Research. This is not simply the case with external partners, but most importantly also with the 14 brands of the Group,' according to Head of Research Heinrich. Group Research is undoubtedly a visionary, trend identifier, ideas generator and incubator, but most importantly it is a driver for innovations. This role is always carried out in cooperation with other technical development areas – whether it is manifested as a cooperative project or as a mission for one or several brands of the Group. This applies to commercial vehicles like MAN or Scania and for automobile brands like Audi or Volkswagen. Many projects start with the proverbial blank sheet of paper, even though this generally equates to a blank screen in the modern world. Each project goes through a number of phases. Of course, the initial phase is scouting: What is the topic leading to? What is there relating to this topic elsewhere in the world? And what do we need in order to achieve our strategic targets? Stage two relates to research development: What paths will take us further? What technologies, devices, competences do we need to develop? Feasibility of implementation is phase three: Can the project be implemented for commercial use? What are the chances of success, where are difficulties and problems to be found? Stage four is finally the transfer, either to series development in one or several brands, or to a unit which will look after the issue for the entire Group. One example is autonomous driving. Volkswagen has a great deal of experience in this field. After all, the Group ranks among the pioneers in this area. As early as 2005, a team from Group Research was working together with a group of early-career specialists at Stanford University to upgrade a Volkswagen Touareg to the autonomous vehicle 'Stanley' – and this vehicle went on to win the Grand Challenge for Robot Automobiles in the American dessert. An autonomous Volkswagen Passat known as 'Junior' was the second fastest car at the Urban Challenge in 2007. Since then, knowledge and experience have been consistently gathered – and finally melded into the Sedric research vehicle that was presented at the Geneva Motor Show in 2017. Group Research is continuing to work on many individual projects related to autonomous driving. Group-wide management in this area has now been assumed by Audi Intelligent Driving GmbH in Munich. This is a newly established company of AUDI AG.
---
Trending News
Photo credit:
Volkswagen
posted on
conceptcarz.com
Loading............
Loading............
Loading............
Loading............
Loading............
Loading............
Loading............