1963 Ford Galaxie news, pictures, specifications, and information

Tweet
Sitting two inches lower than its 1962 forerunner, the 1963.5 'fastback' Galaxie was a reported 28 percent more aerodynamic - a fact that instantly translated into major success on NASCAR's superspeedways. Recognizing that the 'notchback' Galaxie profile was a veritable brick at high speeds, Ford's idea guys had tried to get away with attaching an optional 'Starlift' roof to the 1962 convertible to create a more swoopy shape for NASCAR competition. NASCAR rule moguls, however, didn't buy the idea, forcing Ford designers back to the drawing board. The result was this stylish, functional, mid-year bodystyle. To power the new fastback Galaxie, Ford engineers again beefed up the FE block, this time boring it out to 427 ci - at least that's what they said. Actual displacement computed to 425 ci, but Dearborn's image-makers apparently didn't want Ford's top performance powerplant to take a back seat to rival offerings. Seven liters, or roughly 427 ci, was the established legal limit for stock-class racing, and with a flick of a public relations pen the new 425 ci big-block was introduced tot he public as being right at that limit. Triple carbs were dropped for 1963 in favor of two big Holley four-barrels. Counting both the single-carb 410 hp and the dual-carb 425 hp versions, Ford sold 4,978 427-equipped models in 1963.
| | | | |
| --- | --- | --- | --- |
| | | | 500XL Series FastBack Coupe |
The '1963.5' Ford Put a Model Year Within a Model Year
Ford's sporty Galaxie 500XL series was introduced in mid-1962. The XL package included all the Galaxie 500 equipment plus a special bucket-seat interior with center floor console.

In mid-model-year 1963, Ford announced a 'faster' Galaxie two-door hardtop roofline. The new 'Sportsroof' replaced the 'Thunderbird roof' used on 1962 and early 1963 production Ford 2-door hardtops.

At the same time, Ford Ford bumped the optional 406 V8 to a full 427 cubic-inches. This was done to make the big Ford more competitive on the NASCAR tracks. It worked and Ford took home the 1963 NASCAR stock-car racing title.

This featured 1963.5 Galaxie 500XL Sportsroof is equipped with the optional 427 V8 package, which included a heavy-duty suspension and drivetrain, larger rear brakes and 15-inch wheels. The four-speed manual transmission was a mandatory $188 option with the 427.
Holman & Moody Fastback Coupe
Chassis Num: C3HM10004

This 1963 1/2 Ford Galaxie Holman & Moody NASCAR Race Car is powered by a 427 cubic-inch FORD NASSCAR V8 engine delivering 450+ horsepower. There is a four-speed Ford top-loader transmission, a 9-inch Ford rear, and Full Holman-Moody NASCAR preparation including HD frame, suspension brakes, wheels and driver safety equipment.

The quest for better aerodynamic efficiency for its NASCAR race cars led Ford to the creation of an altered roofline for its 1963 Galaxie, well after the car's model year introduction. The combination of the new roofline, the knowledge and skill of race car builders Holman & Moody, and the new Ford 7-liter V8 made the cars nearly untouchable, especially when piloted by drivers like Dan Gurney. Gurney wrestled the big Galaxie around the Riverside, California, road course for a win in NASCAR's first-ever 500-mile road-course event in January, setting the stage for a Ford Grand National title win at season's end.

In the 1960s, NASCAR was an established commodity, but hardly the all encompassing corporate/cultural giant that exists today. In that era races were frequently sponsored by businesses and organizations that today could not afford a single race-time television commercial.


From 1963 to 1971, The Motor Trend 500, named after the sponsoring magazine, was held at the now defunct Riverside International Raceway in California. This event was NASCAR's first-ever 500 mile road race.

Ford's NASCAR stocker for 1963 was the two-door version of the Galaxie. Prior to the introduction of the Mustang and the Torino, the Galaxie was one of Ford's most versatile competition cars, doing duty on both the oval track and the drag strip. A mid-year introduction, the new hardtop coupe body, also called a 'sports roof' coupe provided Galaxie buyers wîth a sleek new choice and Ford NASCAR teams wîth an aerodynamic advantage. Únder the hood a powerful 427 cubic-inch V8 engine gave Ford drivers just what they needed to put this car in victory lane on a regular basis.

Legendary racer Dan Gurney drove this car in the first Motor Trend 500. Owned and crewed by the Wood Brothers and prepped by the Ford performance tuning house of Holman and Moody, Gurney's Galaxie had the right combination. Gurney himself, while not a NASCAR regular, had years of professional experience in F1 Series and various road races, driving cars that turned both left and right. He also had plenty of victories. Gurney won the first Motor Trend 500; he followed it up wîth three more victories in a row (1963-1966) and a fourth in 1968. All of his stock car victories came at Riverside in a race he so dominated that those in the sport jokingly called it the 'Gurney 500.'


This car was restored to period correct condition by its current owners.

In 2010, the car was offered for sale at the Sports & Classics of Monterey presented by RM Auctions. It was estimated to sell for $150,000 - $200,000 and offered without reserve. As bidding came to a close, the car had been sold for the sum of $123,750 inclusive of buyer's premium.
Source - AACA Museum
| | | | |
| --- | --- | --- | --- |
| | | | 500XL Series Sunliner Convertible |
This 1963 Ford Galaxy 500 Convertible was once owned by country singer legend, George Jones. He has had more singles of major music charts than any other performer in any format and has won every big award including Grammy's. Even in his 70's he still plays about 70 sold out shows a year. He and his wife Nancy purchased this car in 1991 and owned it for several years. It is a solid Tennessee car that has nice paint, chrome and interior. It is equipped with a 352 V8 engine and an automatic gearbox. It is painted in Counthian white with a blue interior. Options and accessories include power steering, power top, power brakes, fender skirts, and dual exhaust.
By Daniel Vaughan | May 2008
| | | |
| --- | --- | --- |
| | | 500XL Series FastBack Coupe |
R-Code Lightweight
Built by Ford Motor Company in Norfolk, orders for option AS-225-39D began February 26, 1963. Lightweights started out as a Corinthian White 63B Special hardtop Tudor Sedan with a 289 cubic-inch engine and standard transmission assembled on a lightweight Ford 300 chassis.

Special factory specifications included fiberglass fenders, deck lid, hood, aluminum bumpers, brackets in front, lightweight bucket seats, lightened 300 series chassis; no heat, radio or air conditioning. The weight is 3,325 pounds. The engine is a 427 cubic-inch V8 that develops 425 horsepower at 6,000 RPM. This Galaxie is capable of 0 to 60 in 6.9 seconds and does the quarter mile in 14.9 seconds at 96 mph; and has a top speed of 135 mph. Production was 212.
| | |
| --- | --- |
| | 500XL Series FastBack Coupe |
This is an authentic replica of the famous Curtis Turner stock car that terrorized the tracks in Ford's Total Performance year. Curtis Turner was known as NASCAR's first bad boy. This car features all the right stuff just as Curtis Turner would have raced back in the day. Holman and Moody suspension, roll cage, authentic helmet and most of all a fully professionally built 427 cubic-inch Ford side oiler engine and 4-speed manual transmission. the engine had been dyno'd at over 455 horsepower. The previous owner installed 2x4 carburetion. The car was built from a solid C code car. It comes with racing tires, 2 sets of rims, fully functional windows, dirt track screen, fuel cell and battery in the trunk and more. The previous owner has run this car at Daytona, Charlotte, Darlington and New Hampshire. The car was specially invited for display at the All-Ford Nationals in Carlise, PA and the 100th Anniversary of Ford. It was also used in NASCAR commercials on television.
| | | | |
| --- | --- | --- | --- |
| | | | 500XL Series FastBack Coupe |
In the early 1960s, Ford attempted to win races by using a powerful, lightweight car, in hopes of outperforming Chevy and Chrysler on the track and in the showroom. Chevrolet had introduced their Z-11, so Ford introduced the 'Factory Lightweight.' Most of these cars were built in Atlanta, Georgia with a few in L.A. They were built on the Galaxie line with modified aluminum bodies with Spartan interiors, meaning there was no heater, no radio, and no frills.

The base 1963 Galaxie had a large motor, but was still too heavy. Only a few lightweight Ford Galaxie models with the 427 motor were produced by the factory. During the early 1960s, Chevrolet dominated the race wars, but with the introduction of the lightweight models, Ford was starting to gain back ground.

The Factory Lightweight cars remain as some of the most desirable cars from those early drag racing years.
| | | | |
| --- | --- | --- | --- |
| | | | 500XL Series FastBack Coupe |
Already proving itself during the 1963 NASCAR Championship, which they subsequently won, Ford ordered the construction of approximately 200 lightweight Galaxie 500s mid-year intended for drag racing. The R-Code cars featured Ford's dual-quad 427 V8 with close to 425 horsepower. Ford's Merchandising Manager, one V.P. Motto, issued a memo calling for the construction of this car - added to the big-block 427 was an aluminum-case Borg-Warner T-10 4-speed, fiberglass body panels bolted to a lightened steel frame, aluminum bumpers and a stripped out interior, and a raft of delete options, such as the heater. All but one car was delivered new in Corinthian White with code 95 red vinyl interior.
During the early 1960s, auto manufacturers went head-to-head on the nation's drag strips, NASCAR ovals, and road-racing circuits. Companies like Ford, General Motors, and Chrysler Corporation stuffed the largest-possible engines into their full-sized two-door models to create true performance versions. To meet FIA and NASCAR displacement rules, these powerful motors were limited to seven liters, or just over 427 cubic-inches. Dodge and Plymouth created a 426-inch motor, Pontiac built their 421s, and 427s from Chevrolet and Ford.

Along with large engines, the companies also reduced the sedan's weight, trying to reduce every possible pound. The 1963½ Ford Galaxie 500 Lightweight 'Sportsroof' hardtop was Ford's response, built on lighter frames intended for a 300-series sedan, and utilizing various heavy-duty brake and suspension components in addition to lightweight panels. The R-Code Galaxie Lightweight is thought to be the only full-sized Ford to obtain FIA Homologation. The lightweight galaxies competed in several disciplines, from NHRA drag racing and NASCAR competition, to road racing in touring car classes in the United Kingdom, Australian and South Africa.

This example is one of only 212 built to drag racing specification at the direction of Ford's Merchandising Department. Power comes from a correct R-Code 427 cubic-inch NASCAR V8 engine with dual Holley four-barrel carburetors, solid lifters, and cast-iron headers developing 425 horsepower. There is a Borg-Warner aluminum-cased T-10 four-speed transmission, RC Industries NHRA-approved aluminum bell-housing, stiffer springs and shocks, Ford Police Interceptor rear axle with 4:11 gears, Interceptor heavy-duty drum brakes, steel 5.5 x 15-inch Kelsey-Hayes Interceptor wheels with 'dog-dish' hubcaps, a fiberglass hood, front fenders and inner fenders, aluminum bumpers and mounting brackets, and Bostrom 'Thin-line' lightweight bucket seats.

The normal carpeting has been replaced with simple rubber floormats. There are delete plates where the heater and radio once rested. The interior roof supports, dome lamp, and armrests were also deleted. There are no springs to support the hood. Even the back-up lights and rear-view mirrors were deleted in the interest of reducing weight.

It is believed the car was delivered to a Ford dealership in Hawaii where it would remain unsold. This was understandable as there were few racing opportunities for the car. Eventually, the Galaxie found a buyer, but the customer apparently didn't roll up many miles; the odometer reads a mere 6.9, although it is not known if this is an accurate figure. When it was discovered and purchased from the second owner in the early 2000s, both the engine and transmission were missing from the otherwise quite complete chassis. There is a correct R-Code 427 ci/425hp engine and T-10 transmission were acquired from a donor car, and along with the rear axle, were rebuilt by Garage Motorsports in Vancouver, Washington as part of a thorough, six-year, bare-frame restoration. The body was repainted in its original color of Corinthian White and retains its original factory-applied 'For Racing Use Only' disclaimer label inside the glove box.
By Daniel Vaughan | Nov 2013
This 1963 Ford Galaxie 500 Hardtop has the 390 CI engine mated to a 4-speed gearbox, period mag wheels and tires, and power disc brakes. It has been given a body-off restoration and the frame has been powder coated.
By Daniel Vaughan | Dec 2014
This 1963 Ford Galaxie 500XL Hardtop has the 390/330HP engine with an automatic transmission, a bright red exterior with a red and white interior, and factory aluminum wheels with knock-offs. It has an original AM push button radio and factory clock, and a 3000 RPM stall converter.
By Daniel Vaughan | Dec 2014
The Ford Galaxie entered the scene in 1959 and was offered in various configurations. The model line consisted of a Club Victoria, Town Victoria, Club Sedan, Town Sedan, Sunliner Convertible and Skyliner Retractable. Similar to the Fairlane, they were distinguished by differed ornamentation.

The highlight of the 1959 model line was the Skyliner Retractable that had an all-steel hardtop that could be moved via electrical mechanics into the trunk transforming the hardtop vehicle into a convertible in just sixty seconds.

The Galaxie was offered with optional equipment, transmissions and engine sizes. Air conditioning, Sunray multi-colored wheel covers, power front seats, power steering, power windows, and power brakes, were just a few of the options presented to satisfy the demands of the customers. The engines ranged from a 292 cubic-inch 8-cylinder producing 200 horsepower to a 352 cubic-inch power-plant that produced 300 horsepower. Transmission options were a three-speed with overdrive, Ford-O-matic Drive two speed automatic, and a three-speed Cruise-O-Matic drive automatic.

In 1960 Ford added the Starliner body style to the Galaxie model line-up. The Starliner was void of door posts which accented the open-air effect. A Country Squire wagon with wood-grain body trim was now offered. All of the series received new body-lines giving the vehicles a more-modern and stylish appearance, again, sharing a similar body design with the Fairlane.

There were five engine options to chose from, ranging from the 223 cubic-inch Mileage Maker Six-Cylinder to a 352 cubic-inch V8 complete with four-barrel carburetor and 360 horsepower. The three-speed manual transmission came as standard equipment; optional were the Fordomatic Drive two-speed auto, and three-speed Cruise-O-Matic Drive.

For 1961, Ford redesigned the Galaxie which resulted in awards from the international fashion authority, Centro per L'Alta Moda Italiana, meaning 'functional expression of classic beauty'. Thirteen exterior colors were available to chose from, along with various sedan and wagon body styles. With multiple engine, transmission, available options, and body styles, the Ford Galaxie could be customized to suite any customers demands and wishes. The self-adjusting brakes and galvanized rust-protection body panels were standard, as was the Mileage Maker six-cylinder engine. The top-engine option was the 390 cubic-inch High-Performance 8-cylinder engine with three-carburetors and 400 horsepower. A Thunderbird 352 cubic-inch engine was available and could be modified to produce more than the base 220 horsepower.

In 1962 the biggest aesthetic difference over the 1961 model was the modifications that were done to the grill. The interior was adorned in more luxurious items and this was evident in the 500 XL models. In total, there were 14 different body-styles to select that ranged from sedans and convertibles, to wagons. Five engines were available with the 406 cubic-inc Super High Performance 8-cylinder power-plant producing 405 horsepower. If that wasn't enough, there were over 45 color keyed interior trims to select from. The Galaxie was becoming a customizable, luxurious, performance machine.

For 1963 the horsepower increased to an astonishing 425. Transmission options were a Synchro-Smooth column-shift, 4-speed manual Fordomatic Drive automatic, and Cruise-O-Matic three speed automatic. Ford continued to offer a multitude of options and bodystyles. The Galaxie 500XL was still the most luxurious offering that could be had in two or four doors. The Galaxie was given a sportier roof line and various aesthetic enhancements.

In 1964, there were sixteen bodystyles to choose from that again ranged from sedans to wagons, and hardtop to convertibles. The interior received the most attention with its new trim but the exterior did receive a new grill and panel design. There were a limited number of Galaxies fitted with the 427 cubic-inch engine and given fiberglass race equipment to help reduce the overall weight of the vehicle. These lightweight machines are legendary both in design and their accomplishments on the racing circuit.

In 1965, Ford redesigned the Galaxie, giving it a wider stance, and dual vertical stacked headlights. The base engine was the six-cylinder 240 cubic-inch engine. The top-of-the-line engine was the 427 with 425 horsepower.

In 1966 Ford introduced the 428 cubic-inch engine which came standard on the Galaxie 7 Liter model. The LTD model had a unique appearance, ornamentation, and trim. The Galaxie 500XL, Galaxie 500, and Custom 500 made up the Ford Galaxie model offerings. Again, these could be ordered in various sedans, wagons, hardtop, convertible, four or two-door configurations. Multiple options were still available, including engine, transmission, power disc brakes, power windows, power seats, vinyl room, power steering, air conditioning and more.

For 1967 Ford kept the appearance of the Galaxie similar to the prior model year. The turn signals were moved from the grill to the bumper. Ford offered 52 upholstery choices, 25 two-tone combinations, and 15 Diamond Luster Enamel paint colors. The muscle-car era was in full-swing and the Ford Galaxie was a formidable contender with its powerful engines and performance products. Its only drawbacks were it slightly larger size and luxurious amenities which were not as pure as other muscle-car offerings and added to the overall weight of the vehicle. Still, it was a high-performance, customizable, and sporty machine.

In 1968 the Galaxie was redesigned. The base model was the Ford Custom 500, available in two or four door variations. The XL was void of the Galaxie name, available in convertible or fastback configuration. The dual headlamps could be concealed when not in use in the XL, LTD and Country Squire models. Six engine options were available. Transmission options were a three-speed Cruise-O-Matic, floor-shift four-speed manual, and a three-speed manual.

In 1969 Ford moved the Galaxie higher into the luxury car segment, making it larger, heavier, and wider. The result was more room for the passengers. This trend continued into 1970 when the vehicle grew even larger. The focus was a large but quiet automobile. In total, there were 21 new models to select from ranging from three LTD Broughams, two XL models, six Galaxie 500 models, and five LTD models. The models ranged in bodystyles that consisted of two and four door configuration, hardtop, convertible, and sports-roof. Due to rising government safety and emission concerns, the horsepower rating on the engines were decreasing. The base engine was the 240 cubic-inch six cylinder engine while the four-barrel carburetor 429 cubic-inch engine produced 360 horsepower. There were three transmissions available including the three-speed manual, four-speed floor shift, and the three-speed Select Shift Cruise-O-Matic.

The goal of large, quiet, and comfortable continued in 1971 and on through 1972. Safety and comfort were big concerns for many people and the Galaxie was poised to address those concerns. It featured spacious interiors and more steel than most automobiles. Rising emission and safety concerns continued to deteriorate the horsepower. There were still multiple engines to choose from and plenty of optional equipment to satisfy all demands.
By Daniel Vaughan | May 2009
For more information and related vehicles, click
here
GREG BIFFLE GIVES FORD MOTOR COMPANY 1,000TH NASCAR VICTORY AFTER WINNING AT MICHIGAN INTERNATIONAL SPEEDWAY
◾Ford Motor Company has won 1,000 NASCAR races in the Sprint Cup, Nationwide and Camping World Truck Series combined. ◾Jim Roper won the very first NASCAR-sanctioned stock car race in a Lincoln when he was deemed the winner at Charlotte on June 19, 1949. ◾Ford Motor Company has won 20 manufacturer titles and 13 driver championships in NASCAR's top three series. DEARBORN, MI, (June 16, 2013) – Henry Ford's win over Alexander Winton on Oct. 10, 1901 in what proved to be his only race a...[Read more...]
Barrett-Jackson Flavors Its January Scottsdale Auction With NASCAR Treats
• RACING HERITAGE, HIGH PERFORMANCE ARE RECIPES FOR CAR-COLLECTING FEAST
• SPEED™ SET FOR 39 HOURS of LIVE COVERAGE STARTING JAN. 15
The great Henry Ford once said, 'Auto racing began five minutes after the second car was built.' And for more than 60 years, there are few entities that better represent auto racing in America than NASCAR. From the hallowed grounds of Daytona International Speedway, to Sonoma, California's intricate and picturesque road course, the sp...[Read more...]
Lee Holman, Holman & Moody to be Honored at 2013 Pinehurst Concours d'Elegance
- Legendary North Carolina-based motorsports organization featured in special display, lifetime achievement award to Lee Holman - Just saying the name of Charlotte, NC-based Holman & Moody conjures up some of the most exciting motorsports moments in history – in NASCAR, Le Mans, Drag Racing and Rallying. To put an exclamation point on their accomplishments, the inaugural Pinehurst Concours d'Elegance will honor Lee Holman with the first-ever 'Pinehurst Concours Lifetime Achievement A...[Read more...]
Limited-Edition Ford Racing History Artwork Unveiled at SEMA; Limited-Edition Print Sales to Benefit JDRF
•Special limited-edition Ford Racing history artwork is unveiled at the annual SEMA show as part of the Ford press conference •Famed automotive artist Sam Bass created the artwork at the request of Edsel B. Ford II, with proceeds from sales of limited-edition autographed prints benefiting JDRF •Drivers and Ford race vehicles featured on the special artwork include Henry Ford (Sweepstakes), Trevor Bayne (No. 21 Fusion), Dan Gurney/A.J. Foyt (Ford Mark IV), Bob Glidden (NHRA Thunderbird), Jack...[Read more...]
1967 Can-Am Road America: The Beginning of the 'Bruce and Denny Show'
While Formula One will be forever considered the pinnacle of motorsport, from a period between 1966 and 1986 there existed a series that would likely be the closest to 'anything goes' as any motor racing series could truly get. Based upon the FIA Group 7 cars but allowed to showcase unlimited engine sizes and unfettered aerodynamics, the Can-Am cars would have to be considered the pinnacle of motorsport technology and power of their era. And for more than a couple of years there would be one tea...[Read more...]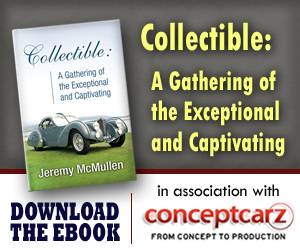 Ford
Monthly Sales Figures
Volume
December 2014
209,679
November 2014
178,221
October 2014
179,014
September 2014
172,261
August 2014
214,028
July 2014
204,373
June 2014
214,793
May 2014
244,501
April 2014
203,552
March 2014
235,198
February 2014
177,286
January 2014
148,671
(More Details)
© 1998-2014. All rights reserved. The material may not be published, broadcast, rewritten, or redistributed.