1936 Buick Series 80 Roadmaster news, pictures, specifications, and information

Tweet
Convertible Phaeton
Chassis Num: 83281466

From very early on, General Motors, as well as many other marques, have been trying to keep automobile buyers buying from the same family of vehicles. In the post World War II, GM's family of vehicles began with the low-cost Chevrolet vehicles. Next on the budget rung was the Pontiac, followed by Oldsmobile, Buick, LaSalle and Cadillac. Cadillac vehicles were the most expensive and prestigious vehicles produced by GM at this time, though some of the other GM companies provided some stiff competition in terms of style, prestige, cost, performance, and allure. Buick's lineup began at $900 and went all the way up to $2300. There were four series available, the Special, Century, Roadmaster, and Limited. Within each of these Series, there were additional bodystyles and options to select from. Within the Roadmaster Series, the car could be purchased as a phaeton, formal sedan, and trunk back sedan. Prices ranged from $1500 to $1850. The most expensive Roadmaster bodystyle was the six-passenger phaeton.

The Roadmaster was powered by an eight-cylinder overhead valve engine that displaced 320 cubic-inches and produced an impressive 130 horsepower. There was a three-speed manual gearbox with a floor-mounted gearshift. Hydraulic drum brakes could be found on all four corners of the vehicle.

This example has traveled nearly 79,000 miles since new. It has been treated to an engine rebuild with the rest of the vehicle being mostly unrestored and in original condition. It was given a repaint in navy blue with the interior being of gray wool. This car was offered for sale at the 2006 Bonhams & Butterfields auction held at the Quail Lodge in Carmel, California where it was estimated to sell between $18,000 - $22,000. That estimate proved to be nearly accurate, as the car was sold for $17,550.
By Daniel Vaughan | May 2007
1936 was the first year that Buick automobiles were identified by model name as well as number with the advent of Special, Century, Roadmaster and Limited. Hydraulic brakes also became standard equipment on the Buicks. America responded well with the new styling and sales began to escalate, tripling the prior year's total.

This 1936 Buick Series 80 Town Car wears coachwork by Brewster and Company. It rides on the chassis of the top-of-the-line Buick Roadmaster platform and fitted with an eight-cylinder OHV engine that produces 120 BHP. It is a one-off design and has been accepted as a Full Classic by the Classic Car Club of America. It won an award at the 2006 Newport Beach Concours d'Elegance and won a preservation class award at the Meadow Brook Concours.

In 2009, this Brewster Town Car was offered for sale at the Gooding & Company auction in Scottsdale, Arizona. The car was estimated to sell for $75,000 - $100,000 and was offered without reserve. The lot was sold for a high bid of $57,200, including buyer's premium.
By Daniel Vaughan | Apr 2009
This Buick Series 80 is believed to wear a Brewster body and is highly original, including most of its exterior paint and the rear compartment and trim. The front compartment has been reupholstered. The vehicle is outfitted with vanities, including assist straps and radio controls in the rear compartment, jump seats, a sliding glass division window and a buzzer to alert the chauffeur. The car rides on wide whitewall tires, wheel trim rings, a trunk rack and dual covered side-mounts with mirrors.

The car has been shown at the Meadow Brook Concours d'Elegance and is a Preservation Class winner at the Classic Car Club of America.

In 2010, this Roadmaster Town Car was offered for sale at the Vintage Motor Cars of Meadow Brook event presented by RM Auctions. The car was estimated to sell for $65,000 - $85,000. As bidding came to a close, the car had been sold for the sum of $50,000, including buyer's premium.
By Daniel Vaughan | Aug 2010
The Roadmaster named first appeared on Buick automobiles in 1936 as a celebration of their engineering improvements and advancements in design. The Buick Series 80 became known as the Roadmaster. The Roadmasters were built on the longest wheelbase Buick had to offer. From 1946 through 1957 they were the most elegant and prestigious automobiles that Buick sold.

From 1936 through 1948 the Roadmaster appeared in coupe, sedan, convertible and station wagon bodystyles. A hardtop coupe was added in 1949 and dubbed the Riviera.

The Roadmaster named reappeared in 1991 and continued in production until 1996. It served as a replacement for the Electra model line and offered as an Estate Wagon. A sedan was introduced in 1992.

The end of the 1953 Buick Roadmaster station wagon meant the end of the last wood-bodied station wagon to be mass-produced in the United States. In 1996, the end of the Buick Roadmaster Estate Wagon meant the end of the full-size family station wagons.
By Daniel Vaughan | Mar 2006
For more information and related vehicles, click
here
The First McLaren F1 GTR Longtail Race Winner Leads Gooding & Company's January Offerings
SANTA MONICA, Calif. (December 18, 2013) – Gooding & Company is thrilled to announce that an exceptional collector competition car has been added to its Scottsdale Auctions on January 17 and 18. The most successful 1997 McLaren F1 GTR Longtail, 021R, finished in stunning white, blue and red FINA livery (estimate: $5,000,000-7,000,000) will proudly drive over Gooding & Company's auction stage as one of many premier offerings. The auction commences at 11 a.m. at Scottsdale Fashion Square ea...[Read more...]
Auctions America Continues Successful 2013 Season with its Annual Fall Carlisle Sale
• Auctions America rounds out its 2013 auction season in Carlisle, Pennsylvania, October 3-4 • Two-day Fall Carlisle sale, held in conjunction with the Carlisle Events Collector Car Swap Meet & Corral, features a diverse roster of 300 classics, exotics, muscle cars, hot rods, and customs • Auction highlights include a desirable 1967 Chevrolet Corvette 427/435 Roadster, a 1969 Chevrolet Camaro Z-28 RS Sport Coupe, and a 1960 Mercedes-Benz 190SL Roadster • Full event details and a frequentl...[Read more...]
Extremely Significant, Early Shelby Cobra Roadster an Exceptional and Early Headline Consignment to Russo and Steele's Upcoming Monterey Auction
Scottsdale, Arizona – With his AC Ace-derived, Ford-powered Cobra, Carroll Shelby and his racing team spearheaded Ford's 'Total Performance' campaign of the 1960s on the world stage and ended Ferrari's dominance of the World Sportscar Championship for GT cars by 1965. This stellar example, CSX2012, is particularly significant as the first Cobra sold to the public from Shelby American's West Coast operations in Venice, California. With highly documented and fascinating history including its...[Read more...]
Barrett-Jackson Flavors Its January Scottsdale Auction With NASCAR Treats
• RACING HERITAGE, HIGH PERFORMANCE ARE RECIPES FOR CAR-COLLECTING FEAST
• SPEED™ SET FOR 39 HOURS of LIVE COVERAGE STARTING JAN. 15
The great Henry Ford once said, 'Auto racing began five minutes after the second car was built.' And for more than 60 years, there are few entities that better represent auto racing in America than NASCAR. From the hallowed grounds of Daytona International Speedway, to Sonoma, California's intricate and picturesque road course, the sp...[Read more...]
Russo and Steele Monterey Moves to Ocean Front Property
The 12th Annual Sports and Muscle in Monterey auction held by Russo and Steele Collector Automobile Auctions has announced that it's moving its venue to the waterfront remaining at the epicenter of the classic car week. Russo and Steele will feature 250 of the highest quality, collectible automobiles offered for auction over three days, August 16-18th, 2012. The new, dramatic coastal backdrop will provide a spectacular environment for its all new Monterey auction transformation. The new lo...[Read more...]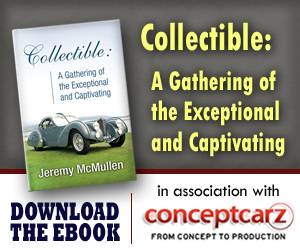 Similarly Priced Vehicles from 1936
Lincoln Zephyr ($1,280-$1,320)
Packard Model 120B ($990-$1,395)
Auburn 852 ($188-$2,245)
Packard Model 120 ($995-$1,400)
Chrysler Imperial Airflow C10 ($1,475-$1,475)
LaSalle Series 36-50 ($1,175-$1,255)
Chrysler Airflow ($1,345-$1,345)

Average Auction Sale: $53,000
Buick
Monthly Sales Figures
Volume
September 2014
17,466
August 2014
22,143
July 2014
17,683
June 2014
21,403
May 2014
19,957
April 2014
19,214
March 2014
20,428
February 2014
19,192
January 2014
13,278
December 2013
15,379
November 2013
15,072
October 2013
17,555
(More Details)
© 1998-2014. All rights reserved. The material may not be published, broadcast, rewritten, or redistributed.