1959 Fiat Jolly 600 news, pictures, specifications, and information

Tweet
The legendary coachbuilder Ghia created the iconic Jolly on a chassis supplied by Fiat. It was suitable for leisure duties such as on golf course greens, yacht decks, or at a resort. They were made famous by the 1970s television series 'Fantasy Island'. These vehicles are considered micro-cars and are powered by two-cylinder 497cc engines which give it a dangerous top speed of 55 miles per hour. Fuel economy is exceptional at 52 mpg. The inside features wicker seats and there is a surrey top.

The 600 Series is actually a 'high performance' Jolly as most were given the Fiat 500 drive-train. These had slightly larger bodies and water-cooled four-cylinder engines. Top speed was in the neighborhood of 60 mph. Other refinements included an optional working heater. All of this cost nearly double that of standard '500' and much more than the normal Jolly 500. As would be expected, production was limited and it is believed that fewer than 100 exist today.

32 Jolly cars were used as taxis on the island of Catalina off the coast of Los Angeles from 1958 - 1962.

This example is a rare original California Jolly that has been given a thorough restoration. It is refinished in blue with white accents, has new wicker seats, carpeting and surrey top. The 600cc overhead valve four-cylinder water cooled engine is capable of producing 21.5 bhp. There is a four-speed manual transmission, four-wheel drum brakes, and four-wheel leaf springs.

In 2008, this vehicle was offered for sale at the 'Sports & Classics of Monterey' presented by RM Auctions where it had an estimated value of $50,000 - $60,000. It was offered without reserve and sold for a high bid of $68,750 including buyer's premium.
By Daniel Vaughan | Jan 2009
Fiat chairman Gianni Agnelli was the individual responsible for the Jolly. He wished for an open motorized transport to launch from his 82-foot ketch, the Agneta, during port stops along the Mediterranean coast. The four-cylinder Fiat 600 model was chosen and Agnelli soon arranged to have a car sent to Ghia for a re-body.

Agnelli requested the doors and roof be removed, and wicker seats be installed, along with a removable awning top. The finished car was called 'Jolly de Plague,' or Joker of the Beach. A small run of 600 series Jollys were ordered, and possibly not exceeding 200 examples. These were soon complemented by a brief run of Jollys built on the smaller 500 model.

A batch of 30 examples were reputedly once delivered to Southern California's Santa Catalina Island for rental purposes.

Chassis Number 438635
Little is known of the early life of this restored Jolly. By the late 2000s the car was in the care of a Malibu, California-based enthusiast. The owner commissioned a nut-and-bolt restoration. Around $65,000 was spent to refurbish the car. The car has completed just over 52 post-restoration miles.

Power is from a 633cc overhead valve four-cylinder engine single Downdraft carburetor offering 28 horsepower. There is a four-speed manual gearbox and four-wheel hydraulic drum brakes.
By Daniel Vaughan | Dec 2013
The Fiat 500 Topolino gave way to a new 600 model in 1955. The new car, just like its predecessor, was named for its nominal displacement. Power was from a 633 cubic-centimeter overhead-valve, water-cooled inline four-cylinder engine which was a useful increase in power over the two-cylinder 500. The Fiat 600 had a unibody construction for lightweight rigidity and four-wheel independent suspension riding on the same 2,000 millimeter wheelbase as the 500.

Production of the Fiat 600 lasted for 15 years with more than 2.5 million built.

Fiat's chairman Gianni Agnelli, the father of the Jolly, desired a small car to carry aboard his 82-foot ketch, the Agneta, during port stops in the Mediterranean Sea. The first Jollys were built on the two-cylinder Fiat 500 platform and modified by the Italian coachbuilder Ghia. The roof and doors were removed and wicker seats were added. A fringed surrey top was installed providing adequate cover from the elements.

A new version of the Jolly soon found its way onto the larger 600. It is estimated that about 400 examples were built, of all types, between 1958 and 1969. They were briefly sold in the United States and still remain rare in modern times.

This example has been given a no-expense-spared restoration. It spent a period of time in California; the current owner has kept the car at his second residence in Hilton Head, South Carolina where it has been properly stored in a climate-controlled garage. The odometer shows fewer than 5,000 kilometers.
By Daniel Vaughan | Apr 2014
Over a 14 year period, beginning in 1955, over 2.5 million examples of the Fiat 600 were produced. Between 1958 and 1969, fewer than 200 Jollys were built - the creation of designer Dante Giacosa of Carrozzeria Ghia. The Jolly cost nearly double the price of a standard Fiat 600. It is believed that fewer than 100 examples have survived.

This example was built in 1959 and shipped to Miami-Dade County in Florida, where it was registered until 1964. It was recently discovered in a Chattanooga, Tennessee barn. At the time it had around 5,000 km on its odometer, complete with Italian license plate. The car has been in single family ownership for approximately 39 years and was last road registered in 1974.

The current owner acquired this 600 Jolly in May of 2013. A restoration to factory specifications soon followed, finishing the car in the optional pastel salmon exterior color.
By Daniel Vaughan | Oct 2014
The Fiat 600 was a small and inexpensive automobile that was easy to produce. It was introduced to the public at the Geneva Motorshow in 1955. The automobile was capable of transporting up to six individuals. During its production lifespan lasting from 1955 through 1969 nearly 2.7 million examples were produced.

The introductory saloon model featured two doors and four seats. The base engine was a 633 cc water-cooled four-cylinder power-plant capable of producing nearly 22 horsepower. The engine was located behind the rear seats and drove the rear wheels. The suspension was independent and featured monocoque construction. A four-speed manual gearbox with cable operated clutch was standard. The combined dry weight of the vehicle was just over 580 kg.

The following year two more versions were introduced, the Multipla and a version with a full-length canvas roof. The Multipla had three rows of seats and could accommodate up to six people. The four back seats could be folded into the floor, exposing a large cargo area.

In 1960 the 600D was introduced and featured a 767 cc engine now rated at nearly 30 horsepower. Various aesthetic and mechanical improvements were added. In 1964 the front doors were now hinged and in 1965 the 600D received a larger fuel tank and new headlights.

The Fiat 600 helped mobilize the entire Italian country and is considered an economical phenomenon.
By Daniel Vaughan | Apr 2008
RM Auctions and Sotheby's Stun the Market with Incredible $63 Million 'Art of the Automobile' Sale in New York
• RM Auctions and Sotheby's momentous Art of the Automobile auction generates $62,797,500 of sales in two hours of furious bidding • Records tumble with the historic 1964 Ferrari 250 LM by Carrozzeria Scaglietti achieving $14,300,000 while the stunning 1938 Talbot-Lago T150-C SS Teardrop Cabriolet by Figoni et Falaschi sells for $7,150,000 • 93 percent of all lots sold to an international audience of bidders representing 17 countries • Full results are available online at www.rmauctions.c...[Read more...]
Holden Celebrates 35 Years of Commodore
Holden is celebrating the 35th anniversary of its most iconic nameplate, Commodore. For over three decades, the Holden Commodore has delivered significant advances in vehicle performance, safety and comfort on the way to becoming Holden's longest-standing and most successful nameplate. Holden Executive Director, Vehicle Sales, Service and Marketing, Phil Brook, said Holden was extremely proud of Commodore's success. 'There are not many nameplates in Australia that can lay claim to a ric...[Read more...]
2013 LA AUTO SHOW® HOSTS INAUGURAL MPG MOTORING INVITATIONAL PRESENTED BY FORZA MOTORSPORT 5 AND XBOX ONE
◾Top Collectors and Celebrities to Display More Than 60 Unique Vehicles on November 20 ◾More than 60 historic and unique vehicles to be displayed at Gilbert Lindsay Plaza ◾Influential icons, influencers, tastemakers, luminaries, collectors and celebrities to participate ◾The Motor Press Guild will announce its two Innovative Vehicle of the Year Awards at 7:30 AM ◾First-of-its-kind gathering for an international auto show ◾Event replaces the LA Auto Show's traditional opening keynote L...[Read more...]
The Fox Body Mustang: A Return To Form
'Thou shall never do a slantback front end.' That was the commandment from Gene Bordinat, Ford's vice president of design, 'Henry Ford II only wants vertical front ends, and he'll show us the door if we ever try anything like it.' This mantra hung over the early development of the third-generation of Ford's wildly successful Mustang. In 1975 Ford designers began the job of redesigning the iconic pony car for the coming 1980s. The car and country had been through a roller coaster 20-year perio...[Read more...]
Volkswagen Celebrates 60 Years Of The Karmann Ghia
◾Volkswagen Karmann Ghia prototype shown internally in 1953 ◾Osnabrück-made sportster started the Volkswagen brand's move upmarket Wolfsburg, August 20, 2013 – Thanks to the Karmann Ghia, Volkswagen had a car in the mid-1950s in its line-up that was positioned above the Beetle, allowing the company to appeal to a broader customer base. It is now 60 years since that prototype was shown internally, on the occasion of the Paris Motor Show. The car went into full production in 1955. Today...[Read more...]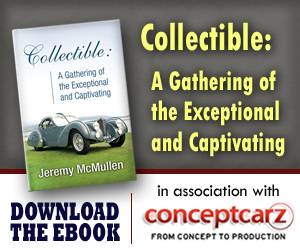 Fiat
Monthly Sales Figures
Volume
December 2014
3,784
November 2014
3,111
October 2014
3,725
September 2014
3,360
August 2014
3,362
July 2014
3,807
June 2014
4,478
May 2014
4,771
April 2014
4,298
March 2014
4,738
February 2014
3,465
January 2014
3,222
(More Details)
© 1998-2014. All rights reserved. The material may not be published, broadcast, rewritten, or redistributed.