1959 Fiat Jolly 600 news, pictures, specifications, and information

Tweet
The legendary coachbuilder Ghia created the iconic Jolly on a chassis supplied by Fiat. It was suitable for leisure duties such as on golf course greens, yacht decks, or at a resort. They were made famous by the 1970s television series 'Fantasy Island'. These vehicles are considered micro-cars and are powered by two-cylinder 497cc engines which give it a dangerous top speed of 55 miles per hour. Fuel economy is exceptional at 52 mpg. The inside features wicker seats and there is a surrey top.

The 600 Series is actually a 'high performance' Jolly as most were given the Fiat 500 drive-train. These had slightly larger bodies and water-cooled four-cylinder engines. Top speed was in the neighborhood of 60 mph. Other refinements included an optional working heater. All of this cost nearly double that of standard '500' and much more than the normal Jolly 500. As would be expected, production was limited and it is believed that fewer than 100 exist today.

32 Jolly cars were used as taxis on the island of Catalina off the coast of Los Angeles from 1958 - 1962.

This example is a rare original California Jolly that has been given a thorough restoration. It is refinished in blue with white accents, has new wicker seats, carpeting and surrey top. The 600cc overhead valve four-cylinder water cooled engine is capable of producing 21.5 bhp. There is a four-speed manual transmission, four-wheel drum brakes, and four-wheel leaf springs.

In 2008, this vehicle was offered for sale at the 'Sports & Classics of Monterey' presented by RM Auctions where it had an estimated value of $50,000 - $60,000. It was offered without reserve and sold for a high bid of $68,750 including buyer's premium.
By Daniel Vaughan | Jan 2009
Fiat chairman Gianni Agnelli was the individual responsible for the Jolly. He wished for an open motorized transport to launch from his 82-foot ketch, the Agneta, during port stops along the Mediterranean coast. The four-cylinder Fiat 600 model was chosen and Agnelli soon arranged to have a car sent to Ghia for a re-body.

Agnelli requested the doors and roof be removed, and wicker seats be installed, along with a removable awning top. The finished car was called 'Jolly de Plague,' or Joker of the Beach. A small run of 600 series Jollys were ordered, and possibly not exceeding 200 examples. These were soon complemented by a brief run of Jollys built on the smaller 500 model.

A batch of 30 examples were reputedly once delivered to Southern California's Santa Catalina Island for rental purposes.

Chassis Number 438635
Little is known of the early life of this restored Jolly. By the late 2000s the car was in the care of a Malibu, California-based enthusiast. The owner commissioned a nut-and-bolt restoration. Around $65,000 was spent to refurbish the car. The car has completed just over 52 post-restoration miles.

Power is from a 633cc overhead valve four-cylinder engine single Downdraft carburetor offering 28 horsepower. There is a four-speed manual gearbox and four-wheel hydraulic drum brakes.
By Daniel Vaughan | Dec 2013
The Fiat 500 Topolino gave way to a new 600 model in 1955. The new car, just like its predecessor, was named for its nominal displacement. Power was from a 633 cubic-centimeter overhead-valve, water-cooled inline four-cylinder engine which was a useful increase in power over the two-cylinder 500. The Fiat 600 had a unibody construction for lightweight rigidity and four-wheel independent suspension riding on the same 2,000 millimeter wheelbase as the 500.

Production of the Fiat 600 lasted for 15 years with more than 2.5 million built.

Fiat's chairman Gianni Agnelli, the father of the Jolly, desired a small car to carry aboard his 82-foot ketch, the Agneta, during port stops in the Mediterranean Sea. The first Jollys were built on the two-cylinder Fiat 500 platform and modified by the Italian coachbuilder Ghia. The roof and doors were removed and wicker seats were added. A fringed surrey top was installed providing adequate cover from the elements.

A new version of the Jolly soon found its way onto the larger 600. It is estimated that about 400 examples were built, of all types, between 1958 and 1969. They were briefly sold in the United States and still remain rare in modern times.

This example has been given a no-expense-spared restoration. It spent a period of time in California; the current owner has kept the car at his second residence in Hilton Head, South Carolina where it has been properly stored in a climate-controlled garage. The odometer shows fewer than 5,000 kilometers.
By Daniel Vaughan | Apr 2014
The Fiat 600 was a small and inexpensive automobile that was easy to produce. It was introduced to the public at the Geneva Motorshow in 1955. The automobile was capable of transporting up to six individuals. During its production lifespan lasting from 1955 through 1969 nearly 2.7 million examples were produced.

The introductory saloon model featured two doors and four seats. The base engine was a 633 cc water-cooled four-cylinder power-plant capable of producing nearly 22 horsepower. The engine was located behind the rear seats and drove the rear wheels. The suspension was independent and featured monocoque construction. A four-speed manual gearbox with cable operated clutch was standard. The combined dry weight of the vehicle was just over 580 kg.

The following year two more versions were introduced, the Multipla and a version with a full-length canvas roof. The Multipla had three rows of seats and could accommodate up to six people. The four back seats could be folded into the floor, exposing a large cargo area.

In 1960 the 600D was introduced and featured a 767 cc engine now rated at nearly 30 horsepower. Various aesthetic and mechanical improvements were added. In 1964 the front doors were now hinged and in 1965 the 600D received a larger fuel tank and new headlights.

The Fiat 600 helped mobilize the entire Italian country and is considered an economical phenomenon.
By Daniel Vaughan | Apr 2008
RARE REUNION: CHRYSLER CONCEPT CARS GATHER AT AMELIA, 2014
Nine rare and important Chrysler Concept Cars from the forties, fifties and sixties will be presented together for the first time at the 19th annual Amelia Island Concours d'Elegance on March 9, 2014. From the two-seat Chrysler Thunderbolt roadster and the dual-cowl Chrysler Newport of 1941 through the radical 1963 Chrysler Turbine car, Amelia's Chrysler Concept Car Class shows the genesis of the styling and engineering philosophy that summoned Chrysler's industry-changing 'Forward Look...[Read more...]
LAND ROVER AT THE 2014 TORONTO AUTO SHOW
(MISSISSAUGA, ON) - February 13, 2014 - Land Rover will showcase its 2014 model year lineup at the 2014 Toronto Auto Show held February 14 to 23, 2014. The Range Rover Long-Wheelbase and the Range Rover Long-Wheelbase Autobiography edition will both be on display. The 2014 model year continues the most dynamic product development and introduction period in the brand's history. An all-new Range Rover Sport is introduced, based on the all-new aluminum-intensive Range Rover that debuted f...[Read more...]
Auctions America Readies for Highly Anticipated Spring Carlisle Collector Car Weekend
• Auctions America returns to Carlisle, Pennsylvania for its annual Spring Carlisle sale, April 25-26 • Two-day sale lifts the gavel on a diverse roster of approximately 300 quality collector cars • Notable highlights include a rare 1959 Chevrolet Corvette 'Big-Brake' Fuel-Injected Roadster, a 1970 Chevrolet Chevelle SS LS5 Convertible and a 1999 Bentley Azure Convertible • Sale held during Carlisle Events' highly anticipated Spring Carlisle Collector Car Swap Meet & Corral weekend, April 24...[Read more...]
VICARI AUCTION COMPANY OFFERS RARE '62 & '63 Z06 CORVETTES AT 2013 CRUISIN' NOCONA
In a recent rare find, two classic Chevrolet Corvettes (one '62 and one '63) - stored for decades-are being made available by the Vicari Auction Company. Both vehicles will cross the block during 2013 Cruisin' Nocona, a north Texas collector car auction and classic car poker cruise set for April 19th and 20th in historic Nocona, Texas. The Corvettes are virtually all-original, and have been stored in Texas by a classic-vehicle aficionado and collector since the 1980s. 'These...[Read more...]
Barrett-Jackson Flavors Its January Scottsdale Auction With NASCAR Treats
• RACING HERITAGE, HIGH PERFORMANCE ARE RECIPES FOR CAR-COLLECTING FEAST
• SPEED™ SET FOR 39 HOURS of LIVE COVERAGE STARTING JAN. 15
The great Henry Ford once said, 'Auto racing began five minutes after the second car was built.' And for more than 60 years, there are few entities that better represent auto racing in America than NASCAR. From the hallowed grounds of Daytona International Speedway, to Sonoma, California's intricate and picturesque road course, the sp...[Read more...]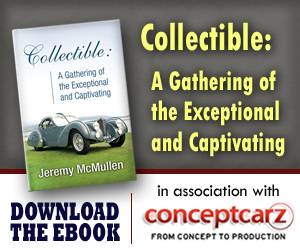 Fiat
Monthly Sales Figures
Volume
August 2014
3,362
July 2014
3,807
June 2014
4,478
May 2014
4,771
April 2014
4,298
March 2014
4,738
February 2014
3,465
January 2014
3,222
December 2013
3,745
November 2013
3,075
October 2013
3,674
September 2013
3,157
(More Details)
© 1998-2014. All rights reserved. The material may not be published, broadcast, rewritten, or redistributed.