1963 Pontiac Tempest news, pictures, specifications, and information

Tweet
In the summer of 1962, Pontiac was losing ground as the top dog in NASCAR and ÚSAC stock car racing. It had to make a bold move if it wanted to maintain its position as the automotive brand to beat. So, in hopes of a return to glory, Pontiac altered 1963 Tempests. Lighter and more powerful than their competitors, these Hemi Super Duty Tempests dominated the Altered Factory Experimental class of that year.

In January 1963, Pontiac sent six of these altered Tempests to the best Pontiac teams and drivers. Less than one month later, General Motors suspended all racing activity. No more of these Super Duty Tempests would be produced, at least in the near future.

As it turns out, Pontiac dealer Stan Long sold one of these impressive altered Tempests to Detroit racer Stan Antlocer. After retiring as the fastest Drag Car of 1963, it ended up in a Harrison, Michigan man's garage, and he eventually put the car up for bid on eBay. Little did he know that this rare car's bidding price would immediately skyrocket.


This car is one of only four 1963 Super Duty Tempest Lemans Coupes still in existence.
Source - Vehicle Owner
The 1963 Pontiac Tempest rested on the same wheelbase as the earlier Tempests, along with the same technical features, but they were now two inches wider and had grown in length by five inches. They wore a new 'coke bottle' design with more angular rooflines, a longer truck, split grille, and had wider wheel openings. In the back were dual vertical-stacked tail-lamps. They rode on 6.50 x 15 inch tires and came equipped with left-hand sun visors, electric wipers, turn signals, and a heater and defroster. Body styles included a hardtop coupe, coupe, sedan, custom convertible, and a station wagon.

Pontiac also produced the Tempest LeMans, which was listed as a separate series. They came equipped with dual sun visors, Deluxe steering wheel, custom interior, bucket seats, power convertible top, and a console. Body styles included a hardtop coupe and a Custom Convertible. In total, Pontiac produced 61,659 examples of the LeMans. 69,831 examples of the Series 21 Tempest were built.
By Daniel Vaughan | Mar 2014
An entry level compact automobile, the Pontiac Tempest was debuted in September of 1960 for the 1961 model year. The Tempest shared the new monocoque; unibody Y platform with the Oldsmobile F-85 and Cutlass and the Buick Skylark and Special. The platform also appeared under the LeMans nameplate mostly beginning with the '62 model year, though several '61 LeMans coupes were constructed. The platform was redesigned with a full frame in 1964 and renamed A-body. After the 1970 model year, the Tempest name was discontinued in favor of LeMans, a nameplate that had previously been used for up-market variations of that particular series.

The first generation was introduced in 1961 until 1963. Though the Tempest utilized some of Oldsmobile's sheet metal, underneath that it was completely different. The drivetrain inside the Tempest was employed by an innovative tunnel that measured almost the entire length of the vehicle and held a 3/4' flexible steel drive shaft running on bearings and rode inside a steel back that forced it into a curve while connecting the engine in the front to a unified differential and transmission in the rear.

The Tempest had a weight distribution close to 50/50 from the combination of the rear-mounted transaxle and the front-mounted engine between the forward and rear wheels. This enabled four-wheel independent suspension and had the added benefit of eliminating the floor 'hump' forward of the front seat that most vehicles needed to accommodate the transmission in conventional vehicles.

The man behind the design of the Pontiac Tempest was John Z. DeLorean, the division's chief engineer, and also a Packard veteran who eventually became the division's head and even later famous for building cars bearing his own name. The Tempest featured it own truly unique engine, especially in comparison to Buick and Oldsmobile's that utilized a conventional Hotchkiss front engine and front transmission power-train setup. For 1961, the Tempest was named Motor Trend magazine's Car of the Year. The Tempest was also praised by Road & Track as 'exceptionally roomy' and 'one of the best utility cars since the Ford Model A.'

The power for the Tempest came from a 195-cubic inch straight-4 engine that was dubbed the 'Trophy 4' which was derived from the right cylinder bank of Pontiac's 389 cu in V8, the normal power-plant that Pontiac utilized in its larger vehicles; the Catalina and the Bonneville. To customers, the engine was advertised as a 'gas-saving economy motor' for customers looking to cut down on costs, and it saved money by running the engine down the same assembly line as the 389.

The engine came in three versions, an 8.6:1, low compression, single-barrel carb, a 10.25:1 high-compression with single barrel; and a high-compression engine with a four-barrel carburetor. The single-barred engine cranked out anywhere between 110-140 hp, while the four-barrel was capable of 155 hp at 4800 rpm and 215 lb/ft of torque at 2800 rpm. All three of these versions came with a fuel economy range from 18-22 mph and for the most part the engine was quite reliable. It did however have a reputation as the 'Hay Baler', a reputation created by dealer mechanics whom had experienced the violent kicks it could produce when out of tune.

The wheels were also a departure from Pontiac's standard way. While Buick and Oldsmobile had standardized their Y-body vehicles on an odd 9.5 inch brake drums with lug stuffs on a 4.5 inch-diameter circle with 14-inch wheels, Pontiac went with a nine-inch drum, but utilized five studs on the same bolt circle and 15-inch wheels. These wheels would be identical to the Ford Mustang when it was released some four years later in mid-1964. It might be considered ironic that the Pontiac plant that created the Tempest's undercarriage was in L.A., directly across the street from the Ford Plant where the Mustang was developed.

In 1961 and 1962 the very innovative aluminum Buick-built 215-cubic inch V8 engine was available as an option in the Tempest. Around 3,662 Tempest's were ordered with the 215 engine. This particular motor continued to be produced in a variety of incarnations from 155 to 215 hp though it weighed only 330 lbs when installed. Pontiac 215 blocks are very obviously different from other Buick 215 blocks because in addition to the factory Buick markings that were hand-stamped at the Pontiac distribution plant with the VIN numbers of the individual vehicles they were installed into.

Beginning in 1961, all Pontiac 215 blocks begin as '161P', and the 1962 cars as '162P'. Additional code numbers told whether the vehicle featured an automatic or manual transmission. For the 1961 model year this would have been either a three-speed column-shifted manual with a non-synchromesh first gear or a two-speed automatic controlled by a small lever placed on the dash to the right of the ignition. The automatic was called 'TempesTorque' but was unmarked on the unit itself and was a type of Powerglide that was similar to the Chevrolet Corvair, though it shared very parts with it. The following year a floor-mounted, fully synchromesh four-speed manual was added.

For its introduction, the Tempest was originally only available as a four-door pillared sedan and as a Safari station wagon. At the end of 1961, a pair of two-door coupes were added, one of which was named LeMans, both in the 1961 body style. When the 1962 models were unveiled, LeMans, was primarily a trim package upgrade that included front bucket seats, and it also came as a new convertible.

For this year there were a total of four models, a station wagon, sedan, coupe and convertible. All four came as a Tempest model, and customers that preferred a much more deluxupe coupe or convertible could choose to pay extra for Tempest LeMans. LeMans was not available as a station wagon or a sedan. There was also no pillarless hardtop LeMans, though Oldsmobile and Buick did have pillarless hardtops in the higher-option Cutlass and Skylark. For the 1963 model year, LeMans became a separate series that achieved nearly 50% of all combined Tempest and LeMans production.

The version introduced for 1963 was a little bit larger and slightly heavier than the previous two years models. It also came with a redesigned transaxle that greater improved handling and offered a high-performance option that was much more powerful that the barely ordered 215. Eventually the 215 was replaced by Pontiac's all new 326-cubic inch V8, which was a motor that came with the same external dimensions of the old and trusty 389, but featured different internals which were designed to produce more torque.

A brand new updated version of the automatic transmission which was now officially stamped 'TempesTorque' was dubbed with even more intense internals to handle this. The 326 which was very high-compression had an output of 260 hp and 352 lb/ft of torque. The actual displacement was 336 cu. inches, the advertised number was 326 since no GM division was allowed to have a motor that was larger than the Corvette's 327. The weight was brought up to 260lbs over an 195 cu. inches Trophy 4 and weight distribution changed only slightly to 54/46 due to the cast-iron mill.

Car Life magazine was impressed and appreciated that performance was strong enough and stated 'No one will wonder why they didn't use the 389,' and fuel economy with the 326 ranged up to 19 mpg. Quite popular was the V8 engine option as 52% of the 131,490 buyers of the Tempests and LeMans were sold in 1963 and were ordered with the 326. In 1963, the 326 was sold as a one year-only motor, and the following year the displacement was adjusted and it now actually 326 cubic inches.

For the 1963, probably the most well-know Tempest were Super Duty Cars. Only 14 in number, they were constructed at the Pontiac plant in Michigan over Christmas 1962. This was all a precursor to GM's ban on factory racing.

The second generation of the Pontiac Tempest was introduced in 1964 until 1970. Redesigned, the Tempest was marketed as a much more-conventional car now and was also enlarged from a compact up to an intermediate-sized vehicle with a 115-inch wheelbase and a total overall length of 203 inches. The traditional front engine, front transmission, frame and solid rear axle design were removed in place of the unibody, curved driveshaft and transaxle.

All of these were used by GM's other vehicles, with the exception of the Corvair. The Tempest/LeMans moved to the new A body platform that was shared with the Oldsmobile F-85/Cutlass and Buick Special/Skylark, and all three vehicles received updates and modifications standardizing them throughout-including the wheels by GM edict. Unfortunately the LeMans nomenclature was discontinued as a totally separate series, and now the vehicles were in descending order; base Tempest, Tempest Custom and Tempest LeMans.

An all new 215 cubic-inch inline six-cylinder engine with one-barrel carb and 140 hp replaced the earlier half a V8 four cylinder engine as standard equipment on the Tempest. Basically, the six was a bored out variation of the Chevy-built 194 cubic inch six and was offered as Pontiac exclusive. The optional engines included two version of the 236 cubic-inch Pontiac V8 that had been introduced the year before, a two-barrel 250 hp regular fuel option; or the 280 hp 326 HO engine with four-barrel cab and 10.5 to 1 compression ratio that required premium fuel. Transmission also included a very standard three-speed manual with column shift, four-speed manual with floor-mounted Hurst shifter or a two-speed automatic.

Pontiac chose to re-introduce the high-performance V8 package due to its extreme popularity the previous year. This year it was available again on the Tempest LeMans and it was dubbed Grand Turismo Omologato, or GTO. This was the start of a watershed vehicle of the 1960s and the 1970s. The GTO reached amazing success and this prompted Oldsmobile to rush out its own high-performance option package for the F-85/Cutlass. The following year, Buick introduced a high-performance version of the Skylark that was called the Skylark Gran Sport, or GS. Both of these vehicles enjoyed spectacular success and helped pave the way towards the 'muscle car' era.

For the 1965 year, the engine availabilities were quite the same as the previous year, except the 326 HO that was uprated to 285 hp. A few of the styling updates included an all new split grill with vertical headlights that were very similar to much larger Pontiacs, along with revised taillights, along with a much more slanted rear deck.

An all new addition to the Tempest Custom line was a two-door hardtop coupe. At the same time, the LeMans received a four-door sedan with a super plush interior that was done in Preston Cloth trim that was quite similar to the full-sized Bonneville Brougham.

For the 1966 Tempest, a major facelift was underwent that included a much more rounded bodylines with a Coke-bottle effect that was similar to the full-sized Pontiacs. The Tempest Custom line received new four-door pillar-less hardtop sedans. Underneath the hood the Chevy-derived 215 six was replaced with an all new Pontiac0built 230 cubic-inch overhead cam six. This happened to be the only engine found in an American production vehicle at this time.

Rated at 165 hp, the base OHC had a one-barrel carburetor and was specifically designed for buyers attempting to stay in their budget. As part of the Sprint option package, an optional that was available on two-doors was a four-barrel, high-compression 207 hp variation of the OHC six. This was marked as an alternative against higher price European sport sedans, which had similar OHC engines.

If customers wanted additional V8 power, the 326 and 326 HO options continued to be available with HP ratings of 250 and 285 HP. 1976 didn't feature that many changes for the Pontiac Tempest, or even to the custom or LeMans models. Transmission and engines offerings remained the same, except for the four-barrel OHC six being uprated to 215 horsepower. An all new option was front disc brakes, along with a stereo 8-track tape player and hood-mounted tachometer.

For the 1968 model year, the Tempest went through a minor bodystyle update. The shape of the vehicle was much more rounded and featured concealed windshield wipers, the return to horizontal headlights and a split wheelbase mode of 112 inches for tow doors and 116 for four-door models.

The OHC sixes jumped from 230 to 250 cubic inches while the HP ratings stayed unchanged, meanwhile the 326 V6 was replaced by a new 350 cubic-inch V8 with HP ratings of 250 with two-barrel or 320 with four-barrel carb. The model lineup remained the same and included the base Tempest, Tempest Custom and LeMans.

For the following year, the only major changes were the deletion of the vent windows on hardtop coupes, while the styling itself only underwent minor updates. For the 1969 model year only, the Tempest Custom was renamed the Custom S. Model offerings remained the same as 1968. An all new three-speed Turbo Hydra-matic 350 transmission was unveiled and was available with all new engines as an alternative to the older two-speed automatic. The engine choices remained the same as before except for the 350 HO V8 receiving a five-horsepower jump to 325. New for this year was a new locking steering column with relocated ignition switch, while front seat headrests became standard equipment.

For the 1970 Tempest, only very slight updates were emphasized. This unfortunately was the final year for Pontiac Tempest in the U.S. After the 1970 model year, the Tempest nameplate was slowly phased out. One year later the nameplate was replaced by an all new T-37 series. This series included three bodystyles that were offered of the 1970 Tempest and T-37. Following this year, the T-37 was dropped and for '72, all Pontiac intermediates took the LeMans nameplate except for the GTO.

A re-badged version of compact L-body Chevy Corsica was sold as the Pontiac Tempest beginning in 1987 in Canada and was the third generation of the Tempest. Slotted in between the Grand Am and the 6000, the third generation Tempest was discontinued in 1991. Along with the 6000, the Tempest was replaced by the Grand Prix sedan. From 1987 until 1991, the Pontiac Tempest came in two trim levels, base, and LE.
By Jessica Donaldson
For more information and related vehicles, click
here
ALL-NEW FORD F-150 2.7-LITER ECOBOOST V6 ENGINE DELIVERS V8 CAPABILITY AND PERFORMANCE
◾Tougher, lighter 2015 Ford F-150 welcomes two new engines to its four-engine lineup, providing choices to meet almost any customer need – from hauling tools to towing trailers ◾High-output 2.7-liter EcoBoost® with standard Auto Start-Stop broadens engine lineup by providing mid-range V8-like towing capability of 8,500 pounds, payload of 2,250 pounds, 325 horsepower, 375 lb.-ft. of torque ◾Standard 3.5-liter V6 engine with twin independent variable camshaft timing delivers impressive power and...[Read more...]
INDMAR MARINE ENGINES NOW BUILT FORD TOUGH: INDMAR AND FORD ANNOUNCE ENGINE SUPPLY AGREEMENT AT SEMA
◾After more than 20 years, Ford Motor Company, through its wholly owned subsidiary Ford Component Sales, is back in the business of marine engines ◾Indmar Marine Engines will offer high-performance boaters the 6.2-liter V8 engine, which powers Ford F-150 SVT Raptor and Ford F-Series Super Duty trucks ◾The Ford V8 offers Built Ford Tough reliability to boaters, making it more than capable of meeting the high demands of today's watersport enthusiasts Ford Motor Company will re-enter the marin...[Read more...]
Ford Prepares To Unleash 'Vandemonium' At 2013 SEMA Show In Las Vegas, Launches Online Vehicle Dreamcase
◾Ford launches Dreamcase, an online vehicle display previewing 28 of the 57 vehicles the company will showcase at the 2013 SEMA show next month in Las Vegas ◾Ford is bringing 'Vandemonium' to SEMA, with 10 customized Transit Connect Wagons and Transit Connect cargo vans ◾Special guest Gene Simmons of KISS and his wife, actress Shannon Tweed, will unveil a customized 1956 F100 hot rod on the Ford stand for a Nov. 5 event at 1 p.m. Ford Motor Company will roar into Las Vegas next month, showc...[Read more...]
Final Countdown Underway To South Florida's Premier Collector Car Auction
• Auctions America kicks off its 2013 auction season, March 22-24 with its highly anticipated Fort Lauderdale Collector Car Auction • Celebrating its 11th year, the multi-day auction features more than 550 quality collector cars • Latest feature attractions include an outstanding 1963 Shelby Cobra and a 1974 Ferrari Dino 246 GTS • Digital catalog now available for download at auctionsamerica.com AUBURN, Indiana (February 27, 2013) – With the final countdown underway to its highly an...[Read more...]
RICHARD PETTY DEDICATES MUSCLE CARS FOREVER STAMPS
Raw power gets a stamp of its own today as seven-time NASCAR National Champion Richard Petty helps dedicate the America on the Move: Muscle Cars Forever stamps. Petty, his son Kyle and Postmaster General Patrick Donahoe will dedicate the limited-edition stamps at the Daytona International Speedway where 'The King' won a record seven Daytona 500 Championships. Typically equipped with big, powerful engines, these high-performance vehicles began roaring across America in the 1960s. The limite...[Read more...]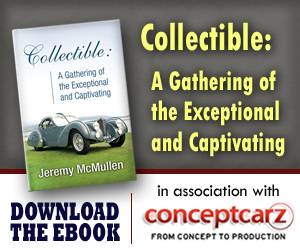 © 1998-2014. All rights reserved. The material may not be published, broadcast, rewritten, or redistributed.