1960 Buick Electra news, pictures, specifications, and information

Tweet
| | | | |
| --- | --- | --- | --- |
| | | | 225 Series 4800 Convertible Coupe |
The Electra 225 Series was Buick's top-of-the-line offering in 1960, but this car is not a standard production model. In fact it is a one-off built by General Motors Styling Studio for Harlow H. Curtice, who had been the President of GM from 1952 until 1958. The present owner of this special car first saw it at a Buick Club of America National Meet in 1972 and was fascinated by it. Little did he known at the time that he would later get the opportunity to buy it in 1988.
Buick sales drastically declined in the late 1950's due to economical recession, unpopular styling, and product problems. In 1955 their sales reached 750,000 and by 1959 they had declined to barely 200,000. Buick needed to reverse their plummeting sales. Their solution was a bold move with styles and models that were devoid of the traditional Buick trademarks from the past. Throughout the early 1960s, Buick would debut new names, engines and designs that had never been seen before. Nearly all of their cars were remolded and either stopped production or changed the names of the well known Special, Super, Roadmaster, Century, and Limited to the LeSabre, Electra, and Invicta.

The Electra model was considered to be the most luxurious in the lineup. It was built for both speed and comfort and was considered to be the top car amongst its competitors. It was given the nickname 'Deuce and a Quarter' and was one of the highest selling Buicks for over 30 years.

The drastically restyled 1959 models were replaced by all-new models for 1960. Buick's flagship was the Electra, now riding atop a Buick-only 'K-member frame. The 1959 car had cantered headlights; for 1960, they were laid flat and parallel to the bumper, complementing the wider, longer and lower overall styling theme of the early 1960s. They had a pair of broad trim panels that cloaked the lower body of the Electra 225, neatly integrating the front and rear bumpers with the body of the car, and giving it a very clean and elegant look.

The Electra 225 Convertible had leather interior, power windows, a power-operated top, Super Deluxe wheel covers, an outside rear view mirror and the Safety Group. Standard equipment on all premium Buicks also included a padded dashboard, power steering, power brakes, two-speed wipers and dual exhaust outlets.

This Electra 225 Convertible has an older frame-off restoration that remains highly presentable in modern times. It has many options including factory-installed air conditioning, leather bucket seats with a two-way power-operated driver's seat, as well as a clock, a Wonderbar signal-seeking radio and a Twilight Sentinel automatic headlight dimmer.
| | | | |
| --- | --- | --- | --- |
| | | | 225 Series 4800 Convertible Coupe |
The Electra Series 225 was Buick's top-of-the-line model in 1960. It was built for both speed and comfort and was considered to be at the front of the line against its competitors.

Commonly referred to as 'Deuce and a Quarter,' the nickname and '225' series designation came from its 225-inch length. The model is easily recognizable by the Electra 225 badge circled on the deck lid and name found on the front fenders.

The Electra 225 convertible was powered by a 401 cubic-inch V-8 engine that developed 325 horsepower. It was equipped with all of Buick's standard features, plus back-up lights, parking brake signal light, map light, two-way power seat, power windows and a Glare-proof rear-view mirror. It was trimmed in leather with optional bucket seats, which are included on this Electra.
| | | | |
| --- | --- | --- | --- |
| | | | 225 Series 4800 Convertible Coupe |
The style of the delta-winged 1960 Buick is unmistakably 'jet-age.' Quad headlamps are set in simulated twin-jet nacelles. A 'Vista-Panoramic' windshield wraps around and canted tailfins sweep rearward. Buick's 'Tri-Shield' emblem made its debut on the 1960 models and front-fender 'ventiports' returned after a two-year absence. The lineup of 'Buick's All-Time Best' retained the new-in-1959 nameplates: LeSabre, Invicta, Electra, and Electra 225, in ascending order.

This top-of-the-line Electra 225 Convertible, finished in elegant Pearl Fawn, includes a wide array of options: air conditioning, front bucket seats and console, power windows, power antenna, Autronic Eye and Twilight Sentinal. A 401 cubic-inch 'Wildcat' V8 and 'Turbine Drive' automatic transmission, standard on Electra 225, provide an ultra-smooth flow of power. The restoration took four years (and two parts cars) to complete.
In the late 1950's, due to the combination of economic recession that made small vehicles popular, unpopular styling, and product problems, Buick went into a sinking decline. Sales plunged from a high of nearly three-quarters of a million vehicles in 1955, to barely a quarter of a million units in 1959.

Discarding Special, Century, Limited and Roadmaster, Buick began to pull itself out of the tailspin in 1959. They now favored the LeSabre, Invicta and Electra. Through the efforts of Edward D. Rollert, a quality-commited new general manager, the Special name returned on a compact vehicle with an aluminum V-8 in 1961. One year later, the first production V-6 in the Special was offered and was named Motor Trend Magazine's 'Car of the Year'. Sales begin to clumb, and production in the uppder-series vehicles reached to more than 450,000.

Continuing to rise through the 1960's, a record of 821,165 was reached in the 1973 model year. Unfortunately due to the oil embargo late in 1973 year, sales plummeted to fewer than 500,00 in both 1974 and 1975.

Near the end of 1958, some of the most incredibly vehicle to ever be assembled were rolling off the production line and onto the roadways of America. The year that the USA added Hawaii to the union, Fidel Castro took over Havava, Buddy Holly died, and Ben Hur earned the Best Picture Oscar, Buick was in the process of unveiling their brand new models in 1959.

In a bold and daring move, the traditional styling cues that had been long been Buick's trademark quickly disappeared overnight, along with the names that had been apart of Buick's stable for so long. No longer were the portholes, and the sweepspears that had been traditional for so long. Now, new names, new engines, new brakes, new chassis, and new transmissions were unveiled as Buick dangerously tried something new.

The LeSabre was considered to be thriftiest Buick, while the Invicta was the most spirited Buick, and the Electra was highlighted as the most luxurious Buick. The Electra was built for speed and comfort, and was considered to shine among its rivals. These brand new models were receiving glowing praise from the motor press, and were reported to be selling like hotcakes. Though the steel strike of that year didn't do much to aid sales, the growing popularity of the times was drawn toward compact vehicles as the motoring public was growing tired of full-size cars.

With a very deserved street name 'deuce and a quarter', both the Buick Electra 225 and Buick Electra were full-size premium automobiles built by General Motors Buick division. Produced in variety of nomenclatures, the Electra name was used by Buick between 1959 to 1990.

Before the Electra and Electra 225 came to the scene, the Buick Super, Roadmaster and Limited constitued the upper class of Buick's superb lineup. Following their introduction in 1959, the Electra took the place of the Super while all of Buick's models were renamed. The Electra 225 took the place dominated previously by the Roadmaster and Limited models.
Sharing its 6-window hardtop roofline with the Cadillac Fleetwood, the top-line model of the Buick range was the Electra 225 Riveria. From the 1949 model year on, the 'Riveria' name had been used by Buick to signify a premium trimmed hardtop body style. In 1963, Buick dropped the Riveria name as a body style designation and instead utilized it as Buick's new personal luxury coupe. The Electra nameplate was also discontinued in 1963, leaving only the Electra 225.
The Electras were powered by Buick's 401 in³ (6.6 L) V8 from 1959 until 1966. An available 425 in³ version of the same engine was available from 1964 to 1966. The following year, the 1967 model offered a new Buick 430 in³ (7.0 L) V8, and a 455 in³ (7.5 L) version of the same engine replaced it in 1970. The 1959 through 1963 models had Twin Turbine DynaFlow, and the Triple Turbine was offered as an option in 1959. Automatic transmissions were always a standard option, and beginning in 1964, the Electra models were equipped with the Super Turbine 400/THM 400 transmissions.

In 1965, a major restyling was done on all GM passenger vehicles. To place more emphasis on the luxurious 4-door hardtop bodies, the 6-window bodystyle was dropped in favor of the 4-door frame. The coupe models of 1965 were dominated by smooth and sinuous 'Coke bottle' lines and fastback roof profiles. The marketing strategy was changed by Buick in 65, and the Electra 225 was offered in two trim levels, base and Custom. The Electra 225 Custom 4-door hardtop was offered in a new 'Limited' option package, and eventually became available on the two-door hardtop models as well.
In 1968, to emphasize the Electra 225's length, the stylists at GM did this through the use of 'blade' rear quarter panels. They also used the 'sweepspear' character line that ran the length of the body. The Ventiports also followed the curve of the sweepspear just forward enough to the front door in the Electra 225. Hidden in 1969, the windshield wiper blades were discreet, and the following year the vent windows on the front doors were eliminated.
For a decade, between 1967 and 1976, it was easy to see the similar forms and design hallmarks that dominated the Electra 225's design style.
From 1971 through 1973, the previous 4-door pillared sedan variant and convertible were eliminated, and all Electra 225 models were hardtops. The GM's pillared coupe body was adopted in 1974, and fitted with 'Landau' option in the Electa Limited Coupe. Though considered unpopular due to their extensive cost, optional driver and passenger airbags were available in 1974. Max Trac, a crude and limited version of traction control was available in 1974. All 225 coupes came with fixed rear side windows and center posts in 1975. And until the 1977 model, all 4-door models continued as hardtops. Though it came without any Electra 225 badges, a Limited model was available in 1974. In 1975, a new Park Avenue option package was available on the 'Limited' 4-door hardtop.
The longest 4-door hardtop GM car ever built was the 1975 Buick Eletra 225 Limited. A return of the six-window configuration that had been available by Buick from 1959 through 1964, the model at 233.4 inches long, was even longer than the 1975 Cadillac Deville.
Between 1971 and 1976, all Electra models were powered by Buick's 455 in³ (7.5 L) engine. The 1971 model achieved a satisfactory 315 hp, but by the 1976 model year, it was reduced to a pitiful 190 hp due to the ever-increasing government mandated emission controls. In favor of smaller, and more efficient powerplants, the impressive 455 engine was dropped after the 1976 model year.
In 1977, GM downsized their full-sized vehicles, and the third generation of Eletra's went close to it's once original size and length at 22 inches (5,715 mm). The 1980 model was once again downsized, and lost the '225' distinctive part of its name. A first-ever diesel engine was utilized in 1978, as the 1977 through 1979 Buick Electras were powered with engines from various GM divisions. A modified grille was given to the 1981 model, along with a new powertrain as the Buick 350 V8 disappeared in favor of a standard Buick that produced 4.1 L V6. Unfortunately known to be troublesome, 350 in³ Oldsmobile produced diesel was also introduced and available for purchase. In 1981, Electra was featured for the first time since 1959 without 4 Ventiports. In 1985, the once top-line Electra Park Avenue model disappeared completely after continueing to show 4 small depressions with stickers in the chrome mouldings on its front fenders.

Debuting on the GM C platform, a totally redesigned front-wheel drive Electra that included a performance-oriented T-Type version was showcased in 1985. Impressive, this was the only C Platform vehicle that utilized a forward opening hood. Though it had appeared unofficially as early as 1975, in1985, Park Avenue became an official trim designation within the Electra series. Replacing the quad headlight setup from the 1985 and 1986 models, the first use of integrated aerodynamic headlights was featured in 1987 models.
A new Park Avenue Ultra model featuring a standard leather trim interior along with a padded vinyl top, joined the Electra Limited, T/Type and Park Avenue models in 1989 and 1990. Basically combining the characteristics of the sportier T/Type and luxurious Ultra, the designation 'Ultra' was used on the next generation Park Avenue. An entirely diverse vehicle that was based upon the 1977 full-size GM station wagon body, the Electra Estate station wagon model was introduced briefly. To make way for the smaller Park Avenue and the larger Roadmaster, the last of the Electra production was seen in 1990.
By Jessica Donaldson
For more information and related vehicles, click
here
VOLKSWAGEN ANNOUNCES PRICING OF 2015 GOLF MODELS, STARTING AT $17,995
The seventh-generation version of VW's worldwide best seller offers more space, less weight, and increased efficiency at an even better value ◾Pricing starts at $17,995 for the two-door Golf Launch Edition model with manual transmission ◾New TDI® S model reduces Clean Diesel entry pricing by more than $3,000 ◾New available technology including Forward Collision Warning and Automatic Post-Collision Braking System ◾Room for five with a larger trunk than any midsize sedan ◾New 1.8-liter TSI® e...[Read more...]
VOLKSWAGEN CELEBRATES 40 YEARS OF THE GOLF AT THE NEW YORK AUTO SHOW
The most successful European car of all time turns 40 ◾More than 30 million Golf models have been sold worldwide ◾Car went on sale in Europe in May 1974, was sold in the U.S. from December that year as the Rabbit ◾Seventh-generation Golf GTI goes on sale in June in the U.S., with Golf TDI® and TSI® models arriving at dealerships in August Herndon, VA — The most successful European car of all time turns 40 this year. More than 30 million Golf models have been sold since the car went...[Read more...]
Golf R Celebrates Its World Premiere At The Frankfurt Auto Show
Wolfsburg, 2 September 2013 –The most powerful Golf in the range excites with 296 horsepower and a 0 to 62 mph sprint time of just 4.9 seconds. The vehicle's distinctive styling also highlights its sporty character. The new Golf R was developed by Volkswagen R GmbH to provide dynamic performance. The sportiest Golf is powered by a newly configured 296 horsepower TSI engine, which is not only 30 horsepower more powerful, but also 18 per cent more fuel-efficient than the previous engine....[Read more...]
MODEL YEAR 2014: MORE EFFICENT, DOWNSIZED ENGINES AND AN EXTENDED R-LINE RANGE HEAD THE CHANGES
New 1.8-liter turbocharged and direct-injection TSI® engine to feature in Jetta, Beetle, and Passat, replacing the 2.5-liter five cylinder. R-Line® range expands to five models. • Jetta SE and SEL models are fitted with new 170-horsepower 1.8-liter engine, offering a manufacturer predicted highway fuel economy improvement of 16 percent • All Jetta models now have independent rear suspension • VW Car-Net™ connected services introduced across a broad range of models • New 1.8-liter engine in...[Read more...]
VOLKSWAGEN BEETLE TURBO AND JETTA GLI RECEIVE POWER BOOST
- New EA888 Gen 3 engine, produced in Silao, Mexico, makes its U.S. debut - Engine offers 10 hp increase over previous Gen 2 powerplant - Beetle models have a manufacturer estimated fuel economy improvement of up to eight percent on the combined cycle - Beetle R-Line® coupe will be priced from $30,135 with the six-speed manual transmission Herndon, VA - The Volkswagen Beetle Turbo, Beetle Turbo Convertible, and the Jetta GLI receive a number of running changes to 2013 model year car...[Read more...]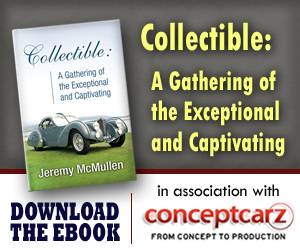 Similarly Priced Vehicles from 1960
Chevrolet Corvette C1 ($3,900-$3,900)
Daimler SP 250 ($3,905-$3,905)
Lotus Elite ($4,100-$4,100)
Porsche 356B ($3,720-$36,000)
Ford Thunderbird ($3,753-$4,222)
Mercedes-Benz 220 Series ($4,283-$8,090)
Buick Invicta ($3,355-$3,950)
Chrysler Windsor ($3,194-$3,815)
Alfa Romeo Giulietta Sprint ($3,840-$4,145)

Average Auction Sale: $32,263
Buick
Monthly Sales Figures
Volume
December 2014
20,357
November 2014
19,143
October 2014
18,699
September 2014
17,466
August 2014
22,143
July 2014
17,683
June 2014
21,403
May 2014
19,957
April 2014
19,214
March 2014
20,428
February 2014
19,192
January 2014
13,278
(More Details)
© 1998-2014. All rights reserved. The material may not be published, broadcast, rewritten, or redistributed.