1956 Mercury Montclair news, pictures, specifications, and information

Tweet
Mercury restyled their lineup for 1955, making them longer with lower styling themes. The top-of-the-line Mercury was the Montclair. It had a modern overhead valve V8 engine, glamorous two-tone paint treatments, and multiple standard and optional amenities.

This example is a 1956 Mercury Montclair two-door hardtop coupe. It has been given a ground-up restoration and finished in red and white two-tone paint scheme. The interior features red and white dash and door panels, two-tone seats, black carpeting, a clock and a pushbutton-operated AM radio. The 312 cubic-inch V8 engine is mated to a Merc-O-Matic automatic transmission. Other features include power steering, power brakes, and a dual exhaust system.

In 2009, it was offered for sale at the Vintage Motor Cars of Meadow Brook presented by RM Auctions. It was estimated to sell for $35,000 - $45,000 and offered without reserve. The lot was sold for the sum of $23,100 including buyer's premium.
By Daniel Vaughan | Sep 2009
This 1956 Mercury Montclair 'Restomod' Coupe was offered for sale at the 2007 Sports and Classic Car Auction presented by The Worldwide Group, in Hilton Head Island, SC where it was estimated to sell for $20,000 - $30,000. It was offered without reserve. Power is from the 292 cubic-inch V8 engine capable of producing nearly 200 horsepower. There is an automatic gearbox and four-wheel drum brakes.

The hot-rod scene began with the pre-WWII cars with running boards and simple fenders over the wheels. In many cases the fenders were removed entirely and often replaced with light cycle-style fenders. Under the bonnet was the most power and lightweight engine available fit snuggly in an equally lightweight frame. In most cases the suspension was modified and the car was lowered.

This vehicle began as a stock 1956 Mercury Montclair, but during some part of its life was mildly customized. The engine was given some 'hot-rodding' care, a glass-pac , muffler was adapted to produce thunderous rumble when the throttle was pressed, and some very interesting and attractive paint accent and glass etchings were applied.

This car was estimated to sell for a low value of $20,000. The high value was placed at $30,000. There was no reserve placed so the high bid was the winning bid. Including buyer's premium, the selling price was $9,900 meaning the buyer received a bargain.
By Daniel Vaughan | Dec 2011
| | |
| --- | --- |
| | Hardtop Coupe |
This 1956 Mercury Montclair Hardtop Coupe has traveled just over 11,000 actual miles, and other than a recent repaint, is in un-restored, original condition.
By Daniel Vaughan | Dec 2011
The 1955 Mercury lineup was freshly restyled with a longer, lower styling theme. The top-of-the-line model was the Montclair which featured a powerful and modern overhead-valve V-8 engine, two-tone paint treatments, and a plethora of standard and optional amenities.

This Montclair Sport Coupe has just 2,387 miles since the completion of its frame-off restoration. The car is finished in Carousel Red and Classic White. The car is fitted with many options and accessories, including power steering, brakes, windows, and seat, as well as a radio, clock, and rear window defogger. It also has stainless rocker panel moldings, rear stone guards, and fender 'skirts.'

The engine is an overhead valve V-8 unit fitted with a single four-barrel carburetor and offering 235 horsepower. There is a three-speed Merc-O-matic automatic transmission and four-wheel power assisted hydraulic drum brakes.
By Daniel Vaughan | Nov 2014
The top of the Mercury line in 1956, the full-size Mercury Montclair was created under the Mercury Marque. The Montclair was introduced to be included in Mercury's premium automobile line.

Though not much evidence exists to support this, the name is believed to have been derived from an upper class community of Montclair located in New Jersey.

With a distinct design feature that set it apart and designated it a part of the Montclair series, the vehicle had contrasting color panels that ran beneath the side windows. The Montclair showcased some of Mercury's best features including the two-tone paint combinations and the additional chrome trim.

The vehicle came with the option of the Merc-O-Matic automatic transmission. It also featured a 312 cubic inch V8 Engine and a 4 barrel carburetor.

Founded by the Ford Motor Company in 1939, Mercury had begun with the ideal to design and manufacture semi-luxury vehicles. Mercury's original major success has been attributed to the Ford Marque in the early 50's as it stretched and lowered then existing Ford platforms which in turn generated superior results from their target markets.

From 1955 to 1960, the Mercury Montclair was both manufactured and sold by the sole Mercury Division and from 1964 to 1968 by Ford's Lincoln-Mercury Division.

Upon the introduction of the Mercury Turnpike cruiser in 1957, the Montclair name had the distinct misfortune to be pushed down the market until 1958.

The Montclair was discontinued in 1961, yet was resurrected for the 1964 model year until it was once again retired at the end of the 1968 model year.
By Jessica Donaldson
For more information and related vehicles, click
here
CELEBRATING 90 YEARS OF GM'S MILFORD PROVING GROUND
DETROIT – When the General Motors Milford Proving Ground opened in 1924 – 90 years ago this October – engineers lacked advanced tools and technology for safety testing. Judging from this video, some might say the only crash test dummies back then were human. Engineers today keep their distance during crash tests. No more riding the running boards until seconds before impact. Inside the vehicles being tested are heavily instrumented anthropomorphic test devices – dummies – who capture t...[Read more...]
McQueen's Famous 1956 Jaguar Coming to Pinehurst Concours
VILLAGE OF PINEHURST, N.C. (April 16, 2014) – A 1956 Jaguar XKSS owned by movie legend Steve McQueen, now housed at the world famous Petersen Automotive Museum in Los Angeles, will make the cross country trip from California to North Carolina and be displayed at the 2014 Pinehurst Concours d'Elegance. McQueen, called 'The King of Cool,' became the highest paid movie star in the world in 1974 and starred in such movies at 'Bullitt,' 'The Great Escape' and 'Papillon.' McQueen, who was al...[Read more...]
Out of Sinkhole, ZR-1 'Blue Devil' Drives in Museum
Two of eight historic Corvettes pulled from 30-foot deep hole BOWLING GREEN, Ky. – The recovery of eight historic Corvettes that fell into a sinkhole under the National Corvette Museum last month began Monday with the successful extraction of the 2009 Chevrolet Corvette ZR-1 'Blue Devil.' The car was able to be driven 20 feet to the doorway of the museum's Skydome. Based on initial inspection, the ZR-1 sustained minimal damage, despite falling nearly 30 feet when the hole ope...[Read more...]
MERCEDES-BENZ 2014 G63 AMG: THE ULTIMATE G-CLASS
The latest technology for the AMG off-road icon: the new 2014 G63 AMG impresses with a state-of-the-art powertrain, expressive new design and improved efficiency. All this is largely attributable to the AMG 5.5-liter V8 biturbo engine delivering 536 hp and the AMG SPEEDSHIFT PLUS 7-speed automatic transmission. Every new AMG high-performance vehicle offers an outstanding mix of 'more power from less fuel' – and the G63 AMG is no exception. The 'strong man' in the AMG model range has been furt...[Read more...]
MECUM REACHING $60 MILLION IN KISSIMMEE
Over 2,100 Vehicles Offers, Largest Auction in Company History In the wake of the 2012 Mecum Kissimmee auction, the list of shattered records continues to grow. The Florida auction kicked off Mecum's 25th year and a staggering 2,158 vehicles crossed the block - the most in company history. The six-day event, held at Osceola Heritage Park on Jan. 24-29, 2012, achieved a 30% increase in attendance over last year. Hammer price sales for the week-long auction totaled $55,397,46...[Read more...]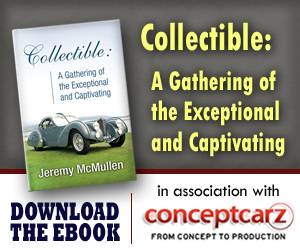 Similarly Priced Vehicles from 1956
Dodge Coronet ($2,160-$2,785)
Chevrolet Bel Air ($2,022-$23,400)
Mercury Monterey ($2,550-$2,975)
Dodge Custom Royal ($2,580-$2,880)
DeSoto Firedome ($2,680-$3,320)
Plymouth Fury ($2,810-$2,810)

Average Auction Sale: $35,908
© 1998-2014. All rights reserved. The material may not be published, broadcast, rewritten, or redistributed.