1948 Buick Series 70 Roadmaster news, pictures, specifications, and information

Tweet
The 1948 Buick Roadmaster Convertible was a pre-war design but it received the famous Dynaflow transmission, which was the first torque-converter automatic transmission on an American-built car. The engine is a 320.2 cubic-inch, in-line eight with a power rating of 144-150 hp.

Known for interior luxury and quiet operation, there were few other cars like them of this era. The sleek styling of these particular two-doors elicited an emotional response from the motoring community that surpassed the expectations of GM.

This is a low mileage car that has benefited from a frame-off restoration. It is equipped with hydraulically operated push-button controls for the top, windows and front seat.
Buick Roadmasters, produced between 1936 and 1958, were built on Buick's longest wheelbase and shared its basic structure with the higher end Oldsmobile's. Between 1946 and 1957, the Roadmaster was Buick's premium and best appointed model. The Estate Wagon 'Woody' body was built at the Hercules Body Company in Indiana which accounted for most Buick Estate Wagons as they were called rather than 'Station Wagons.' This car was once owned by the Harrah Collection and is in original color paintwork and original wood.
The 1948 Buick Roadmaster was a Harley Earl design featuring a 320 cubic-inch engine mated to a 2-speed Dynaflow automatic transmission. This convertible was purchased in May of 1998 by the current owner.

In 1948 a series script appeared on the front fenders and the white Tenelite steering wheel that had been used previously was traded in for a black one, in order match the change from a two-tone woodgrain instrument panel to a two-tone gray instrument panel, with silver tone instruments. A new optional Custom Trim option was offered, consisting of cloth upholstery with leather bolsters with the robe cord cover and lower door panels done in leatherette. The convertible models received power windows, seat and top as standard equipment.
By Daniel Vaughan | Dec 2014
The Roadmaster named first appeared on Buick automobiles in 1936 as a celebration of their engineering improvements and advancements in design. The Buick Series 80 became known as the Roadmaster. The Roadmasters were built on the longest wheelbase Buick had to offer. From 1946 through 1957 they were the most elegant and prestigious automobiles that Buick sold.

From 1936 through 1948 the Roadmaster appeared in coupe, sedan, convertible and station wagon bodystyles. A hardtop coupe was added in 1949 and dubbed the Riviera.

The Roadmaster named reappeared in 1991 and continued in production until 1996. It served as a replacement for the Electra model line and offered as an Estate Wagon. A sedan was introduced in 1992.

The end of the 1953 Buick Roadmaster station wagon meant the end of the last wood-bodied station wagon to be mass-produced in the United States. In 1996, the end of the Buick Roadmaster Estate Wagon meant the end of the full-size family station wagons.
By Daniel Vaughan | Mar 2006
For more information and related vehicles, click
here
ALL-ORIGINAL FERRARI 365 GTB/4 DAYTONA TO BE OFFERED BY ITS FIRST AND ONLY OWNER AT RM'S AMELIA ISLAND SALE
• RM Auctions presents the 'Condo Find Daytona' at its Amelia Island, Florida sale, March 14 • Offered on behalf of its original owner, the Ferrari 365 GTB/4 Daytona recently emerged from 25 years storage in downtown Toronto • The official auction of the Amelia Island Concours d'Elegance, RM sale also lifts the gavel on a spectacular 1938 Bugatti Type 57C Aravis Cabriolet, which was judged 'Best of Show' at Amelia Island in 2012 • Frequently updated list of entries available online at www....[Read more...]
REVERED FERRARI 250 LM LEADS SUPERLATIVE ROSTER OF ITALIAN SPORTS CARS AT RM'S FLAGSHIP MONTEREY SALE
· RM Auctions announces a legendary 1964 Ferrari 250 LM by Scaglietti as the latest multi-million-dollar highlight for its flagship Monterey sale, August 15–16 in California · 250 LM leads a superb roster of no less than 26 Ferraris at RM's two-day sale; additional new entries include a 1953 250 Europa and a 1963 400 SA LWB Coupe Aerodinamico Series II · RM joins in Maserati's 100th anniversary celebrations, presenting no less than four examples from the luxury Italian ma...[Read more...]
Joe Bortz to Host Historic Dream Car Discussion Panel
Dream car collector and historian Joe Bortz has prepared a special treat for participants at the 40th Annual Pontiac-Oakland Club International Convention in St. Charles Illinois, this coming July 17-21. In addition to bringing his four historic Pontiac Dream Cars, he has also assembled a panel, conisisting of two noted designers, a retired engineer and two veteran authors to examine the topic of Pontiac's early concept vehicles. The panel discussion will be held on Friday, July 20th at 1...[Read more...]
GM Design: 85 Years of Making Art That Moves You
As GM Design celebrates its 85th birthday this month, the 1,900 men and women in GM's 10 global design centers are focused on the future, united in their vision to entice consumers to fall in love and see vehicles as they do: art that moves you. 'Our global team is united around its passion for designing vehicles that make an emotional connection with customers,' said Ed Welburn, GM vice president, Global Design. 'What was true 85 years ago is still true today: A designer's role is to create...[Read more...]
Automotive Hall of Fame Inductees Named
Awards to be Presented in Conjunction with the Concours d'Elegance of America The Automotive Hall of Fame will present its annual induction and awards ceremony on Thursday, July 26, 2012 as one of the week-long Concours d'Elegance of America events. It will be held at The Inn at St. John's in Plymouth, Michigan. Both the Concours d'Elegance of America and the Automotive Hall of Fame celebrate the heritage and history of Detroit. The show highlights the evolution of the automobile's...[Read more...]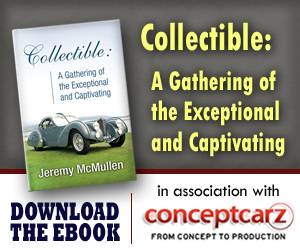 Similarly Priced Vehicles from 1948
Tucker 48 ($2,450-$2,450)
Packard Standard Eight ($2,125-$3,425)
Cadillac Series 62 ($2,910-$3,440)
Chrysler Town and Country ($2,450-$3,415)
Oldsmobile Sixty Series ($1,600-$2,620)
DeSoto S-11C Suburban ($2,630-$2,630)
Chrysler New Yorker ($2,065-$3,415)
Nash Ambassador ($925-$2,350)

Average Auction Sale: $42,846
Buick
Monthly Sales Figures
Volume
December 2014
20,357
November 2014
19,143
October 2014
18,699
September 2014
17,466
August 2014
22,143
July 2014
17,683
June 2014
21,403
May 2014
19,957
April 2014
19,214
March 2014
20,428
February 2014
19,192
January 2014
13,278
(More Details)
© 1998-2014. All rights reserved. The material may not be published, broadcast, rewritten, or redistributed.