1930 Ford Model A news, pictures, specifications, and information

Tweet
To some at the time, it likely seemed impossible for Ford to follow up the commercial success of the Model T. However, he would immediately hit another home run with the Model A. But while the Model T was produced for the explicit purpose of making the motorcar accessible to everyone, the Model A would be Ford's attempt at combining mass production with exclusivity.

The Model A would be an absolute hit with the public. The marriage of aesthetics and mass production has seemed to work as one million examples would be built by February of 1929. By July, just a few months later, production would top two million. Ultimately, by the time the Model A became superseded by the Model B and production ended in early 1932 nearly five million Model As would roll off the Ford assembly lines.

The Model A had been the idea of Edsel Ford. He was not interested in mass produced cars that were nothing more than appliances for people to purchase and use. Captivated and well-versed in the details of European coachwork, Edsel would champion the idea of mass produced cars that still had some character, some soul. Undoubtedly, this approach to the Model A's design would leave an impression upon the public. And the fact the Model A would be made available in nine different body types over the course of its production would certainly reflect this pursuit of Edsel's.

However, for Edsel himself, if he were to have a Model A of his own, no mass produced body, no matter how elegant and evocative would do. Therefore, when Edsel determined to have his own Model A produced he would turn to his love of European coachwork and would contract LeBaron to create something majestic in the eyes of the son of mass production. The result would be chassis number A2079701.

Edsel certainly enjoyed fine automobiles, but he too had a trained eye and would be intimately involved in many details, including model design, when he assumed the role of president in 1922. Therefore, owning fine automobiles was not anywhere near as exciting to him as the process and the challenge of building one.

Therefore, the Model A he would set out to have built wouldn't be by any means a standard Model A. Documents go to show that Edsel had initially planned to use a standard chassis but an experimental European chassis would peak his interest. And so, the standard would be cast aside for the unique.

Unique would only begin to describe what would end up being fashioned. Leaning upon the expertise of the coachbuilders LeBaron, Edsel would not be disappointed. The finished product would be a dual-cowl Sport Phaeton that was simple, and yet, very handsome.

Boasting of sweeping fenders, shortened running boards and a metal-covered rear spare the Sport Phaeton creates an illusion of having a lengthened profile. The narrow track and custom radiator, however, would certainly please Edsel's love for the artistry of master coachbuilt chassis.

The coachwork, however, would manifest an aggressive character with its raked windscreen and the lack of embellishment. To top it all off, the open body style immediately caused thoughts to run toward the ultimate luxury cars of the period, cars like Duesenberg and Lincoln. It would seem LeBaron had succeeded in marrying the two worlds together, but it shouldn't be at all surprising when Edsel, himself, had been intimately involved in just about every stage of the car's formulation.

When completed, Edsel would certainly own perhaps the most desirous Model A ever produced. Overflowing with such amenities and elegant appointments as custom-tailored splash aprons, leather, chrome door hinges and swept-back door handles, the dual-cowl Sport Phaeton certainly fit the definition of a one-off design.

Finished in 1930, the Sport Phaeton would remain in Edsel Ford's possession until his passing in 1943. Then, in the 1950s, the car would be sold to Vernon Jarvis. Jarvis was a pioneer in antique cars and had a remarkable collection. Considering Jarvis' extensive collection, it wouldn't be all that incredible that he would store the Sport Phaeton away. However, a dairy barn in Springfield, Illinois would certainly not be most peoples' first choice.

The Sport Phaeton would be all but forgotten, locked away in the dairy barn. In time, the Edsel Sport Phaeton took on something of a mythical status. Documents proved of its existence, but the actual whereabouts left many to ponder the car's fate. Even Ford Motor Company commenced a search, but would come up empty.

Decades would go by, and it seemed certain the Sport Phaeton had befallen upon some unfortunate and calamitous fate. But then, in 2007, some unsuspecting discovers would enter the now derelict barn on the Jarvis property. Low and behold, still there, in somewhat faded glory, was Edsel's Model A Sport Phaeton.

The condition of the car, despite its decades being stored away in a dairy barn, was still surprisingly splendid. In spite of the years, the car would be found, still, in a highly original state with many of its body panels, fenders and mechanical components intact. Upon further inspection, the LeBaron body number, LB-4093, would confirm what everybody was hoping would be the case. Edsel's Sport Phaeton had been found!

Purchased by its current owner, the Sport Phaeton would then undergo restoration, which would be handled by Manns Restoration & Maintenance of Festus, Missouri. When finished, the Model A Sport Phaeton would be of concours quality and would retain all of the unique features that had made the Edsel Sport Phaeton one of a kind.

The Gooding & Company auction in Scottsdale, Arizona in 2013 will mark the car's first appearance since completion of the restoration work and is certain to attract a number of interested buyers just waiting to own this important piece of Ford history. Estimates before the event have the 1930 Ford Model A Sport Phaeton drawing between $325,000 and $400,000.

Sources:
'Lot No. 012: 1930 Ford Model A Sport Phaeton', (http://www.goodingco.com/car/1930-ford-speedster-phaeton). Gooding & Company. http://www.goodingco.com/car/1930-ford-speedster-phaeton. Retrieved 15 January 2013.

'1930 Ford Model A News, Pictures and Information', (http://www.conceptcarz.com/vehicle/z7026/Ford-Model-A.aspx). Conceptcarz.com: From Concept to Production. http://www.conceptcarz.com/vehicle/z7026/Ford-Model-A.aspx. Retrieved 15 January 2013.

Wikipedia contributors, 'Ford Model A (1927–1931)', Wikipedia, The Free Encyclopedia, 23 December 2012, 02:24 UTC, http://en.wikipedia.org/w/index.php?title=Ford_Model_A_(1927%E2%80%931931)&oldid=529381537 accessed 16 January 2013
By Jeremy McMullen
The Model A received a significant facelift in 1930. Wider fenders, a deeper radiator shell and the elimination of the cowl stanchion contributed to its fresh look. Options for the year included an external sun-visor, a rear luggage rack, a rear-view mirror and a spare tire lock.

The Model T Ford put America on the road but had become outdated by 1927 and the Model A was its replacement in 1928.

Prices ranged from US $385 for a roadster to $570 for the top-of-the-line Fordor. The engine was an L-head 4-cylinder with a displacement of 201 cubic-inches. Typical fuel consumption was between 20 and 30 mpg.

This particular automobile is a tribute to a husband and wife performing a total restoration themselves. The car was purchased in 1981 from its original owner's grand-daughter. While the car has just traveled 52,000 miles, it acquired an extensive restoration which included wood replacement and a complete engine re-build. The restoration was completed in 1985. The car is regularly used in car shows and parades and the occasional family wedding.
Ford's first attempt at mass producing a true 'dual purpose' vehicle came in 1929 with the introduction of the Model 'A' Station Wagon. Designated as the type 150-A, the unique design could accommodate up to eight passengers with baggage, or reconfigured to carry cargo by removing the three rear seats.

The wooden bodies for the Station Wagon were assembled at both the Murray body and Baker Raulang Companies from subassemblies supplied by Ford. Finished assemblies were then mated with the chassis on Ford's own production line. Bodies were constructed of hard or soft maple, paneled with birch plywood. Spar varnish was applied to completed bodies to protect the wood.

Exterior color selection on the Wagon was limited to Manila Brown, with the remaining structural metal finished in Black.
This 1930 Ford Model A Deluxe Rumble Seat Roadster is powered by a 200.5 cubic-inch four-cylinder engine that offers 40 horsepower. There is a three-speed manual gearbox and four-wheel mechanical drum brakes.

The four-cylinder engine of the Model A provided twice the power of the previous design and was fitted with a modern electric starter. The Model A incorporated several significant Lincoln styling elements, including a higher beltline and an attractively rounded grille. A wider selection of exterior colors were available. It retained the low price tag, now selling for a base of $385. By 1932, 4.85 million Model As of all body style had been built.

This car was restored during the 1990s and still shows well in modern times. It has a tan canvas top, brown upholstery, blue exterior, and black floor mats. There are wide whitewall tires with cream-colored wire wheels with chrome hubcaps. There is a radiator-mounted coolant temperature meter, dual side-mounted spare tires with tan covers, dual cowl lights, dual wind wings, side-view mirror, and a chrome-plated grille guard. All of these items were optional equipment.

In 2008 this car was brought to the 2nd Annual Vintage Motor Cars of Hershey presented by RM Auctions where it was estimated to sell for $30,000 - $40,000. It was offered without reserve. The estimated value of the vehicle was proven accurate when the lot was sold for $37,400 including buyer's premium.
By Daniel Vaughan | Oct 2008
If the Model T was 'the car that put America on wheels' the Model A, introduced in December 1927, was the car that helped Ford Motor Company remain competitive in its segment of the automobile market.

For 1930, the Model A received a bit of face lift. There was a new radiator shell, wider fenders and larger 4.75 inch wide tires on smaller wheels (19 inch from 21 inch) reduced the car's overall height. IN addition, chrome plating and stainless steel replaced the nickel used on the 1928-29 models.

The Model A was powered by Ford's four-cylinder motor that developed 40 horsepower. In all, 17 body styles were available in 1930, including this sporty Standard Roadster, which sold for $435 without options.
The name Model A was first used by Ford in 1903 and also known as the Fordmobile. This was the first vehicle produced by the Ford Motor Company and its first owner was Dr. Ernst Pfenning of Chicago, Illinois who purchased the Model A on July 23, 1903. Production of the first generation Model A lasted from 1903 through 1905 with 1750 examples being produced.

Automobile production was new and experiments with design, techniques, and technology were still being experimented with. Many early producers of the automobile had been in either the coachbuilding business or the bicycle business. Upon the invention of the automobile, they switched to the production of horseless carriages.

Henry Ford had $28,000 in investment capital to begin his new business. Upon completion of his first motorcar, he had spent all but $223.65. The Model A's were available as either a two-seater runabout or a four-seater tonneau. A flat-2 engine was horizontally-mounted midship and capable of producing 8 horsepower. A three-speed planetary transmission was matted to the engine. Dimensions and weight varied but the advertised top speed of the vehicle was about 45 miles per hour. The base price was $750 and was available with options such as a rear seat for $100. A rubber roof would set the buyer back an additional $30 while the leather roof was $50.

The Model A was replaced by a sequence of 'letter cars' until Ford produced the perfect combination of accordability and reliability with the Model T. It was mass produced and by 1914 the adaptation of the assembly line streamlined the process even further. By the 1920s, Ford had mobilized the United States with their customers wanting more and willing to pay more for it. Chevrolet's were becoming popular because they were similar to the Ford but offered a few extra amenities at a slightly higher but still reasonable price. Near the close of the 1920's and after sales began to slip, Ford realized that a replacement was needed.

So as production came to a close for the Model T, Henry Ford halted all production for six months to retool the equipment and prepare for the production of the Model A. The second generation of the Ford Model A began on October 20th, 1927. Sale of the Model A began on December 2nd, 1927 and was offered in four colors. The Model had been available in the United States only in black because it dried the fastest.

The public eagerly awaited the sale of the Model T's replacement and were not disappointed. It was a stylish and elegant vehicle, which had been designed by Henry Ford's son, Edsel. In comparison to its predecessor, it was more sophisticated and complex.

The cost of the second generation Model A, produced 24 years after the original Model A was sold for $365 less, with price ranging from $385 through $570. The car was powered by an L-head 4-cylinder engine with just over 200 cubic-inches in displacement. A three-speed sliding gear transmission with 1 reverse speed was used. Top speed was achieved a little over sixty-miles per hour with the average fuel mileage being rather exceptional at over 40 MPG.

Just like the Model T, the Model A was available in multiple configurations such as the top of the line Fordor in either 2 or 3 window, Victoria, Station Wagon, Truck, Town Car, Convertible Cabriolet, Phaeton, Business Coupe, Sport Coupe, Roadster Coupe, and Coupe to name a few.

During the production lifespan of the Model A, lasting until August 31, 1931, Ford produced 4,320,446 Model A's. It was replaced by the Model B.
By Daniel Vaughan | Mar 2006
For more information and related vehicles, click
here
BARRETT-JACKSON'S 43RD ANNUAL SCOTTSDALE AUCTION PROVES TO BE THE MOST SUCCESSFUL IN COMPANY HISTORY, EXCEEDING $113 MILLION
Barrett-Jackson Hosted Top-Tier Celebrities, Auto Legends, Auctioned the World's Most Sought-After Blue Chip Vehicles, Awarded Two Guinness World Records and Set World Records for Rare Corvettes and Thunderbird HIGHLIGHTS: • 1399 cars sold • Over $113 million gross sales • An estimated 300,000 attendees • 14 vehicles sold to benefit various national and local charities SCOTTSDALE, ARIZ. (Jan. 21, 2013) – Barrett-Jackson, The World's Greatest Collector Car Aucti...[Read more...]
BARRETT-JACKSON'S SCOTTSDALE 2014 SALON COLLECTION TO OFFER DIVERSE DOCKET OF WORLD'S MOST SOUGHT-AFTER COLLECTIBLES
Rare and Desirable Vehicles Plus One Fully-Operational Carousel Will Cross the Auction Block at Company's Monumental Scottsdale Auction, Jan. 12-19, 2014 SCOTTSDALE, ARIZ. (Dec. 18, 2013) – Barrett-Jackson, The World's Greatest Collector Car Auctions™, announced today a group of exceptional vehicles representing 85 years of automotive history will cross the auction block as part of the world-renowned Salon Collection. The collection will be offered during the company's 43rd Ann...[Read more...]
Two Best of Show Winners : Similar Designs : Same Owner
When these two vehicles won Best of Show honors at major Concours d'Elegance events, they both were owned by Judge Joseph Cassini III. The green colored Chrysler 4 door Phaeton with tan convertible top wears coachwork by LeBaron. In 2012, it won the Best of Show title (for an American car) at the Concours d'Elegance of America at St. Johns. The other car is a Packard 2 door Convertible Victoria with coachwork by Dietrich. It won this years Pebble Beach Concours d'Elegance Best of Show honors...[Read more...]
Lincoln at Los Angeles Auto Show Press Days: Celebration of Its Past and Future As Brand Rolls Out Its Reinvention
> The brand pays tribute to its heritage today, displaying seven of the most influential Lincoln designs > Thursday sees a display full of the all-new MKZ premium midsize sedan and MKZ Hybrid, the future of Lincoln, on the Lincoln stand > Lincoln launches on Tumblr http://lincolnnow.tumblr.com beginning with the visually stunning classic Lincolns shown on the stand and select images from archives. Continues with an all-new collection of photographs by photographers Jamie Beck and Kevin Burg ...[Read more...]
The Moretti Estate Collection of Packard Twelves
Gooding & Company, the world's leading auction house for collectors of rare and exceptional cars, announces that it will be presenting an exciting collection of Packard Twelves at its 2012 Scottsdale Auctions on January 20 & 21: six extraordinary automobiles from the estate of Thomas A. Moretti, the beloved and respected Packard Twelve collector. The centerpiece of Moretti's collection is an extremely rare 100-point 1932 Packard Twin Six Coupe formerly owned by Hollywood legend Clark Gable. ...[Read more...]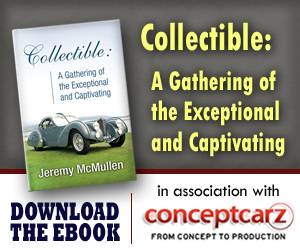 Ford
Monthly Sales Figures
Volume
December 2014
209,679
November 2014
178,221
October 2014
179,014
September 2014
172,261
August 2014
214,028
July 2014
204,373
June 2014
214,793
May 2014
244,501
April 2014
203,552
March 2014
235,198
February 2014
177,286
January 2014
148,671
(More Details)
© 1998-2014. All rights reserved. The material may not be published, broadcast, rewritten, or redistributed.