Image credits: © Shelby. Shelby American, Inc.
1965 Shelby Cobra 427 news, pictures, specifications, and information

Tweet
here
SHELBY AMERICAN COMMEMORATES 50TH ANNIVERSARY FIA COBRA WITH SPECIAL EDITION CAR
• Iconic Shelby FIA Cobra to be Celebrated
Scottsdale, Ariz. – Jan. 17, 2014 – In 1964, Shelby American, today a wholly owned subsidiary of Carroll Shelby International Inc. (CSBI:PK) introduced the FIA version of the small block Cobra, which competed in the 1964 World Manufacturers Championship series against marques like Aston Martin, Jaguar and Corvette. To celebrate the birth of the 289 Ford powered roadsters, Shelby American will offer 50 limited edition continuation (CSX70...[Read more...]
RRDC VOTES IN 37 NEW MEMBERS FOR 2013
HILLIARD, Ohio (Nov. 7, 2013) - Thirty-seven race-car drivers and motorsports professionals have been voted into the Road Racing Drivers Club in 2013. The group includes 13 Regular Members from the open-wheel and sports-car racing ranks, 20 Associate Members and four Honorary Members. The current roster of RRDC members now numbers 440. Voting was held among all current RRDC members. 'This year's crop of new Regular Members truly represents the spirit of the RRDC, as each driver has de...[Read more...]
Shelby Heritage Display Features Rarest of the Rare at Rolex Monterey Motorsports Reunion
Complementing the impressive number of authentic competition Shelby Cobras thundering around the circuit in their dedicated race group (3A) at this year's Rolex Monterey Motorsports Reunion, August 17-19, will be a collection of unequalled magnitude at Ford Motor Company's onsite Shelby Cobra Heritage Display. The Rolex Monterey Motorsports Reunion at Mazda Raceway Laguna Seca is a cornerstone, along with the famed Pebble Beach Concours d'Elegance, of Monterey Classic Car Week. The event is ...[Read more...]
Carroll Shelby, Ford Family for More Than Half a Century
Carroll Shelby was a member of the Ford family for the better part of 60 years, producing stunning performance vehicles from concepts to production models. He once said his energy and passion for performance products were always strongest when he was working with Ford. Shelby most recently collaborated with the company on the 2013 Ford Shelby GT500 Mustang, the most powerful production V8 in the world. Working with SVT engineers at Sebring and the Arizona Proving Grounds, at times he drov...[Read more...]
The ex-David Piper, Bob Bondurant Chequered Flag competition Cobra, winner of the Ilford 500 at Brands Hatch in 1966
DEVELOPMENT OF THE 427 COBRA Although Carroll Shelby's 289 Cobra was well proven in competition, by the mid-sixties it was becoming clear that something more was needed. Every year, more power was needed to stay competitive, and Ford's 289 had reached its reliability limit at around 380 or 390 horsepower. In many respects, the father of the 427 Cobra was racing driver Ken Miles, who had driven many 'specials' – one off cars, usually with a big engine. Miles thought the idea of a racing spe...[Read more...]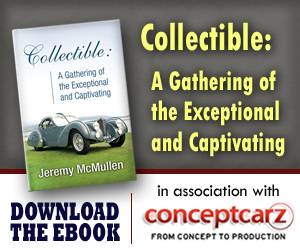 © 1998-2014. All rights reserved. The material may not be published, broadcast, rewritten, or redistributed.