1923 Rolls-Royce Silver Ghost news, pictures, specifications, and information

Tweet
This elegant, stylish vehicle is the product of an innovative partnership between Rolls Royce, an English automobile manufacturer, and an American production facility in Springfield, Massachusetts. The high quality of craftsmanship and design created an air of exclusivity that characterizes the brand to this day.

The Salamanca Town Car has an adaptable body designed to either provide open motoring or protection from the elements. The body was likely crafted by Brewster & Company, a Long Island City manufacturer of customized automobile chassis. This Rolls Royce remained in the Snyder family from 1923 until it was given to the Frick Art & Historical Center in 2002. It is virtually intact wîth most of its original parts and accessories.
Source - Frick Car Museum
Dual Cowl Roadster Skiff
Coachwork: Albany
Chassis Num: 40 CHX

This Rolls-Royce features a skiff body built by Albany Carriage of London, England - a dual cowl tourer with a folding cloth top. It was specified to be used for 'continental touring' and ordered with a radiator two inches higher than normal.

The completed car was delivered to its original owner in April 1924. It was originally equipped with two-wheel brakes but was returned to the Rolls-Royce factory in late 1924 to be fitted with four-wheel brakes.

During its lifetime the car has had several owners and spent time in Jordan and Palestine, in addition to the United Kingdom. Since coming to the United States in the mid-1960s, it has been used extensively for touring and has completed many long distance tours in the eastern United States. Over the years it has been 'maintained' rather than restored.
The 40/50 Silver Ghost is the Rolls-Royce model which, in 1907, earned the accolade, 'the best car in the world.' At a time when most 'horseless carriages' were noisy and cantankerous, the smooth, powerful, near-silent six-cylinder engine and silky ride of the Silver Ghost represented a revolutionary advance in motoring.

By 1923, an increase in engine displacement from 7 to 7.5L, dual magneto and coil ignition, large rear drum brakes, four-speed transmission and sturdier frame were incorporated to handle the heavier coachwork of the period.

29LK, a long wheelbase chassis, was sent to Barkers to be fitted with a 'Pullman Limousine' body on May 11, 1923, and was subsequently rebodied with its current straight sided Barker style tourer body by Jim Marland.

29LK has participated in numerous tours, including the 1997 Scottish Tour, the 1999 South African tour, the 2003 Alpine Celebration and the Annapolis to Monterrey Cross Country tour in 2004, and has been driven over 70,000 miles in the past 20 years.
This late Rolls-Royce Silver Ghost (22NK) still has its original coachwork. Fitted with a Barker barrel-sided open tourer, this Ghost was delivered to George Milne of Adelaide in January 1924. It moved to New South Wales during the war years but later returned to Australia, to Sydney. It was enjoyed by several owners 'down under,' and was often seen at RROC events in the late 1970s and 1980s. The most recent owner, a noted Sydney enthusiast, restored the Ghost both mechanically and cosmetically and brought it to the United States in 2011.
This Silver Ghost was built in the Springfield, Massachusetts manufacturing plant for Rolls-Royce and completed in February of 1923. The body style is called a Salamanca collapsible or a convertible town car to distinguish it from the similar Salamanca permanent body style. The window frames of the rear door and the division window are all hinged and can be folded inward, and the top can be folded back. The car's first owner was Charles Sabin, followed in 1927 by the infamous Enoch Lewis 'Nucky' Johnson of Atlantic City, who was known as the Lord of Atlantic City during prohibition. He was involved in rum-running, a numbers racket and other illicit enterprises. During Johnson's ownership the car was hit by gunfire while he was escaping a rum-running sale that went bad. The bullet hole can be seen in the trim on the side of the car just below the windshield in front of the left front door.
Oxford 7-Passenger Touring
Chassis Num: 107JH
Engine Num: 22-182

High bid of $190,000 at 2014 RM Auctions. (did not sell)

From 1910 to 1931, Rolls-Royce maintained an American factory at Springfield, Massachusetts, where the Silver Ghost remained in production until 1926. A range of bodies were sold under the name 'Rolls-Royce Custom Coach Work.' Many of these were built by Brewster, but some were commissioned by Merrimac, Willoughby, Holbrook, and Biddle & Smart. The names of the body styles were named in honor of British landmarks: Croydon and Henley convertibles, St. Stephen and St. Alban town cars, and the Piccadilly roadster, to name but a few.

The Oxford, of which only 77 examples were produced, was a touring car that was stately and elegant. This particular example was delivered to Chicago resident Albert R. Hansen on April 20th of 1924. The car was later acquired in 1957 by W.E. Schreiber and then again, in 1964, by Dr. John A. Bowers, of Kokomo, Indiana. From 1969 until 1980 it was the property of Harry Resnick, of Channel Master television antenna fame, and it was displayed at his Ellenville Motor Museum in New York.

Warren E. Spieker, of Atherton, California acquired the car in December of 1980. It eventually made its way into the Blackhawk Museum, where it was on display for several years prior to its acquisition by the current owner. A restoration was completed in the early 1990s and refinished in its present livery of two shades of blue, with both a complementary leather interior and top, and trimmed in beautiful walnut. There are collapsible jump seats which allow for seven-passenger occupancy. There is also nick trim on such components as the Bausch & Lomb headlamps.

The engine is a 468 cubic-inch six-cylinder unit mated to a four-speed manual transmission.
In 1906 a new model, the 40/50 horsepower, was developed wîth a longer chassis and a six-cylinder engine. The popularity of the new Rolls-Royce grew quickly as it developed a reputation for smoothness, silence, flexibility and, above all, reliability. In 1907 a writer from the 'Autocar' described riding in the Rolls-Royce 40/50 hp as '....the feeling of being wafted through the countryside.' Engineers at Rolls-Royce coined the word 'waftability' to encapsulate that sensation. Today it is a word that cannot be found in any direction but it is a key design and engineering criterion.

The twelfth 40/50 produced had all its fittings silver-plated and the coachwork painted in aluminum paint. This car became known as the Silver Ghost and is probably the most famous car in the world. The name was later adopted for all the 40/50 hp car and had an immediate international impact, enhanced by the coachbuilders of the day, who could produce bodies of breathtaking beauty. The Silver Ghost was, quite simply, in a class of its own.

The motor car's versatility is legendary. It overwhelmingly won every reliability trial and distance record, dominated the great Alpine Trial of 1913 and won the Spanish Grand Prix of that year.


In May 1907, Claude Johnson drove the car to Scotland and back. This run was a precursor to the Scottish Reliability Trial for which the motor car was later awarded a gold model by the RAC.

The original idea was to drive 10,000 miles without stopping the engine, but the Silver Ghost proved so reliable that the target was raised to 15,000 miles. Despite a stall at 629 miles, when rough roads shook the petrol switch to the off position, the Silver Ghost ran faultlessly for 40 days and nights.

A further challenge was designed by Napier for Rolls-Royce to compete against them in a run from London to Edinburgh followed by high-speed runs at Brooklands. But the challenge was to complete the distance without changing gear, as opposed to how far you could travel. The car, driven by Ernest Hives, averaged 24.3 mpg between London and Edinburgh and attained a speed of 78.2 mph at Brooklands.


As an armored car in the First World War The Silver Ghost delivered exemplary service to the extent that Colonel T.E Lawrence (Lawrence of Arabia) is quoted as saying, 'A Rolls in the desert is above rubies'.

In more elegant guise the Silver Ghost was the choice of the rich and famous across the globe. Kings, queens, maharajas, tsars and emperors owned them. The demand for the Silver Ghost was so high that manufacture was started in the Únited States in 1921 and continued in production wîth worldwide success until 1925.
Source - Rolls-Rocye Motor Cars Limited
The Rolls-Royce vehicles have always been the pinnacle of design, technology, and ambiance. The loudest noise that could be heard by occupants of their vehicles was said to be the clock. In 1904 engineer Frederick Henry Royce joined with the entrepreneur and businessman, the Honorable Charles Stewart Rolls. This union became known as the Rolls-Royce Company.

The Silver Ghost became available in 1906 and brought with it quality and technology to a level that had never been seen before on a motor vehicle. Most engines of the time had long and flexible crankshafts that were prone to vibration and noise. The Rolls-Royce engines had large bearings and pressurized oiling systems, secured by seven main bearings. This was then enclosed in a strong aluminum alloy crankcase eliminating much noise and creating a pleasurable driving experience for the occupants of the vehicle. The crankshaft had an accuracy of .00025 on its bearing surface. They were hand polished to remove any surface cracks left by the grinder. Instead of using noisy chains to drive the ignition, Royce used gears. Phosphor bronze and nickel steel were used in the construction of the timing gears which were then ground and polished by hand. The engine was further shortened by casting in triplets. Cooling problems and leaks were eliminated by the removable cylinder blocks and fixed heads. A Royce designed twin jet carburetor gave the engine all the breathing it required.

The Rolls Royce vehicles could accelerate from zero to top speed without shifting. Shifting during the early 1900's was a chore, with the lower gears never being smooth. It was not until top gear was achieved that the automobiles would operate properly. The Rolls-Royce Ghosts would accelerate as though they were being pulled. This feature, coupled with the vehicles silent operation amplified the vehicles prestige and was the ultimate driving experience of its day.

When first introduced, the Ghosts were given a four-speed gearbox with a direct drive third and an overdrive fourth. As time passed, the overdrive was dropped. The chassis was mostly conventional. Royce had fine-tuned the chassis to standards much higher than most marque's of the day. The body was held in place by a live rear axle carried in three quarter elliptical springs. In the front there was a solid axle supported by semi-elliptic leaf springs. Braking was by a food pedal connected to a transmission brake. A hand brake operated twin rear drums.

Where Royce excelled in engineering, Rolls excelled in promoting and marketing. In 1906 a Ghost was entered in the Tourist Trophy Race, one of the most prestigious races of the time. The Ghost emerged victorious - well, much more than that. It had beaten the next nearest competitor by 27 minutes. Next, Rolls and Royce entered a Ghost in a 15,000 mile reliability run in 1907 which it did without incident. Upon its return to the Rolls-Royce shop, it took a small amount of money, about two-pounds or roughly ten-dollars by today's exchange rates, to restore the vehicle back to new condition.

The Silver Ghosts were entered in the Austrian Alpine Trials where the hoods were sealed shut to prevent any maintenance. The Silver Ghosts again dominated the competition and traversed the Alpine passes which were impassable for many motor cars.

This marketing worked and soon the Rolls-Royce vehicles became legendary and renowned for their durability, reliability, and style. To improve upon the prestige even further, Rolls supplied the Silver Ghosts to British royalty, a move that made sure the vehicles were seen in the right places by the right people.

The first Rolls-Royce distributor in the United States was Walter Martin of New York City, who was also a Cadillac distributor. As Cadillac continued to improve the ambiance of their vehicles, Martin naturally gave them more attention as the logistics of company location was in their favor. Rolls-Royce, on the other hand, was an ocean apart.

Over the early years of Rolls-Royce production, Brewster would become more effective in bringing Rolls-Royce chassis to America than Martin. Brewster imported several dozen chassis to supply its coachwork clients.

In 1913, the business manager for Rolls-Royce, Claude Johnson, formed a factory depot in New York and rented space from Brewster. Baker's US agent, Robert W. Schuette was appointed as Rolls-Royce distributor. At the time, Schuette also represented Fleetwood, Holbrook, Brewster, and Quinby. Around 100 Rolls-Royce's were imported over the next two years by Schuette, with around half of them bodied by Brewster.

As the First World War began to escalate, the production of Rolls-Royce automobiles slowed considerably. The factory's attention was turned to cars for military clients. Engines were produced for aircraft. By 1916, there were no more new Rolls-Royces available. Schuette and Brewster were still able to satisfy US demand for Rolls-Royce's by buying up existing chassis, renovating, and then fitting them with new coachwork.
By Daniel Vaughan | May 2008
VICARI AUCTION COMPANY OFFERS RARE '62 & '63 Z06 CORVETTES AT 2013 CRUISIN' NOCONA
In a recent rare find, two classic Chevrolet Corvettes (one '62 and one '63) - stored for decades-are being made available by the Vicari Auction Company. Both vehicles will cross the block during 2013 Cruisin' Nocona, a north Texas collector car auction and classic car poker cruise set for April 19th and 20th in historic Nocona, Texas. The Corvettes are virtually all-original, and have been stored in Texas by a classic-vehicle aficionado and collector since the 1980s. 'These...[Read more...]
Twin triumph for Mercedes-Benz in the 2013 Auto Trophy Classic
• Mercedes-Benz 600 comes out top in the luxury class category • The 123-series T-Model estate victorious in the mid-range class • More than 23,500 readers of specialist magazine Auto Zeitung Classic Cars took part in the vote Two models from the Mercedes-Benz stable secured impressive victories in their vehicle classes in the inaugural Auto Trophy Classic. Readers of specialist magazine Auto Zeitung Classic Cars voted the Mercedes-Benz 600 and the 123-series T-Model estate the winners in...[Read more...]
Barrett-Jackson Flavors Its January Scottsdale Auction With NASCAR Treats
• RACING HERITAGE, HIGH PERFORMANCE ARE RECIPES FOR CAR-COLLECTING FEAST
• SPEED™ SET FOR 39 HOURS of LIVE COVERAGE STARTING JAN. 15
The great Henry Ford once said, 'Auto racing began five minutes after the second car was built.' And for more than 60 years, there are few entities that better represent auto racing in America than NASCAR. From the hallowed grounds of Daytona International Speedway, to Sonoma, California's intricate and picturesque road course, the sp...[Read more...]
TOPLINE COLLECTORS PLACE SPOTLIGHT on SPEED'S BARRETT-JACKSON BROADCAST FROM SCOTTSDALE
• TOPLINE COLLECTORS PLACE SPOTLIGHT on SPEED'S BARRETT-JACKSON BROADCAST FROM SCOTTSDALE
• 'LOST' SHELBY DUAL PROTOTYPE, HAGERTY GIVEAWAY & SALON COLLECTION HIGHLIGHT 39 HOURS OF LIVE COVERAGE
The 42nd annual Barrett-Jackson Scottsdale (Ariz.) Collector Car Event, the first of four set for live coverage in 2013, kicks off the auction season in grand style as some of the world's most sought-after machines cross the block starting Tuesday, Jan. 15 at 7 p.m. ET/4 p.m. PT. SP...[Read more...]
Mercedes-Benz Classic: Topics for 2013
The main topics: • The tradition of the Mercedes-Benz S-Class • Mercedes-Benz Silver Arrows in the 1930s • Originals – authentic vehicles tell authentic stories • Classic vehicles kept in perfect condition with Mercedes-Benz Genuine Parts Important anniversaries: January 75 years ago – on 28 January 1938: With a flying start, Rudolf Caracciola achieved a speed of 432.7 km/h over one kilometre on the Frankfurt–Darmstadt motorway. This is the highest speed ever ach...[Read more...]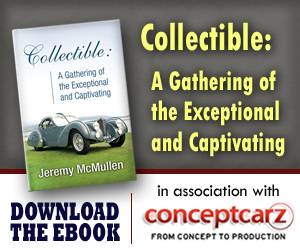 Rolls-Royce
Monthly Sales Figures
Volume
December 2014
75
November 2014
75
October 2014
75
September 2014
75
August 2014
75
July 2014
75
June 2014
75
May 2014
75
April 2014
75
March 2014
75
January 2014
86
(More Details)
© 1998-2014. All rights reserved. The material may not be published, broadcast, rewritten, or redistributed.